I'm sure most of you are looking at the article title and wondering "What is this about? I don't see Spartan, Savage, Tough Mudder, or any other OCR series name." Although I started my running adventures in OCR, I've started to branch out into the world of ultrarunning more recently. I've participated in many of the more well-known OCR series so far, completed multiple Trifectas in a single year, and attempted/finished my first (and attempted a second, which ended in a DNF…I need revenge on Killington!) Spartan Ultra Beast last year in New Jersey. The year before that, I completed my first Beast as well as a double Trifecta. I had looked at the Ultra Beast before and thought there would be no way I would ever do one.  Way too long (both distance and time on feet), way too hard (so many obstacles!), and more vertical gain than I could imagine. However, it really opened my eyes to the world of ultrarunning, even though the Ultra Beast is not technically an ultramarathon.
For those who are unaware of ultrarunning and ultramarathons, these events are anything longer than a marathon, which is 26.2 miles. Common ultra distances are 50k (31 miles), 50-milers, 100k (62 miles), and 100-milers (also known in the community as hundos). Spartan Ultra Beasts are labeled as 26+ miles however they're usually closer to 30 miles long.  NJ UB last year was a 50k in distance.
My first scheduled ultra race isn't until the end of April and I had already completed the Spartan Greek Peak Winter Sprint at the beginning of March, so I thought I might try to find something in between.  Two of my friends mentioned this race called the Mt. Tammany 10 that was taking place at the end of March.  It sounded intriguing and like it'd be great training for my upcoming ultra in April, but I was still on the fence about it until four days before I'd toe the line.  They had talked a big game about this mountain and how much fun it'd be (and how much it'd kick my butt, to be honest), so, like any OCRAddict, I joined them.
The venue was two hours from my home to the parking lot next to the start line. With a 6:30 am gun time (and check-in before then), I was up way earlier than I cared to be.  After arriving, I checked in with the RD who handed me my event shirt wrapped in my race bib.  Back to my truck I went to get dressed and ready to run.  I took off my jacket so I could get used to the cool, rainy weather.  I needed to see where my core temp settled to and make sure I was chilly going into the start or I'd overheat in the middle of the first climb, which comes extremely quickly.  Next, I got out my Ultimate Direction AK 3.0 vest and loaded it up with hydration (Tailwind was in my bottles this time) and some fuel.  Lastly, I put on my MudGear socks and my Altra Lone Peak 3.0 shoes (review coming soon!) and headed to stand with the rest of the racers.  I found my friend at the start line and asked him which mountain we'd be climbing as there were a couple around us.  He pointed up to a rock face and said "See those rocks?  That's a ridge that part of the trail goes up."  Yup, I was in for a world of hurt!
Some details on the race to set the mood, shall we?
10 loops up and down the mountain, with each even-numbered loop requiring you to check back in at the start line (otherwise you can just go from end of trail, through parking lot, back to trailhead on the other side of the parking lot)
Almost 40 miles
12,000+ feet of elevation gain
10-hour time limit (to have at least started your 10th loop)
Max of 40 runners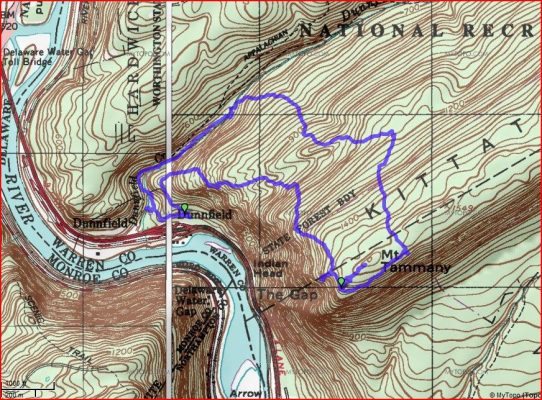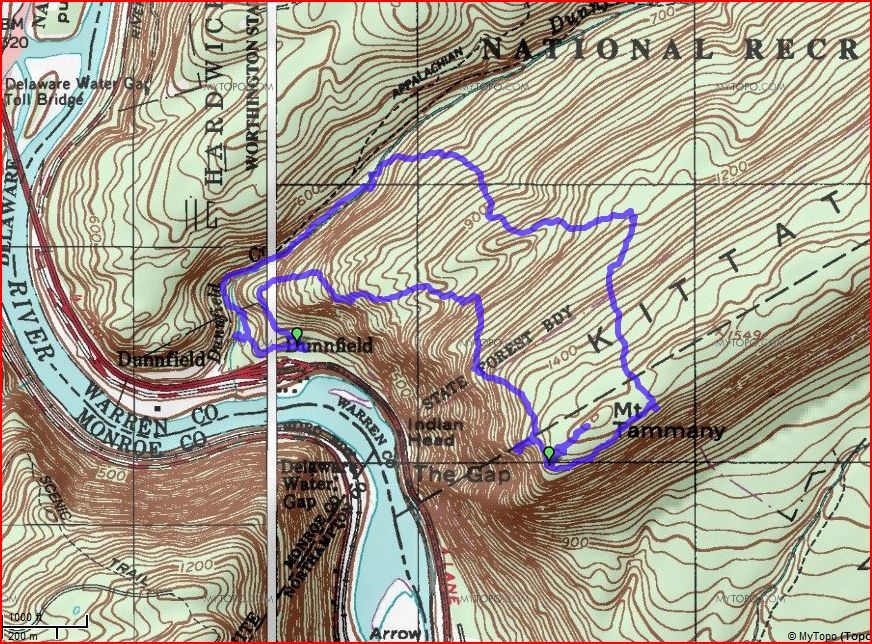 Topographical map showing the path of the loop for those who enjoy the nerdy details of races.
For those who haven't done the math already, that leaves racers just over an hour to complete each loop. This race is not for the faint of heart, as they describe it. I had done my research on the race before hand (looked at prior results/finish rates and read previous race reviews) and was not confident I'd finish. I went in with the mindset of being ok with a DNF, as it's going to be a great training run either way.
The RD is now giving us a rundown of what to expect, what trails we're following, cracking a few jokes to pass the time, and wishing us luck. The horn sounds, I start my watch, and we're off. I planned on trying to keep up with my friend for the entirety of the race, so I stuck with him out of the gate. We head down the road, under the highway, back up the road a bit, and into a parking lot to get to the trail head…all at sub-8:00 pace. I was not prepared for this! Once we got onto the trail, we were met with stairs.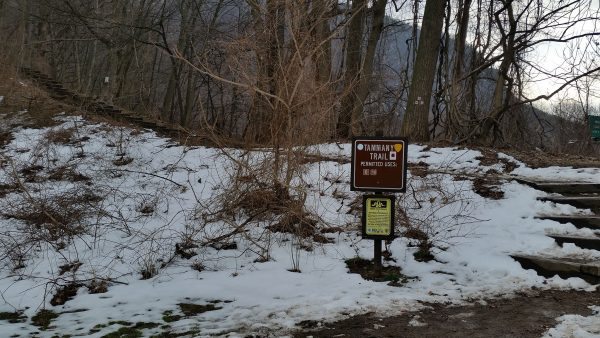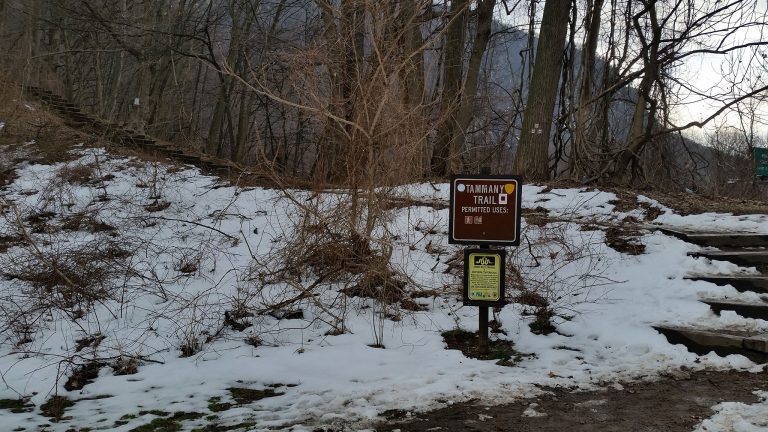 I wasn't pleased but knew it was going to get worse. People were swapping places for the first half a mile or so, with some of the people blazing past us while others who had come hard out of the gate and hit the uphill slowed to a crawl. The conditions were not great – super rocky and partially snow/ice-covered. Knowing that this is a public trail and that it wasn't blocked off for just racers made my mind wander to what conditions would be like later if people decided to get out and hike later in the day. Thankfully, it was becoming light enough out to see the trail markers, which looked like little Japanese flags painted on trees and rocks because it wasn't a super clear path to follow if you hadn't been on the mountain before.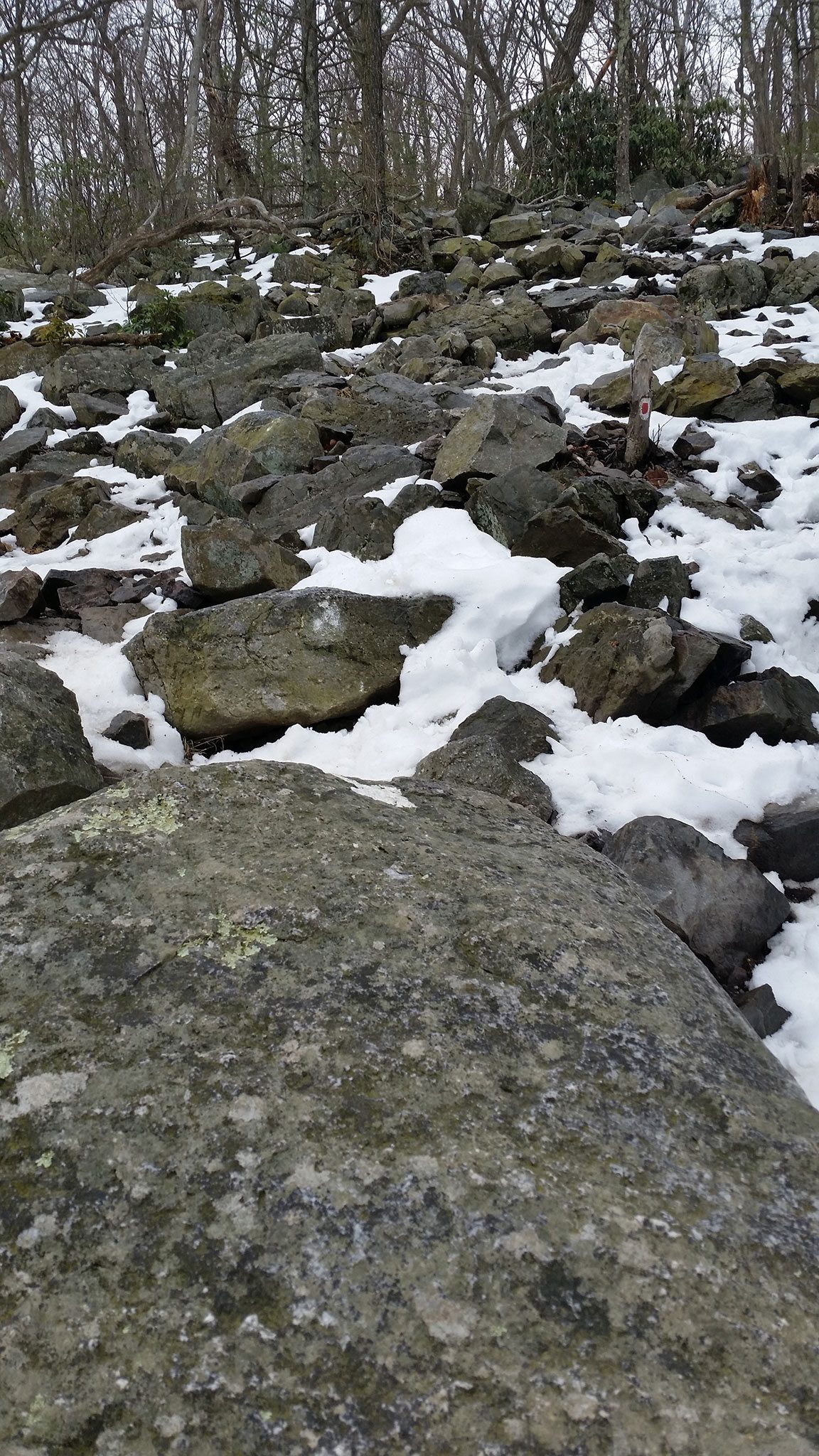 Can anyone spot the trail marker?
I pushed a bit harder on my first lap than I would have liked to, but with the looming time cutoff, I knew I needed to move. After climbing for what felt like more than an hour, we reached the summit. The view wasn't great at that point but knew it would be nice later once the sun was up.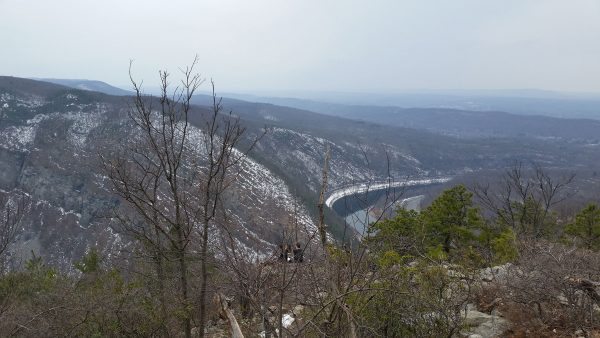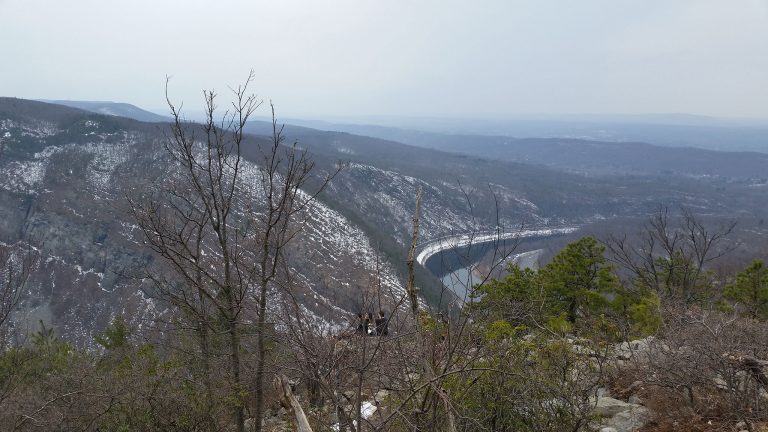 The descent is the part I really enough as I can usually fly – not so much today with the terrain and conditions though. We were booking it downhill as fast as our feet could carry us. Note that I didn't say safely though. We were bombing, sliding, jumping, and everything in between to move as fast as we could, all while hoping not to face plant from running into a tree or snagging a toe on a rock or root. Plus, you have to look awesome for the camera! My friend and I completed our first lap in under an hour and headed back up the mountain for loop two.
At this point, I had the trail mostly laid out in my head and just went on cruise control. We were talking the whole race, whether it was with each other, other racers, or other people out for training runs or a comfortable Saturday hike. There was actually a pair of runners we ran into almost every lap who we'd stop and chat with about course conditions, how we were feeling and doing on time, and how much we were hurting. It was a nice break from the monotonous climbing we were doing. Lap two didn't bring much change other than learning how helpful poles can be on the uphill and how much my friend wanted a root beer. My friend had acquired a set of poles on the first loop and had been complaining about them the whole downhill because of them being heavy and in the way. Once he started using them on the uphill though, his tune changed. He realized how nice they were to take some of the load off your legs and utilize your otherwise useless upper body. I tried them for a short, rocky section of trail and he wasn't joking.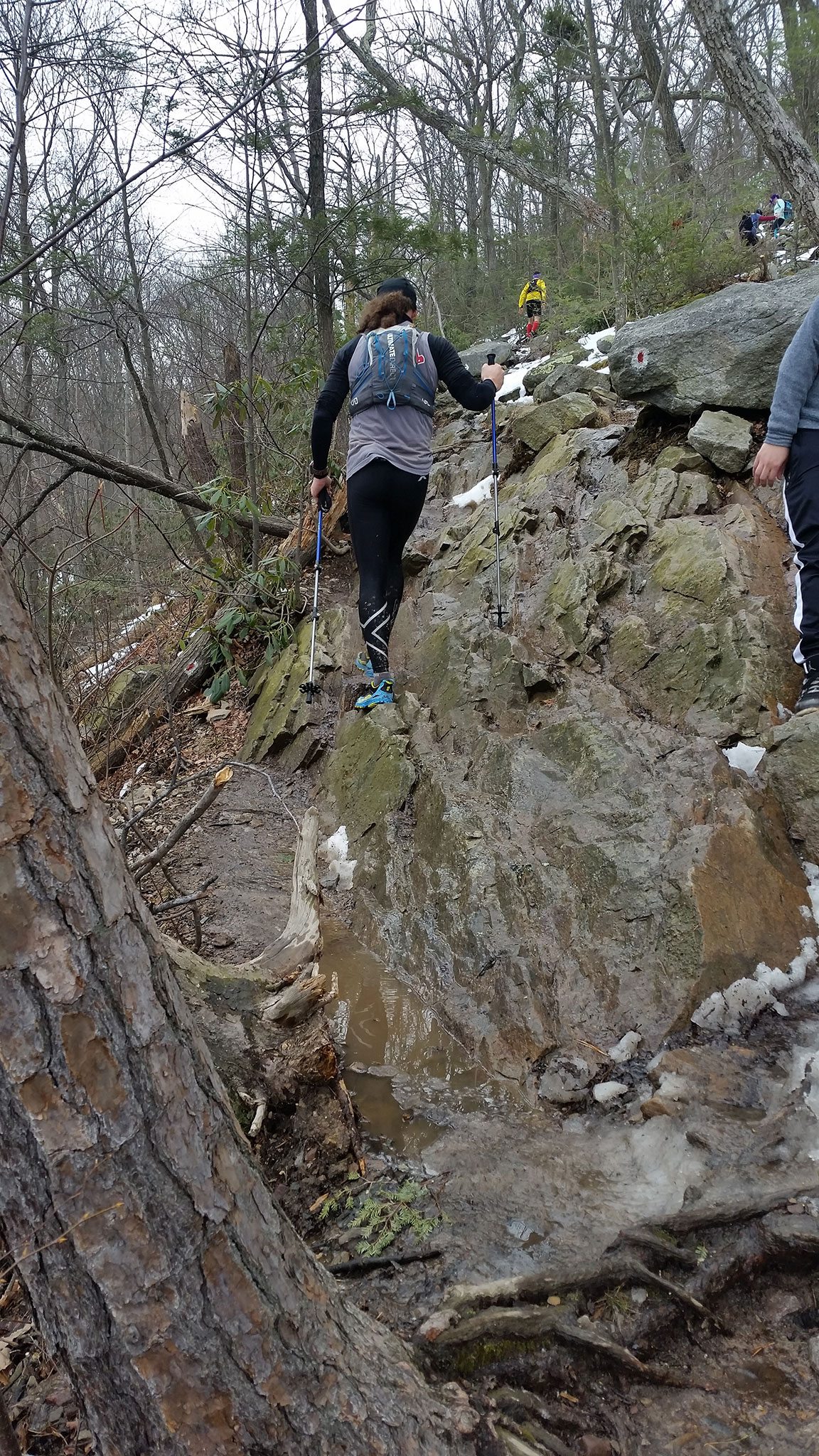 Yes, this was on the trail!

We once again reached the top and I took a few seconds to enjoy the view. With as many races as I've done in the past few years, I've learned to pick my head up and look around more often. These races are held in beautiful places and if you're just head down the whole race, you miss out on the full experience. Thankfully, on most of the downhill, there's nothing to look at, nor would you want to be looking at anything else other than where you're attempting to place your next step. Once again, we blazed down the hill at breakneck speed for the conditions and did another loop in under an hour. I realized on the second loop just how fast I was going on the downhill because I was getting tunnel vision. My brain was trying to process my next step and just a fraction in time quicker than my legs were able to move feet. It, frankly, was scary, even more so when you're chasing a guy who's clearly faster than you, but you're trying to mimic what the leaders are doing to learn something new (and possibly look cool when flying by the other racers).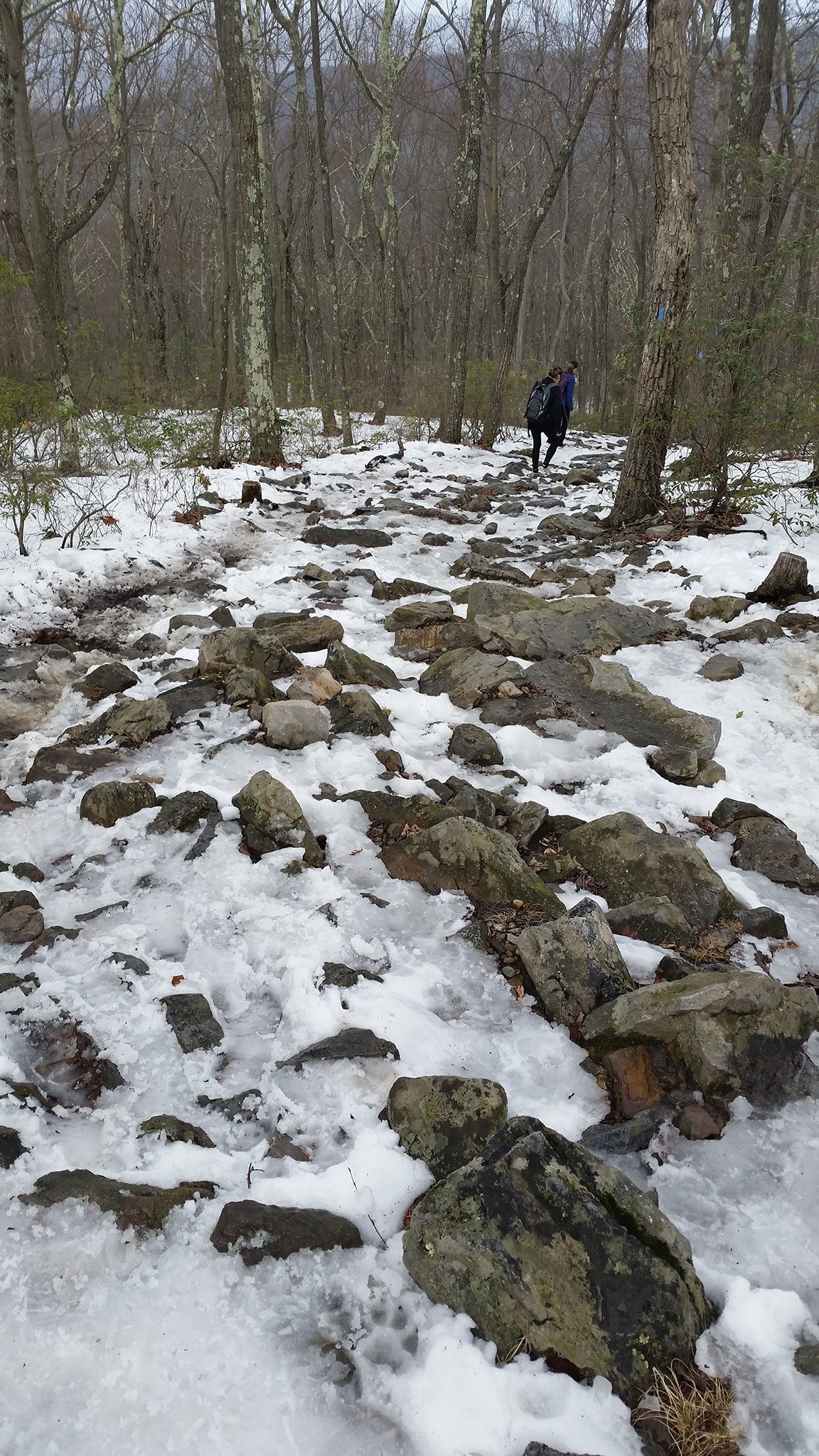 This was what the downhill section of the loop looked like. As you can see, it wasn't pretty.
Since we had done two loops already, we had to head back to the start line to check-in. The race is partially on an honor system so they trust that you're being truthful when you do your check-in. We refilled our water bottles, grabbed some food, and off we went for loop three. Once again, up the hill we went, but we started to slow down a bit with the conditions worsening, more people being on the trail, and our legs starting to feel the burning from the prior two loops. We were still in good spirits (and he still wanted his root beer) and continued to push for another hour-long loop. Not much different had happened on the uphill. The downhill was starting to become more slush than snow, which was causing us to slide more with every step. Quick thinking and careful foot placement became critical to avoid any obstacles (including people and pets). Our third loop took us an hour – great! We were still on pace. The fourth loop once again brought on worsening conditions, even more people (I seriously didn't expect that many people would be out!), and even more pain. We started to notice a slowing after the completion of our fourth loop. Back to the start line we went to check in, refill on water and fuel, and start our fifth loop.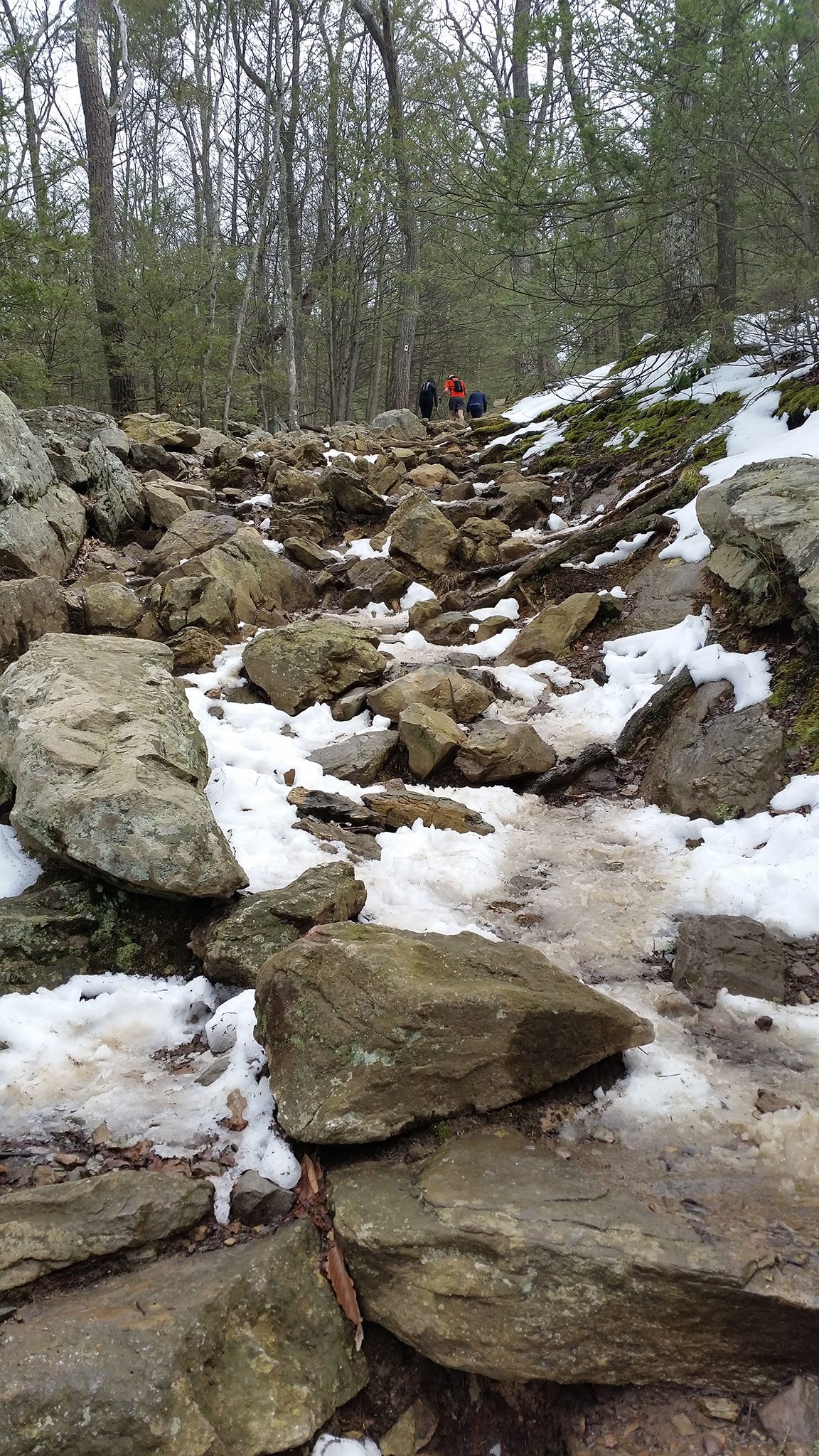 We were losing more time on the uphill, but that was to be expected (the picture above shows why). Doing just climbs and descents on a mountain with no real flat sections to stretch your muscles can wreck havoc on your legs. But the worse part is that we weren't able to bomb the downhill anymore and were wishing we had packed sleds to ride down. It had become so slick with the warming temps and the massive amount of traffic that we had to slow down, sometimes to the point of getting down and using our hands to brace ourselves as we slid down a slick rock face. We were starting to doubt ourselves and being able to complete in time. I just kept thinking to myself to move as fast as I can and reevaluate when I had to check in next. That time didn't come for a long time so it gave me more time to debate in my head about my plan.
Starting the sixth loop we both had it in our heads that it'd probably be our last, strictly based on time to start the 10th loop in under 10 hours. We had lost about 30-40 minutes in the past two loops, which would mean our last three loops would have to be all sub-one hour loops, at this point in the day would be impossible for us. We enjoyed the sixth loop until we hit the downhill where my friend started to experience some IT band pain. This solidified the decision for him. I had already made up my mind that timing wise it wasn't going to play out and no sense in possibly injuring myself on the downhill and causing me to miss the key races I had planned. Plus, someone told me there were fresh, hot pierogis at the start line – I was sold!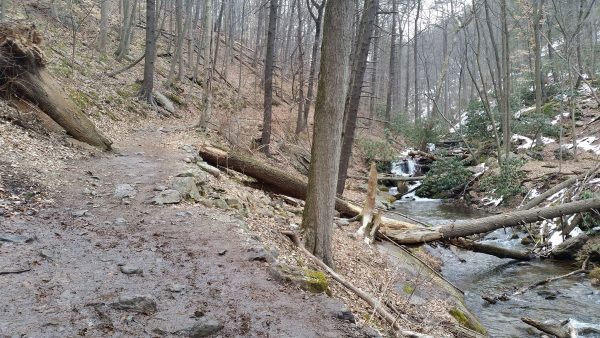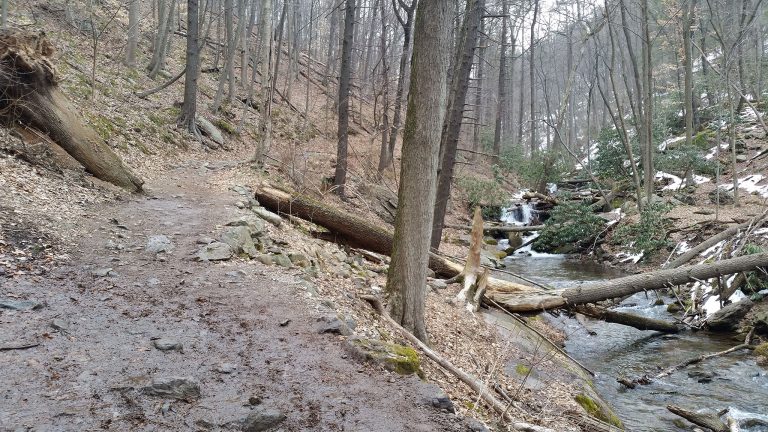 Beautiful view after the rough downhill gave you something to look forward to.
After returning to the start line after finishing loop number six, we told the RD that we were done. I was happy with my decision, mainly to prevent myself sliding on the downhill later in the day and possibly wrapping around a tree. I stared longingly at the rocks mounted on the wood boards which were the finishers awards and wished I was taking one home with me.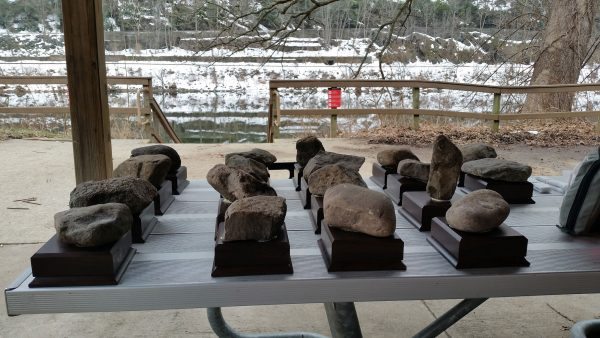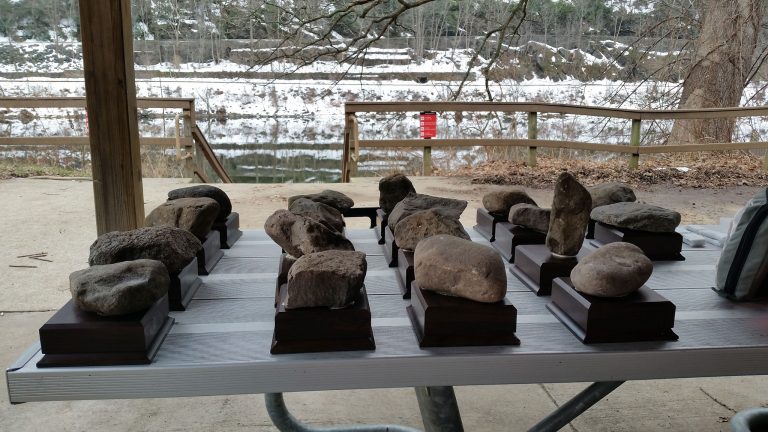 Someone else told me I should have just picked up a rock during the previous seven hours I was walking on them, which was good for a chuckle. I was content eating pierogis, quesadillas, and Oreo's at the time, but knew in my mind I could have done better had I trained for it. At this point in time I don't know where I'll be next year for the race, but if I don't have anything else going on, I'll be back for revenge. The point of doing the race this year was to set a benchmark and learn where I'm at, as well as test out a few new things.
Race result stats:
34 racers signed up
17 racers finished

Fastest this year was 7:50:33
Only one female finished

16 racers DNF'd
1 racer DNS
Things I learned:
I need to work more on going uphill faster/more efficiently
I can move pretty quickly going downhill
All the uphill and downhill made the insoles in my Altra's shift, so I need to find a solution for that
Trekking poles will need to be acquired before future ultras with ridiculous elevation gain
I'm definitely ready for my ultra in April (same elevation gain but 8 more miles to do it in)
When a man wants his root beer, he will get it!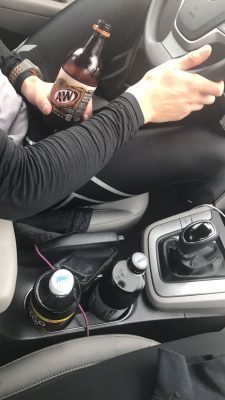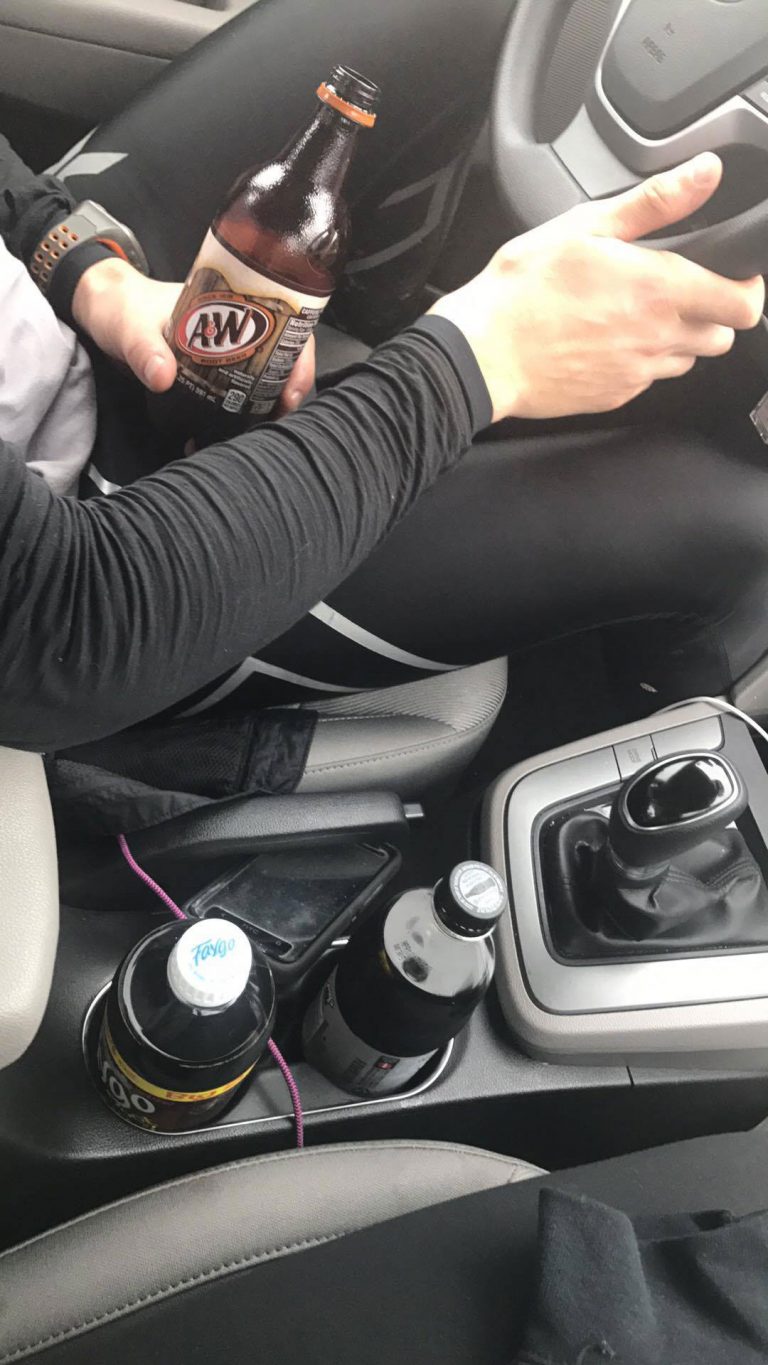 Yes, that is three bottles of root beer!
For those of you who have done and/or are considering doing an Ultra Beast, I'd highly suggest looking into a local 50k if you enjoy running, eating, and meeting cool, like-minded people. That's really all an ultra is, and it's great!