Personally, I hate having my activity data distributed across multiple apps. I have Strava, Peloton, Garmin, etc. It seems like every simple integration that we expect either doesn't exist or isn't really that simple. I figured a well-known company like Peloton would have a Garmin integration that would allow me to see my Peloton activities in my Garmin Connect app. Well, not so much.
I know someone is going to say, "Well, why don't you just set an activity in your fenix for indoor bike?" The answer, it sucks. It doesn't get anything right.
Having the Peloton in the house has proven valuable for those rainy days when I don't feel like getting wet, when it's cold outside, or when I just don't feel like running. Unfortunately, having that data only in my Peloton app or in my Strava app just isn't cutting the mustard for me.
Well, thankfully, someone came to their senses and wrote an application that takes care of this for us. Introducing Peloton-to-Garmin by philosowaffle. Even better yet, it's really simple!

Convert workout data from Peloton into a format that can be uploaded to Garmin.
Fetch latest workouts from Peloton
Convert Peloton workout to a variety of formats
Upload TCX or FIT workout to Garmin
Avoid duplicates in Garmin
Backup your downloaded data and converted files
Earn Badges and credit for Garmin Challenges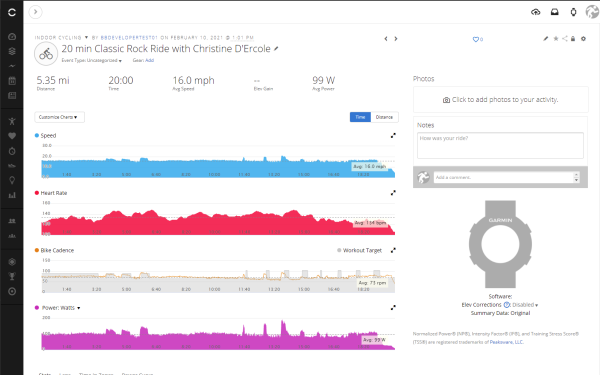 Exhaustive Feature List
Syncs workout data from Peloton to Garmin Connect
Supports all Peloton workout types (Biking, Tread, Core, Meditation, etc.)
Syncs all available metric data from Peloton over to Garmin Connect
Syncs laps and target cadence
Synced workouts count towards Garmin Badges and Challenges
Synced workouts will count towards VO2 max calculations 1
Syncs on demand or on a schedule
Highly Configurable
Docker-ized
OpenTelemetry for the data nerds
Data Synced
HR
Cadence
Target Cadence
Distance
Power
Instructions for Use
Download the application by visiting our forums

You will have to register or sign in in order to see the download link

Click "Download this file"

Extract it to your desktop or some other folder

Complete the configuration.local.json information

You are storing your login information, so obviously don't do this on a public computer

Execute the application by clicking the PelotonToGarminConsole.exe file
Enjoy!
There is a more detailed tutorial here for those of you that need it.