The leaves changing color, cooler temperatures, pool closings, back to school; all signs that Fall is approaching, right? Nope! It means it's time for the Spartan Ultra in Killington!
This is the first year in the "Ultra" format. Previous years were the "Ultra Beast", which comprised of 2 laps of the Beast course (about 14-15 miles each lap). This year's Ultra format changed things up a bit. Instead of "only" 2 laps of the Beast course, there's an extra Ultra-only loop. Some Ultras (like NJ) have this as a 4-5 mile loop only performed once, and some (like Killington) have a 2 to 3-mile loop performed on each Beast Lap (this year was about 13 miles).
For you math nerds: Ultra = 2B + 2ULOOP.
The Killington weekend starts with a 5-hour road trip on Friday to get there for the Open House. The Open House serves 3 main functions:
Register for the Ultra (obtain headband, timing chip, beer tag, etc.)
Practice on some obstacles. Usually, a handful of obstacles are available to play around on.
Meet up with friends and familiar faces.
This was my 3rd Spartan Ultra/Beast. I had successfully completed Killington last year (as Ultra Beast) and NJ this past April (as Ultra).
I got to the Hotel first, at 3 PM Friday and immediately asked for a 4 AM wakeup call. Sure, I will use my phone as an alarm but I rest more easily with some redundancy in times like this. I like to check in to the hotel first, then make the drive from the hotel to the venue during daylight because the next morning, I don't want any surprises driving on unknown roads in the dark. My hotel was 30 minutes away from the Spartan venue. I got to the venue at around 4 PM. First things first, I got the registration taken care of. Next, I passed through to the festival area where I quickly see familiar faces and chat it up for a bit. Then, 3 Spear throws (went 3-3), 1 rig, and 1 Twister practice and I'm done (does anyone need to practice A-frame……ever?).
Last year during the open house, I tweaked my elbow playing around on Twister too much and then I tore my forearm tendon during the race the next day. I didn't want to overdo it, so I headed back to the hotel.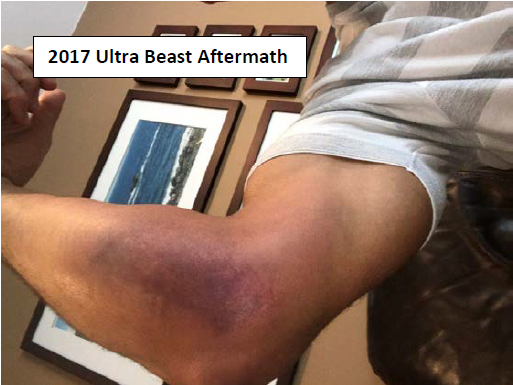 Dinner was bland: grilled chicken and sweet potato, but it got more exciting when dessert was a brownie sundae (gotta carb up, right?)
I took Aleve PM at 8:00 PM and laid down at 9:00 PM to try to fall asleep knowing I had to wake up at 4 AM. I slept pretty well. The phone alarm and wakeup call arrive at the same time and its GO-TIME. I had coffee pre-made. I just needed to heat it up in the microwave. I also had a pre-made giant smoothie ready to go, chock full of oats, vanilla protein, berries, hemp seeds, greek yogurt, and almond milk. I had my breakfast & coffee, got suited up and off I go!
I have 3 Goals for an Ultra:
Get to Transition area by noon and spend as little time there as possible
Finish before needing a headlamp
Don't get hurt. By "hurt", I mean hurt to the point where I can't complete the race. Obviously, everything starts hurting by ~Mile 5, but if I can complete the race, I didn't get "hurt"
I arrived at the venue without any issue at around 5:15 AM. Parking was pretty close by which was nice. It's always surprising how much activity there is going on at 5:15 AM in the dark. Through the glow of the parking lot lights, all I see are determined people and their buckets. I make my way to the transition area and place my bucket in the same exact spot as last year. I walk over to the posted map. I've stared at it a couple days already but I look at it one last time. 67 obstacles, 30+ miles, and many many treacherous ascents/descents lie ahead.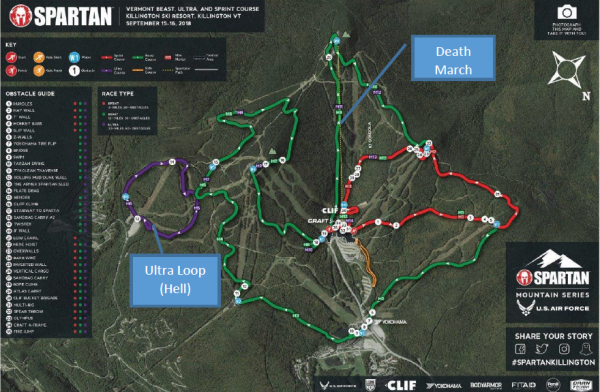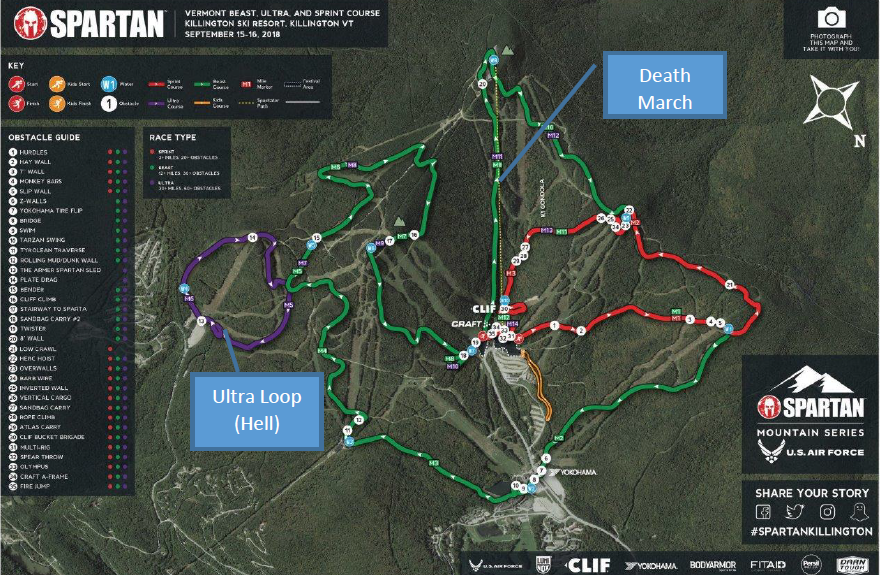 At this point, I've got some pre-race jitters but I'm mentally and physically ready to go. I keep reminding myself of all the hard work I've put in. I leave the map area, chug down a 5-hour energy, do some light stretching and jogging in place, and off to the starting line I go.
At the start line, I see several familiar faces and friends. I bounce around and chat as we wait for the Elite Heat to go off, which was scheduled for 6 AM. The corral looks full. It looks like a packed heat but running a little late. They take off at 6:15 AM. Next up, my wave – the Age Group heat. We enter the corral. I work my way up towards the front. We get the typical motivational speech, several AROOs, and off we go at 6:24 AM. After Age Group, there were 3 more Open Heats to go off, up to 7 AM.
The first notable obstacle (#4) was Monkey Bars. The bars were wet from the morning dew and that made them really difficult. I made it through, but I've never seen so many people fail Monkey bars (especially so early in a race). The next fun was at obstacle #7, the Tire Flip. This was not here last year. It was the same 400lb. tire at the Palmerton Super that we had to flip twice, but it was easier here because it was on gravel (Palmerton was on asphalt). The hardest part of the tire flip (for me at least) is getting your fingers underneath. A few kicks of the gravel gave me a nice spot for fingers and it was up and over (twice) with no hesitation.
Then onto obstacles #8, 9, & 10 for the Bridge, Swim, and Tarzan swing. The cool water felt good. I swam out to the ladder under the bridge, climbed it, but came off it awkwardly as I reached for the ropes and fell into the water. FAIL. I swam back to shore for my 30 burpees. After that, a couple more obstacles and then onto the Ultra Loop. At first, it was an immediate downhill. Not terrible. There was a friendly fellow there yelling, "It's runnable all the way down!" which was mostly true. Then…. *gulp*, we all know in the Mountains……what goes down, must come up! And we certainly went up! We were then routed into a highly technical trail of about a mile straight (and I mean straight) up! At times, it was so vertical (50% grade at times!), the only way to progress was to bear crawl and grab onto any branch, nub, rock, stump, chipmunk available to help the ascent. This was brutal. Once that was over, all I could think was "wow, how is it possible it was worse than the Death March!!??". It just was! Second thought was "How am I going to do this AGAIN on Lap#2?!?!"
For those not familiar with the term "Death March", it's a Killington staple. A steady climb over a mile long with a 20-30% grade straight up the mountain.
Within the Ultra loop were 2 pretty easy obstacles: Armer and Sled Drag. After that, it was some more ups and downs and couple more obstacles. Then, a pretty steep descent heading to the base of the Death March. Along the way, the 1st sandbag, which utilized the shorter sandbag that about 50-60lbs. Not too bad; up/down and done. The last obstacle before the Death March was Twister. It was only 2 sections this year (instead of 3). It made for easy work (backwards of course!). Twister was done, then we started the march! The Death March this year was about a ¼ mile longer than last year. However, it sucked just a little less compared to the Ultra Loop.
Death March Stats: 1.4 miles long, 1647ft of elevation gain. Average grade: 22.2%. Typical grade: 25%+. The average grade is lower because it flattened out a bit at the very top. For a ¾ mile stretch, it was 31.5%!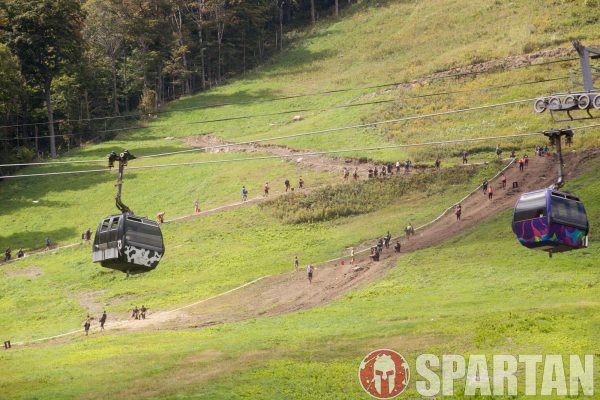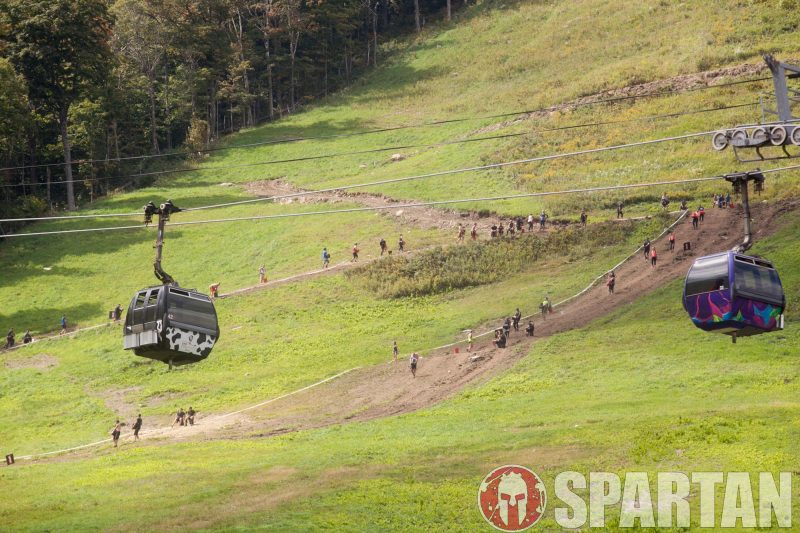 At the very top of the Death March was an 8ft wall. No problem for me because of my height but many struggled there, especially since it was right after that brutal climb. Also at the top was a bunch of spectators who took the Gondola up. They were cheering, giving high fives, and even candy! One woman handing out candy and high-fives proudly states that she'll see us all later and that she's not going anywhere. At this point in the race, there's only 3 miles left for Lap1, but still 12 obstacles to go. We proceed down a steep decline to the barrage of obstacles. I don't need to list them all. I'll just point out the notable ones. Herc Hoist was VERY heavy. They stated 115lbs, but I think that was low by at least 50lbs. I still did it but it was way more difficult than usual. I never see people doing burpees there, but I did that day. The second sandbag carry: Wow! It utilized the wreck bag, which again, was heavier than normal. I estimate 90lbs. This was a long/painful one. Up, Over, Over, up again, up/over, then down. That will steal the souls of many but I kept on chugging along. A couple more obstacles and then Bucket Carry! Sandbag + Bucket so close together is quite barbaric. The bucket carry was in the same place as last year. The only difference was that the buckets were pre-filled and capped. It was up, then up/over, then down. Having this so close to the end of the first lap makes it that much more difficult. My strategy was to never put the bucket down on the ground. Get to top, rest on knee, get over, rest on knee, and then down. Done!
Safety Note: Now with capped buckets, there are more options/methods in which to hold the bucket, which is nice. With the top open, all you could do was hold it vertical. With a lid on, you can carry it at a 45 degree angle and also sideways. When sideways, it's a problem when someone drops the bucket. Now there's 60lbs rolling down the mountain! More about that to come on the second lap…….stay tuned.
After that, it's Multi-Rig, Spear Throw, and Olympus (all completed) and then on to the Transition area. The transition area is at the ½-way spot (after 1 lap), where we go to refuel and restock supplies needed for lap#2.
I arrived there at 12:01 PM, 1 minute past goal#1, but I'm happy about that considering what I just endured. I quickly seek out the person handing out the Purple Ultra pinnies. This is what identifies us on the course as we mix with those running the Beast. I put it on, but it was wayyyyy too small, then I had to find that person again (they were all the way on the other side) and ask them for the larger one, which I then got and put on which then fit fine.
Then, I easily found my bucket, which contains the supplies I needed to refuel.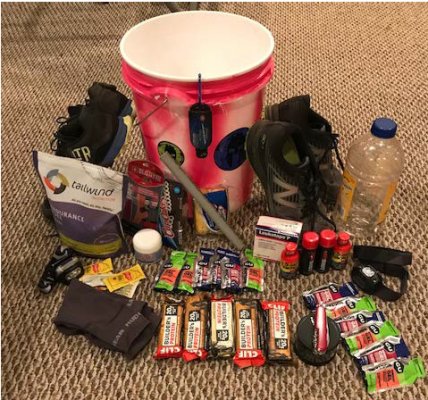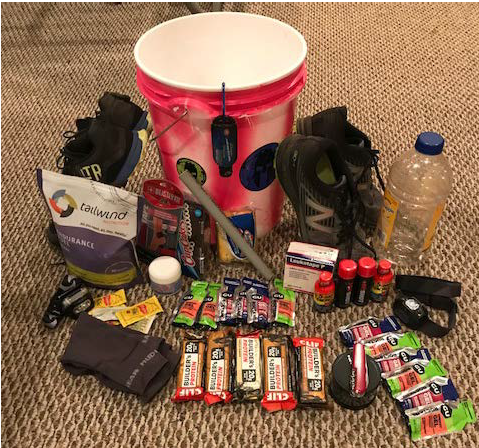 I was tempted to remove my compression pants because it was so warm out (and stick with just the shorts) but I did not want to waste precious time. I took my pack off, quickly filled it up with a jug of Water/Tailwind in my drop bin. Ate my Twinkies and one Cupcake. Washed it down with 2 Aleve and a 5-hour energy shot. Then re-filled my Gels and Clif Bars in my pack. The last thing was to check my headlamp and make sure it was working. Sure, I was doing great on time and on pace to meet Goal#2 (finish before dark), but all it takes is a rolled ankle or twisted knee to force me to walk and finish in the darkness. I did some light stretching and went back onto the course. On my way out, I saw some racers getting their timing chips cut there, which I hate seeing. It's a huge mental game at that point, feeling so beat up and knowing you have to do EVERYTHING all over again. That's a popular spot for people to call it a day. I also saw wayyyyy too many racers getting comfortable there, which is a huge no-no because the body will shut down and then you're done. All I could think as I'm jogging past these relaxing racers (felt like slow motion) is; "You're done" and "You're done" and "Dude, seriously with the picnic over there…….done!".
Back out for Lap#2 and all that could initially occupy my mind was that dreaded Ultra Loop about 5.5 miles in. I also had the following looming on my mind because they too were particularly painful (In addition to Ultra Loop): Death March, 2nd sandbag Carry, Bucket Carry. I would mentally check these off as I progressed through loop#2.
As Lap#2 got going, nothing of interest happened before the Ultra Loop, except that I failed the Tarzan swing again. I tried a different technique, but that worked terribly and I fell ¾ way across so I then had to do only my second set of burpees thus far. For Lap#2, the course is mixed with Ultra and Beast racers. I have to say, every Beast racer I came across was great. Most of them stepped aside without me having to ask. Many gave the "Great job Ultra" or "Go get it" or, "You Ultras are amazing", or something similar. It's really a great feeling.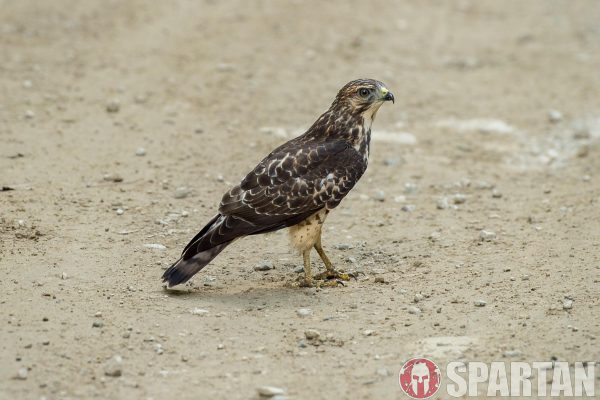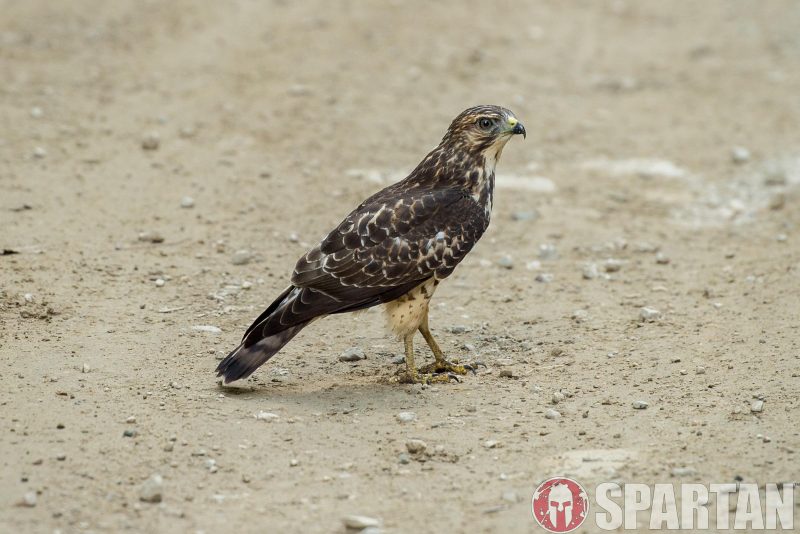 Spectators were the same…..always giving extra applause as an Ultra came through. In the narrow trails, I would come up on some Beast Racers and sometimes I was perfectly content going at their pace (because I was so beaten up). But then, as soon as one of them would see the purple pinnie, they would say "We have an Ultra coming through!" and they would all step to the side in unison. A couple times, I almost felt like saying "no, really, I'm fine…..I don't need to run" but then I felt obligated, which was a good thing so I would take off. I knew that for every minute I ran (instead of walked), I would finish the course 1 minute sooner and that really motivated me. So, I ran wherever I could even though everything hurt.
About 2 hours into Lap#2, I approached the dreaded Ultra Loop. Entering the trail at the start of the ascent was ominous. There was no one around. Just me. Just me and that ridiculous incline. 10 minutes in and I lost track of the course markings and had to stop to look around. Shortly after, another racer came up from behind and said, "It's over here". I thanked him and got behind him as we climbed. Thank you, man in pink shirt/socks. It was nice to have company and suffer with someone else. I paced behind him the whole way up. We did not stop. We exchanged some back and forths about the torture-fest. Along the way, we passed a few racers off to the side resting/aching, but we just kept moving. Since there were no Beast Racers permitted in there, the Ultra loop was like a private pain oasis – unlike anything I've ever experienced in a race before. The brotherhood of Ultras is amazing, all rooting for each other and sharing in the torture. It felt like we were at war together.
After the Ultra Loop, there were 5 obstacles leading up to the Death March with Twister being last. I flew through those obstacles and started climbing up up up. It's funny with the Beast racers as they keep asking "How much longer???". I would say, "When you can't hear the festival area anymore, then there's another ¼ mile to go". At the top of the Death March, there were mostly different faces except for the one woman still handing out candy. I said, "I never thought I'd see you again!"….she said, "I told you I'd be here all day!".
When I got to the top of the Death March, I was at the 11:21 (11 hours, 21 minutes) mark. I thought I had a shot at matching last years' time (12:20). I knew it was mostly downhill from there and "only" 3 miles. I seemed to have forgotten that there were still 14 obstacles! The downhills in the second lap were more dangerous than the 1st. They were wetter, muddier, more slippery and more congested (people falling in front and behind me). At this point, I was pretty confident I was going to meet my first 2 goals, so I focused on the 3rd (not getting hurt). The downhills took a little more time. At this point, I still had sandbag#2 and bucket carry to conquer. Sandbag was painful but not too bad, I just kept moving. For bucket carry, my strategy was similar to lap 1, except instead of resting the bucket on my knee, I would have to place it down and sit on it; once at the top, and once at the over (2 times). I was pretty drained at this point. I held my head in my hands as I gave myself 60 seconds of rest. At that time, I would lock eyes with a couple of other guys running the Ultra doing the same thing. No words needed to be spoken. We knew how beaten up we were, but we also knew that after the bucket, it was a few quick obstacles and it would be over.
Remember my safety concern with the capped buckets? Well, that came into play here as some racers were holding the bucket sideways at the top of the hill and let it go (accidentally) and there goes a 60lb bucket FLYING down the mountain. As I started this obstacle I heard people screaming "BUCKETTTTTTTTTTTTT!". I saw one guy get taken out on the other side (the descent). He seemed like he was able to get back up limping but able to continue. That happened 2 more times as I was climbing up! It was like Donkey Kong out there.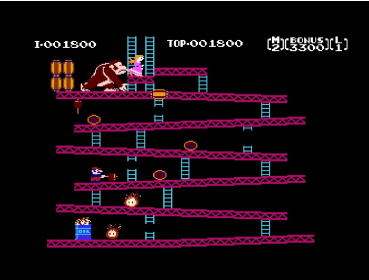 The 2nd and 3rd times, luckily no one was hurt. As I approached the descent, I start eyeing up the racers to see who's struggling but pretty much everyone was at this point. As I sat on my bucket for my second rest, I waiting for an opening where no one would be behind me and I hauled ass with that bucket down that mountain so I could be sure I wasn't taken out by a rolling bucket.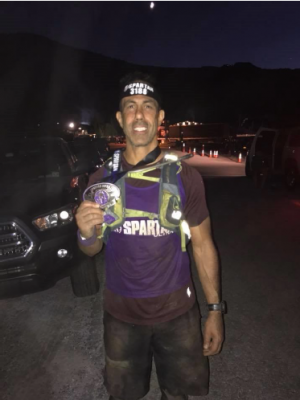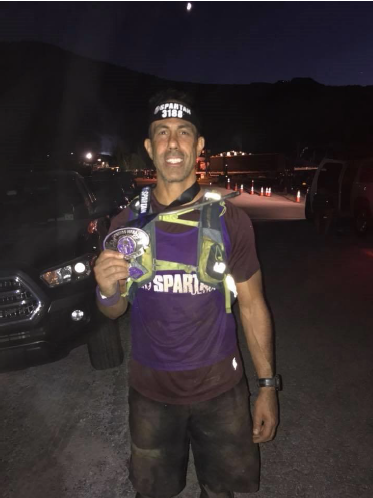 From that point on, I knew I was in the clear and it was just about over. Just Multi-Rig, Spear throw, Olympus, A-Frame and the Fire Jump awaited. I nailed all of them except Olympus. The wall and my shoes were so muddy, my feet kept slipping and then had to attempt it just dragging my body across it, which takes a huge amount of strength to do; strength I did not have. I got ¾ of the way across and dropped. 30 Burpees, which I surprisingly did pretty quickly, mostly because I just wanted it to be over. Up and over the A-frame I then went, then jumped the Fire to my 3rd Ultra completion!
All in all, it was a great day. I only failed 2 obstacles (Tarzan twice + Olympus once). I finished in 12 hours, 58 minutes. It was 7:22 PM and I started at 6:24 AM. What a day! It was just getting dark at that time but I was able to meet all the Goals I had set for myself.
The Completion Rate for Ultras is usually 40-50%. This one was 20-25%. It took me 38 minutes longer than last year, but this year had 6 more obstacles, was 2 miles longer, and had about 2,000 ft. of added elevation. In my estimation, that's about an extra 1.5-2 hours (assuming same training level). For that reason, I couldn't be happier with my time and overall outcome. I think this one will be talked about for a long time………….