When I signed up for the NJ Ultra Beast, I didn't have any idea what I was in for. I mean, you hear about the mileage and the number of obstacles, but you really won't get it until you try it. Also, I joined the best Facebook group on the planet and talked with everyone I could, but having attempted the race, none of that matters. With that said, I learned some valuable lessons that I feel I should share with you.
Some of you that have already conquered the UB may agree with some of the things I am about to detail out, some may not. However, this athlete's perspective is just one athlete's perspective. Get others and form your own opinions, game plans, and preparations.
Before I go into anything in-depth, I would like to detail out that I never really fully appreciated our very own War Paint Waldo's article (War Paint Waldo's Ultra Beast Training Plan) until I grabbed my medal at the results tent… No, I did not DNF. So yes, I did finish the Ultra Beast.
Training
Truthfully, there is nothing you can do to prepare for an Ultra Beast, unless you are the race designer (#EFFNORM). You need to find your limits and continuously work to extend them.
Stay tuned for a review of Norm's fury, a.k.a. The 2016 Tri-State Ultra Beast
Spend a lot of time on the trails; treadmill won't cut it. Spend a lot of time on a stair climber; lots gradual inclines won't cut it. Every aspect of your physical self will be tested and pushed to its limits.
Due to a knee injury, I was unable to get any long distance runs logged for a significant period leading up to the race. During that time, I did take the advice of some friends and took advantage of my gym's elliptical machine. Unfortunately, I hopped on the stair climber only one time leading up to the UB. In retrospect, my focus should have been more on the climber and less on the elliptical.
Additionally, work on ankle strength! I cannot stress this enough, 30+ miles of unstable terrain will test your joints, make sure the ones closest to the ground are ready.
The Drop Bin
The drop bin is something I spent a lot of time on. I felt I had it nailed before the race. I carried my heavy bag up to the drop bin cliff left it there and visited before the start of lap 2.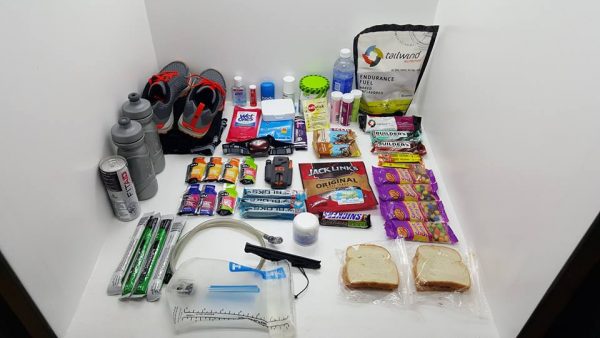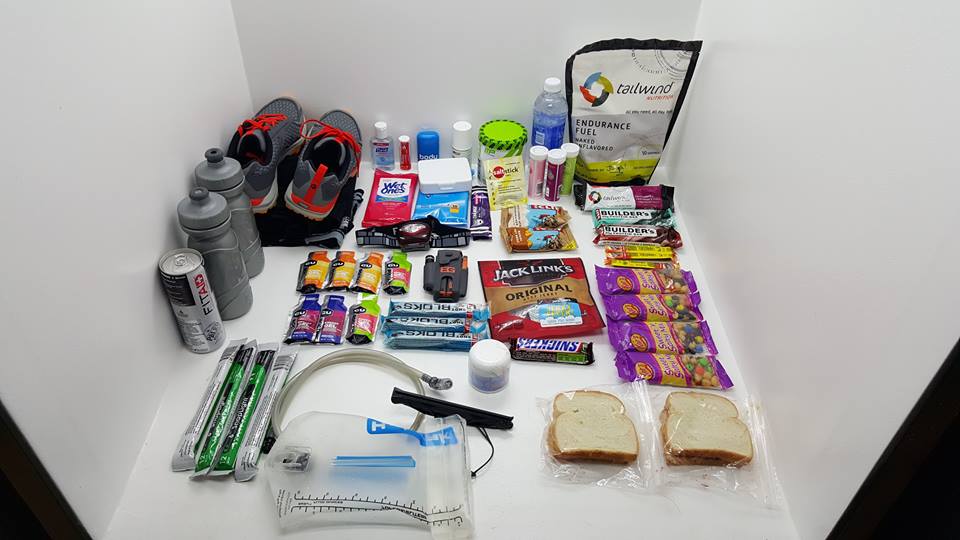 What I brought
Complete Change of Gear
Shoes
Shirt
Socks
OCR Shorts
Headlamp
Gloves
Everything Else
Purell
Tylenol
Body Glide

Sport Shield

Wet Ones
Flushable wipes
Small First Aid Kit

MP BCAA

Water

Tailwind Naked and a couple of flavors

5 x Salt Stick

3 x Nuun – Various Flavors

4 x Cliff Bars & Cliff Protein

5 x Slim Jims

Beef Jerkey

4 x Sweet and Salty Snacks

7 x Gu

3 x Clif Bloks

1 x Snickers bar

2 x PB&J

Hydration Bladder and drinking tube

4 x Glow Sticks

1 x FitAID

Multi Tool

Trail Toes

Towel
What I used
1 x PB&J
The extra bladder
Towel to clean my feet
Clean Socks
Trail Toes
Tailwind
1 x Salt tab
1 x sweet and salty snack
Tylenol
1 x Nuun tablet
Water
The Mental Game
This is the Ultra Beast. I spent more than an hour at the drop bin fighting with my legs, fighting with the idea of calling it quits. Your brain and your body need to disconnect a bit. Many of us were fighting this battle, some of us made it, some of us didn't.
Additionally, many of us berated a fellow Facebook group member for being "negative" when he stated that many of us would not finish the race. Many of us were furious that someone would come to the group and cast a shadow upon our optimism. Many of us didn't know he was right.
While we don't know exactly how many people started the race, there are estimates somewhere in the neighborhood of 1000; we do know that 353 open-heat athletes finished it.
Find a Friend
This one changed the game for me. I made tons of friends on the course, and every single one of them helped me complete the race. Some were slower than me, some were faster, it didn't matter as it all worked out. The dark times when you feel your body threatening you, these are the people that will help you through it. Somewhere in the last 10-mile range, I hooked up a with a group that had a unique blend of strengths. One pushed us going down the hills, one pushed us going up the hills, and I pushed us to run when the terrain was there but the will wasn't.
Finish
This is the prize, the pie, the light at the end of the tunnel. This is where all the hard work, pain, and willpower come together and create a canvas that can rival that of Van Gough, Da Vinci, and Picasso. Finishing is a work of art. It represents something much more than the end of a race; it represents the will of man. We are unique, special, and gifted in our own ways. While many of us finish this race in different ways, those that finished it did it by crossing the finish line… one foot at a time.