When I first heard about the HOKA Evo Jawz, my imagination ran wild. I first pictured a smooshy pair of platform shoes with an aggressive lug pattern and wild colors. Well, it looks like I got the wild colors part right, but they are far from platform shoes. HOKA, known for their lineup of running shoes, decided to step outside of their comfort zone and enter our world with a shoe that ticks all the boxes for obstacle course racing: light, aggressive, bold, and reasonably priced.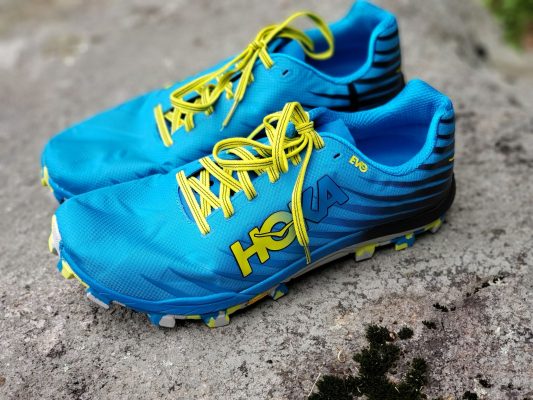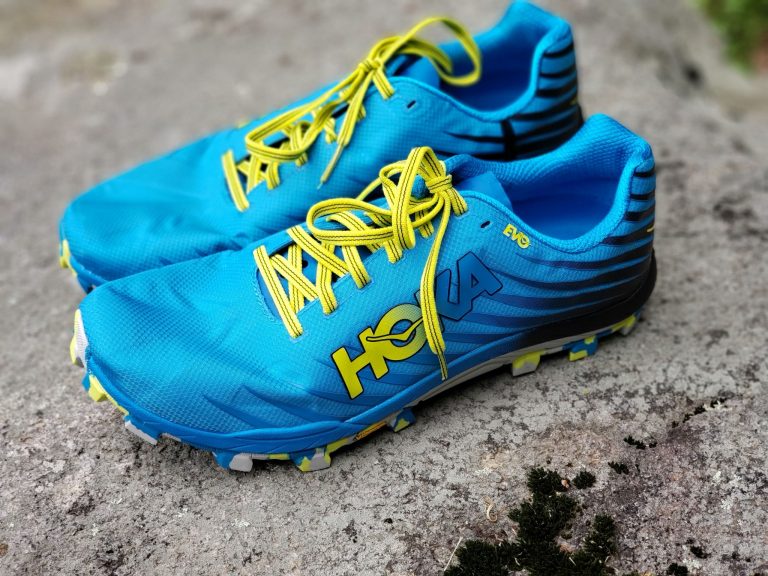 Stripped down to its performance core, like a dune buggy, EVO Jawz offers a thrilling and unbridled ride. It is low to the ground with a firm (not rigid), midsole that relishes muddy and uncertain terrain. And while EVO Jawz is a pared-down speed machine, the midsole wrap still offers great stability and protection. This is a super aggressive shoe ideal for off-roading. How far off-road you go is up to you.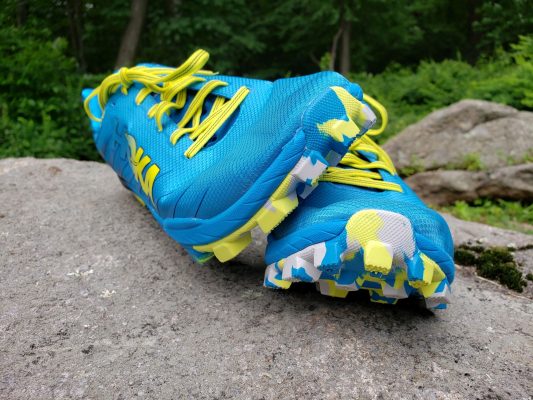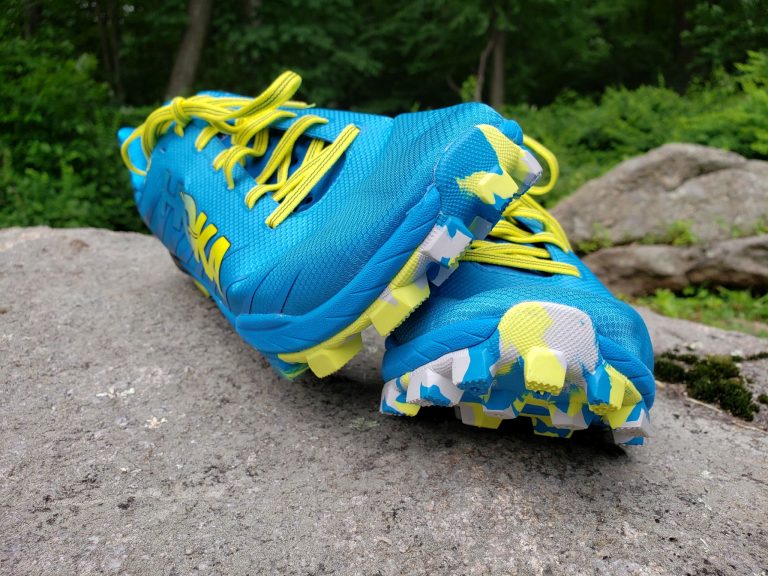 FEATURES
Woven rip-stop upper designed for durability and fit security
Moderate active foot frame for maximum tuned stability
PROFLY™ midsole for a cushioned landing and propulsive toe-off
Vibram® Megagrip hi-traction outsole with 6mm lugs
Multidirectional lugs for supreme grip on varied terrain
The EVO Jawz feature a 3mm drop heel to toe drop as well as a medium stack height of just about 20mm. Additionally, these weigh in at an incredibly light 7.2 oz (size 9).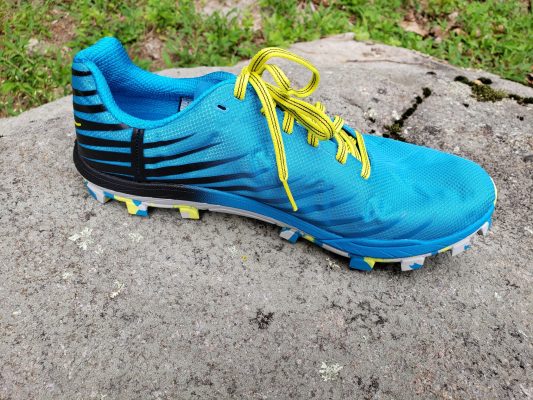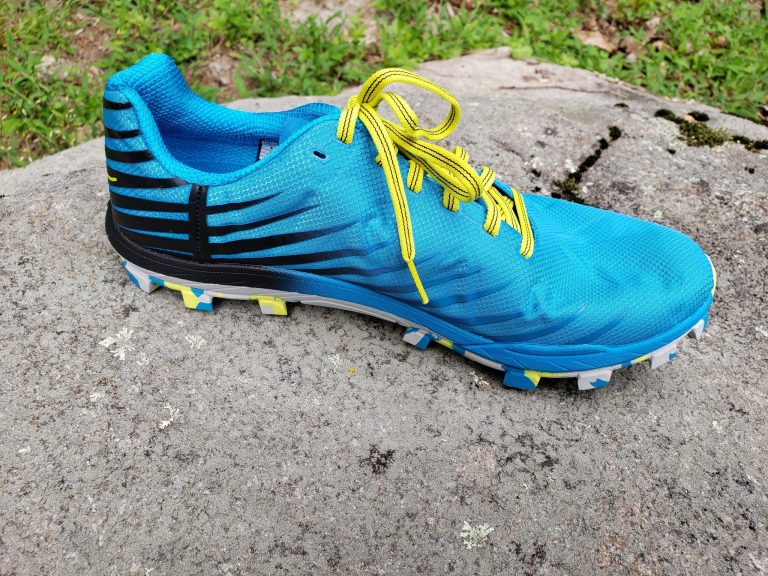 Stack height can be broken down into four basic categories:
Feel the ground
Some feel for the ground
Some feel for the shoe
Feel the shoe
Barefoot
1-8mm
Minimal
9-13mm
Low
14-18mm
Medium
19-23mm
High
24-29mm
Maximal
30mm+


HOKA's midsole is made of EVA foam, features their Profly technology, and is considered "responsive" on their cushion scale (responsive, balanced, and plush).
PROFLY™
PROFLY™ is a dual-density midsole: softer in the heel for a cushioned landing and a higher-density foam in the forefoot for propulsion.
INTELLIGENT CUSHIONING OFFERS
Softer cushioning for protection (heel)
Firmer cushioning for propulsion (forefoot)
A fast and comfortable ride
The midsole is absent of any rock plate which allows for tons of "feel" while running the trails. While the terrain is soft, there is nothing to worry about. However, when things get technical, you start to feel rocks and sharp objects. Personally, I prefer to feel the terrain I am running on.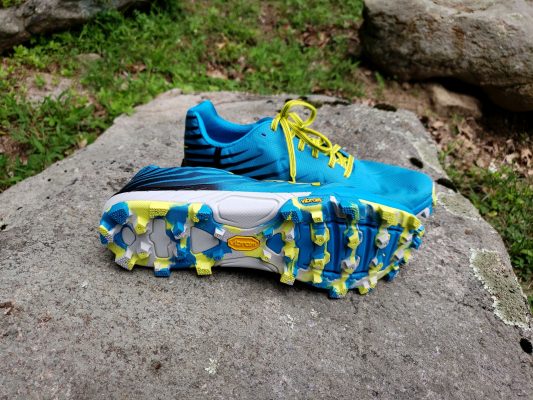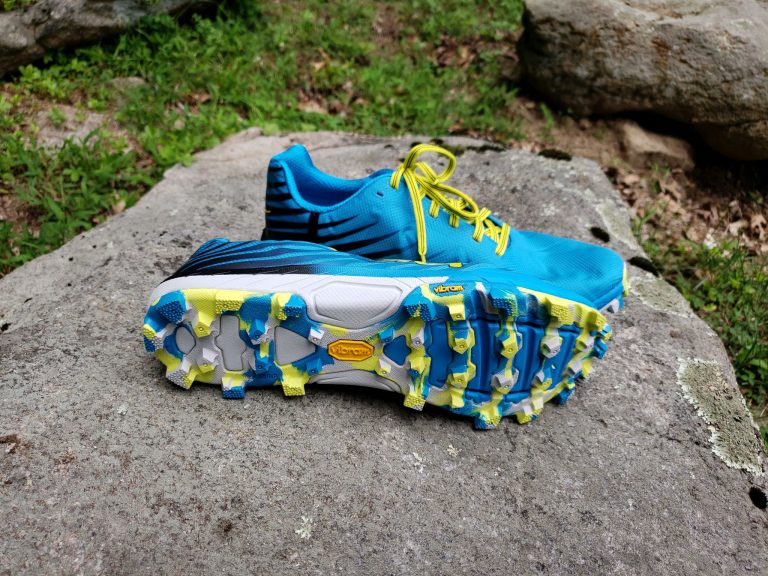 The shoe's outsole sports an aggressive traction control system. The EVO Jaws integrate a Vibram outsole that features 6mm lugs and has a pattern not dissimilar to that of many other popular brands. The pattern and depth provide plenty of grip on loose surfaces while the Vibram material gives you some grip on slippery surfaces. Loose dirt, leaves, gravel, no problem. Don't be overconfident though, the EVO JAWZ will not work miracles. Even though there is plenty of grip in most conditions, running over large rocks while it's raining will lead to a face plant or an unplanned plank; speaking from experience.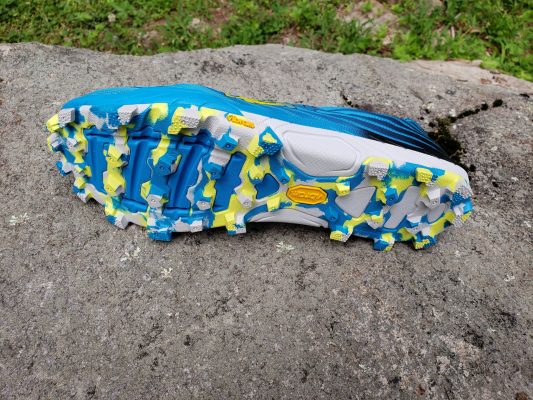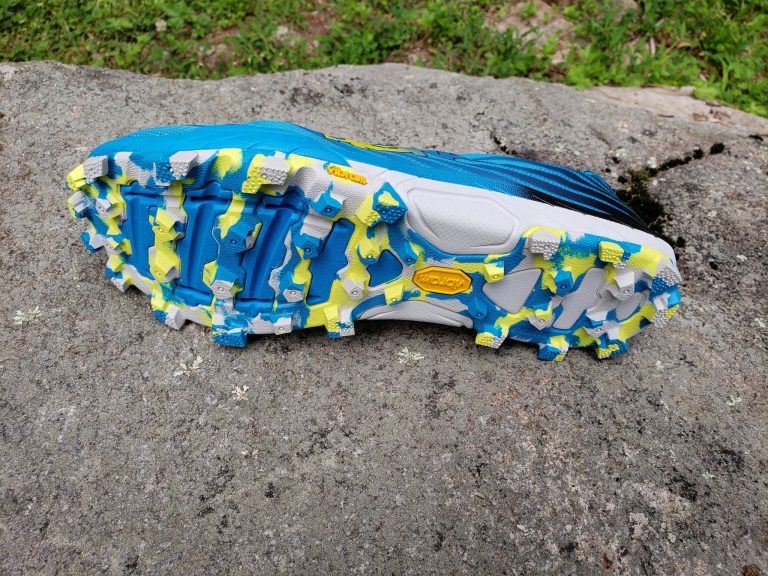 The upper is manufactured from a durable rip-stop material that does a good job of wicking away water. The upper is comfortable and is reinforced with thin strands of material to prevent failure and some simple tears. The bold blue color does bleed though. My feet were blue for the last four runs I wore the JAWZ. Hopefully, that will be at its end; I am tired of looking like a smurf.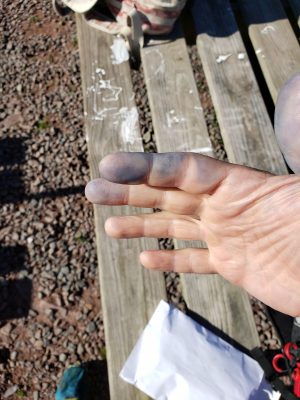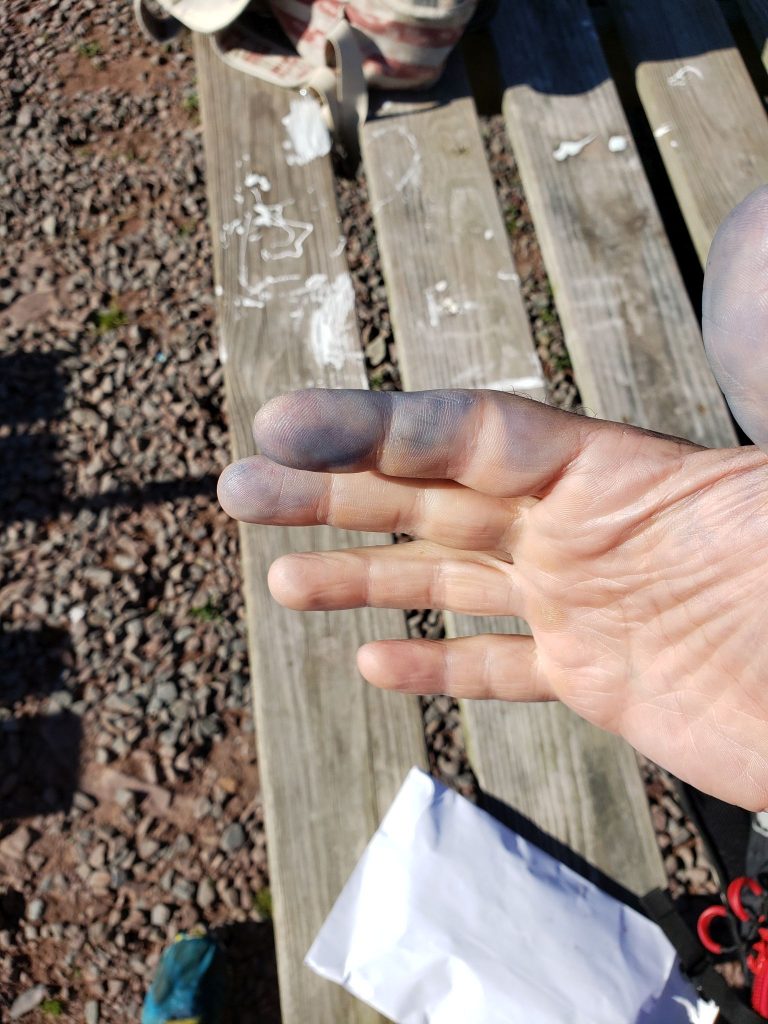 The shoe's laces do a good enough job of keeping them from moving around while running. The tongue sports a large loop for you to run your laces through. Pair that with some runner's loops and you are good to go.
The EVO JAWZ are extremely comfortable when you first lace them up. The soft nature of the HOKAs makes for a unique experience and it is immediately noticeable. The shoes are a bit narrow if you are coming from the wide toe box of the Altras, but over short distances, you won't really notice. There is some getting used to though, I started to experience some hot spots when the miles started piling up. If you are used to "normal" running shoes, moving to the HOKAS will be an easy transition.
When the feet hit the trails, there is really nothing to complain about with the EVO JAWZ, that is if you don't mind your feet being blue for the first few runs. Outside of that, the shoe is actually very comfortable to run in. I love the feel you get while hitting surfaces, I love the aggressive Vibram outsole and 6mm lugs, I really like the soft nature of the midsole, I like the sensation Profly provides, and I can tolerate the styling. Honestly, they are a bit bold for me, but it isn't over the top.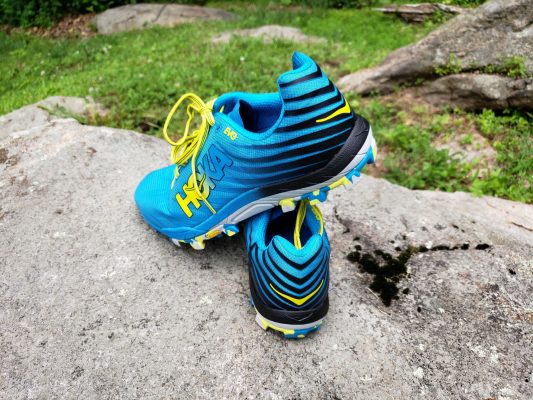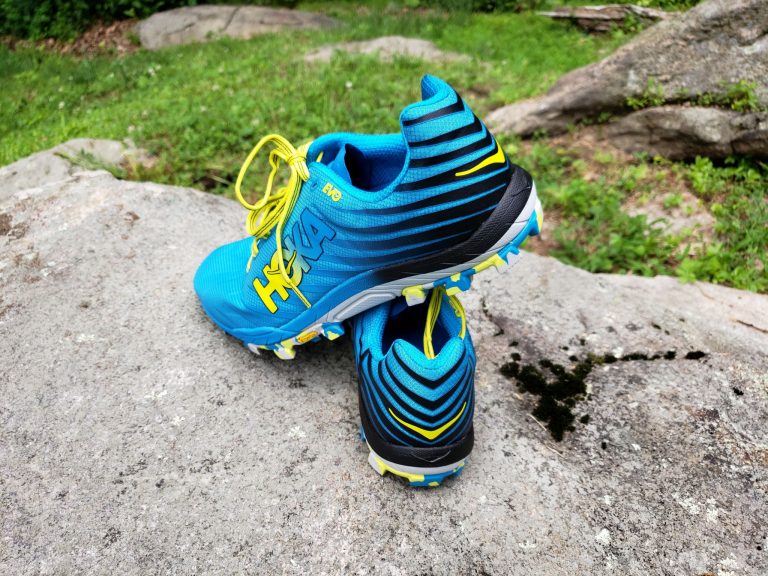 If you are in the market for a new shoe then the EVO JAWZ deserve some consideration. They are very capable, decent looking, and competitively priced.