With ultrarunning becoming a popular transition from obstacle course racing for some, new races are popping up all of the time.  In talking with a few friends last year about some of the ultras we had run, as well as some of the more challenging OCR events, we realized a lot of us enjoy races with a lot of vertical gain.  It seems most of my OCR, and a good bit of my ultra friends, really enjoy playing in the mountains and the challenges that come with the ups and downs of terrain. Some people really enjoy just plain old running, but it can get monotonous and, frankly, boring.  Enter – The Vertical Playground.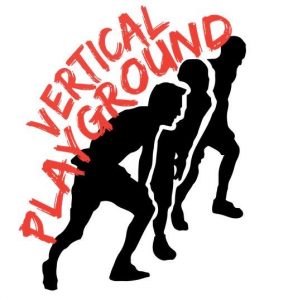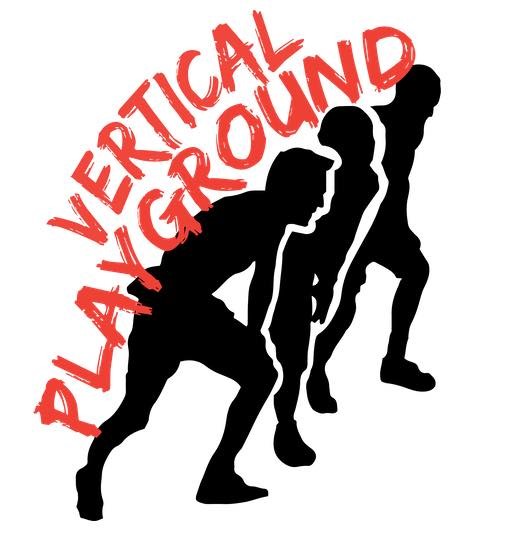 A group of friends created a private chat back in September 2017 to bounce some ideas around on what they could come up with to expand their skills and create something new and fresh. It was an R&D shop for trail runner's dreams and ideas to be birthed. Mimi Fenton and Nick Yeates led the charge in ideas, along with other Spartan athletes from around the world. More running friends were added to it as the ideas flowed. There were probably about 10,000 chat messages sent.  It's an insane trove of info and bad cat memes. This birthed the bear boxes, locale, rules, etc. Nick, being a map geek, has been mapping the race area on and off for a couple years, so he already had a great head start. He made about 15 trips to continue mapping out trails, gain land info, and start scouting locations for bear boxes (more on this later). Between Nick, James Butler, and Pete Haack, they had decided on the final maps, a way to print them out for those who wanted physical copies, and a digital way to allow racers to track their location and help them decide where they wanted to go.  James put the maps on an app called Maprika, which tracked your live location over top of the final race maps they produced, which called out all trails in the race area (over 200, including all the connecting segments), aid station locations, and bear box locations, along with some points of interest with good views. What more could you ask for??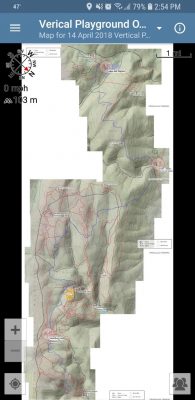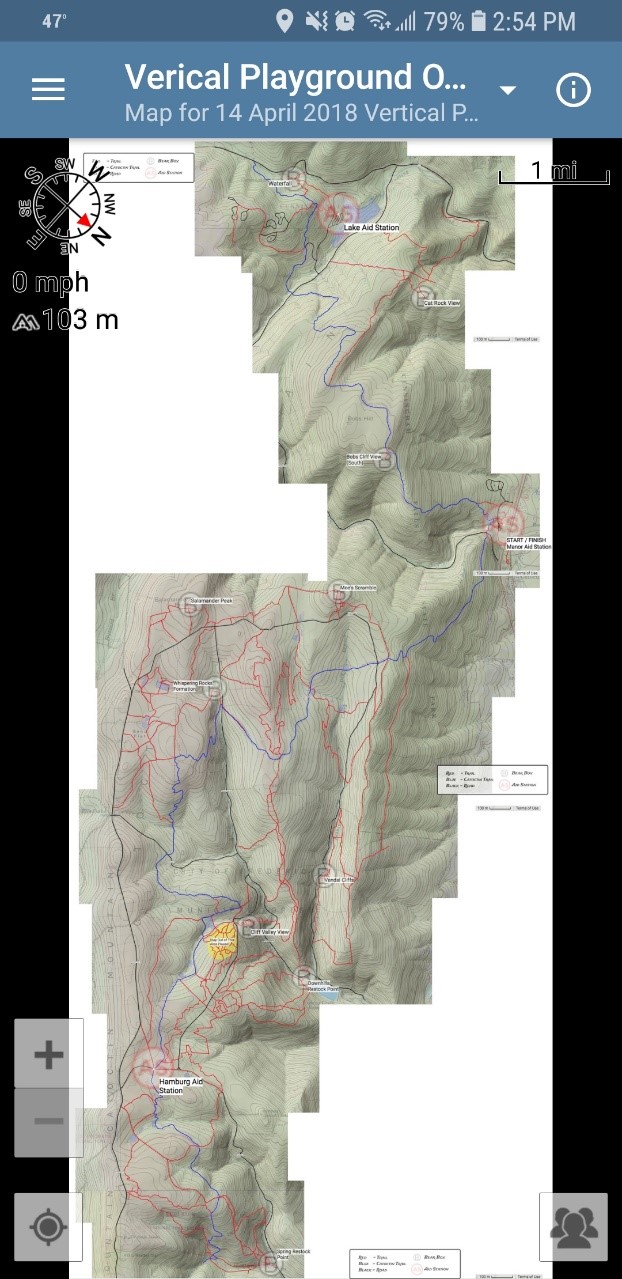 The race would be set in the Catoctin Mountains and Cunningham Falls State Park in Maryland, which has a massive network of trails, a lot of them not regularly traveled by foot.  A lot of these trails were developed and built out by local mountain bikers, so if you are familiar with mountain biking trails, you know there's a good bit of up and down on some really great winding single track.  There's also a well known and marked trail (Catoctin National Recreation Trail – also referenced as the blue trail because of the blaze color) that was part of the race area. This trail is also home to the longtime running "hilly, rocky, gnarly, no frills, rough and tumble" Catoctin 50k Trail Run.  The premise of The Vertical Playground is simple – get as much vertical gain as you can. I mean, come on, the name directly states that. Oh, and while you're out there, we placed 10 bear boxes (giant plastic tubs filled with water, some snacks, and a different colored hair tie for each). Whoever collected the most hair ties would get a funny/corny prize.  So not only are we out there trying to read a topo map to find all the trails that have the most vertical gain, we're exploring the map and traveling all over the place on a scavenger hunt.
The rules were simple:
No uphill repeats within an hour.

If you start going up a hill, you can't start that same hill for another hour. This prevents someone from just finding a hill and continually going up and down it for the race duration.

No road uphills.

Again, stay on the trails.  Obey signs, don't go wandering off the trail, etc.

Leave No Trace

Have a plan of action.

Whenever you left an aid station, they always asked what your plan was so they knew which direction people were going in case of an emergency.
My friend Alice and I drove down that morning for a 6 a.m. start time.  Both race options (6 hours or 14 hours) started at the same time. We arrived around 5:30 a.m. and proceeded to the check-in table.  We were given a number that corresponded with a GPS tracker that we were to carry throughout the entirety of the race. This would be the official word on how much vertical gain a racer accumulated.  These trackers were rented from Europe and are what a lot of the bigger races use over there to track racers. The two teams worked extensively together to make sure they were set up properly and working.  It was a very small device that slipped into my vest pocket and I forgot I even had it on me. My Garmin GPS watch also tracked vertical gain so I'll be curious to see how close the two numbers were. We also picked up the race shirts we ordered.  After we geared up and said "hi" to some friends, we got some directions/words of wisdom from Nick, the Race Director, and off we went.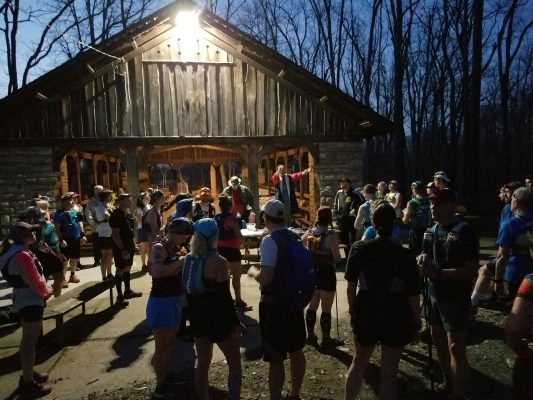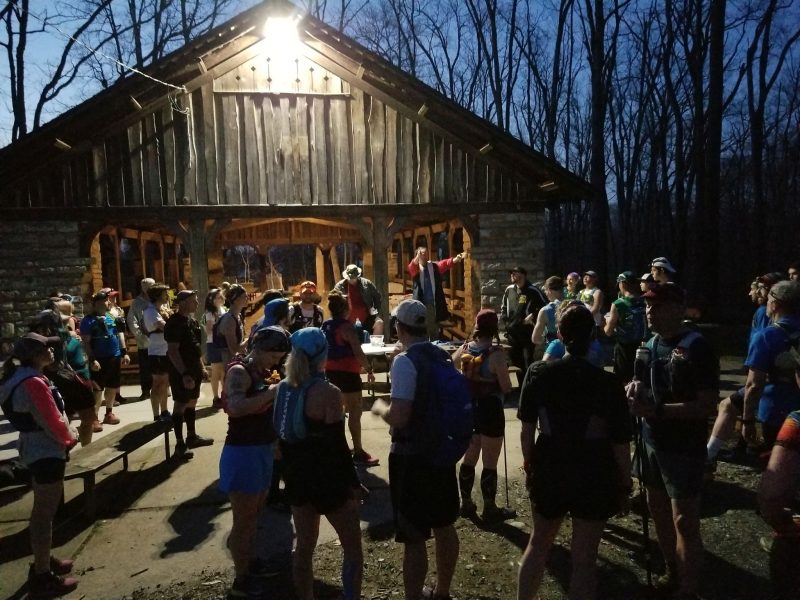 The race start was odd as there wasn't a traditional start line and one path that everyone had to take.  We were all standing outside a pavilion and could go any direction we wanted to and link up with a marked trail.  There were trails north, east, and south of us, so the start was just people running every direction. Some even hit the bathrooms or went back to their car to grab something they forgot.  Alice and I decided to head south as there were a lot more trails in that direction. Nick had also mentioned that there was more vertical gain to be had there as well. We started in that direction and found a group of people running back towards the start line.  It was confusing at first, but then when we looked at the map, we realized they must've not been able to find the trailhead. Knowing that they already had figured out the error, we fell in line behind them and headed down the trail. Immediately we were met with a stream crossing and some of us were bound to not get our feet wet two minutes into the race, so we tried to find a better place to cross.  After having no luck, we did our best to rock hop. The uphill then started and we were in for a long, low-grade climb. Thankfully the sun was already starting to come up so headlamps were only needed for a short while.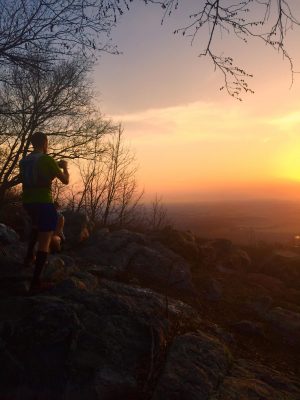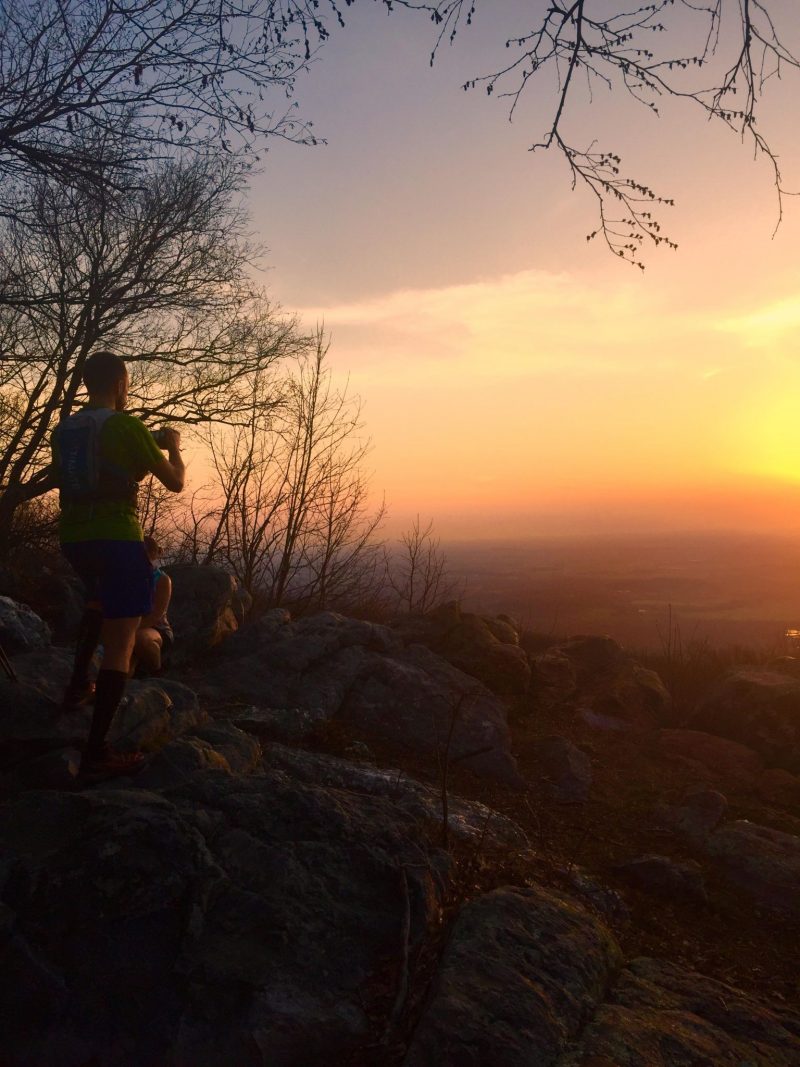 As we were climbing on the side of the mountain, the deep colors of the sun were illuminating the trail ahead of us and all the trees.  The temps were great (somewhere in the mid-50's F). I knew the temps were going to skyrocket later in the day into the 80's so I tried to enjoy the cooler weather for as long as I could.  It truly was a gorgeous morning and once the sun popped up over the horizon, it made me stop and admire it. It has been a long time since the PA/MD area has seen the sun, let alone been without some crazy weather for the time of year (we had snowfall just the week before and freezing temps just a few days before).  I snapped a picture and continued on up the trail.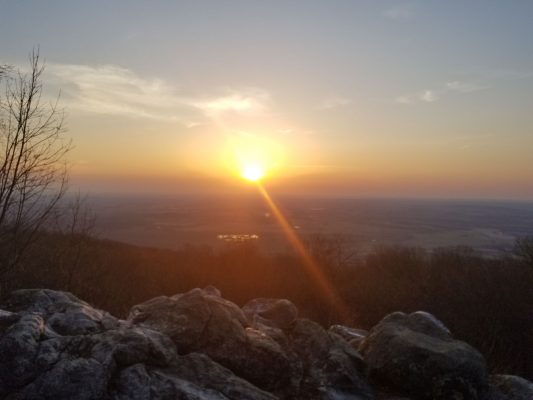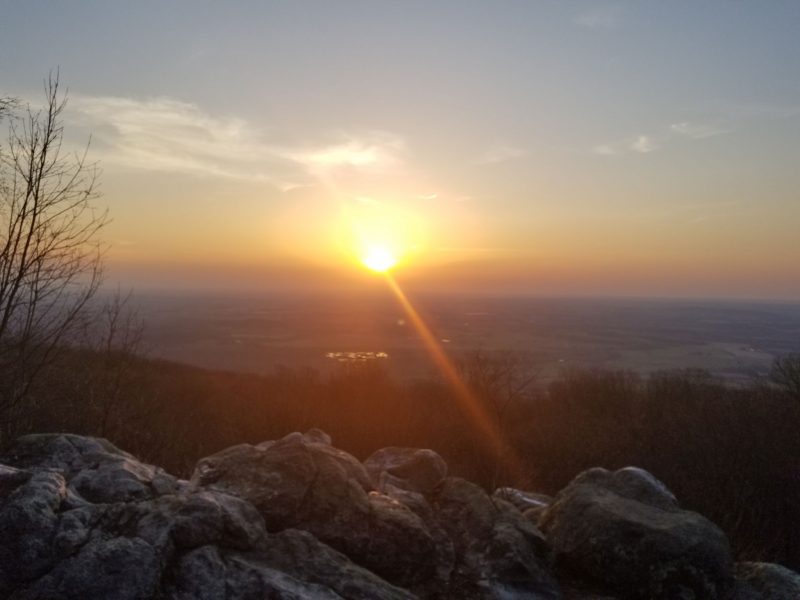 Somewhere along the trail, we were going around a wet and muddy spot in the middle of the trail.  We had to navigate a few fairly large branches and other tree limbs that were along the side. I was following Alice as she had been setting the pace previously.  We took it slow, being careful about our foot placement to not step in water or mud and also avoid any slick rocks or tree limbs. Being a few steps behind her, I was able to just follow her foot placement to navigate the small maze.  Just a few steps from being in the clear, we had to step over a branch and duck under a broken one at the same time. I had ducked down, stepped over the branch, and…whack! I stood up too soon and drove the top of my head into the broken branch I should've gone under.  A loud yell and a few choice words came out of my mouth and Alice stopped in her tracks and turned around to see me doubled over, clutching the top of my head. I had run my hands over my head and through my hair a few times and didn't have any blood come out on them, so I thought I was good.  She checked it out though and I had definitely broken the skin and was bleeding. After having fun pouring cold water on my head and watching me deal with the resulting brain freeze, onwards we continued.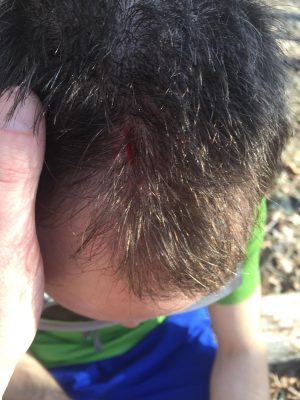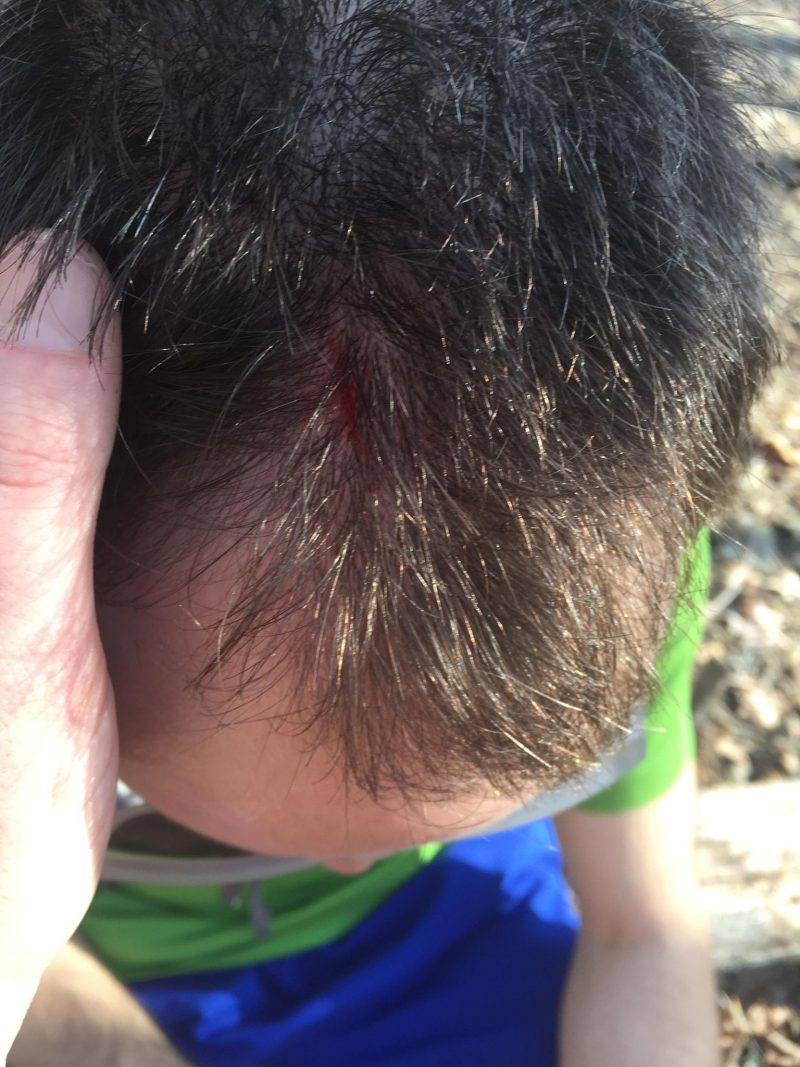 We ended up following the blue trail all the way down to the southern aid station and arrived there around 9 a.m.  We were greeted by four or five people, one of them being Pete Haack who was heading up the aid station. On the table was usual fare -PB&J sandwiches, chips, cheese balls, etc.  Nothing seemed to really tempt Alice until Pete mentioned he could also cook up a quick grilled cheese or quesadilla. It was also posted that Nick was going to get a different beer for every hour, so we inquired about that.  Yes, we were aware it was 9 a.m. Nick produced a small cooler with about a dozen or so unique specialty beers, some of which I had never heard of before. Alice had asked what was in there and when I heard "sour" my ears perked up.  So all three of us shared a good sour beer.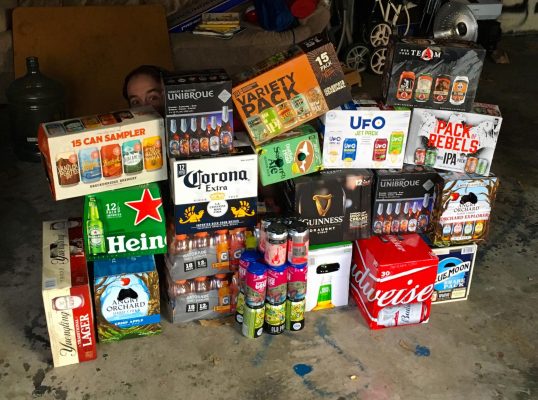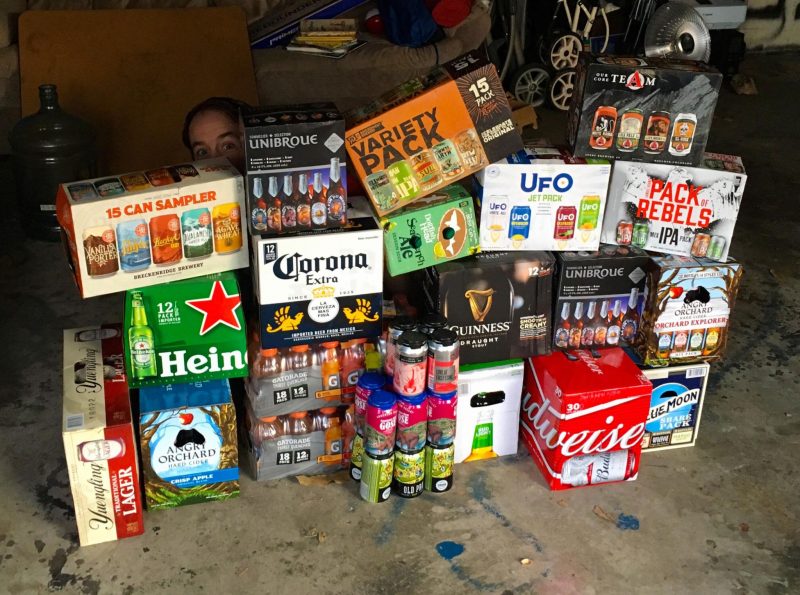 Once restocked and refueled, they asked us what our plans were and where we were headed.  I stated that I just assume we'll keep going south as there was a bear box all the way at the bottom and then we could work our way back up, hit the aid station again, and continue north.  Nick had been talking to Alice and offered to show us a few cool things in the south (and really just wanted to get out on the trail after all the RD stuff he had been doing lately) so we took him on as a tour guide.  We set the pace and off we went.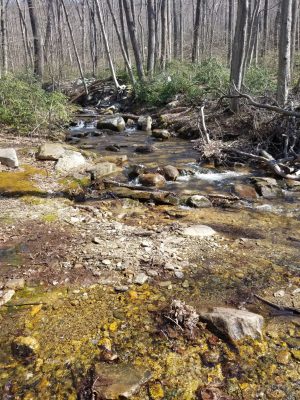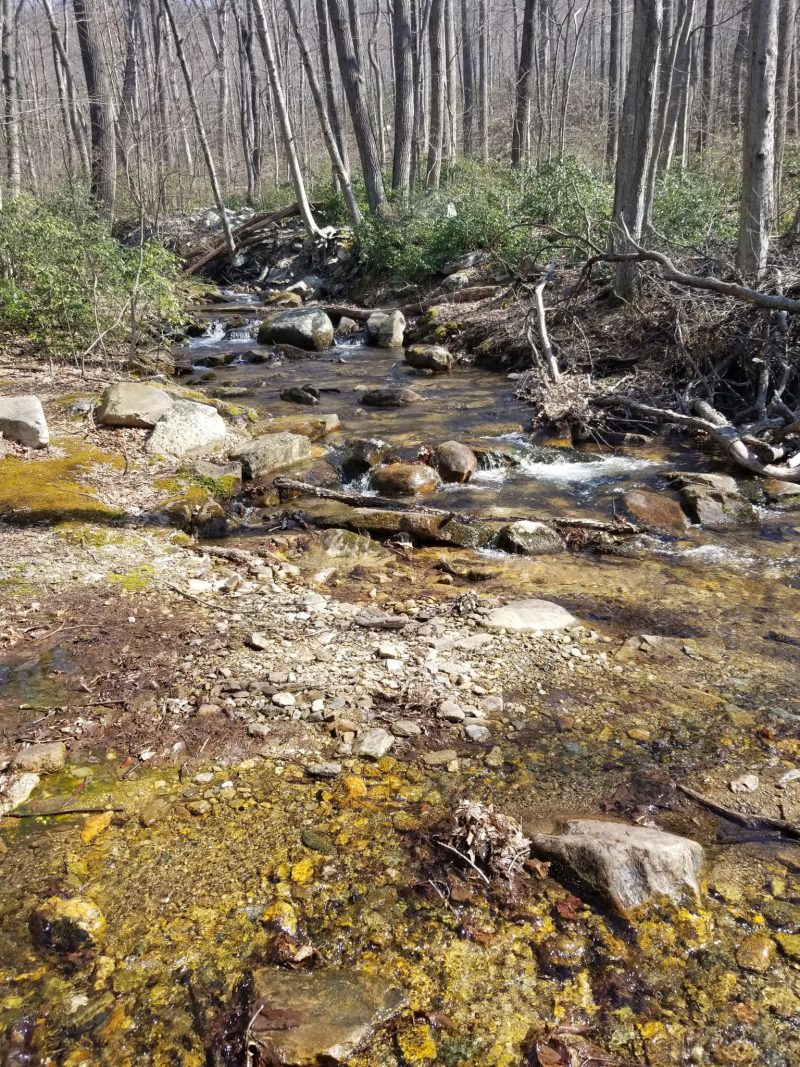 Immediately we were chatting about anything and everything running related – from how the trails we were running on were formed, how the local and state level were getting involved in the local trails (both good and bad), Barkley Fall Classic and Barkley Marathons talk, other races/places we've ran, and more.  We noticed that the race did have a slight bit of a Barkley feel in that there was no specific, prescribed path you had to take and the bear boxes were a bit like books, but instead, we could use GPS to find them instead of having to know how to navigate using map/compass only.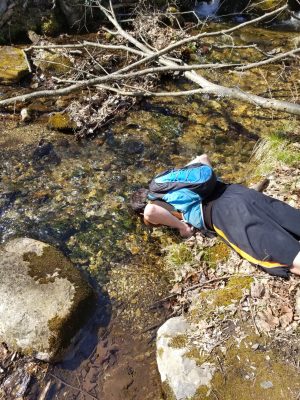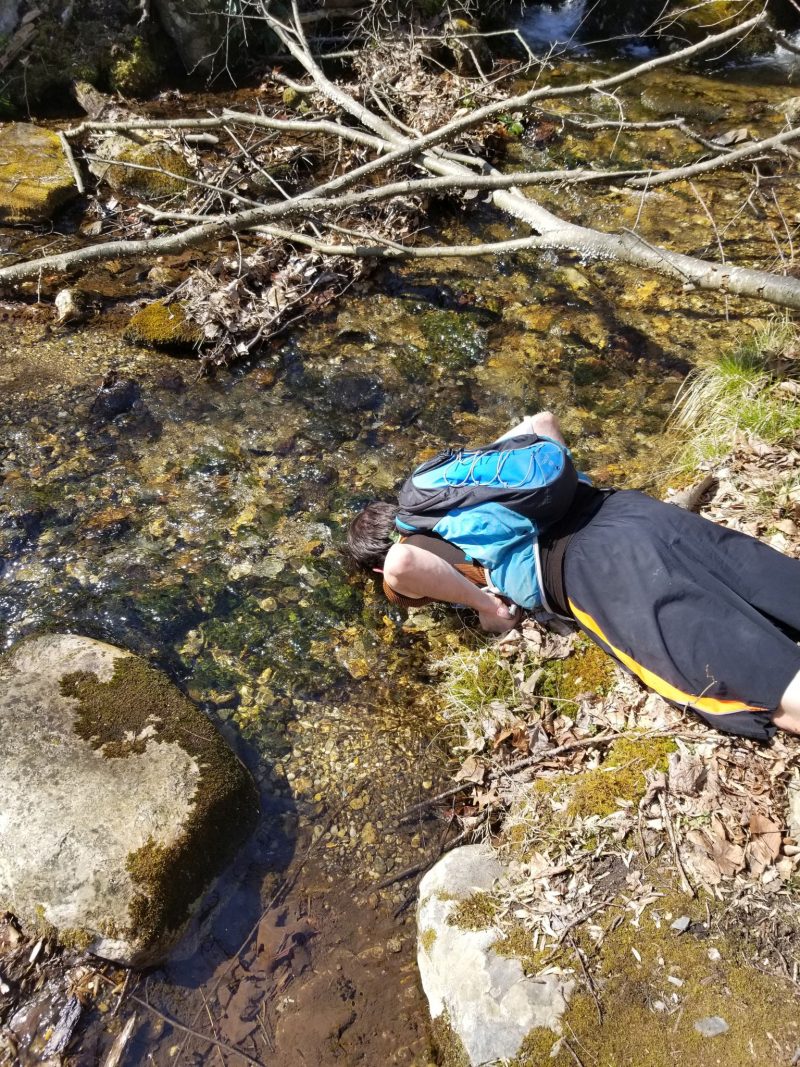 He had one trail in mind that we were heading for which would be a really fun single track trail with a wicked downhill grade.  I love just letting loose and flying down a nice winding downhill, so I was all in for that idea. This would also kick us out at the bottom of the map area near the bear box.  It even had a fun name – Kubla Khan. When we arrived, none of us were disappointed. That was a picture perfect single track – lots of curves, some decent drops over rocks, and lots of technical terrain with rocks and roots littering the path.  We all were flying down this path – my watch says at some point I hit sub-6 min/mile pace! I had Nick tight on my heels and Alice not too far behind. When we reached the end of the trail, we found our first bear box. Not really needing any aid from it (other than Nick grabbing a bar), we forgot to grab the colored hair tie from it but didn't realize until much later in the day.  Oh well.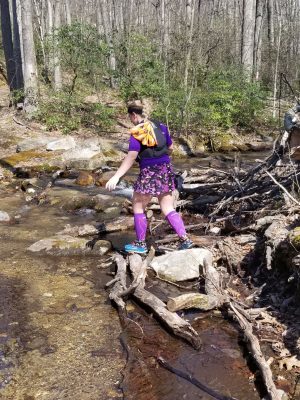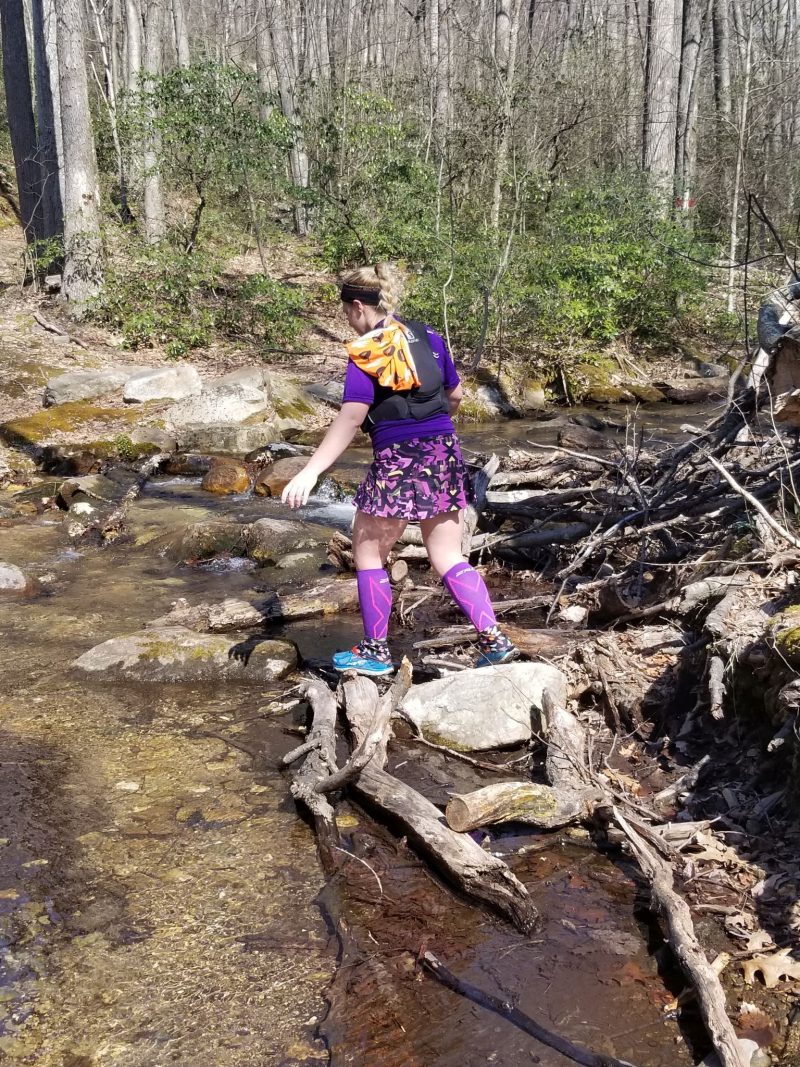 Since we had just spent a good bit of time running downhill, there was only one direction to go from there. Up.  We followed a few trails back uphill towards the aid station and ended up coming across what Nick said is probably a new trail in development.  They had pink flags laid out across the side of the hill in a path. He explained the long, drawn-out process that people have to go through to develop a new trail.  More power to them for all the political stuff that they have to deal with! After that, we linked up with a dried up creek bed and eventually found ourselves back at the aid station.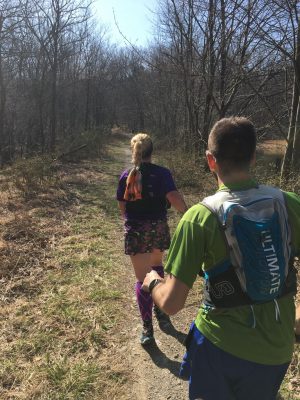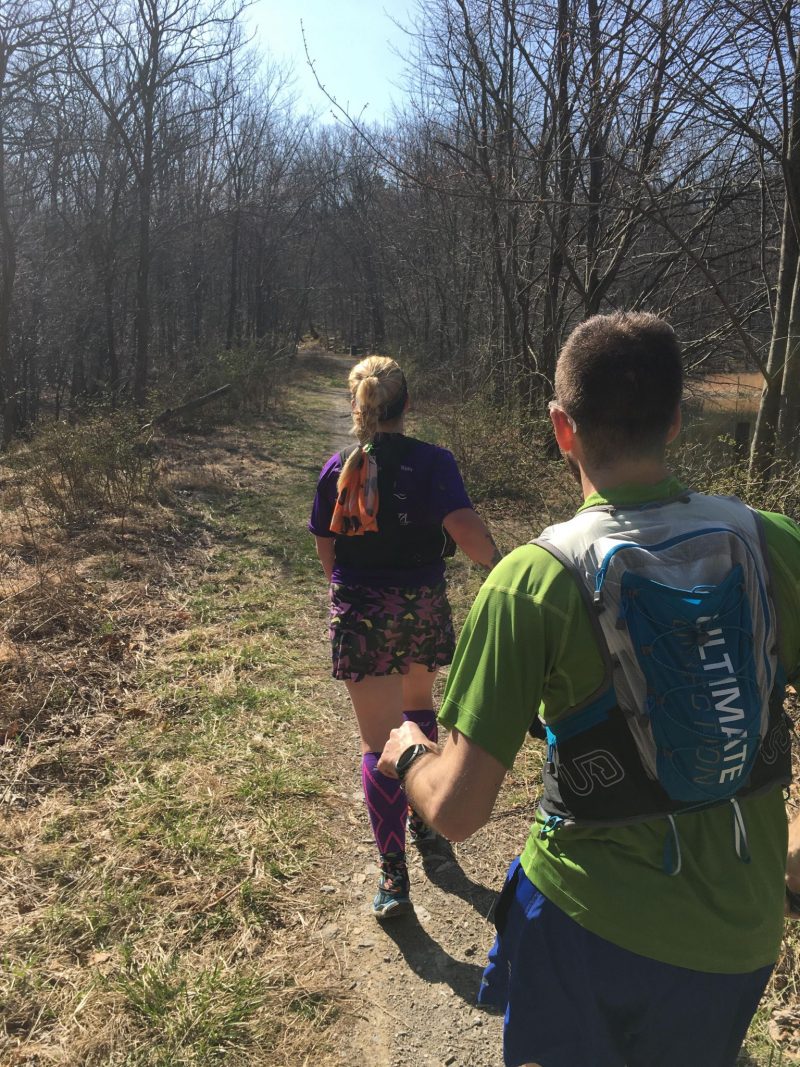 From there, we planned on heading back up north but asked Nick what points of interest we should hit on the way to the start/finish line area.  He noted two or three so we set our sights on those. Those sites also contained bear boxes, so we'd check a few more off the list. We had decided not to go for all the bear boxes, but more enjoy the time out there and explore the area.  Plus, the temps felt similar to those of Mordor after we had been used to running in sub-40° F weather for the past few months. For these reasons, neither of us were really pushing ourselves and we were moving slower than planned, but we were out on trails on a great day.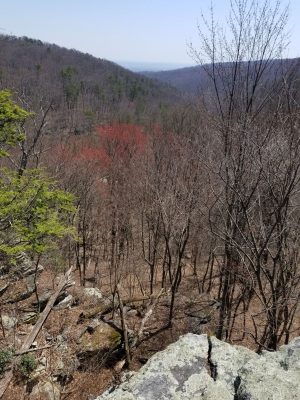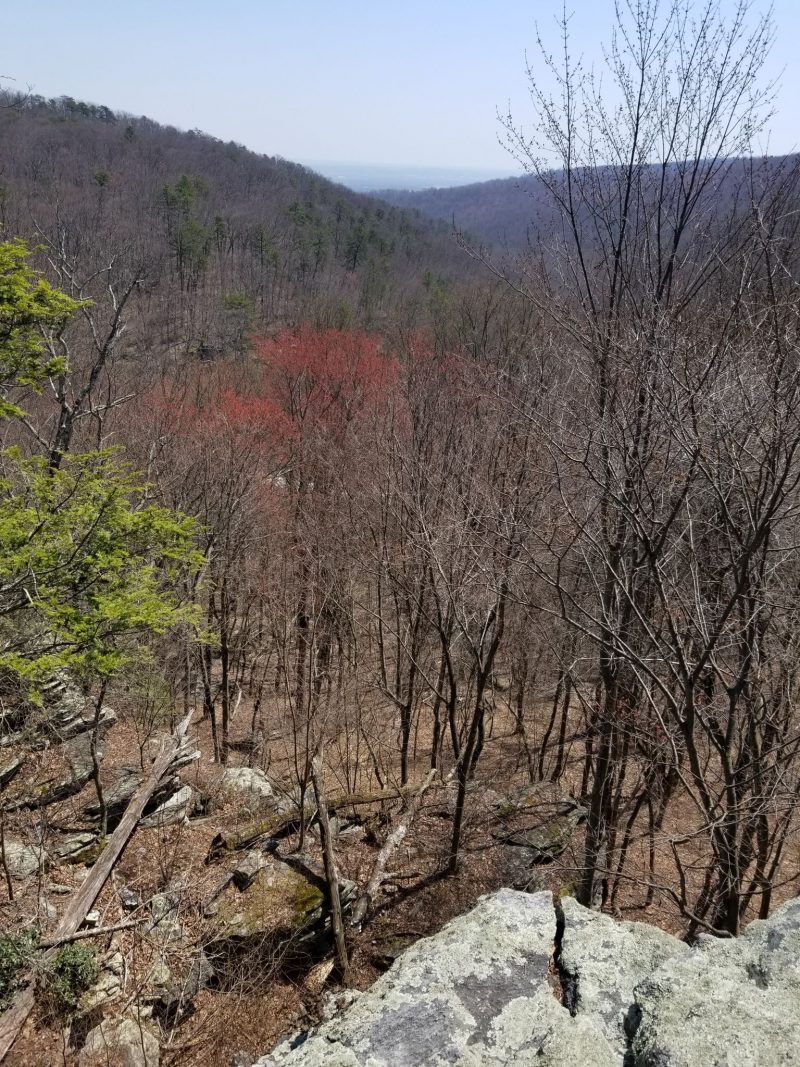 The next stop we hit was called Cliff Valley View.  This area had a good bit of vertical to gain, a bear box, and a nice view.  Thankfully while we were at the southern aid station, we had heard Nick mention that the bear box was placed a bit further downhill than he had marked on the map so we knew to continue down to find it.  After we grabbed our hair ties and restocked a bit, back up the hill we went and on to the next stop. Along the way, we ran into TJ Theis and chatted a bit. He was doing well and had already found all the bear boxes in the north and was now exploring the southern area.  Cliff Valley View was his next stop so I gave him a heads up about the bear box not being in the marked location. We chatted a bit more and were on our separate ways. Oddly enough a little while later, my phone started vibrating. I had cell service throughout the race but most people knew I was racing, so I was surprised to get a call.  I look down to see TJ calling me. Having left him not too long ago, I was hoping it wasn't a distress call so I picked it up. He couldn't find the bear box! I chuckled a good bit at his tactic to help find it. I didn't realize we got a phone a friend lifeline for this race, but I told him how to get there as it wasn't in direct view of the main rock structure.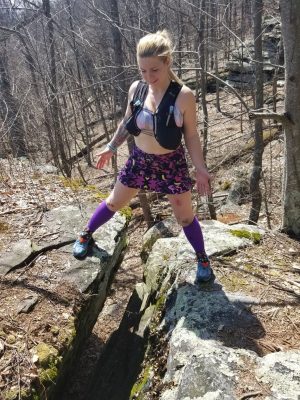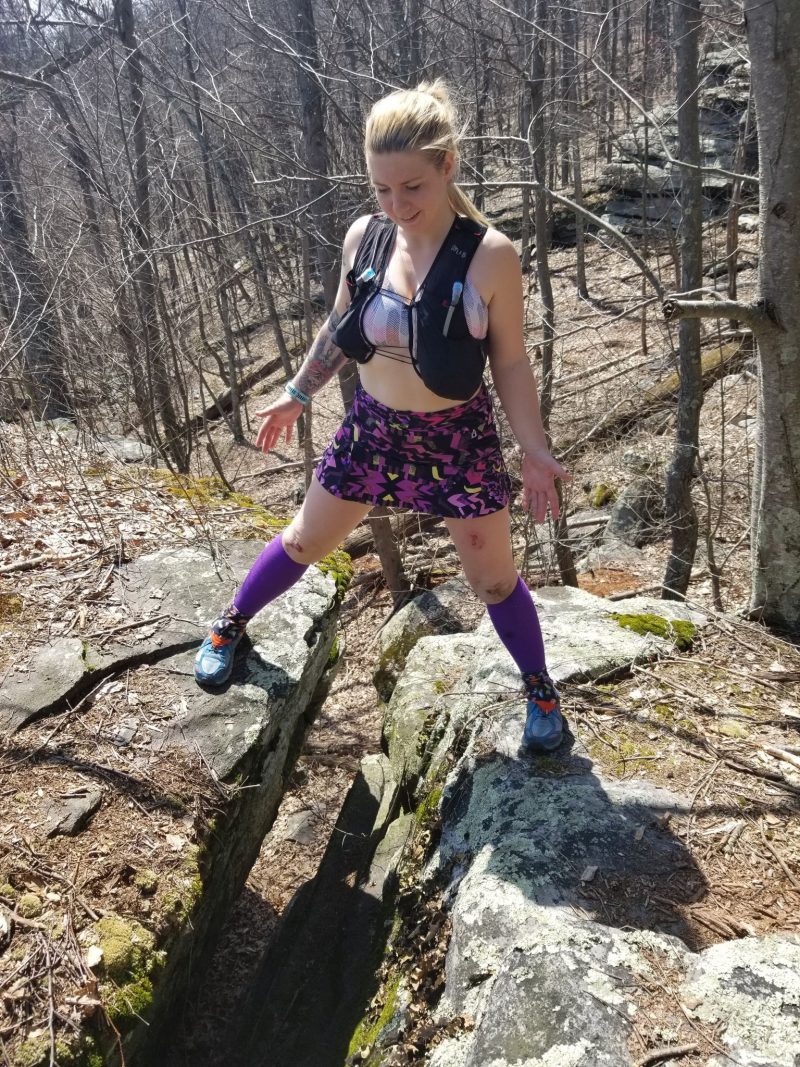 A little while later we arrived at our next stop – Whispering Rocks Formation.  This place is a big boulder field, which in and of itself is pretty cool. But what differentiates it from other boulder fields is that this one has water running under it that you can hear.  It was very relaxing and tranquil to just sit and listen for a bit. Too bad it wasn't shaded though. The bear box at this location was out in the middle of the boulder field in the blazing sun so we didn't stay too long.  Just long enough to grab the hair tie, refuel a bit, and complain about the heat. Then we headed back to the start/finish area.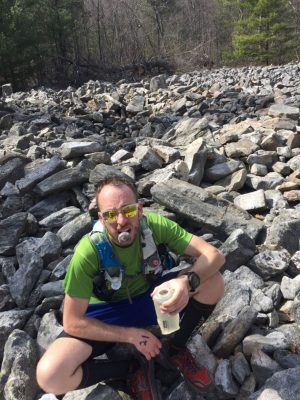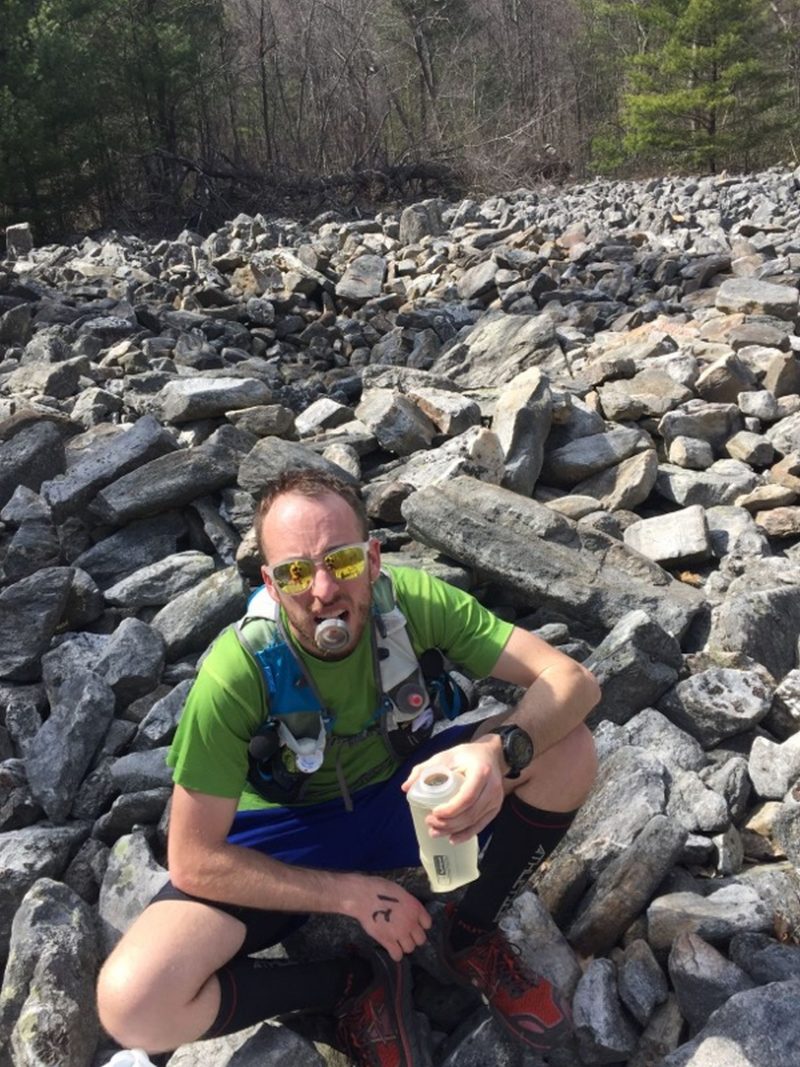 The goal we decided on during our trip back was to hit 50k in distance.  We were about 1.5 miles short of this once we got back so we found a small loop just around the area to get that had some good elevation to add as well.  After our climb, we ended up running into a small group of people headed up by Mimi that was climbing up to Bob's Cliff View. I decided to join them to get a bit more elevation while Alice headed back to the start/finish area.  Had I known what I was in for, I would've joined Alice in her trek back but nope, I was dumb and went along with the group. The climb was 1.5 miles long with about 1200′ of elevation gain. Big, long, climb with many false summits.  But once we arrived at the top, the view made up a bit for the sucky climb late in the day. I then left the group and blazed down the mountain back to the start/finish area to call it a day, turn in my GPS tracker, and get some food.  They had a ton of food and still had a couple coolers of good beer. It was nice to get out of the sun, get some cold beverages (drinking water or Gatorade that's been sitting out in the hot sun all day isn't pleasant), and enjoy the company of other runners.  We shared stories of the day, compared sunburns, and talked about future races we were doing.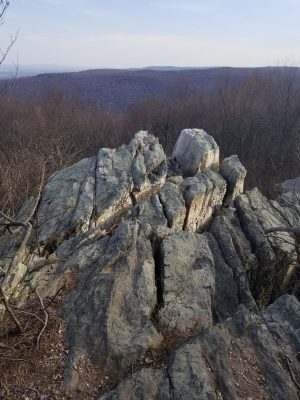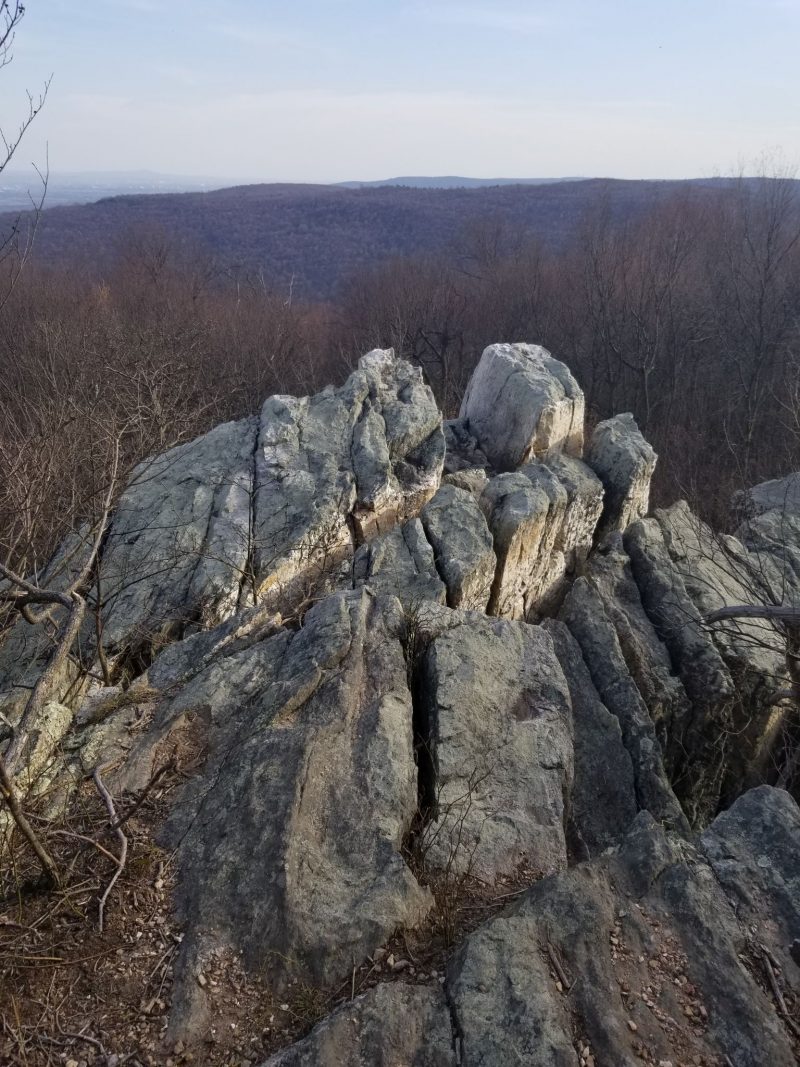 After we cheered the last of the runners in (they had an 8:00 p.m. cutoff to be back at the start/finish area and some of them used all but a minute or two of that time), Nick did the awards presentation.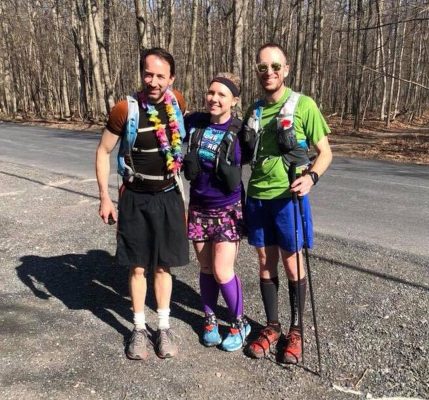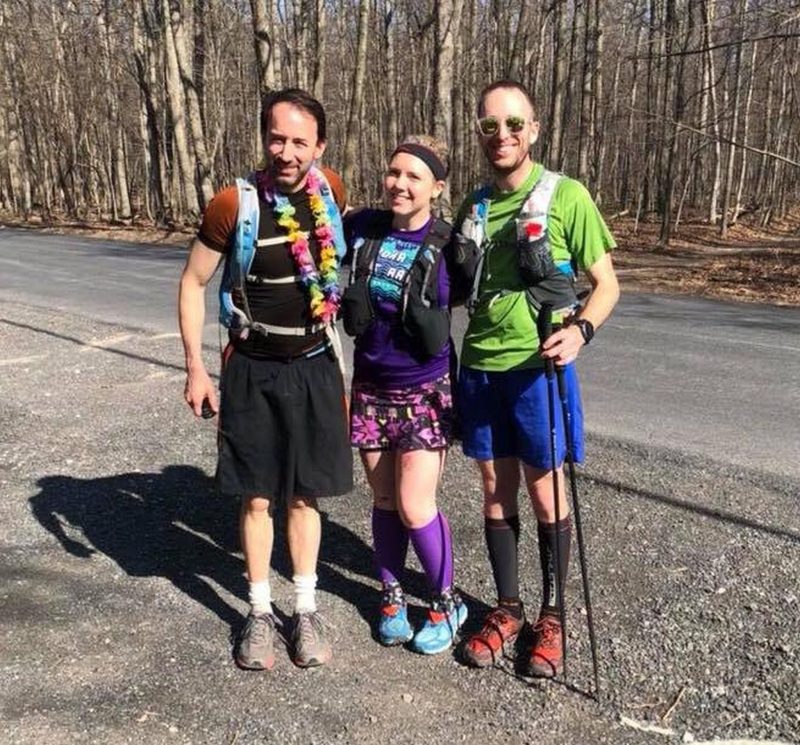 Some awards stats:
Winner – Scott Gregor with 17,000′ of vertical gain
6 Hour – Top male got 8 bear boxes and top female tracked down 7 bear boxes
14 Hour – Six racers managed to navigate the whole area and find all 10 bear boxes
After awards, we retreated back to the campground, enjoyed a beer, some food, some conversation, and a nice campfire (which I had been looking forward to for days).  It was a great relaxing ending to an awesome day.
Big shout out to the following people (some I have already mentioned in the article):
Nick Yeates – RD
James Butler – Co-RD, tracking extraordinaire, start finish, registration
Pete Haack – Assistant RD, South Aid station captain
Tony John – North Aid station captain
Chad Epler – Cook extraordinaire and Start/Finish Aid station captain
Mimi Fenton – Start/finish helper and organizer
Alan Zwart & Billy Clem – Drivers all day long, purchasing and refilling aid and boxes
Mary & Jim Yeates – Created custom chairs and help transfer gear
It's really incredible to see the number of people that go into making a race happen.  They all did a fantastic job!
For full disclosure, I was given a free race entry per a contest that the team put on via their Facebook page.  I was racing whether I had to pay or not as the race looked like a ton of fun!