Runderwear specializes in making underwear that won't make you regret putting in those miles. Their primary focus is to make moisture-wicking, seamless, comfortable and anti-chafe underwear that will help you to stay as comfortable as possible on your runs, even the long ones.
Given the name, Runderwear obviously started with specialty underwear products; briefs, boxer, and ladieswear, including running specific sports bras. They have since expanded to solve anything that can make you uncomfortable on a run including things like; base layers, socks, headgear, and even a triathlon suit. With this specific focus, Runderwear has been able to create excellent products for this surprisingly under-supported (no pun intended) market.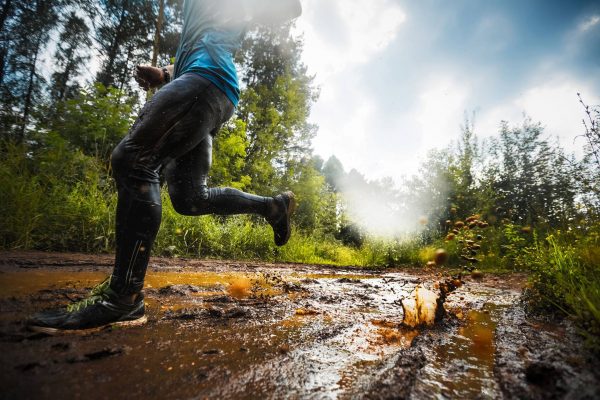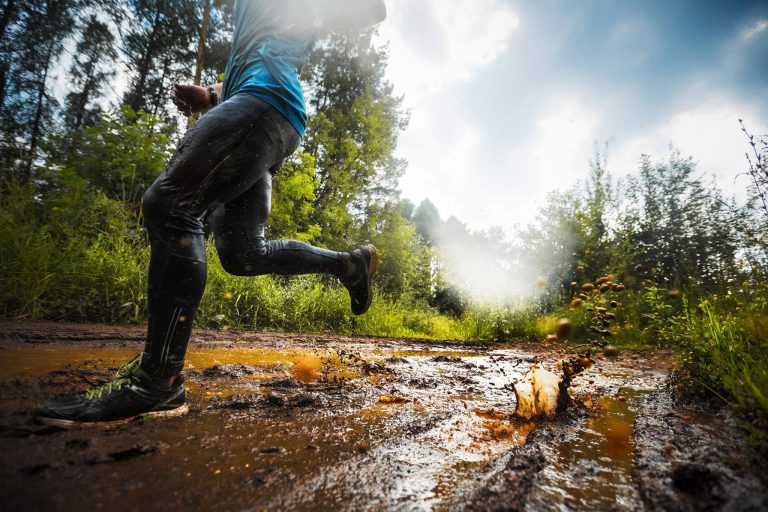 We all know how the pain starts, two things rubbing against each other over and over leading to blistering or chafing. OCR only encourages this because often we are getting soaked, then packing in some miles, rinse and repeat. It may be our shoes in a stream or mud pit, it could be the dunk wall or Shriveled Richard. Eventually, you become sore and uncomfortable as we push through for long periods of time. Runderwear aims to reduce any irritation because their underwear is a seamless design creating a chafe-free experience. Shorts manufactures have tried to correct this by sewing in a brief, but while it starts off well, after a few washes the chafing resumes. That's where Runderwear shines.
The Start
One of the founders of Runderwear, Richard, started off as a runner and wore the pains of running like a badge of Honor. His partner in crime, Jamie, was a member of your more traditional sports teams and thought that living with this pain was complete nonsense.
Together, they started investigating something I had been observing on my own and just lived with. For me, around mile 7 is when things start to get uncomfortable. What Jamie and Richard found was that around the 10k mark, the average runner would start feeling the effects of extra moisture held by their gear. That distance, depending on your leg/stride length is typically between a 10k and 7 miles. After trying to find a solution for this on their own via marathons and expos, they gave up and decided to fix it themselves, in 2011 the work began.
The Feel
As we are focused on the uncomfortable, Runderwear asked that we try both their boxers and their briefs on for size. They come in an individually packaged box; simply open and pull them out and you are good to go. However, I would probably wash them first if I were you.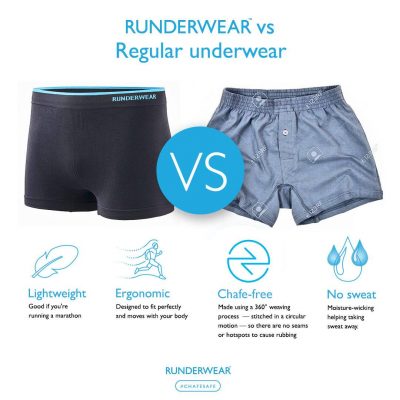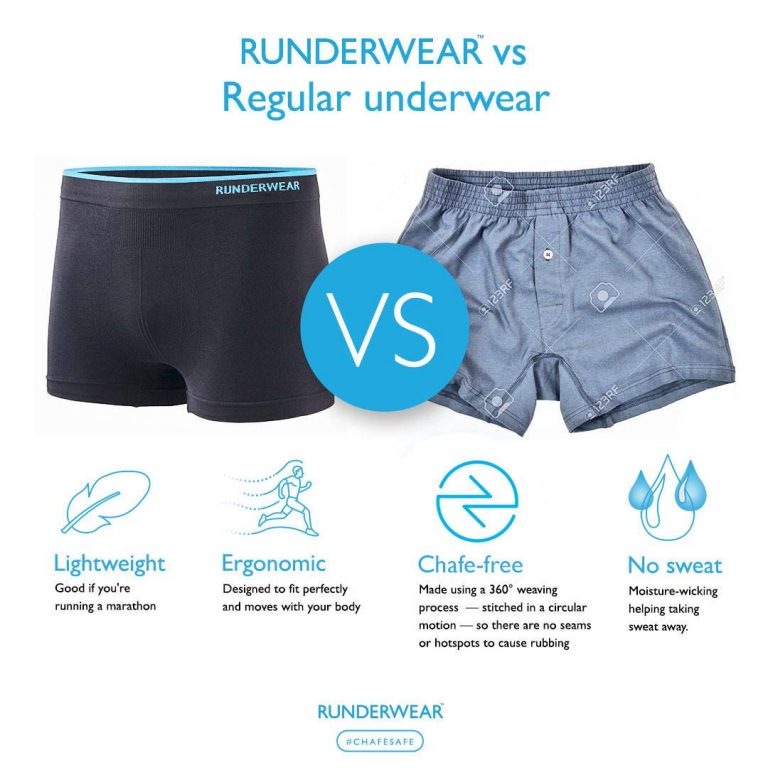 When I first tried each pair on, I found the fit to be very comfortable. Now, I am not normally a brief guy but all of my gentleman bits seemed to be supported well enough. The boxers hugged my quads perfectly. They locked down similar to the way my compression shorts/leggings do, but without that compression packing experience. I quickly forgot I was wearing them after a few minutes because of how they naturally they fit me.
The only "discomfort" I can report is when wearing shorts with a built-in brief, it would pull them up. However, this is more attributed to the design of the shorts than that of the Runderwear. In contrast, when wearing the boxers, I found this issue to be resolved. This most likely is due to the grip strips on the inside of the briefs, it makes the boxers hold their position instead of having to go super tight like compression gear would. This was an area where they used technology with ergonomics to solve a simple but annoying problem. You could also just cut the briefs out of your shorts, or buy shorts without them.
A Method to the Madness
The way Runderwear separates itself from the competition is in their "360-degree seamless" design. That annoying dig in, or rub, that you start to notice (at least for me) around mile 5 of my longer runs does not happen. There are no annoying seams, giving you clean fit all over.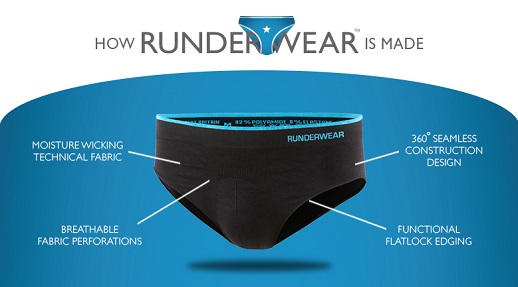 This design made any modifications and prototyping a long tedious process, any changes were not a slight move to the left, right, up or down, but instead were a complete retooling of their manufacturing equipment. That 3D knitting process is the key to what makes Runderwear unique.
I wore the Runderwear Men's Brief for a 7 mile Savage Race and the Boxer for a 15 Mile Trail run. I can assure you that they were thoroughly put through the paces. Likewise, after a few washes, I had no problems on my follow up runs, so the comfort is sustainable.
As well as being comfortable and chafe-free, the Runderwear Men's Brief and Boxer is also made of a very soft, breathable synthetic fabric. Long days trudging through the airport can leave me uncomfortable by day's end. These worked like a champ on multiple flights and when you are flying to race that is a big ole win in and of itself. They excel in warm and moist situations/conditions as the micro-perforations create a very breathable material that keeps you cool and dry. So after each run, the Runderwear by far was the driest article on me, not the norm from my past experience.
The Complete Experience
Runderwear is moving towards creating a complete and comfortable running experience. They already have a range of head-wear, socks, gloves, base layers, and even a triathlon suit. For the ladies, one of the most common topics we observe is the ability to find a great OCR sports bra that covers a range of sizes. Just in time for the fall season will be a new line of Sports Bra, covering the 26D to 40H sizes. Following close behind, in October, there will be the UK's most popular brand of anti-blister socks available for sale in the US. Given the enjoyment we've had from the products we already tested, these are definitely prepped to impress.
Overall Impressions
So I now have a problem, after a few weeks of trials I have become accustomed to the comfort that they provide over other items in my OCR drawer. I now have no interest in going back to my normal drawers unless I absolutely have to.
When forced back to the classics, for whatever reason, I really appreciate the chafe-free, moisture-wicking properties the Runderwear provided.
Overall Runderwear gets the OCRAddict seal of approval. Great fit, performance and solid pricing, worth giving it a try; especially if you are someone that does not like traditional compression leggings/shorts on the course and/or during your training runs.