I am always on the hunt for new gear.  I typically scour the web looking for… just about anything.  Well, when looking for some new gear to try out at the Spartan Beast in Winnsboro SC, a unique product made its way into my sweaty, mud covered, palms.  Enter the MudGear Compression Obstacle Race Socks.
Now, I don't typically make a habit of trying out new gigs the day of a race.  In fact, it is normally frowned upon.  However, living here in the cold, and mostly dry, state of NJ; there isn't much of an opportunity to give gear like this a warmup during the later months.  Anyway, I know that I like my Under Armour socks, but I am optimistic that these compression socks can make a difference in my game.


First, let me start with a little blurb about the company that brought these to my attention.  Mudgear was born when a couple of cats got together with an idea to bring an F3 logo together with apparel for a growing F3 community.
F3 — our three Fs stand for Fitness, Fellowship and Faith — traces its roots to a free, participant-led boot camp workout held on Saturday mornings at a Charlotte, N.C., park since 2006. The leaders of F3 launched their first Saturday workout on 1/1/11, on the campus of A.G. Middle School in Charlotte.
As F3 grew, so did their understanding of business and apparel.
We saw how popular gym brands cut corners on fabric and construction, and how these shortcuts were magnified off the treadmill and in the real world. Their marketing was tough, but their product was soft.
With that philosophy, Mudgear.com was born and started creating some exceptional looking gear.  While looks are great… performance is key.  And while things look good on paper so far, I want to see what the real world results are.
The Mudgear compression socks are born from 63% Nylon, 28% Polyester, and 9% Spandex (that equals 100%, I checked) along with 168 needlepoint compression construction.  This unique blend of materials and design allows for enhanced padding around the calves for abrasion protection and an ability to rid themselves of water with a quickness.
These socks are served in two flavors, full length and 1/4 crew.  Both sport similar features.  The top of the sock is 3×1 ribbing to help increase strength while providing a snug fit to keep debris out and offer a bit of cushioning.  The sock features a strong upper support, while the area just above your toes is smooth ventilating mesh.  The toe seam is unnoticeable and is supposed to reduce irritation.  The lower arch is ventilating as well and should provide adequate drainage and air flow.
Product Features
Tested by hundreds of elite obstacle course racers
Ideal compression strength for competitive racing
Protective backing for rope climbs and traverses
Over 100 5-star reviews online
Sizing
| | | | |
| --- | --- | --- | --- |
| Size | Small | Med | Large |
| US Men's Shoe Size | 5-7 | 8-9.5 | 10-13 |
| US Women's Shoe Size | 5-7 | 8-10 | 11-13 |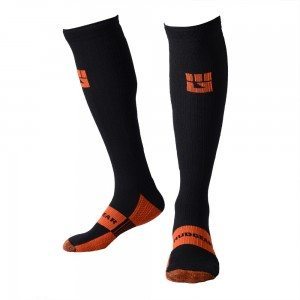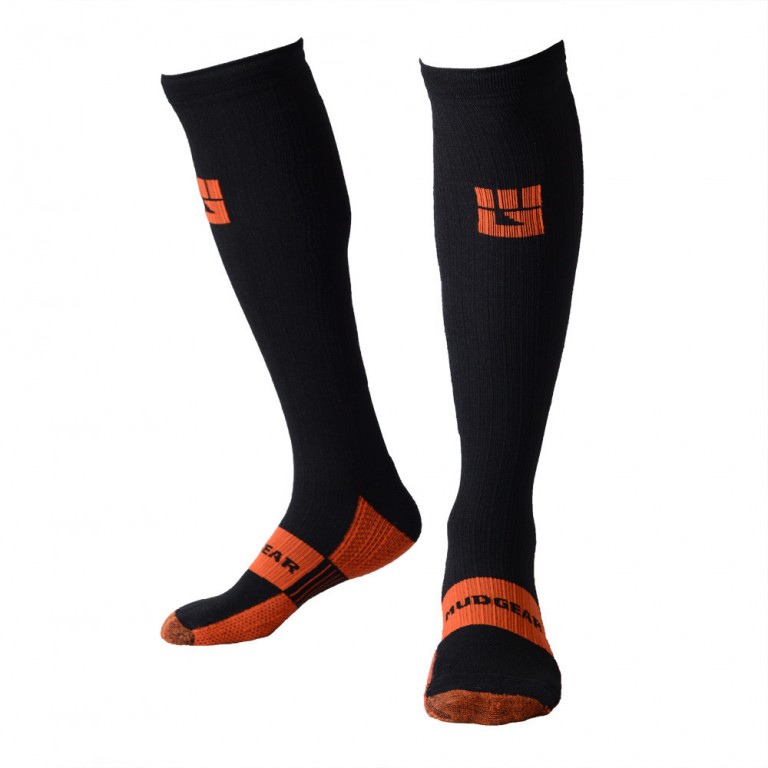 As someone that wears a 9.5 shoe, I am right on the edge of two sizes for these socks;  medium and large.  Choosing the right size was a decision that was a hard one to make.  After all, they could either run true, large, or small.  I have had some bad luck in the past, so in the midst of my indecision, I decided I would just reach out the folks over at Mudgear.com and ask.  With a quickness, I got my answer… "Get your size."  And… mediums fit perfectly.  The blend of materials allows the socks to fit snug but not feel like your feet are stuffed like Jimmy Dean summer sausages.  In contrast to the UA Resistor socks, the sizing is much more precise; there is far less wiggle room between sizes.
Performance
I have to be honest, I was a bit nervous to test out these socks at the South Carolina Spartan Beast without having worn them for anything more than a sizing prior to the race.  The socks are thicker than my preferred sock, making the shoe fit a bit tighter.  This could be magic or end up being mustard.
If you ever wanted to test out a sock's durability and their ability to shed water, the SC Beast was the event to do it; there was plenty of mud and water.  I was concerned that the distance would once again be a challenge for my choice of socks.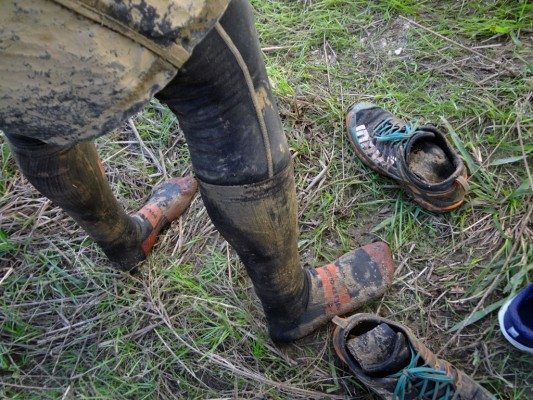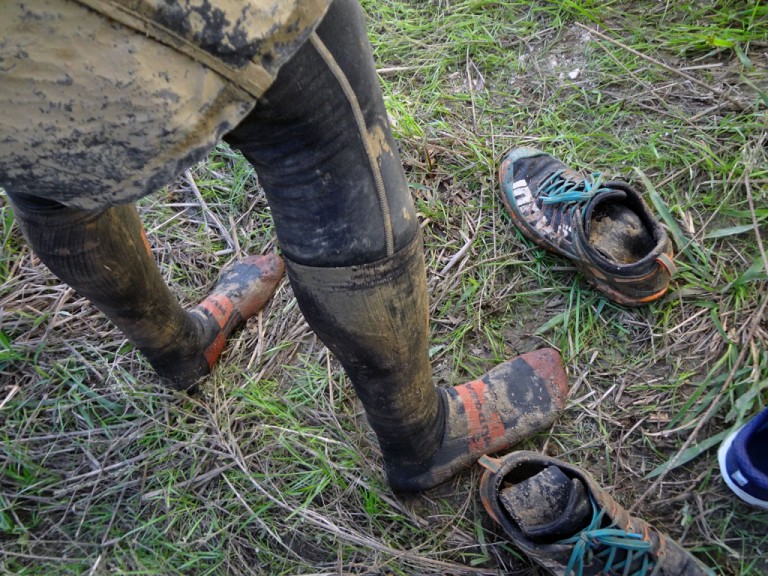 The additional length proved to be the edge I needed for some of the obstacles, like the rope traverse.  No need to ankle over ankle, just grabbed the rope and slid along it.  Normally, when I do this, I end up with nice burns on the ankles that annoy me for the remainder of the race.  No rope burn… at all.
If you have ever seen me run, I can move… but sometimes it ain't pretty.  In many of my runs, while trying to avoid rocks and various items without losing speed, my legs will perform some sort of awkward rubber band'ish dance that looks like a drunken mix of hurdling and river dancing.  These are the times when my X-Talons will catch the inside of my ankle and rip a nice chunk of skin off.  Wearing the full length compression socks certainly helped to eliminate skin loss during the clumsy fits of rubber leg dance running.
Conclusion
I will be honest with you, I never thought I could ever truly be impressed by a pair of socks.  These are really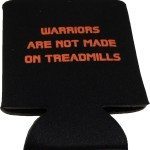 something different though.  Just wearing them makes me feel like a beast.  Mudgear's slogan "Because warriors are not made on treadmills" embodies much of what OCRAddicts are all about, and these compression socks live up to everything we expect from those that are as passionate about OCR as we addicts are.
Having worn the socks a total of zero times before running a Beast in them, I had some concerns… and some doubts.  After long runs, my feet will usually blister and running through the pain is something I have just become used to.  With the Mudgear Compression socks, not only did I keep skin on my legs and keep my feet dry, no blisters at the end of the race!
As far as my future goes, I will not be running up a muddy mountain unless I have my Mudgears on.   These socks are fantastic.  Granted, they are the most expensive socks I have ever owned, they are still well worth the price tag; weighing in at $37 USD (right now they are on sale for $30).  My gear bag won't be complete without them.  Bottom line, would I buy them?  I now have 3 pair…