It seems like there are too many of us dedicated to just one race series. Think about it, imagine eating vanilla ice cream your entire life but always hearing about how awesome chocolate was, and never trying it. That is what OCR seems  like. Many of us know there are other races out there, what we don't know is that we just might like them. Some of us that run with the big boys (Spartan, Tough Mudder, etc) have a tendency to forget that there are plenty of other fish in this pond. Unfortunately, many of the smaller organizers don't have the capital or resources to put together 60+ events all over the country or spend a million dollars a month in advertising; if you happen to hear that they are coming to your town, you may want to seriously consider trying them out. Get your spoon out of the vanilla, and think about the chocolate…
For a long time, I have been dying to try out some of these other races; many of them look like incredible fun, but finding the time to tear myself away from the ones I can reach without requiring a flight is a bit of a process. Luckily for me, Bonefrog Challenge came to town. Well, not really my town, but my state, and I had to see what the series was all about. Having heard great things from friends in the business, I figured it was high-time to hop in the car and head down to the Borgata Hotel & Casino to get my feet wet. Pun intended.
First, Bonefrog is not your mother's OCR. The events are designed and created by Navy SEALs to challenge you; to challenge you in ways that you haven't experienced yet. All in the hopes of creating better athletes, people, and experiences. The typical Bonefrog Challenge will range from 9-12 miles, and is littered with 36+ obstacles placed somewhere around 1/4 mile from each other. The idea is that running alone will not get you through the course.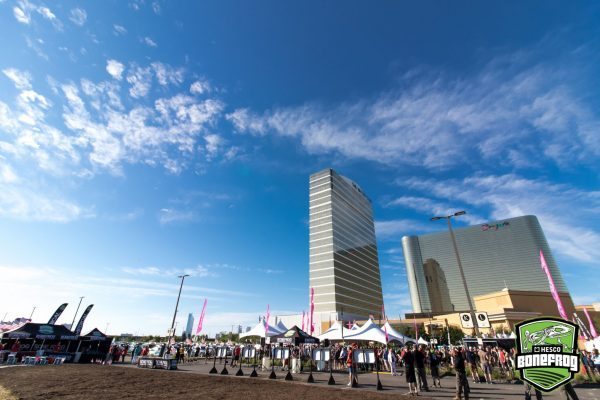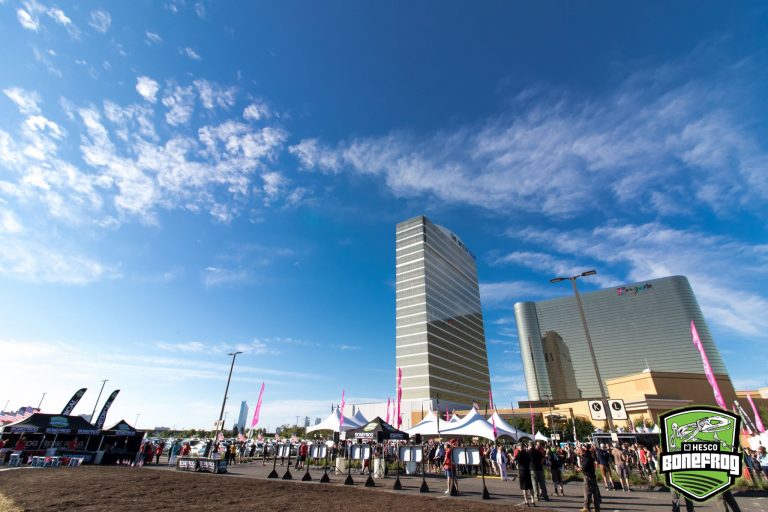 The AC Sprint would be a different animal than their typical foray through the wilderness. The sprint is a 5K course through a small patch of land right outside the Borgata Hotel & Casino. It features a total of 25 obstacles, is limited to 3500 participants, has prize payouts in the thousands of $, an introduction to Bonefrog, and some great participant bonuses like $20 Bonus Slot Dollars for the Casino.
"Borgata could not be more excited to introduce our local community to this unique experience in which contestants can test their physical fitness along-side actual Navy SEALs on a course constructed specifically for military training," said Joe Lupo, Senior Vice President of Operations for Borgata Hotel Casino & Spa. "We encourage all crossfit and obstacle course enthusiasts to partake in this outstanding competition which we anticipate rivaling the Atlantic City Marathon in terms of participants."
If first impressions mean anything, then this race is going to be fun. There truly is nothing nicer than pulling into the parking lot for a mud run and having a valet park your car for you. Then walking through a casino decked out in compression gear, a pair of Inov-8s on your feet, and the swagger of a person about to do battle. Instead of watching their slots spin with the pull of the hammer, they watch us as we walk through the lobby.
Race time is 9:30AM, sort of. We, a friend and I, were originally scheduled to hit the starting corral at 10AM, but the folks at check-in indicated the heat was extremely full. With an assertive tone… wait.. that's not true, I begged them to allow us to run the 9:30AM heat as it was nearly empty, and they obliged. The festival area was just starting to come alive. There were vendors, food trucks, a radio station, a stage setup for a live band, and a collection of racers with their race bling hanging from their necks.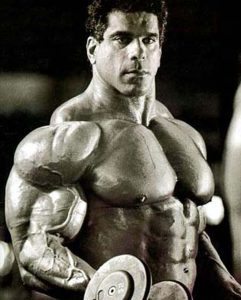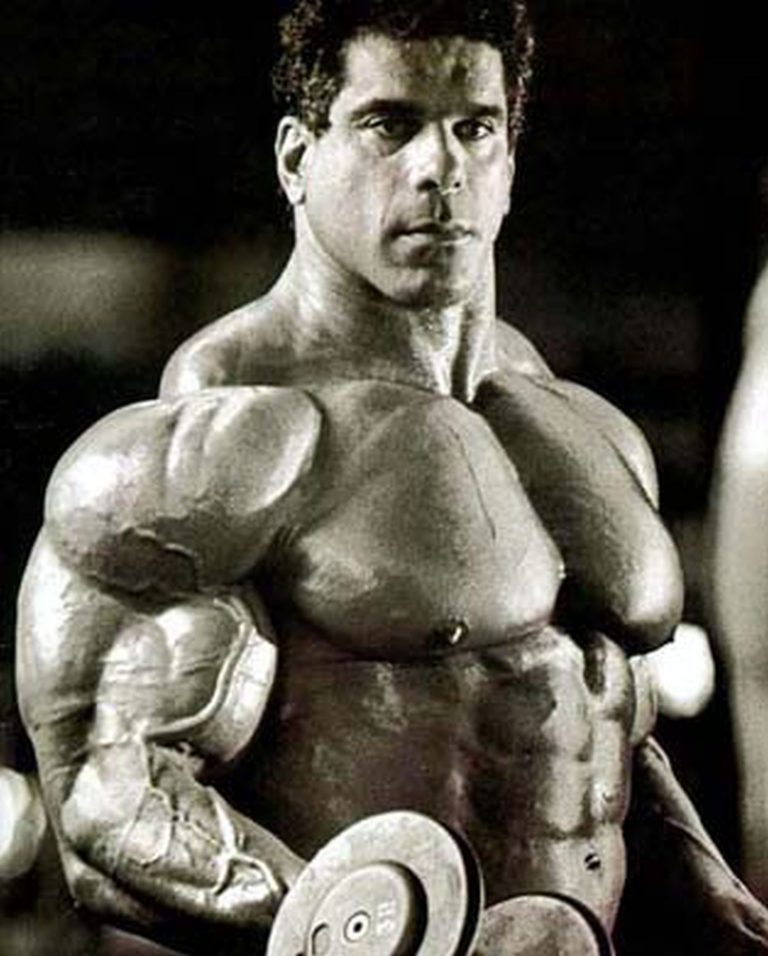 Having read that Hobie was able to finish the course somewhere around the 19-minute mark on Bonefrog's Twitter feed, I expected the course to include a lot of running. Running is fine for a guy like me; however, my friend is built more for strength than speed, he is built like Lou Ferrigno. I am built more like a pencil, running works for me.
The strange thing about long flat courses is that they can sometimes be more difficult than courses built on mountains. Although the mountain courses take much longer to complete than 19 minutes, those long stretches of incline give the body of more muscular folks some time to slow down and recover instead of constantly pushing the pace.
As indicated by the course map, the obstacles are located right around the festival area. This allows the spectators to gain a complete view of the competitors tackling the obstacles. There are a couple strewn about on the outer edges of view, but for the most part, everything is front and center.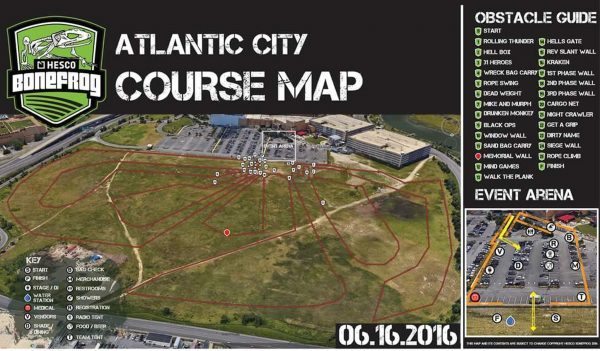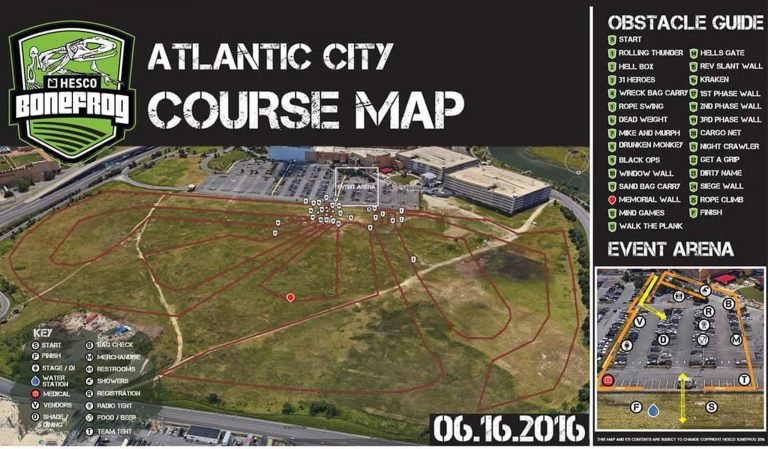 The name of the game for Bonefrog is obstacles, SEAL style obstacles. Granted, they are on a smaller scale than true SEAL challenges, but you get the idea. Some of the more notable obstacles include the likes of a Rope Swing, a Wreck Bag Carry, Get a Grip, Black Ops, and a memory game.
It seems like every race series has a rope, a wall climb, and some sort monkey bars, but Black Ops has definitely done something different. The obstacle starts with a rope assisted wall climb, transitions to a long rising monkey bar cross, and finally to a ladder based decent. The military style netting, black coloring, and industrial design will immediately capture your attention. Three lanes of action allow you to choose your path, but none is easier than the other.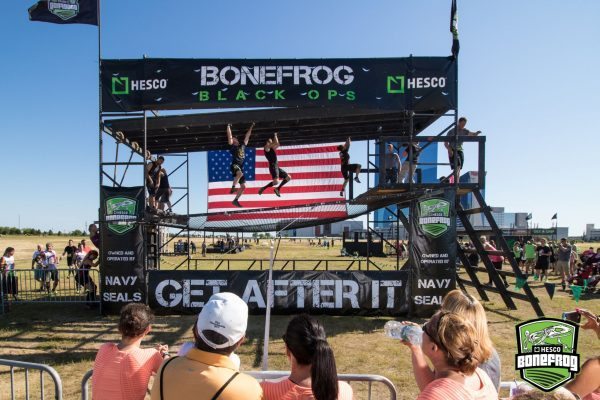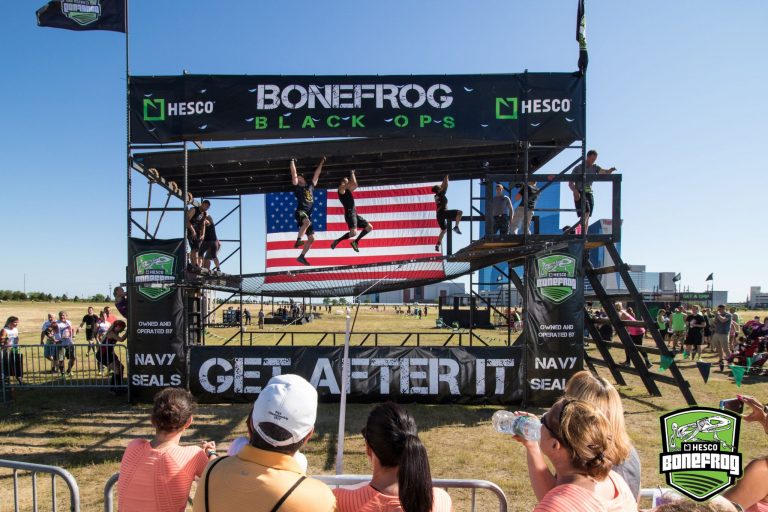 The rope swing was inconspicuously different. On your approach, you see some ropes dangling over a small tub of water. Surprise! Alligators!! Nice touch Bonefrog, nice touch.
Get a grip is one of those "What were they thinking" obstacles. If you could, imagine the length of the Multi Rig at Spartan or Savage and strip it clean. Then outfit it with a ton of loosely fixed handles in what seemed to be a completely random pattern, mix in some tape and angle, the result is Get a Grip. The obstacle ensures that your grip strength is tested far more intensely than any monkey bar or rope climb. It is a guarantee that you will second guess your hand placement while navigating the unsure path through. Based on comments from volunteers, many of the elite competitors were unable to complete the obstacle without failure.
Hell's Gate is an interesting take on walls. The obstacle is a series of four walls with very little space in between them. The idea is to navigate your way through each section and over each wall as quickly as possible. With little space between each wall, getting enough room for those without any "ups" to run as an approach was difficult. Not to mention that the obstacle quickly drains you of energy.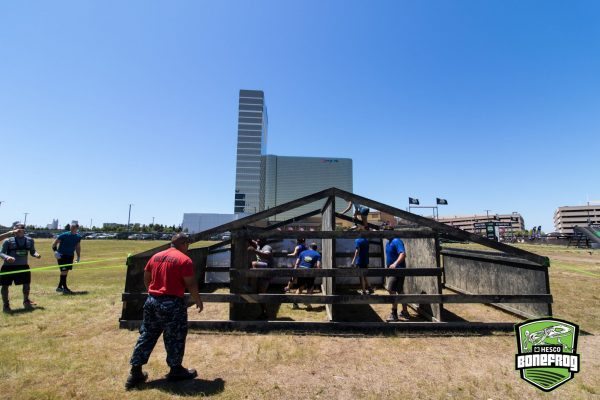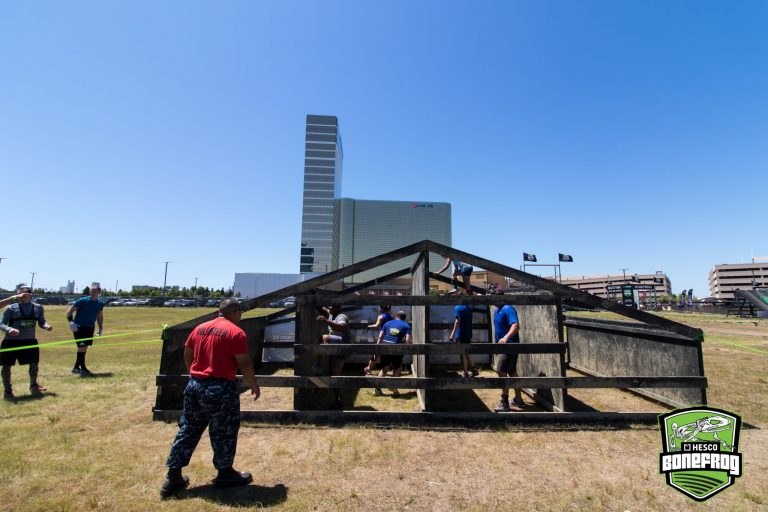 Bonefrog's Mind Game is a little more than walking up to a wall to memorize a small string of digits and letters, then moving on. Instead, you are tested to remember various images on a sign randomly placed on the course. Interestingly enough, there are little hints scattered about the course to help you if you notice them. For one, the obstacle 31 heroes had you read a name off of a wall then perform a burpee. Turns out the number 31 was a key element in the memory test.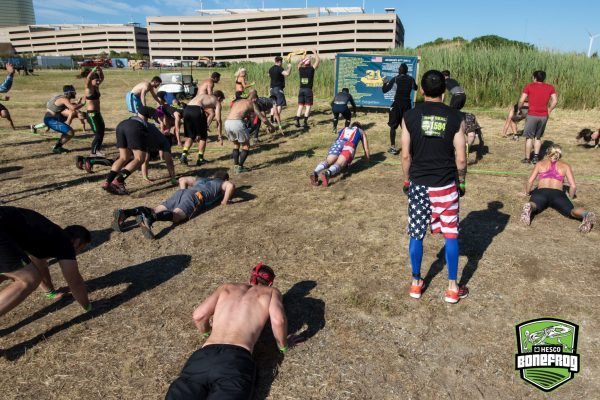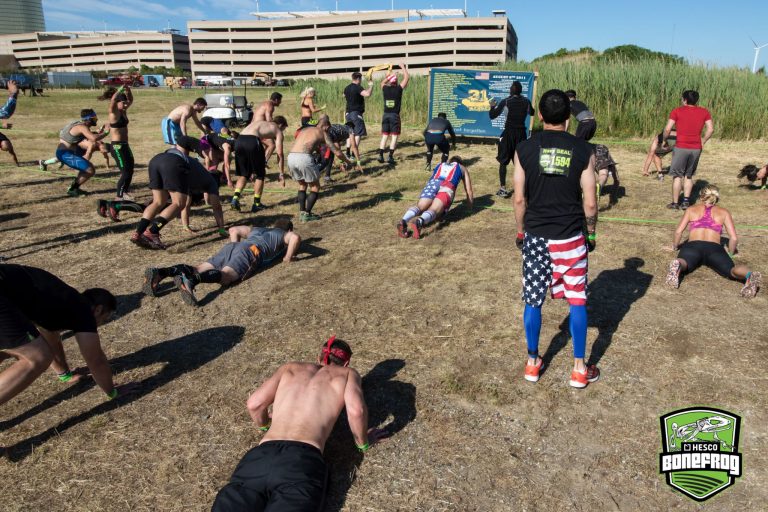 The balance beam obstacle looked like it was all gimmick, that is until you stepped onto the wobbly beam you would soon find yourself violently shaking on. Additionally, there were some well-placed yoga balls hanging by way of chains overhead to obscure your path to completion. You are quickly instructed that you are not to use the balls to gain balance and a failure of the obstacle would result in a penalty. The obstacle featured three paths, all the same. Balance wasn't the only thing being tested, it was also the ability to avoid the falling racer next to you. I was taken out by a racer a few feet from completion.
Post sandbag carry was an emotional memoriam to those that have served our country and have passed. We were given a black magic marker to write the name of someone we remember. A brief pause and prayer. As I write this, I am emotional thinking about all that have served our great country and have given every piece of themselves to protect our way of life. I made my contribution four down from the top between Bonefrog and Memorial.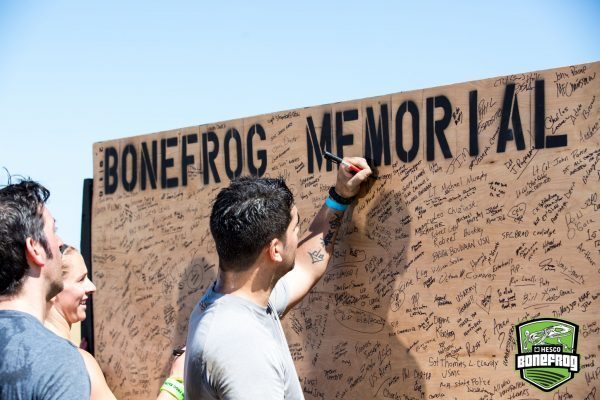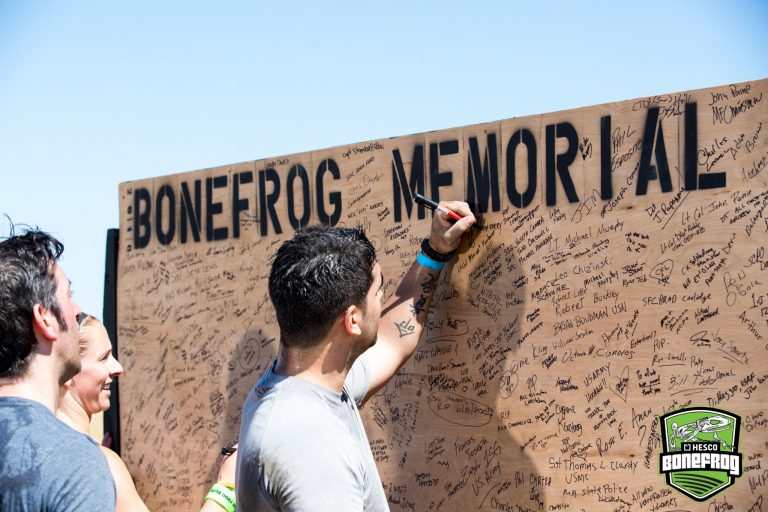 Once the finish line has been crossed and the bling hung from your neck the festival area awaits.
To date, I have not seen as much activity in OCR quite like I did here in Atlantic City. There were tons of people staying post-race to meet and chat. The Cheesesteaks were great, the merch tents were buzzing with card swipes, and the band was getting ready to play. Unfortunately, I had to leave shortly after my "sammich" for a father's day celebration so I was unable to hear the music and enjoy the rest of the festivities.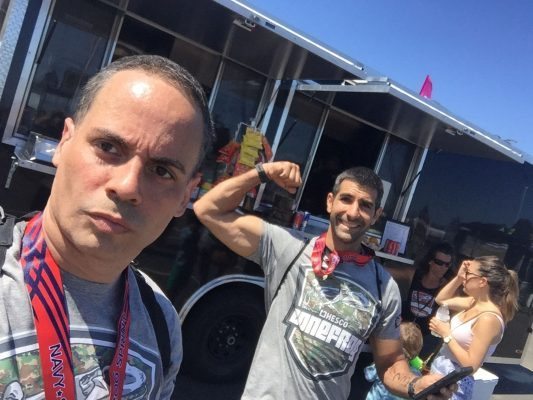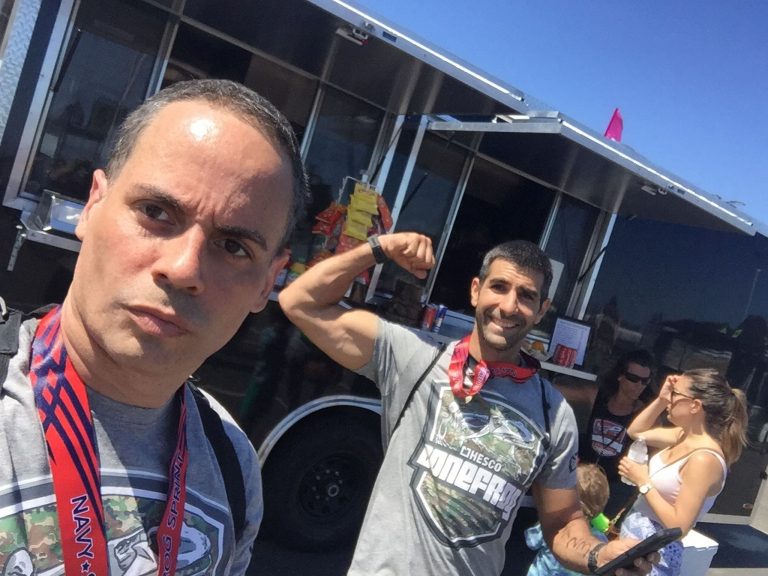 If you stuck around long enough there were parachuters putting on a show.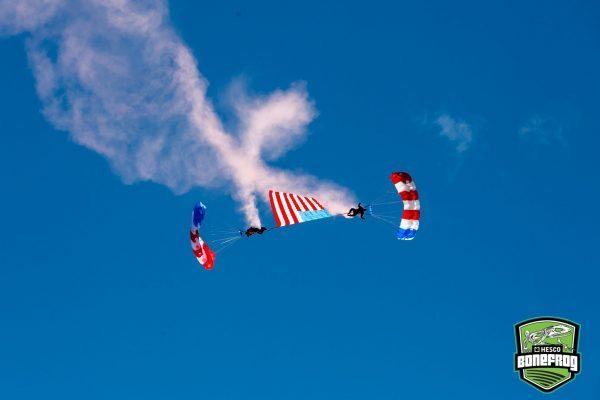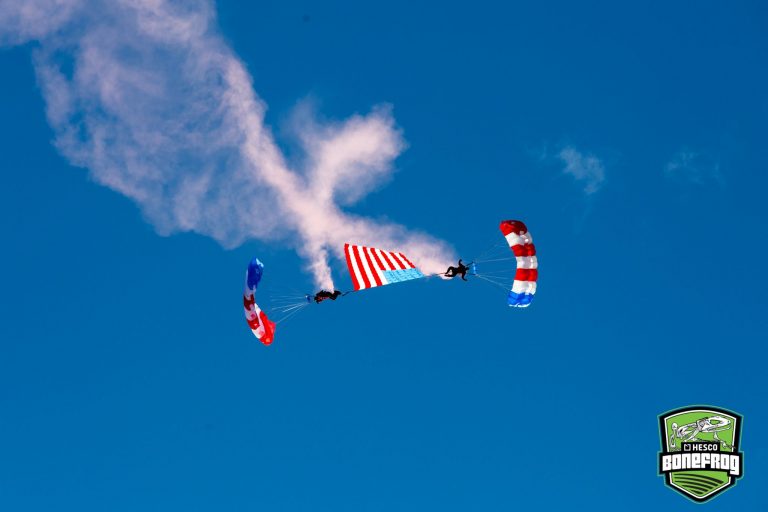 Bonefrog has created an event that stands apart in the way it presents itself. It has become quite hard to distinguish yourself from many of the other races out there, many feature similar obstacles. However, it is the little things that set you apart. From the moment I arrived until the moment I finished, I felt like my family could be here doing this with me. This was an all-American race and I am honored that I was able to participate.
If you ever have the chance to hit a Bonefrog challenge, don't let the opportunity pass you by. Each event is different, and the sprint is a great introduction to Bonefrog. While the short flat fast (say that three times) course isn't exactly what I look for in OCR, it definitely makes me want to try out one of their standard full-length races.
Bonefrog Challenge Atlantic City Sprint
Check-In - 9
Festival Area - 10
Environment/Atmosphere - 10
Course/Obstacles - 7.5
Parking - 10
User Rating:

4.58 ( 2 votes)