It seems like each year we are up in the air as to whether or not Spartan is going to have their race in Tuxedo, NY. The venue has been battling some legal issues after some issues with a nearby casino project. Either way, this race has been one of the Spartan staples for years (7 to be exact) and each year we wonder if it is going to be the last time we race here. For many of us, when that day comes, it will be a bitter farewell as each year we flock here like moths to a light to run up and down this mountain.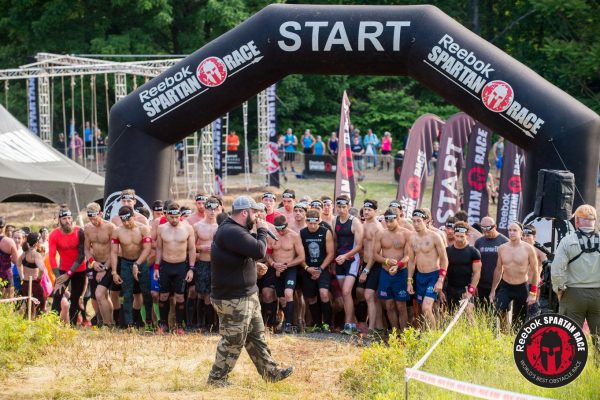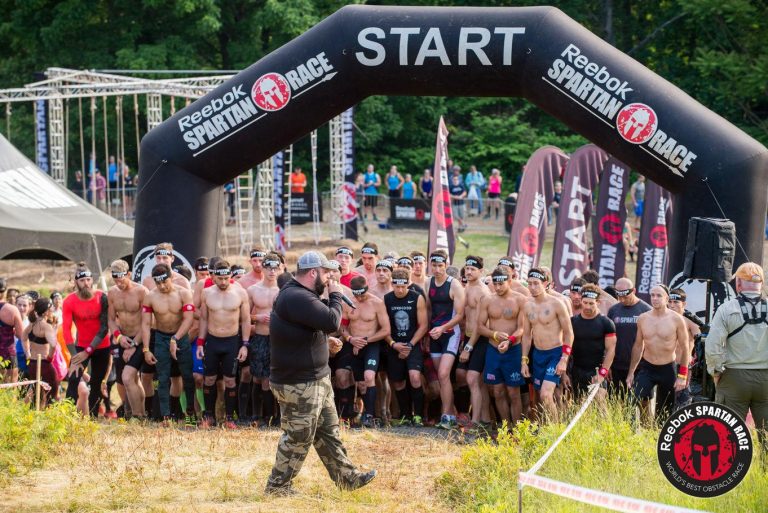 If you have read my previous recaps of the Tri-State New York Sprint, you will understand a bit about the history of Tuxedo, NY. I am not going to touch on any of that here, mainly because it is available… here.
This year's Tri-State New York Sprint would start the day of June 3rd and run the 4th as well as the 10th. Last year we had four days of racing, this year we have just three.
Each year, parking at Tuxedo Ski Center is consistent. However, each year the parking lot is greener and greener as it seems that the proprietors have given up on the lot and let nature take its course. I will say that the lot/grass was nicely cut. Additionally, there are two sets of porta-potties on location in the parking lot and like each year, racers seem to be too lazy to make the walk over to the farthest set of Johns, leaving them cleaner for those of us that are more adventurous. Each set of Johns is located next to footpaths that lead to the registration.
The footpaths lead you on a calm and quiet walk through to the venue (enough time to get some of your gear on and ready). Registration on our side of the road, the venue on the other. Registration, this year, is much improved, albeit a little confusing if you hadn't been to a race yet. You simply print your barcode and walk up, bibs are assigned right then and there. Also, we are no longer required to bring our waivers, a few swipes of our fingers on a touch screen and we are good to go.
Once packet pickup is complete, we are to walk across the street, passed the ID check for your post-race beer, onto a small footpath, through the tunnel, and on to the race Festival area. Oddly, we would have no bag checks on our way into the venue this time around. For years there had been the local authorities looking through entrant's belongings. I had complained about it in years past, but I kinda miss it. Strange, but it is a Tuxedo thing.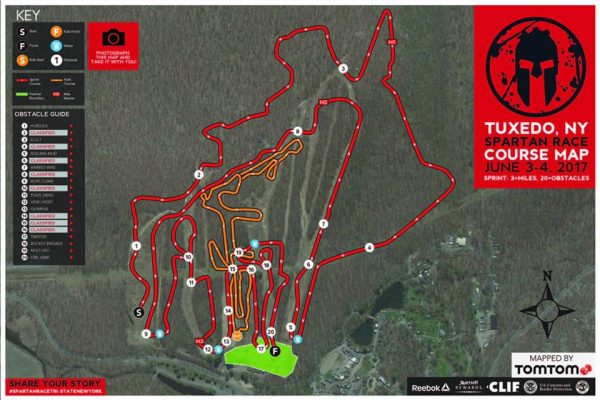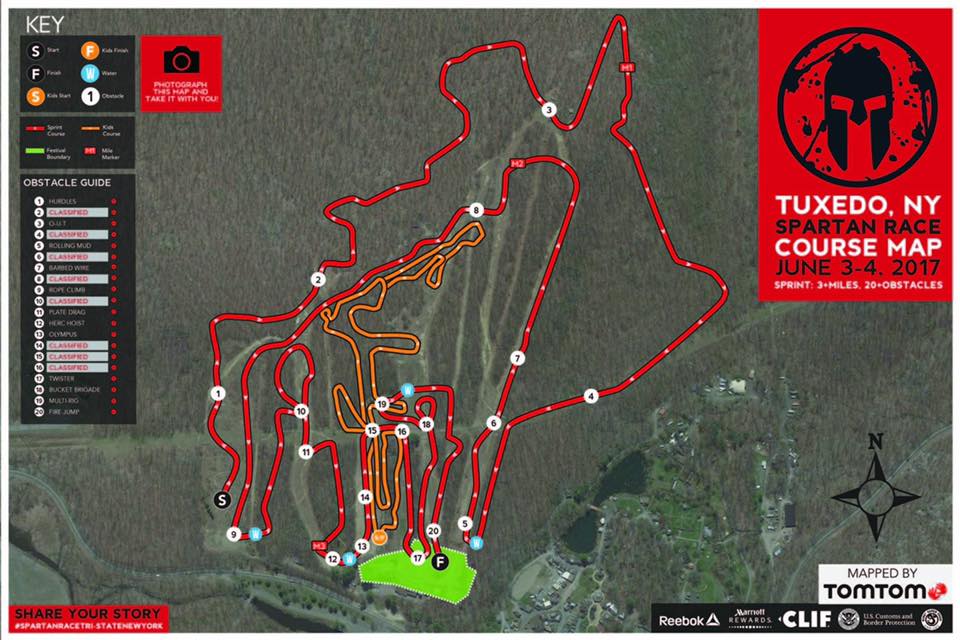 The festival area was more inviting than in previous years. It seemed as though there was more going on, maybe it was more people, maybe more stuff. There was, for certain, plenty of vendors and plenty of visibility into a few of the Spartan obstacles, including two of the new additions front and center. As usual, bag check is on the opposite side of the starting line but close enough to the finish line to make it acceptable. There was a nice collection of onlookers at Twister.
This year's courses seem to be less grueling, although I wouldn't exactly consider Tuxedo, NY a grueling course to begin with. Either way, the course this year would lead us through 4.2 miles of some beautiful trails and just shy of 1500ft of total climb (1491ft). In contrast, last year's course was 2047ft of total climb and 4.7 miles. How did this happen? We lost a couple of climbs up the Alley lift line.
Compare this year to last
The NY Sprint would feature 20 of Spartan's standard obstacles, including Twister and Olympus. We would also find many of the standard obstacles like the Herc Hoist, the Rig (all rings), Bucket Carry, Sandbag Carry, Rope Climb, etc. Thankfully, the barbed wire crawl was on more forgiving terrain and made for a smoother experience. Although it wasn't free of elbow and knee penetrating rocks, it wasn't nearly as brutal as last year. Instead, we would find a tall wall in its place followed quickly by the A-Frame Cargo Net.
As usual, Spartan's sense of humor presented itself towards the end of the course. We found ourselves finishing Twister, on to the Bucket Carry, and then only to be presented with an all rings version of the Spartan Rig.
Having run this course three times over the course of two weeks I can say that I am torn between being disappointed and excited. There is a part of me that wants these races to climb higher and higher and a part of me that just enjoys the experience. I haven't found my own balance yet. As a person that believes in perpetual improvement, I haven't figured out of making the course more fun is an improvement or making it harder is.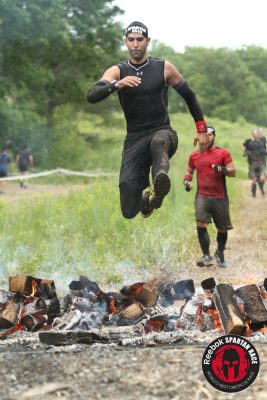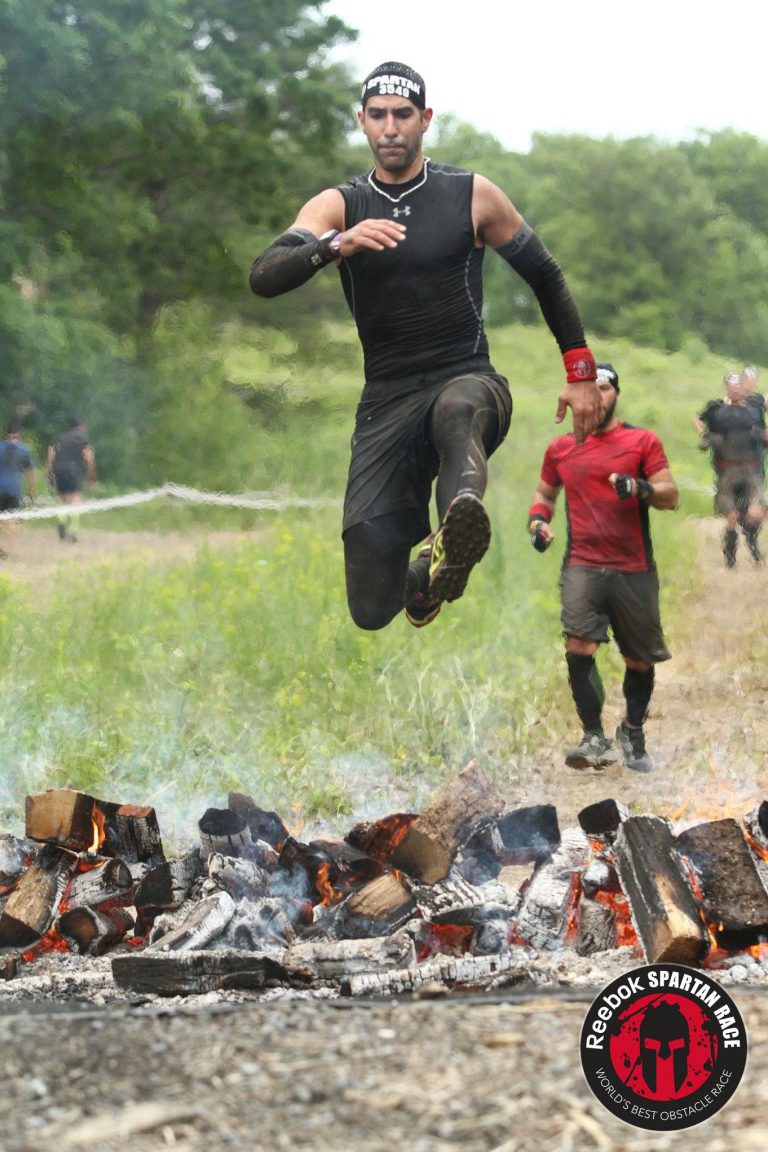 Overall, the Tuxedo experience is usually a positive one. I can't think of any point in the race where I was saying "this is stupid". Having run the course twice competitively and once in the open heat, I was able to experience both aspects, running and waiting. The open heat didn't experience many holdups at obstacles, some strategic obstacle placement took of that. Thankfully, this time we got our fire jump photos.