If you have done one, you have done them all. I have heard that plenty of times regarding Spartan Race. The difference between Sprint races isn't really its obstacles, it is the different courses. Palmerton has its own unique characteristics, as does Ohio, and the same goes for Tuxedo. Each year I come back to this mountain expecting something new and different. Each year builds on all the positives from the previous year, with one exception. More on that later.
Tuxedo, New York would be home to four Spartan Sprints this year, on back to back weekends. Luckily for me, Tuxedo is only 1 hour (and some change) from my home, which makes sprint weekends easy to talk the wife into. Having just come back from a Hurricane Heat in Boston, a Spartan Sprint was just what I needed to get my motor running again.
If you have never been to Tuxedo, NY, you are missing out. I had never been one to go skiing, so I had never heard of Tuxedo until Spartan Races found their way into my life. The town is nestled in Orange county and runs along the Ramapo River. There isn't much in the way of incredibly big buildings or exciting nightlife, but it is home to Tuxedo Park… and of course, the Spartan Sprint each year. If you have ever heard the word "Tuxedo", you know; the black tie affair outfit, it got its name from Tuxedo Park.
The park is littered with incredible homes.
Tuxedo Ridge has been home to Spartan Sprints since I first discovered OCR and draws an incredible number of participants. It has become a staple run for many that live in the northeast. Like Palmerton (Blue Mountain), Tuxedo is on the list of signature venues to run and the mountain itself ranges from 785ft at its base to 1185ft at the summit in elevation and features a 400ft vertical drop. That doesn't make it the biggest in the northeast, but with the right course design, anything can be challenging. In comparison; Mountain Creek, NJ is 440ft to 1480ft with a 1040ft vertical drop and Palmerton, PA (Blue Mountain) is 460ft to 1600ft with 1082ft in vertical drop.
The Tuxedo Sprint series started June 11th and ran for two consecutive weekends. Dates for races; the 11th, 12th, 18th, and 19th. That's four days of trail loving OCR goodness. The original plan had indicated that I would run all four days, but the 18th threw in a wrinkle called Bonefrog Challenge, which kept me from participating. I had the opportunity to compete in all three heats, competitive, open, and elite… in that order.
Aside from what many people would like to believe, the Sprint was nearly the same distance on both weekends according to my GPS watch (4.73 and 4.97 respectively). Based on map data, it looks as though the course had changed slightly. Sprint weekend #2 added an additional 36ft in elevation gain and almost one-quarter mile in length.
Parking at Tuxedo Ridge is usually an uneventful experience, and believe me, that is a good thing. Making your way through the two lanes of cars entering the lot is typically smoother in the morning than it is later in the afternoon. The unpaved lot starts the morning right, like an OCR for your car. However, in my case, the Spartan Car is a 1990 Toyota Carolla, perfect for mud and dirt. I just try to avoid shaking lose any dirt and rust that might be holding it together.
There are usually two sets of porta potties in the lot, both are located near the footpaths that take you to registration. The john that required the farthest walk had no lines early on Saturday or Sunday (11th & 12th) and seemed to be the cleaner of the bunch; well worth the walk.
A pair of footpaths carries you on a calm walk through the wilds of New York to event registration. The typical setup; a waiver tent and bib number based registration. Sunday's (12th) open heat lines were a bit of wait, but manageable. The race resides on the other side of a small road that seemed to experience little in the way of traffic. Some of the nicest people I have met waved us across the street, wishing us good luck on our upcoming adventure.
It seems that only certain events require a mandatory bag screening when entering the venue. Usually, this requirement is limited to stadium events, but it seems each year Tuxedo likes to subject us to more stringent security requirements. To be honest, I don't know what they could find, they give a quick glance in the bag and move you along. With the state of the world right now… I don't mind it at all.
One of the things I have been unable to understand, from a racer's perspective, is why bag check is always on the other side of the festival area from the starting line. From a business perspective, I almost get it. You want people to walk past all the merch tents. However, I am not going to buy anything while walking to the starting line or from the finish line to bag check. Luckily, bag check was smooth sailing for me all three days.
Our sprint would have us starting on one of the better inclines of the day. Once the final Aroo! has been cast, the racers are released onto the course to wind their way up the first of many inclines and onto the first of 21 obstacles, a small wall, that served as a lead into some technical trails; some real ankle benders.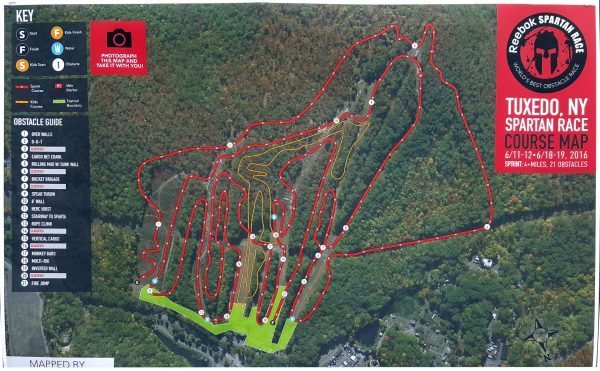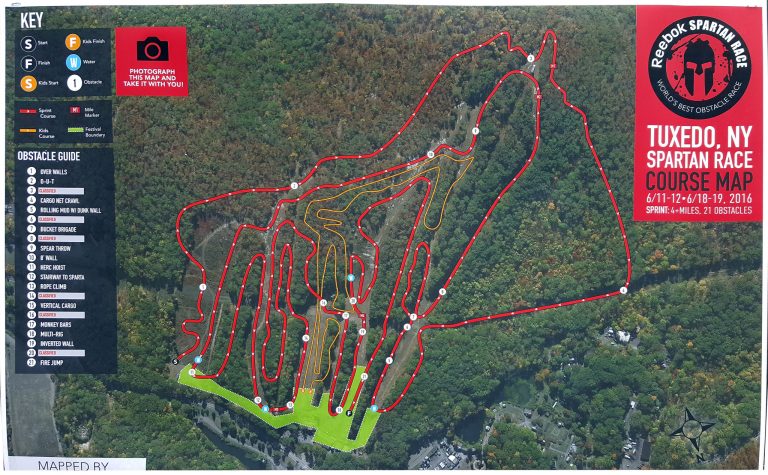 The course layout would take advantage of nearly every inch of the available terrain. There were direction changes galore and trails that wind through and around every conceivable angle. Although there were plenty of direction changes, the course was able to provide some stretches of terrain that allowed you to get some speed. However, many of the trails were treacherous terrain, littered with rocks. Older competitors, like myself, typically err on the side of caution when it comes to our ankles and slow down for these bits.
As far as obstacles go, there were some notable omissions from the list of Spartan Standards: The Tyrolean Traverse, Z-Walls, Atlas Carry, Log Carry, and Farmer's Carry. Z-Walls I can live without, as they are usually in pretty bad shape by the time I get there and almost always end up in a penalty. However, I was disappointed in the omission of the Tyro, it is a fun obstacle and one where I typically gain some distance on other competitors. Although the Atlas Carry isn't exactly what I would consider to be the best thing for my back, I can navigate the obstacle quickly, again gaining an advantage over some of my fellow racers.
Some of the more challenging obstacles that were present for the Tuxedo Sprint didn't seem as bad as usual, save one. The Bucket Carry wasn't nearly as long as the legendary Palmerton carry and the same goes for the sandbag carry. Don't get me wrong, there was some incline, but here I did not need a break.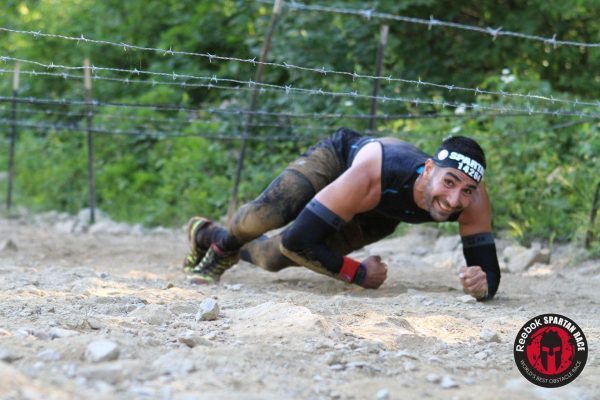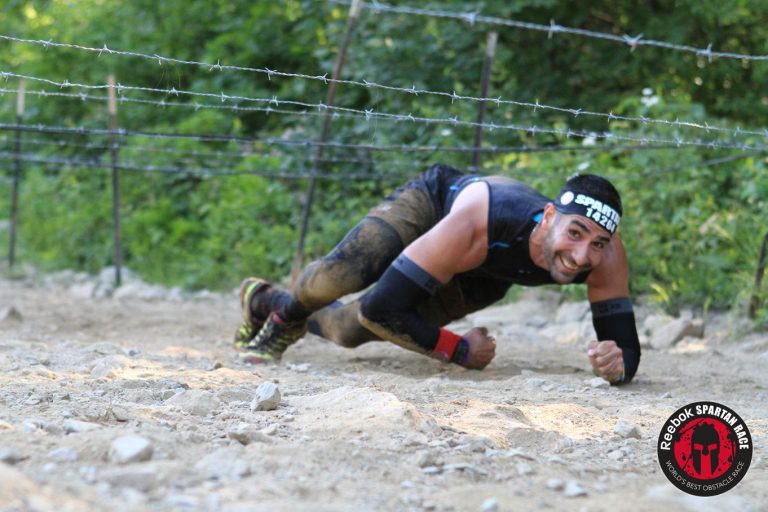 In contrast, the BLEEPIDY BLEEPING barbed wire crawl was ridiculous; uphill on what seemed to be a bed of nothing but sharpened rocks. My elbows and knees were absolutely torn up. It seemed like every time I moved my elbow or my knee it was right onto a rock sharper than the last. At one point I looked up, saw the photographer and thought, "almost done." Nope. There was more.
Classified Obstacles:
3. Hurdles
6. Slip Wall
8. Wall
14. Barbed Wire
16. A-Frame
20. Sandbag Carry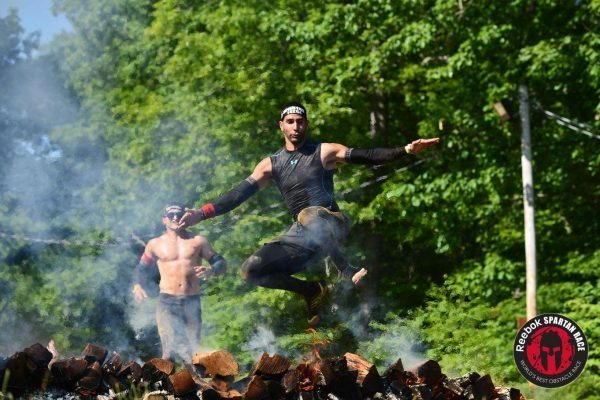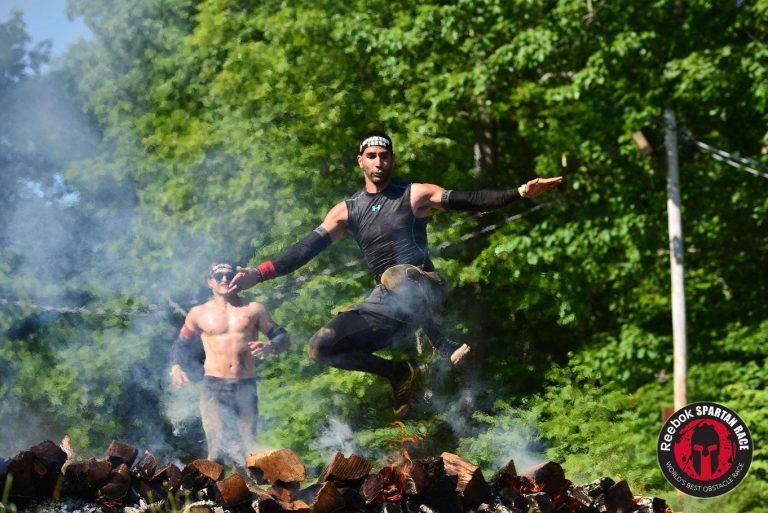 Sandbag Carry, a quick run down a very rocky hill, fire jump, finish line. Sunday's (19th) elite race was some of the most fun I have had on a course in a long time. I ran my first elite, thanks to a friend, and had a blast. In fact, the race was so much fun I finished flying over the Fire Jump making airplane noises as I passed over.
Tuxedo's festival area was standard fare. There was nothing new or exciting to note. It seemed as though the crowds dispersed earlier than those that attend Savage or Bonefrog events; at least the last two I have been to. With new experiences in the bag (Savage Race & Bonefrog Challenge), Spartan needs to step up their game with regards to the festival area. Aside from the merch tents and the free beer, there is little to do. Don't get me wrong, seeing the border control and their wall always gives me a good chuckle, but there needs to be something more. Bonefrog had a live band and a parachute show for heaven's sake. Spartan gave us this… a couple of bored competitors waiting for something to happen.
Tuxedo and Spartan have the game locked down when it comes to the greatest obstacle of all; the earth. However, they are falling behind when it comes to the post race party. I have a sweet spot in my heart for Spartan Races, they have always been there for me when I needed them, the people and the mountain. Hell, I get an AROO! on the treadmill in a workout room at a Holiday Inn in NC at 10PM from the guy next to me, but I am starting to see that we hit the mountain, then go home and talk about it. With Savage, Rugged, and Bonefrog, we stay there and talk about it.
Either way, as an individual race, Tuxedo was all I had hoped it would be. They made every inch of that mountain's elevation available to us, and I loved every minute of it.
Spartan Sprint Tuxedo
Check-In - 10
Festival Area - 7
Environment/Atmosphere - 8.5
Course/Obstacles - 9
Parking - 8.5
User Rating:

Be the first one !