Welcome to Jerry's world for the second ever AT&T Spartan Stadium Sprint. I hope you like stairs because you're about to get a heaping Texas size helping of them. This stadium is home to the Dallas Cowboys in Arlington, Texas. It's the largest and arguably the nicest stadium in the NFL. I know there are rumblings and rumors of nicer ones being built, but for now, this is the biggest. I ran this course last year at its inaugural debut, so I had a good idea of what to expect. It's not like a trail where they can re-arrange the route very much. If you have never done a stadium race, it is very different than a regular Spartan race. On top of the usual iconic obstacles you see that are Spartan staples of the brand, there are many exercises included to make things interesting like ball slams, hand release push-ups, and jump rope. By far the hardest part of any stadium race is the endless, energy sapping, leg draining stairs. Even if you're an extremely fast track runner, these stairs will slow you down considerably.
Last year we got through registration early. However, this year it was a little past 6 a.m. before they opened the gates. As a competitive runner, you want to get there as early as possible to warm up, put up your bags, timing chip, etc. Everybody was chomping at the bit to get inside. Finally, the gates were opened and we faced the first obstacle, "registration". My training buddy and I had our waivers ready but to our surprise, they needed two copies, so we had to go back to the tent with the waivers; thus completely negating the reason we had one prepared ahead of time. C'est la vie right? Not a big deal, but just kind of annoying when you have so much already racing through your mind. The elite starting line looks different this year. Last year on the podium, from first to third, was Brakken Kraker, Macauley Kraker, and Isiah Vidal. Brakken had been called out by Hobie call at the Atlantic City Bone Frog Challenge, which would prove to be epic. Macauley had more important matters to attend to, so the only winner from last year was Isaiah Vidal. I was excited to see a rematch of the battle between Kate Cramer and Jackie rust in the female division.  Some new blood put a twist on the race this time, but let me tell you about the course first.
This year the course started at the bottom of the handicap ramps, winding at a steady incline for a few stories. This is a hard way to start a race, but I was glad to get this section out of the way early while I still had the energy to climb at a decent pace.  Last year we started at the top and wound our way down the handicap ramps into the catacombs leading right into the farmers carry. What comes up must come down, so the arduous climb to the top was almost immediately followed by the stairs back down into the basement. Down the stairs is the easy part right? As it turns out If you start running down flight after flight of stairs for a little while, it starts to mess with your vision, and it becomes hard to determine where your next foot will land.  When this would happen, I would just grasp the handrails and swing myself down. Once down in the parking area of the basement, we were greeted with the first obstacle of the day, the z-wall.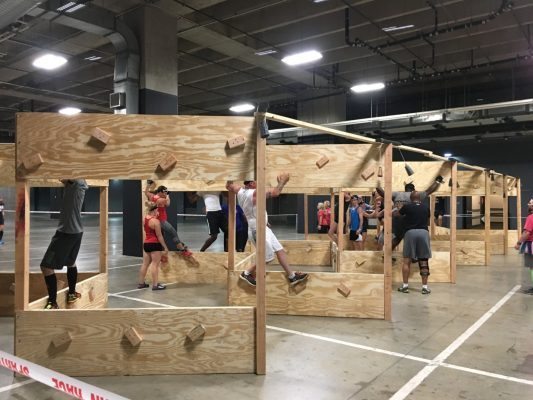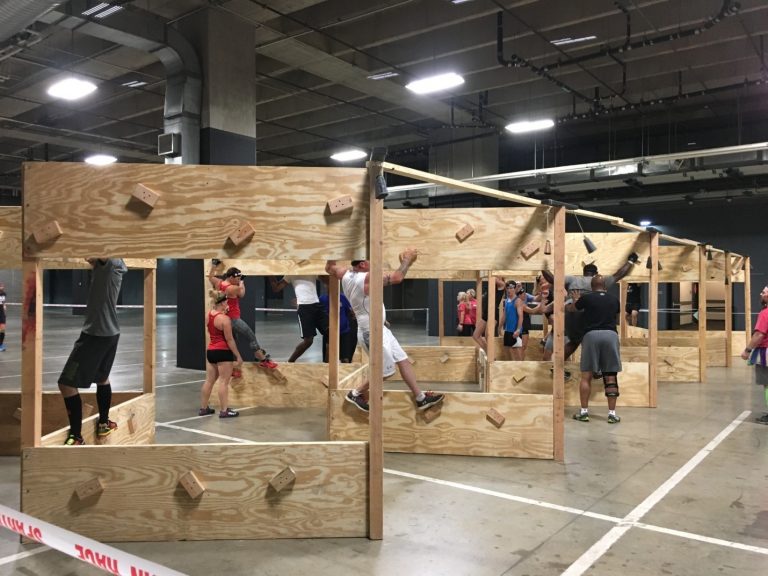 Being a stadium race the block hand holds, and the walls themselves, were in pristine condition and hence easy to grip and transition across. If you were shorter, the middle section would prove a little difficult. There were a few complaints about the elite female wave cheating on this. Now to the surprise of someone who had never done a stadium race proceeding this, was a locker room where you had to do 20 hand release push-ups. The hand release pushups are considerably harder than regular pushups, as it breaks your momentum and the burst of energy you would usually use to bang out a quick 20 pushups. Hope your arms are not too worn yet because the proceeding section is the bear crawl up a few flights of stairs.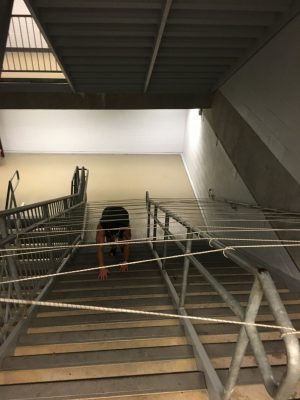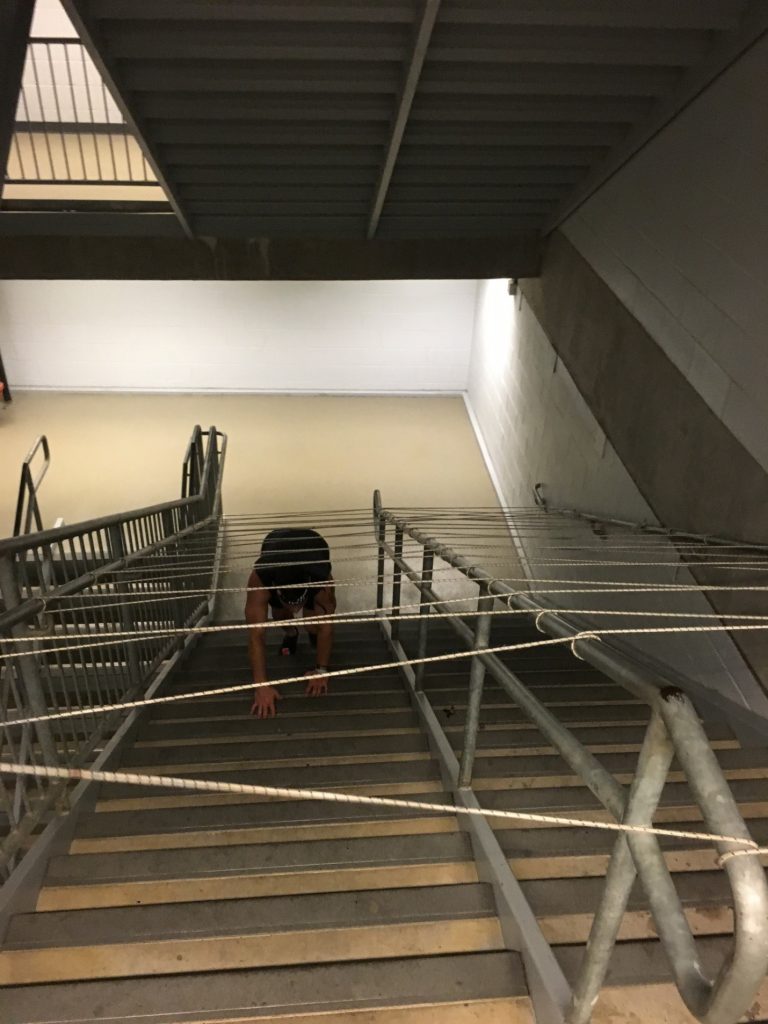 Hey! Don't complain; it could be worse; it could be barbed wire crawl up those stairs. Instead of barbed wire they simply use a string that you have to crawl underneath as you ascend. I should probably edit out that part with the barbed wire; we don't want to give the diabolical minds at Spartan any ideas. Time to get your glutes and quads burning again because after the bear crawl, it's the sandbag carry. Oh, it is not just a sand bag carry, but a sandbag carry up and down rows of seats.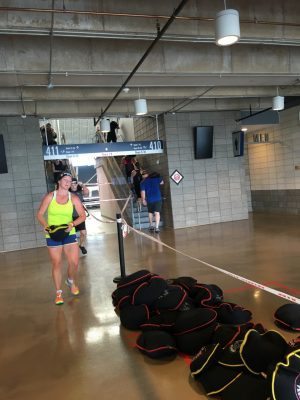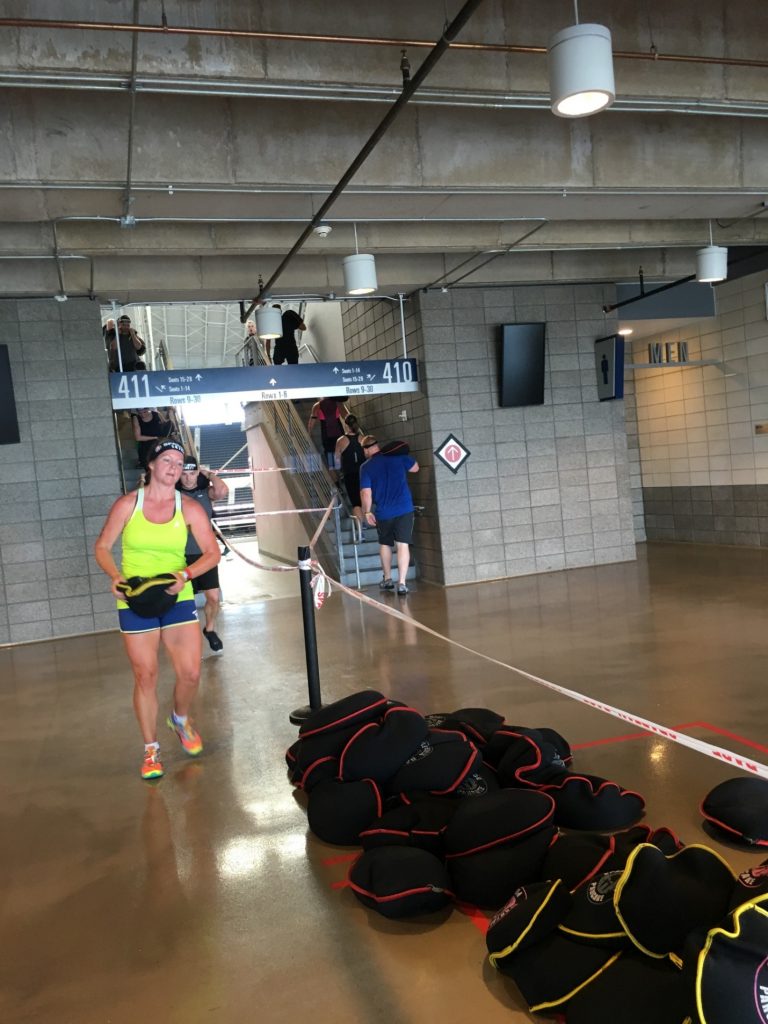 Once you catch your breath and let out the sigh of relief as you drop your sand bag off for the next guy, you can see people bear crawling up some wider and longer sets of stairs. Ok, "no problem" you may be thinking as you are descending the stairs catching your breath as you mentally prepare for this long bear crawl you are watching everybody grind through, you get to the bottom and BAM! SURPRISE! It's the herculean hoist outside in that hydration sapping Texas heat. Later on in the day someone would be standing there with a hose helping people cool off but not at this time. They were very clear at the beginning of the elite wave "you are NOT allowed to touch the fence". If you were caught touching the fence they would warn you once, which I thought was fair. I learned a great technique from Killian of how to conquer the hoist without lying on the ground. If you stand up almost against the guard rail and push your butt back almost in a slight squat position, I would keep my arms locked in at a 90-degree angle and pull the rope down. It works like a charm; I weigh 153 and I had no problems with the hoist this year. Now it's time to finally do that long bear crawl you saw everybody pushing through.  Can you guess what's next? Stairs, stairs, and more stairs. It felt like the never ending story because although it felt like it would never end, it did eventually end thank god.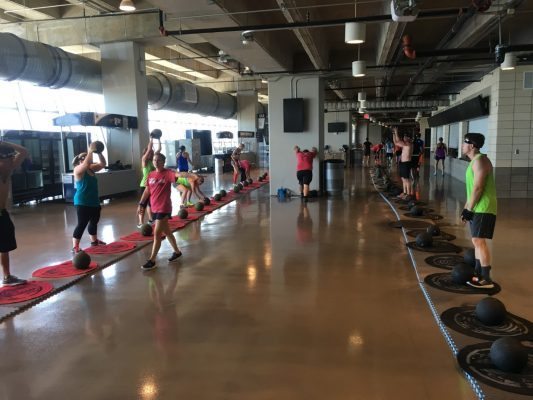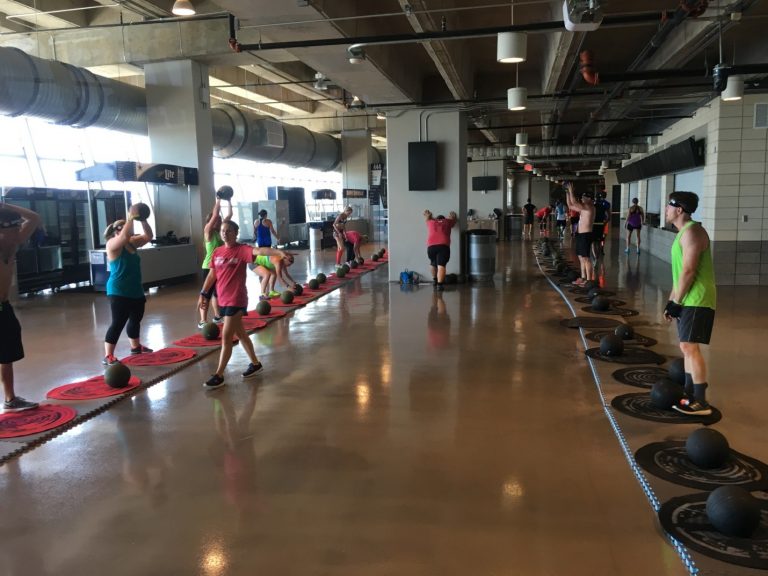 Ball slams were next, very well put together and designed as there were more than enough spaces and balls for everyone. Time for some fresh air, so we head outside the arena to "the rolling epic".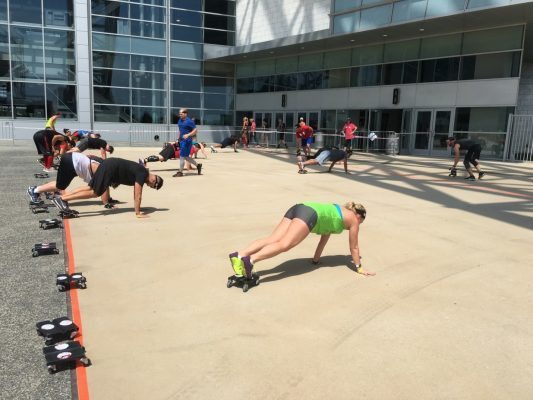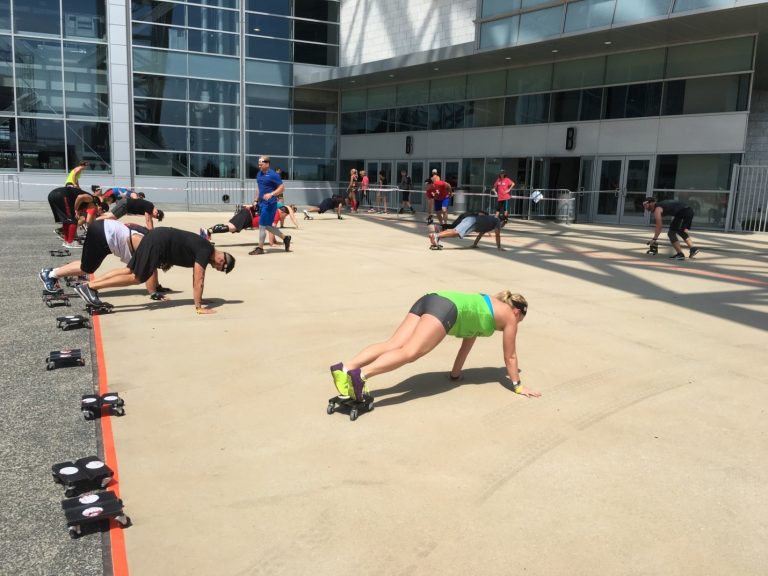 Rolling epic is where you simply put your feet on some rollers and plank across moving just your arms to a line where you can get up and run back. Pretty easy I would say, as the majority of people are familiar with this core exercise now that is a mainstream exercise. As you wind around some bushes, you come to what you were probably dreading all day. Time to face your fears, lower your HR, and focus…It's "the spear throw".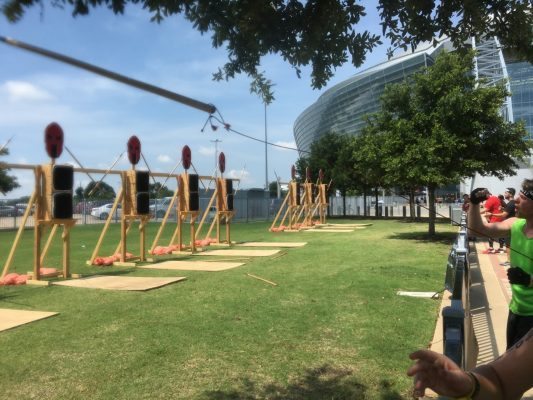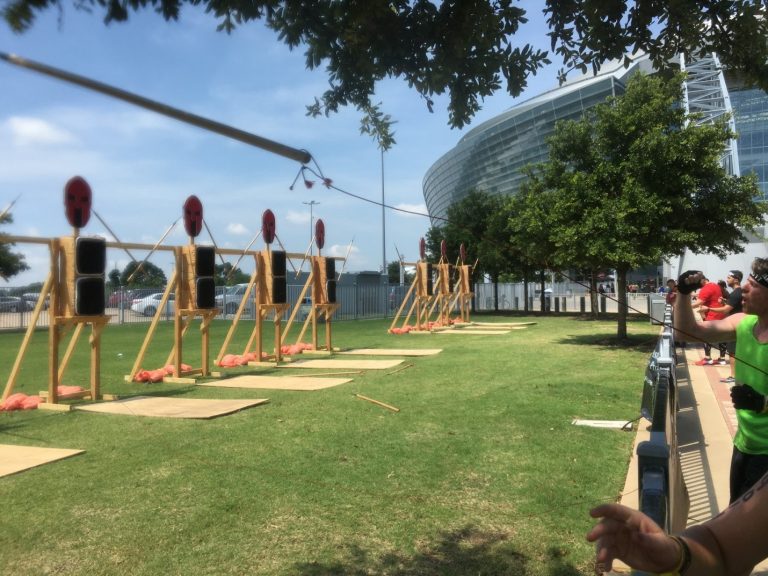 Unlike other Spartan events, they don't use the hay bales that we have become accustomed to. For the stadium series, they have these pressed wood like targets with a hardwood frame; more challenging than the hay bales as your target is smaller giving you less room for error. Now here is where some controversy comes into play, I nailed the spear throw but my training buddy, who was a few steps ahead of me, stuck the spear into the wooden frame. There is a sign on site that says if you hit the frame it does NOT count. However, if you check the official rules, it says that it does count. There seems to be a contradiction; I kindly brought it to their attention after the race, and they assured me they would fix it. Spartan is pretty good about taking criticisms; they genuinely care, and I for one appreciate that.
I have no idea what this target is, but some people believed it to be for the adaptive athlete wave.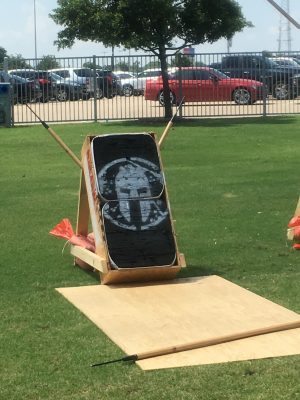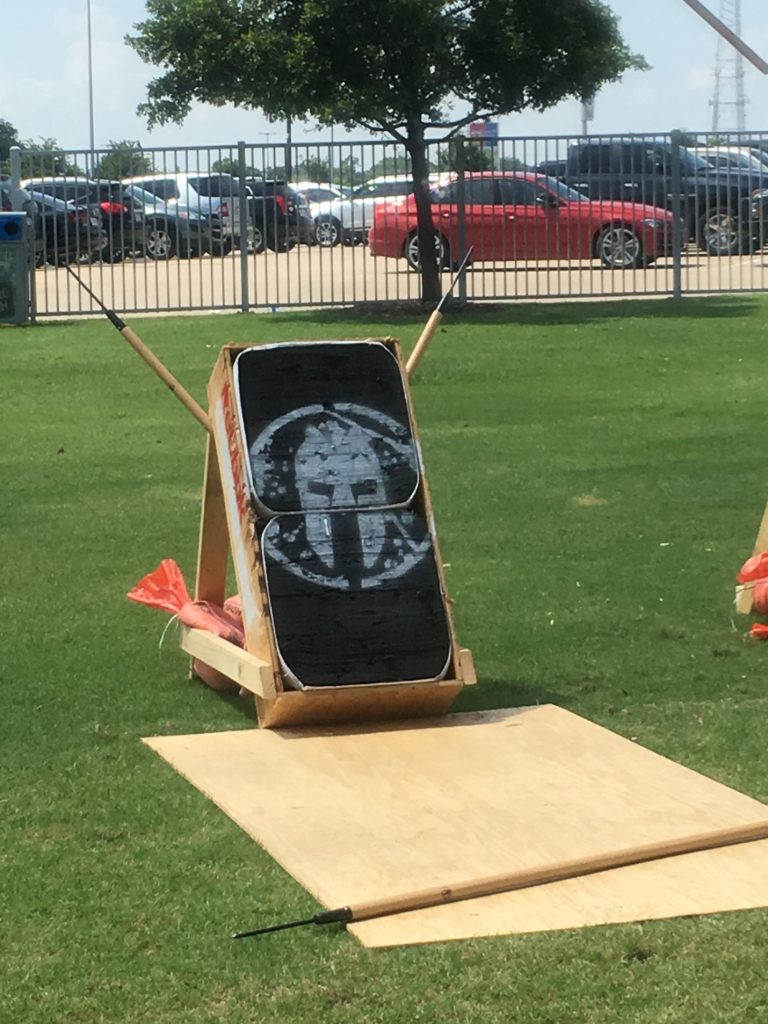 Hopefully, you didn't have to do burpees in that already hot sun, because before you can get back into the cool AC you have the Atlas carry to complete. Pick a cement block up, carry it across a line, do five burpees, and pick the block back up and carry it across back to the original line.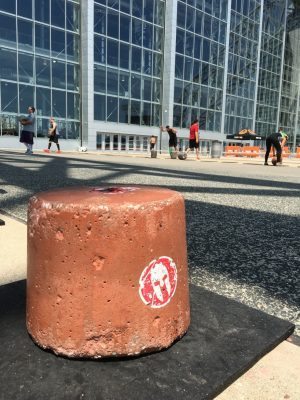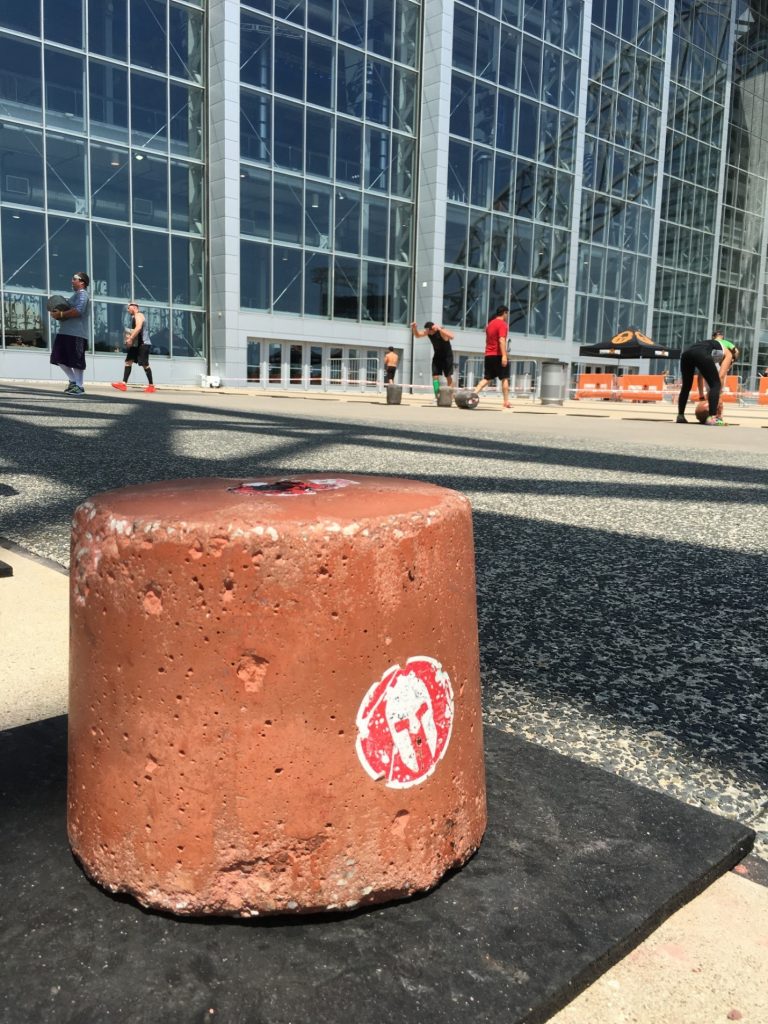 Now you can have some nice AC….while you climb a few stories of handicap ramps up to some more awful stairs.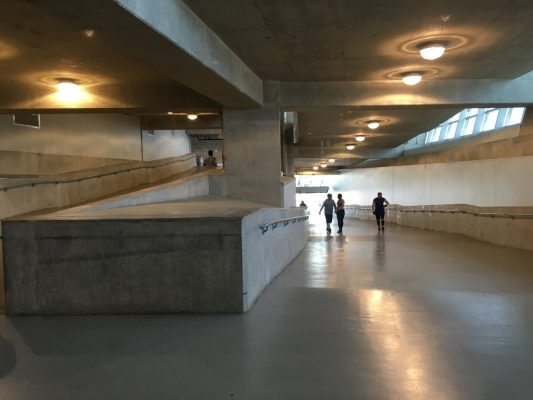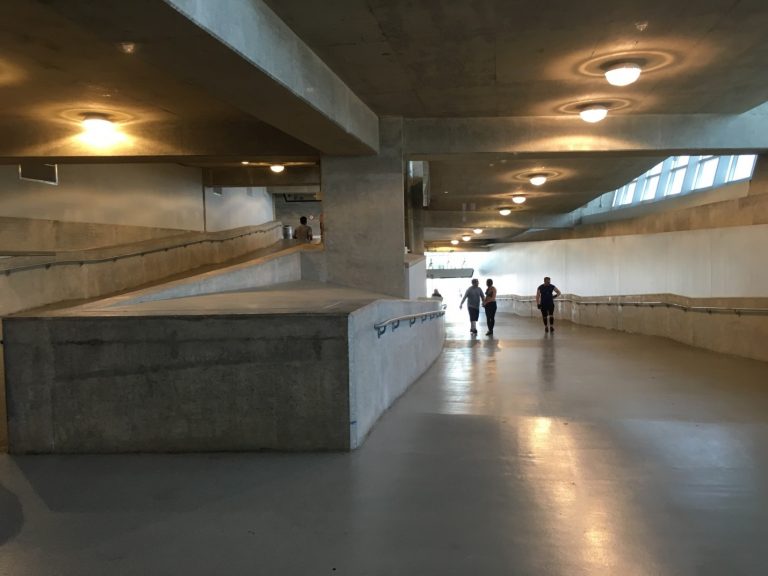 Newton's law of gravity would come to fruition again as the more stairs you climb, you would have to come down, and going back down the stairs is exactly what you would do next. When you get down said stairs, you come to the jump rope. This isn't a simple jump rope, in true Spartan form, it has to be challenging.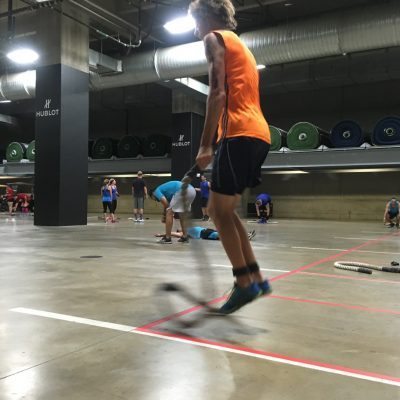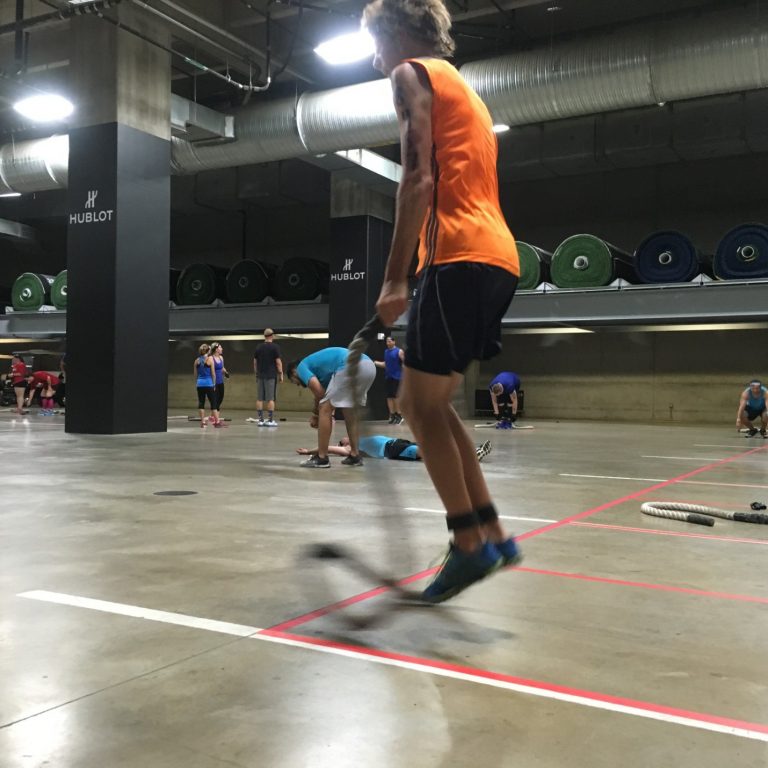 One would have to tie a rubber band around their ankles and jump with a much heavier rope than usual. Once 20 reps of the rope jump are complete, you run out onto the field through an epic entrance. Music is pumping; you can see the finish line! Time to push through with whatever energy you have left. Dig deep and conquer this short gauntlet of obstacles.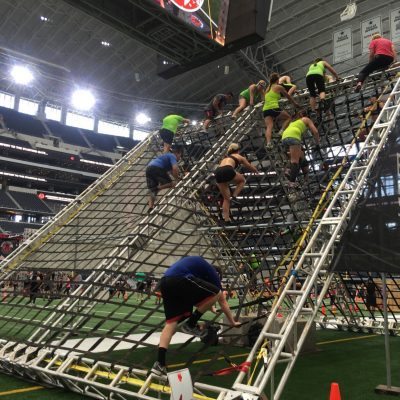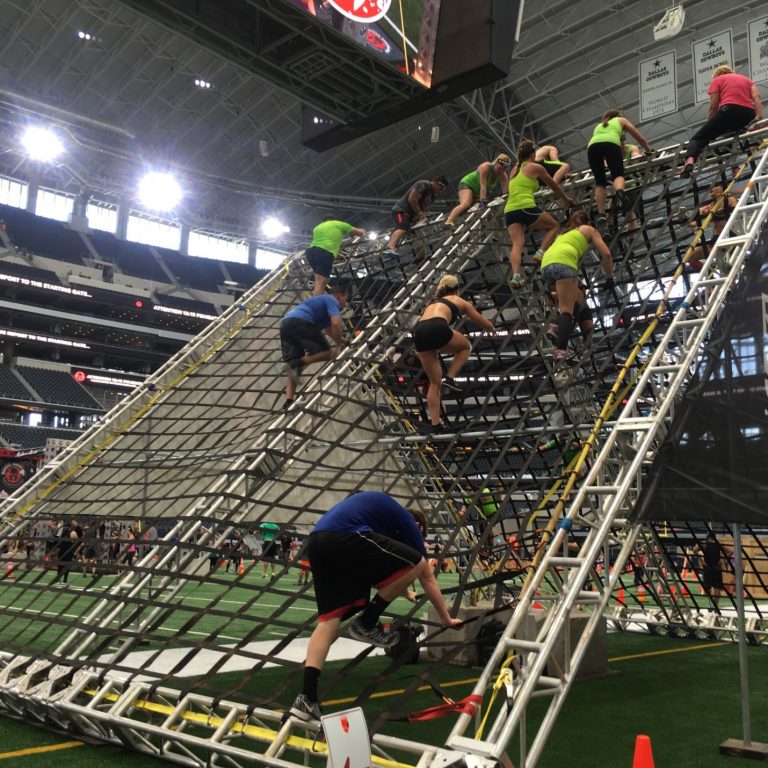 Jump the 8-foot wall, crawl over the cargo net and immediately are presented with a few walls that are dying to be conquered. You are now less than 100 yards from the finish line. What is the last thing you want to have to do? Box jumps? Too bad, STFU! 20 reps of box jumps, then right into the rope climb.
Run through the punching bags and try to look good for the photographer right before you cross the finish line. Your race photos don't look cool either? Yea mine neither.
All in all, another great race put on by Spartan. I've come to expect no less. You will always have a few minor inconveniences at every race, but Spartan is at the top of the food chain for a reason.
Wait a minute don't go yet. There is a special surprise today, athletes in the elite wave were invited to stay until 5:30 p.m. and try the first ever 1000 meter short course that will be presented for the 2020 Olympics. If you were wondering what those other obstacles were on the course that no one was going through, now you know. What an exciting next step for furthering and legitimizing the sport than to be a part of the single most important event any athlete dreams to compete in. They even had the laser gun range that they tested at the race in Colorado. You can find a video of the race on social media, although there isn't anything official yet. I wanted to give a special notice to Jack Bauer, if you watch the video he comes back from a few spaces to take second place.
If you haven't gotten bit by the OCR bug yet now is the time. The sport is flowering and budding faster than ever. You'll be an OCRAddict too soon enough.
Men's elite podium was taken in 1st place by Isaiah Vidal, Michael Miraglia in 2nd, and Shane Leighton in 3rd. On the women's Elite wave, standing at the top in 1st place was Kate Cramer, Orla Marie Walsh in 2nd, and Cassidy Watton in a close 3rd place.
Spartan AT&T Stadium Sprint
Check-In - 6
Festival Area - 9
Environment/Atmosphere - 10
Course/Obstacles - 9
Parking - 9
User Rating:

Be the first one !