If you didn't know, not only am I an OCRADDICT, but I am a geek as well (really kind of an Uber Geek).  Having said that, I look for metrics and analytics on just about everything I do and work with.  While training for the next event, many of us are looking for a way to tack our activity and improve our training but don't have an unlimited budget for things like GPS watches and dedicated activity trackers.  Although those gadgets are great training tools, many of us don't need look much farther than our cell phones.  Enter MapMyRun.
Activity tracking and running apps are nothing new, many have been around since Cell Phone manufacturers started installing GPS in their devices.  With a huge variety of apps to choose from on various platforms (iOS and Android) it may be a daunting task of trial and error to find the one that fits for you.  While options are fantastic, too many of them leaves you staring at a Diner menu for hours trying to figure out what you want (NJ Reference).  Enter, MapMyRun.
Note: As with the armband reviews, these apps will be based on functionality on iOS and iPhone 6
To get one things out-of-the-way, MapMyRun isn't only for runners, the app can support jogging, walking, and just plain old working out.  In all fairness, the app can log more than 600 different types of workouts and report metrics on the activity for you with some pretty detailed stats.   Beyond workout statistics, the app can also help you keep track of how long you should be wearing your shoes and when it is time to start looking for a new pair.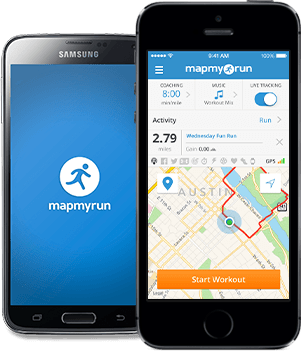 MapMyRun is a fitness tracking application that enables you to use the built-in GPS of your mobile device to track all of your fitness activities. Record your workout details, including duration, distance, pace, speed, elevation, calories burned, and route traveled on an interactive map. You can even effortlessly save and upload your workout data to MapMyRun where you can view your route workout data, and comprehensive workout history.
Route Tracking – See the exact path you traveled on the map, both on your device and on the MapMyRun site.
Social Networking – Share the details of your fitness activities with friends and family, via email, Facebook, or Twitter.
Site Integration – Store all your historical workout data on MapMyRun. Stay on top of goals, challenge friends, join groups and stay connected to our online fitness community.
Training Log – Record duration, distance, pace, speed, elevation, and calories burned data for each workout.
Some quick Features:
Gear Tracker – Add your athletic shoes and start tracking mileage with Gear Tracker. Help yourself avoid common injuries and get notified when it's time for a new pair.
600+ Activities – Log and record workouts with the largest selection of activities, including running, cycling, walking, gym workouts, cross training, yoga and tons of others.
Workout Stats – Record GPS-based workouts with customizable voice feedback for precise stats like pace, route, distance, calorie burn, elevation profile and more.
First of all, there are really two flavors of MapMyRun.  There is the free version, which is really the only version you can download, and a subscription to MVP, a subscription.  MVP serves up a number of additional features that can be billed monthly ($5.99 USD) or annually ($29.99 USD).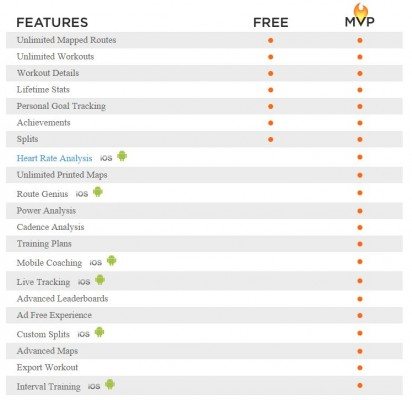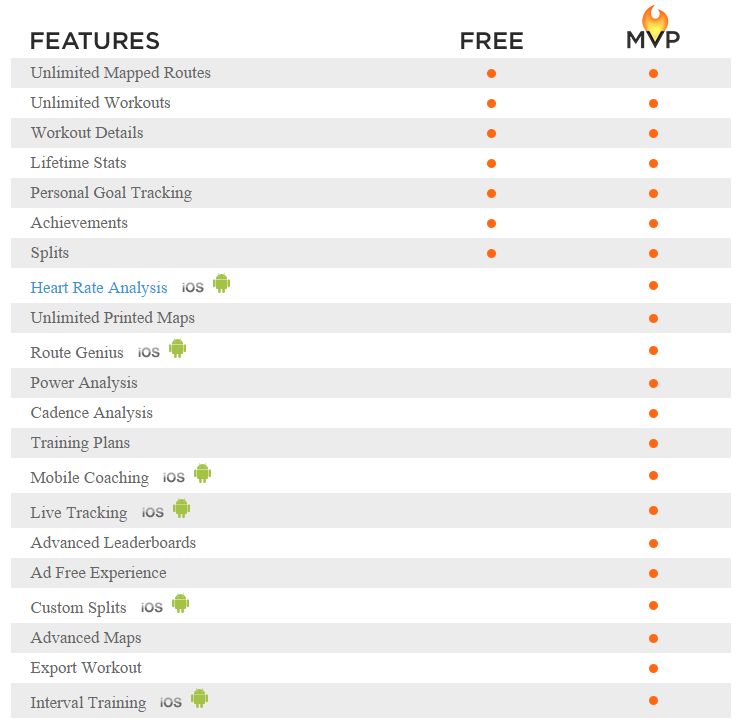 While the app can perform a number of tasks and has a menu that seems to scroll forever, using it is actually very easy.  Once opened and registered, the app will guide you through a quick tutorial.  This shows you how to edit your profile and warns you about MVP Features.  This warning is for a paid subscription to additional features you may wish you had.
Working our way down the menu, we find:
Your Name (a link to your profile)
Record a Workout
Log a Workout
Log Food
an advertisement
Activity Feed
24/7 Activity
Gear Tracker
Routes
Friends
Goals
Challenges
Connect Apps and Devices
Run Training Plans
Live Tracking
Nutrition
Workouts
Upgrade to MVP
Shop Run Gear
Settings
Help
Your Profile
When clicking on your profile from the menu, you are immediately thrust into all things you.  You can find things like your member statistics, the number of workouts by week, total calories, total miles, distance, and a slew of other things.   Clicking the Edit button in the upper right hand corner will allow you to change your name, enter your Gender, Birthdate, Height, and Weight.
Record a Workout
This is where you will most likely end up when you start.  After all, the whole point of the application is to record your activity.  This screen is broken down into a number "sections": Coaching, Music, Live Tracking, Activity, Route, Gear, and a Map.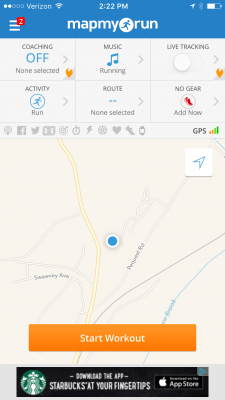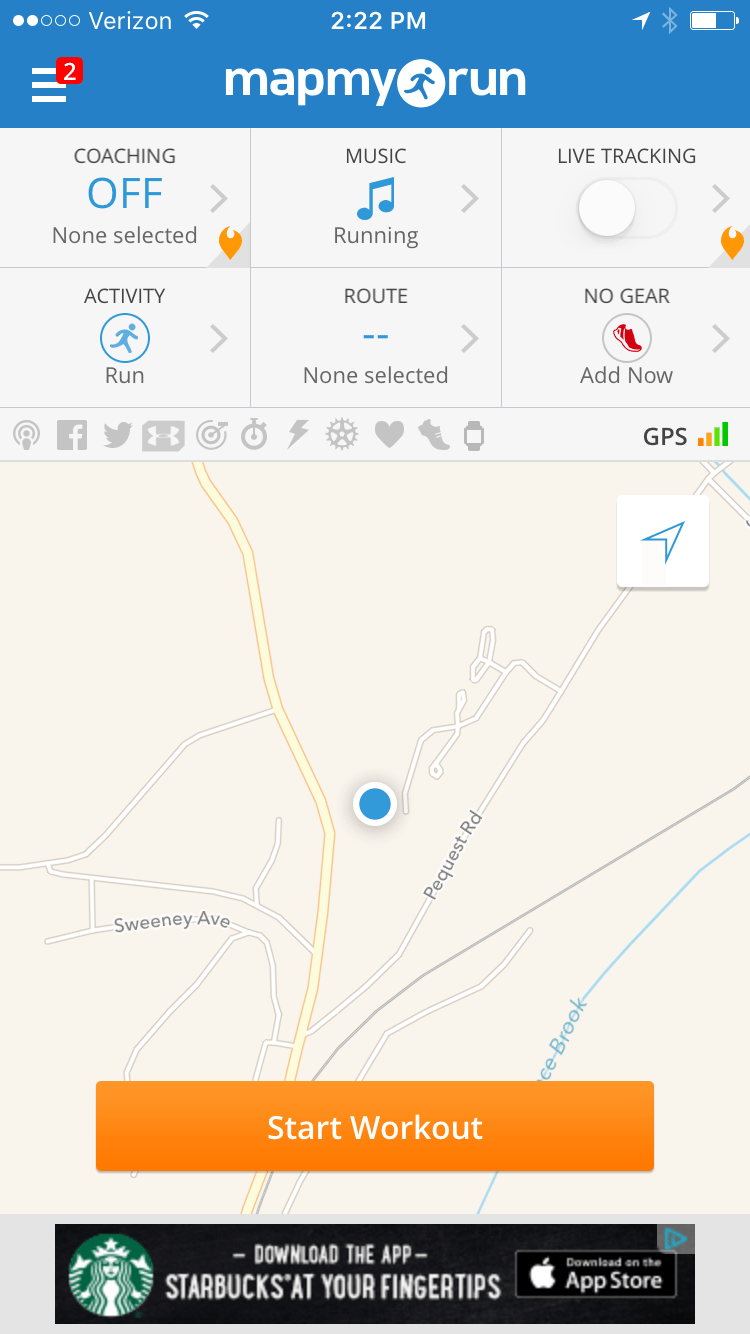 Coaching
Coaching is an MVP Feature.  The virtual coach will keep you on track with real-time feedback.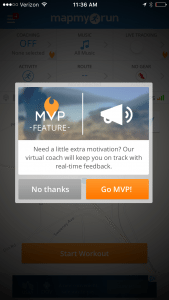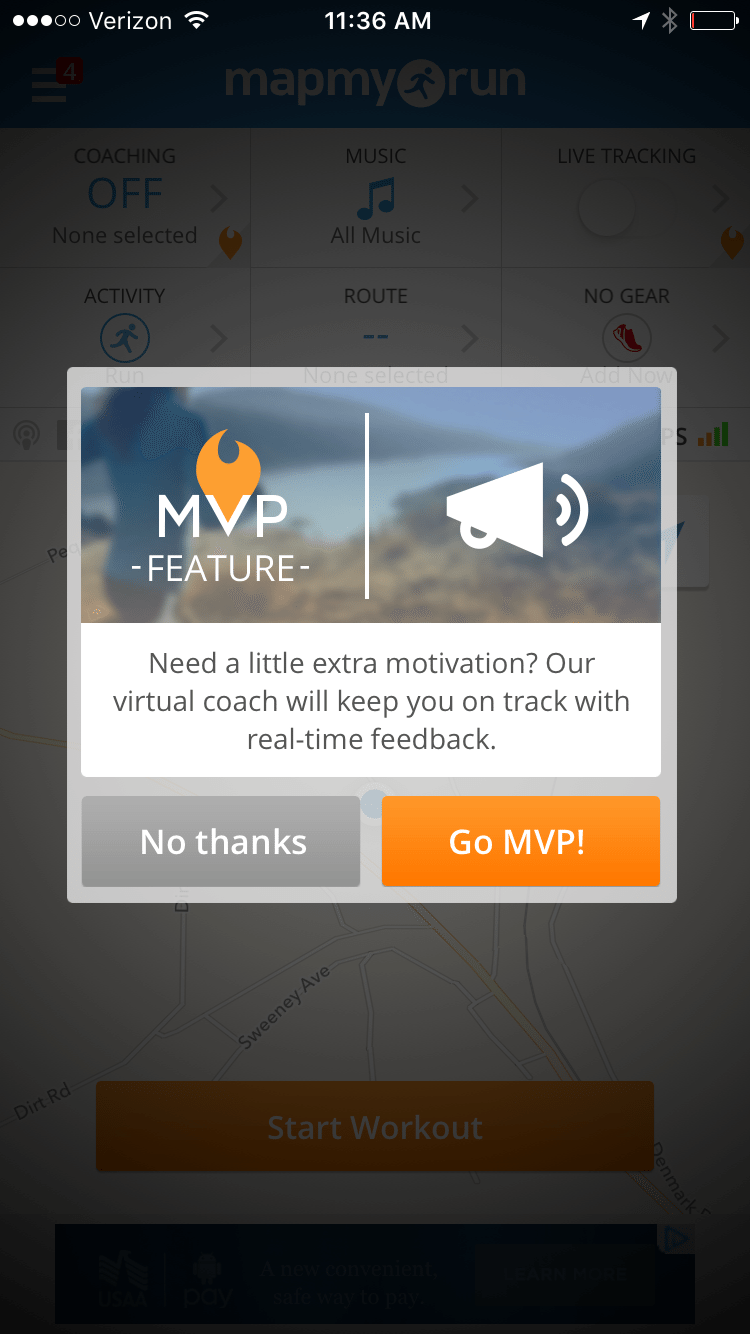 Music
On iOS, click Music will bring you in-app through your music on your iOS Device.  This is similar to the default music app for iOS and is easy to get used to.  You can select from your Playlists, by Artist, or by Album.  You can Shuffle, Repeat, or Auto Play (play automatically when you start an activity).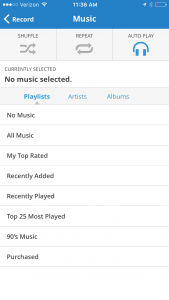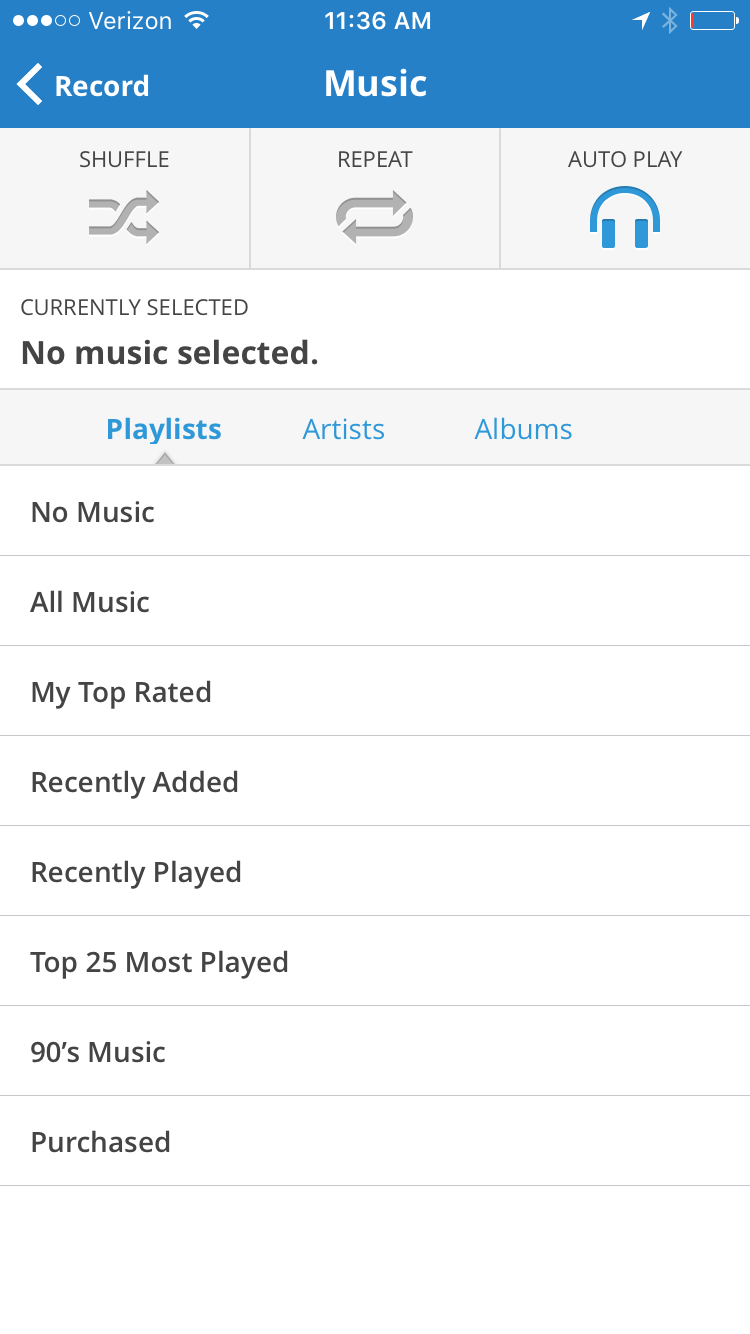 Live Tracking
Live Tracking is an MVP Feature:  Life tracking allows family and friends to follow you in real-time along your route.  This is especially useful for people who are afraid of being Taken.  Is Liam Neeson a family member or friend?
Activity
Activity is an endless list of activity types to choose from.  There are two basic screens within this section, one for Recent and one for All.  Recent will allow you to quickly choose from your most recent activity types.  All just seems to scroll on forever.
Route
Route is one of the best features of the app.  This allows you to quickly pick from all the routes you have run, bookmarked, or nearby routes that others have run.  Each of these will allow you to compete, either against yourself or others that have run it.  You also have the ability to filter by distance.
Gear
My Gear allows you to keep track of the mileage you put on your gear.  We all know that shoes have a lifespan, this can help to keep track of it.  If you have gear loaded, you can quickly select it from the list.  If not, you can quickly add gear by thumbing through a few menus.  Unfortunately, there is no way of adding any historical information after you have already added a shoe.  Big miss… I know my shoes have more than 22 miles on them. Direct link to buy more from Zappos.com
Additionally, there is a bar along the bottom that will quickly allow you to connect various devices.  You can connect things like activity trackers (FitBit, JAWBONE, Nike+, SUUNTO, and much more) and apps.  Workout devices like Heart Rate Sensors, Bike Speed & Cadence, Bike Speed, Bike Cadence, Bike Power, Stride Sensor, and Bluetooth Display Devices (Echo, RFLKT, Times, etc).
Log Workout
The next item on the docket is Log Workout.  This will allow you to manually enter workout information for activities you didn't bring your phone with you on.  Reasons vary, but I typically will log my treadmill runs as the internal pedometer and decision engine within the phone and app are usually off a bit.  I can name the activity, select the date, choose the activity type, select a route if I forgot my phone when I went running, enter the distance, the time, and finally choose whether or not I want my friends to see this activity.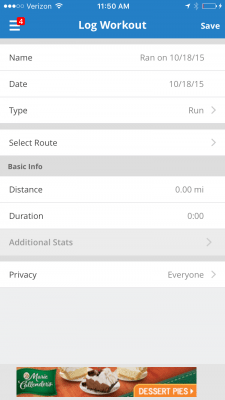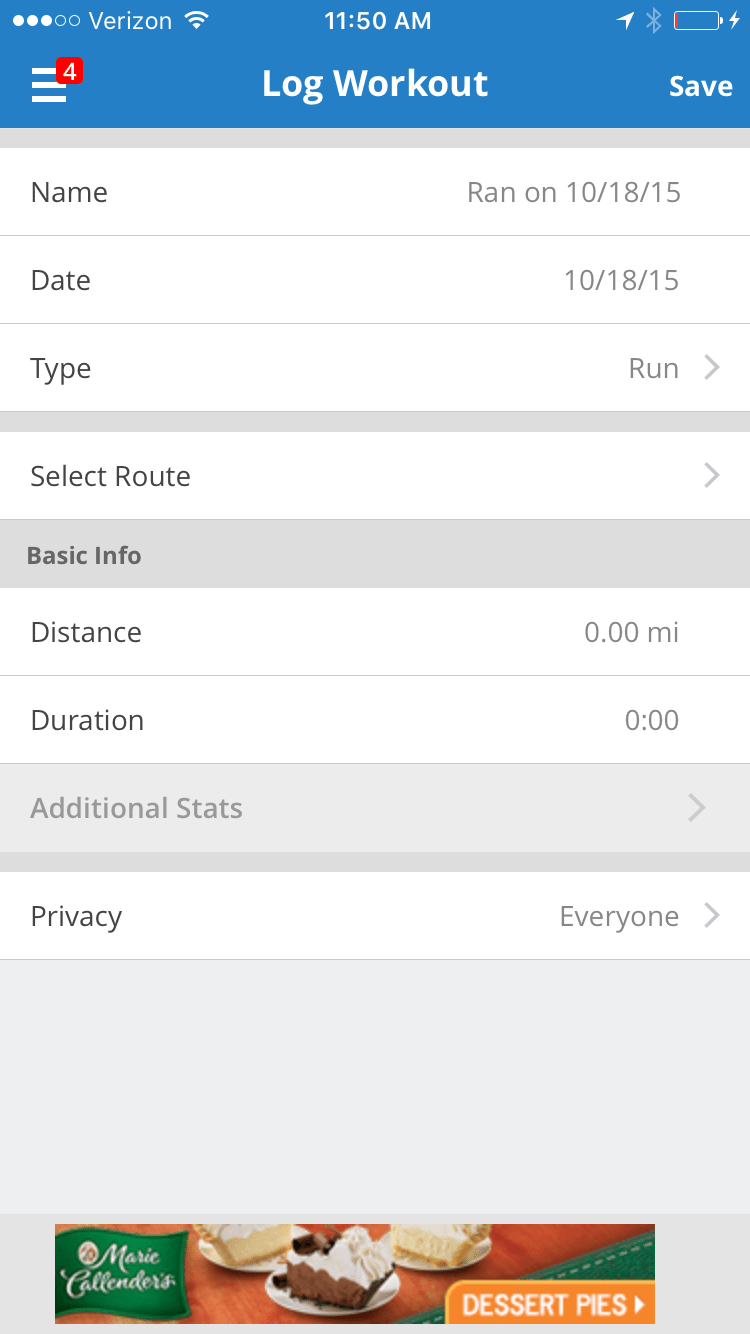 Log Food
It seems as though tracking your food has become more popular for newbies.  This feature is a nice add.  Logging and tracking your food can help you to maintain control over your diet and provide some useful information about what you are eating, how many calories you are consuming, and what you have left in your budget (if you set one).  The database is shared between many of the Map My apps including MapMyRide, MapMyWalk, MapMyHike, MapMyTri, and MapMyFitness.  Personally, I do regularly keep track of my nutrition, but I do so through another app (only for historical reasons).
Activity Feed
Activity feed is a fun place… kinda like your fun zone.  You can see all your activities here as well as any of your friend's activities.  When scrolling through this screen, you get a quick bird's-eye view of your events.  For instance, if you had a run, you can quickly see the distance, the average pace, and the total duration of the run.  There are additional options here for liking and commenting on an event as well as viewing further details.  These details, while barren for treadmill runs, will allow you to edit your event and view the songs played.
If you use the app while running (see our armband reviews for taking your phone with you), you can see much greater detail.  There is a map view of your run accompanied by the duration, the pace, and your total calories burnt.  The map acts as a scrolling menu and reveals a ton of information including: Elevation, Pace vs Elevation, and more.
27/7 Activity
If you decide to attach MapMyRun to a fitness tracker (along the lines of a fitbit), the 24/7 Activity Feed can provide information about your workouts, weight, sleep, steps, calories, and distance.  If you have a workout tracked, you can quickly view the activity by clicking the Workouts item.  The same goes for Weight and Sleep.  It provides a bird's-eye view of your daily life.
Gear Tracker
Gear tracker is a simple repeat of the same gear tracking from "Record a Workout", or is it the other way around? Either way… Starting here instead of above is probably a good idea.
Routes
As with Gear Tracker, this can be found when you fire up the app and start your first activity.
Friends
Friends is an interesting idea, it is really part of a two-part series though.  The idea here is that if you can find your friends, which is near impossible, you can invite them to challenges that you create or join.  The challenges part plays into one of the next menu items.  My major gripe with friends is that you cannot search for them by email address or even add your Facebook friends.  Instead, you have to search by name… there are millions of users… finding by name = not so effective.  You can invite friends by Facebook, twitter, SMS, or email.  Sorry, I have no friends…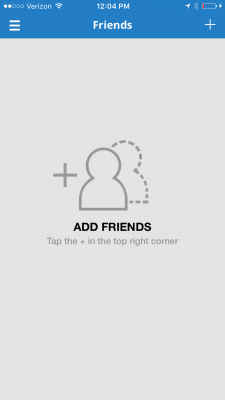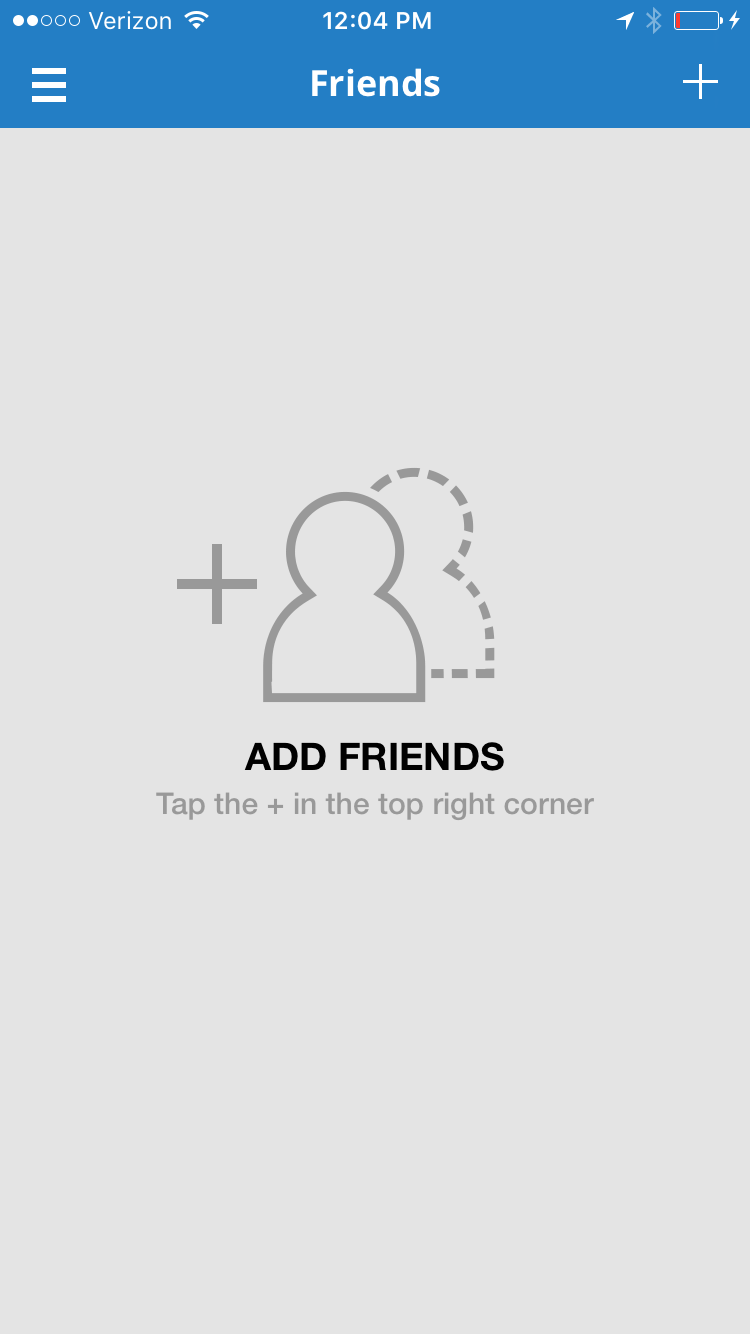 Goals
Goals allows you to do just what it says.  "Stay on target with a weekly goal".  The goals are more event based than anything else.  There is no method for determining readiness.  For instance, an example goal would be something along the lines of "Running 1 time per week", or Distance, or Duration.  There is no availability for "I want to run a mile in 6 minutes", or "I want to prepare for a marathon".  The choices for activities are: Walk, Ride, Run, Any.  Type: Distance, # of Workouts, and Duration.
Challenges
Challenges is where friends really comes into play.  Fun happens here… after all, what is the point of doing something if you can't compete against someone while doing it?  This section features some featured challenges and adding a challenge is as easy as hitting the "+" in the upper right hand corner.  You can challenge your friends to things like: Most Steps, Most Workouts, Most Distance, Most Calories Burned, and Most Workout Time.  The activities aren't as vast as the activities the app can track and manage, but it isn't lacking either.  Any, Other Gym Workout, Run, Walk, Hike, Bike Outdoor, General Yoga, General Gym, Swim, Baseball, Basketball, Football, Golf, Gymnastics, Soccer, Softball, Tennis, Volleyball.  It can last a Day, a Week, a Month, or a custom period as well as repeat.
Connect Apps & Devices
Personally, there is only one thing I have connected, my fitbit.  The others are nothing I can take advantage of.  I do have a TomTom Spark Cardio + Music, but the integration doesn't happen with the app for some reason.  Additionally, the app has the ability to monitor an array of devices like Heart Rate monitors, Bike & Speed Cadence devices, Stride Sensors, Bluetooth Display Devices and a couple more.
Other Stuff
Run Training Plans: This opens a link for you to download another App.  The MapMyRun Trainer.  According to MapMyRun, the "Trainer is better than ever!".
Live Tracking: Same as mentioned above
Nutrition: Same as mentioned above
Workouts: A Summary of Activity Log
Upgrade to MVP: See the Image way above for the MVP features vs basic features.
Shop Run Gear: Get your favorite Under Armour Gear Straight from your running app.
Settings
Finally, Settings… as you would have guessed, Settings allows you to customize how this app works.  You can enable and disable a slew of features as well as configure units, bike tire size, social posting, privacy, and more.
Conclusion
Now, the real purpose of this lengthy overview… how well does it work? Well, aside from the endless list of options, recording an activity is really as easy as hitting a button. When the app fires up, the "Record a Workout" Screen is the first thing you see. Click a couple of options (like route, gear, activity, etc) and slap your finger on "Start Workout". This makes the app EXTREMELY easy. Having what you want, front and center, is all you can ask. Recording activities that you did not have your phone on you for is as easy as logging it. Showing off your runs to your friends is easy, thanks to the activity log and workout summary. No more late night Doritos Binge Sessions.. you have friends to compete with. The social aspect of any application makes it a better sell… If I had some friends, I could tell you more. We'll see how that goes when we cover the fitbit or the Strava app, there I have friends 🙂
Sometimes having too much available to you can make things confusing. While getting use to the app takes some time, the endless options feel like complete bloat at times. The menu seems to scroll forever and the repeated menu items (items in menus and screens lead to same place) is more like an obstacle course than an app.
While the app on one phone is good, having it on more than one device (or phone) is even better. All the information you collect here is sent up to the magical MapMyCloud (not really… I just made that up) and ready for viewing / logging on any of your other devices… including the website. Although I will not be diving into the website, at all, "They're real and they're spectacular" (Seinfeld… ?). Bottom line… MapMyRun is good… but bloated.