Whenever I get the chance, I always like to race local. It gives you a chance to see if there is some creativity brewing; as well as seeing a lot of first timers catch the OCR bug. From those not familiar with Houston, Legends is a very successful athletic/training facility featuring a full array of training options for it members. Many professional athletes have made their way through Legends and their staff has always been pleasant to deal with. For me, I typically use Legend's Batting Cages and tunnels to work on my Baseball Fundamentals, when it s not OCR training time. I didn't know this until after the race, but they have also been running an OCR boot camp for a few months and their Race Director, Garrick, is a Spartan and BattleFrog participant.
Check-in
The Check-in process was quick and efficient.  The staff needs a little more training on the software but they seemed to be able to move everyone along. It's a simple waiver sign off, with you ID in hand, and then they input you into the system. 90 seconds later I have my packet. Nice and seamless. There is a 4 hour window the evening before to pick up your packet, so you don't worry about the pre-race craziness. As time goes on, they may need to look for more efficient methods or additional stations, but for a first pass this worked pretty well.
Festival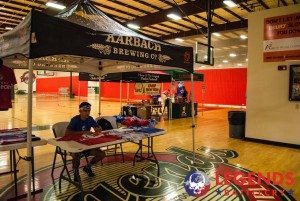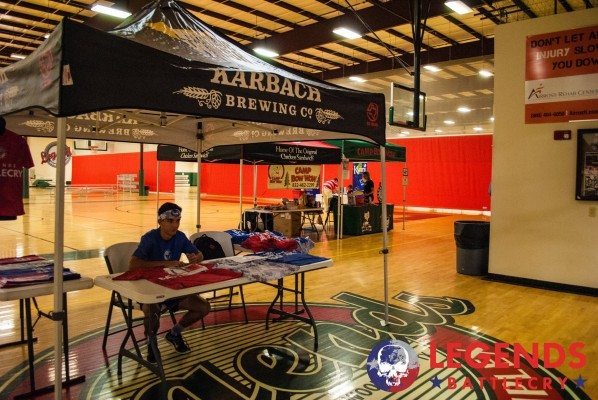 This was absolutely one of the best festival areas I have been to, period.  They had Local Microbreweries on site, Top Golf, nutrition shops/vendors, and even Chick-fil-A. Music was a solid mix, not a small playlist on repeat. The only thing I would add is a Rig/Fitness Challenge area.  Those always seem to be popular and make for a good warm up area for the competitors.  This was held in their massive gymnasium, so as the race continues to grow so does the potential of the festival area. Locker rooms on site allow competitors to take "real" showers post race and thoroughly enjoy the festival/after party. Again for a 1st time this was excellent.
Environment/Atmosphere
For a day with a Hurricane en-route you wouldn't know it. Everyone had a great buzz about them. Lots of chatters, smiles, and excitement filled the check-in area.  People made good use of the facility to safely loosen up. Cap that with the festival area buzz and you were ready to go.
Course/Obstacles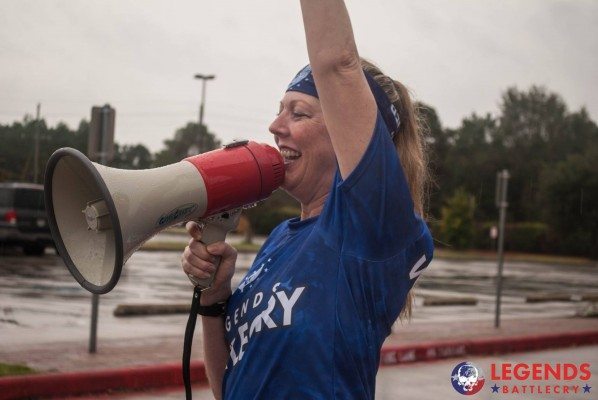 The course was about 2.5 miles because of a last-minute shortening ordered by the Woodlands Township. A little short for my tastes but in the future a "little birdie" says we can expect more length. The terrain was very "Houston"; meaning flat and fast, but well used.
The first obstacle of the course would be the only "complaint" I would have and that was the time chip.  It was this odd, large, foam wrap that had to go around your ankle and it needed to be within 12 inches of the timing mat. It may just be habit, mixed with how heavy it felt, but a timing chip like Spartan uses for their Stadium Sprints would be a nice improvement. Especially if they continue to hold these with the regularity.
The obstacles, honestly, were more than impressive for a local race. The first on-course obstacle was a legit bucket carry.  The obstacle presented itself less than 2/3rds of mile in and had you running up and down 6 foot mounds of loose dirt. This, to me, was harder than your typical up and down carries. There were tire pulls and flip, sand bag carries, lots of 8 foot walls, a 14 ft ladder, inverted walls, and OUTs. There was a pretty long barbed wire crawl, tall rope climb, and long traverse rope. Everything was of top-notch construction.  Never once did I approach an obstacle and think this may not work out so well. Sadly, this happens regularly at races by both large and small event coordinators.
The last big remaining obstacle was the Jerry Can/Plate Carry, it made the carry at BattleFrog Houston feel short.  It was probably a bit too intense for your first-timers, but I watched after my race and people refused to fail the obstacle.  It was amazing to watch. Unlike other races where you see people say "To Hell with it" and give up or leave a can behind.   These competitors did whatever it took, simply awesome.
I believe the final obstacle count was 30, but every portion of the OUTs and Overs were counted as a single obstacle; so you are looking at 26 as at true obstacle count.  More than your Sprints… and none of them were cheapies. Even the Burpee and Squat Stations made you really go out and get it.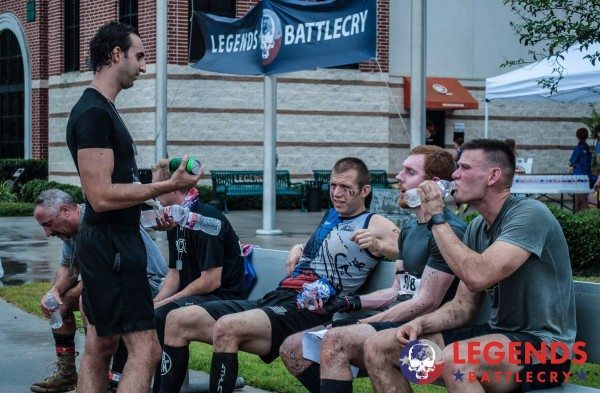 Conclusion
In the end this was a great experience, Legends would like to host up to 4 of these year, which would be fantastic. If the Township truly partners with them, I could see this growing to a race hosting a few thousand racers of all ability levels.  Unlike other races, Legend's is already a very successful athletic facility.  I expect to see more races from them. Keep your eyes open for the next Battle Cry!