To be completely honest with you, I had been pretty siloed in OCR over the last few years. It wasn't until OCRAddict popped up that I was interested in anything other than Spartan Races; it was like wearing blinders the whole time. There had been the occasional hankering to try a Tough Mudder, just for comparison, but outside of that, there wasn't much interest. Recently, when the opportunity to run a Savage Race came along, I couldn't resist. I had to see what else was out there.
Savage Race is one of those races that looked good. The website is attractive and they claim that they have the world's best obstacles. However, with limited locations and dates, my focus had always been on my next trifecta. When Savage Race came to Albrightsville, PA, it was as good a time as any to get my feet wet. Pun intended.
Albrightsville is a small community in Carbon County PA, it has a population of around 200, and is approximately a one hour drive from my home in NJ. A one hour drive to someone living in northern New Jersey is like taking a snack break.
It's more than just a race. It's about setting personal goals and smashing them. It's about pushing your limits to defeat the world's best obstacles. It's about teamwork and friendship. It's about the amazing people you will meet on the course. It's about the mud, the fire, and the Facebook pics. It's about creating the memory of a lifetime.
For those of you that don't know much about Savage Race, it sports many of the general characteristics we look for in OCR; a medal, beer, obstacles, and a timing chip. The courses are somewhere in the neighborhood of 5.9 miles on average, host approximately 25 obstacles, and an 81.6% completion rate. There are only a handful of races each year and each of them features an open race as well as a SavagePRO race. One of the distinguishing features of a SavagePRO Race is Mandatory obstacle completion. No burpees, no bodybuilders… complete the obstacle or turn in your wristband.
SavagePRO Overall Awards & Cash Prizes (male and female)
1st Place Overall: $1,000; Gold Medal; Savage Axe
2nd Place Overall: $500; Silver Medal
3rd Place Overall: $250; Bronze Medal
If open is your thing, sign up and go.
For me, SavagePRO would be the event. Registration in hand, my journey to Albrightsville commences.
Parking is standard fare. There is nothing out of the ordinary. When signing up for the early heats, there really isn't much in the way of traffic. The influx of racers usually starts to bog things down later on in the day. Parking fee paid, my 1990 Carolla finds its home near the tree line and patiently waits for my day of mud and adventure to conclude.
The walk from parking to the festival entrance is manageable. The festival area forces you to walk right through their merch tent, giving you a good indication as to what you can expect to drop some coin on while leaving. The festival area had plenty of seating for racers and guests as well as some obstacles to play around on. There wasn't much in the way of merchandise on site, outside of the entrance. There were a buttload of portapotties. Having signed up for the morning run, there wasn't much going on yet.
Bag check seemed to be a bit of a drag. There was a line early on but the volunteers and staff were extremely friendly and accommodating. Personally, I hate lines, but there doesn't seem to be a way to avoid them outside of not bringing anything with you.
This race would feature 25 signature Savage Race obstacles and have its racers navigating through a mostly flat 5.96 miles of terrain. Total climb, 510ft.
The first obstacle is getting to the start line. The crowds of people gathering around the entry wall that leads to the starting corral seem to just marinate while racers try to navigate their way through. The MC quickly gets us pumped and bouncing around waiting for the smoke to be unleashed. For viewers, the smoke looks cool. For racers like me, it is a nuisance.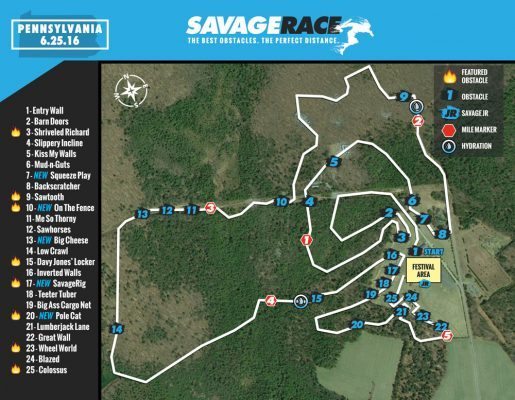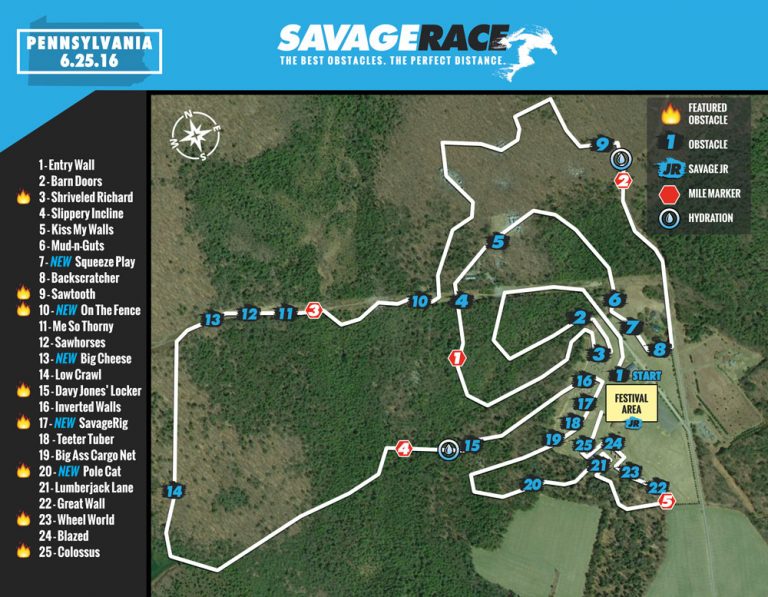 As we make our way through the course, it is quickly apparent that there would be plenty of opportunities to turn on the jets as the terrain is mostly flat. As I start to close the gap on our group's leaders, the course decides to throw in a couple of wrinkles in the name of divots and tree roots. A few bumps, bruises, and twists, and it quickly becomes clear to me that I am going to have to slow down. The old man ankles are in bad shape before I make it to the second obstacle; barn doors (remember, the first obstacle is entry wall).
The course designer at Savage must have a great sense of humor. As soon as we round the corner from the 2nd obstacle, we are greeted with a slippery and wet tank of extremely cold water. The Shriveled Richard doesn't do much for keeping your muscles warm and the water is less than drinkable. Mouth and eyes closed, my head hit Savage logo on my way under and through. The opposite side of the obstacle was troublesome and slippery. The quickest way down is to avoid the wet wall altogether and leap.
Slippery Incline is uneventful and pretty standard in the way of obstacles, but Kiss My Walls is another story. This is where the leaders really gain some separation from the other racers. Kiss My Walls is essentially a lateral rock climb, or traverse, with plenty of loose handles. There are a number of paths and racers quickly begin to bunch up waiting for those that got there first to attempt the obstacle. My first run at it would result in a failure as one of the pseudo rocks I grabbed spun around and dropped me on my bottom. Unfortunately, mandatory obstacle completion put me at the back of the line waiting for another attempt. I can see the guys and gals up front, that I was only a short distance behind, start to take off into the distance. My second attempt would be a success and I would have to push the envelope a bit to make up for some of the lost time.
Mud and Guts is the Savage version of a barbed wire crawl. Instead of having us crawl through cutting rocks, Savage fills an area with water and mud. The barbed wire is high enough to make navigating the obstacle possible, but low enough to keep people in check. If I had to compare this to the Spartan offering, I would say that Savage nailed it. While it isn't as "challenging" as those you would find at a Tuxedo Sprint, it is more navigable and therefore more like an obstacle instead of a mood killer.
Squeeze Play, on the other hand, seems more like a momentum killer than something challenging. The obstacle is essentially some plastic barrels fixed through their holes and the idea is to crawl under them. While it isn't difficult to do, they do smack you in the head on your way through.
Back Scratcher is a series of walls with short barbed wire crawls.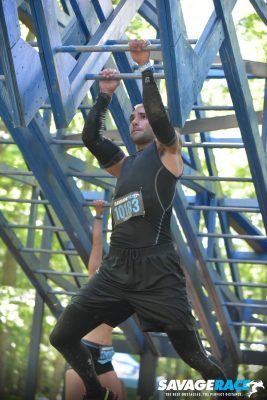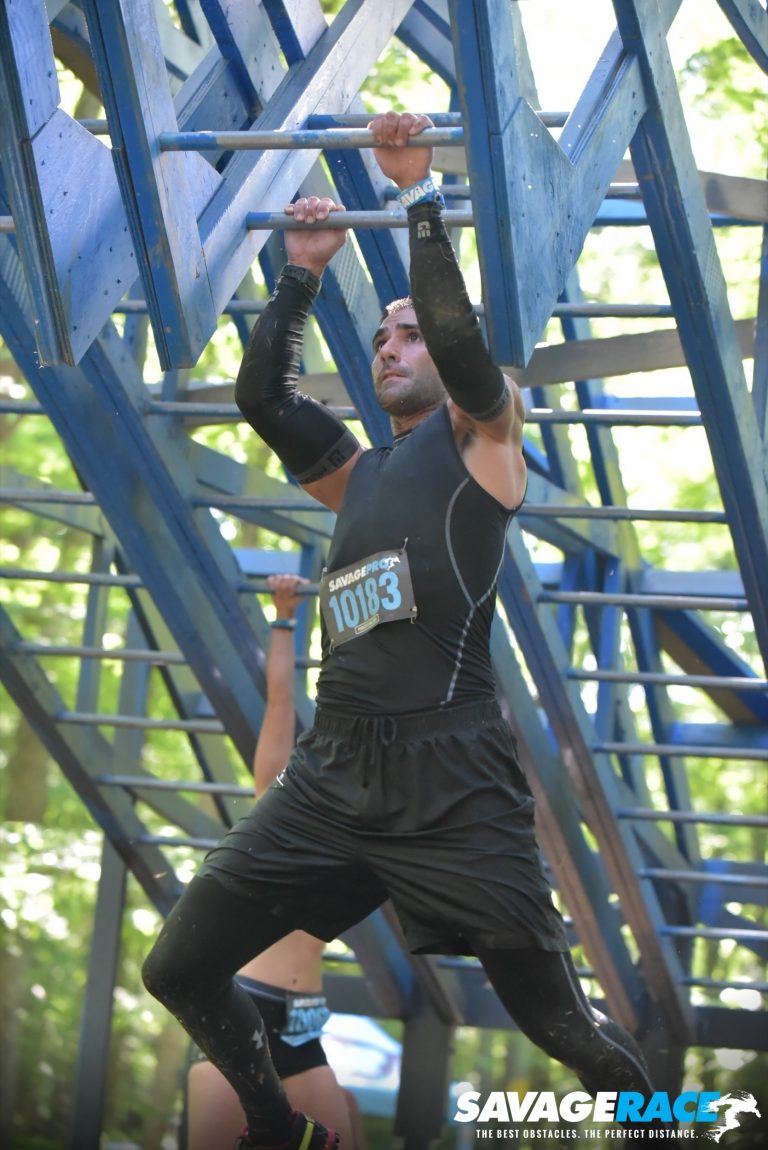 Sawtooth was by far one of my favorite obstacles of the day. Sawtooth is Savage's idea of a monkey bar obstacle. It features a "tooth" in the middle whereby you navigate across, down, up, across and then off the obstacle. The obstacle is hosted over water for those that fall.
On The Fence is really just a strange obstacle. The idea is to cross a fence, literally a chain fence, that hangs over water and is staggered like a Z-Wall. While this may seem like an easy obstacle, your shoes are your biggest enemy. In fact, I took to the obstacle and quickly realized that my footing was going to kill me. A quick decision to remove the shoes, hop on the obstacle, hop off the other side, put the shoes back on, slingshot engaged.
Me So Thorny is just cruel and unusual. Instead of a straight barbed wire crawl, you are forced to pick a track; barbed wire overhead, barbed wire on both sides. Saw horses are quick and easy, jump over them and keep it moving. Big Cheese is another momentum killer. The obstacle is easy but slows you down. Low crawl, yep, another barbed wire crawl.
Now… Davy Jones' Locker is one beast of an obstacle. The idea is, you climb up to a platform and jump into a pool of water. You don't know how high you are or how deep the water is. For me, I am scared of heights… I get scared sitting on a bar stool. If I could do it again, I would do a flip off of it, it was fun.
On to Inverted Walls and then the killer, the Savage Rig. The Savage Rig is a true test of grip strength. It might not look like much at first glance, but transitioning from rings to handles, to ropes, to bars and finally to a bell will have your hands throbbing. I spent a ridiculous amount of time and who knows how many attempts at the rig before I finally decided to turn in my wristband and give up my eligibility for ranking. Having worked my butt off to catch up to those that led the pack, I was near the top 10 when I came to the obstacle, and dropped in rank quickly over a slew of attempts.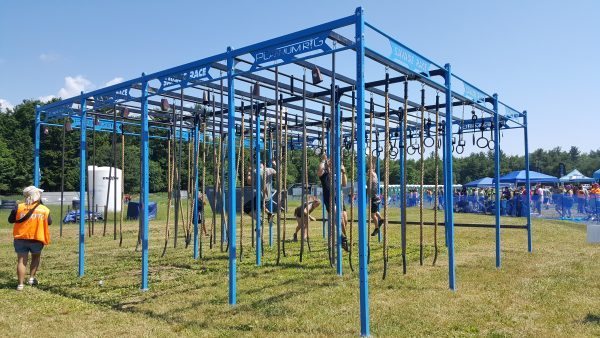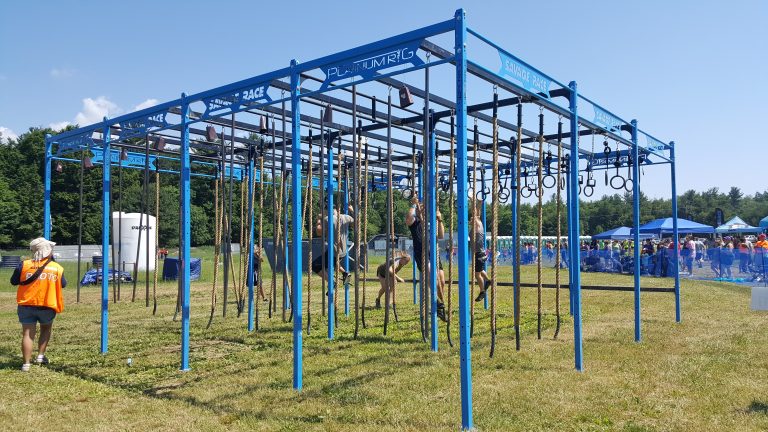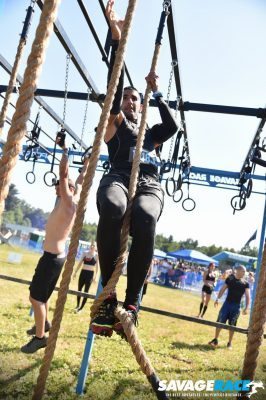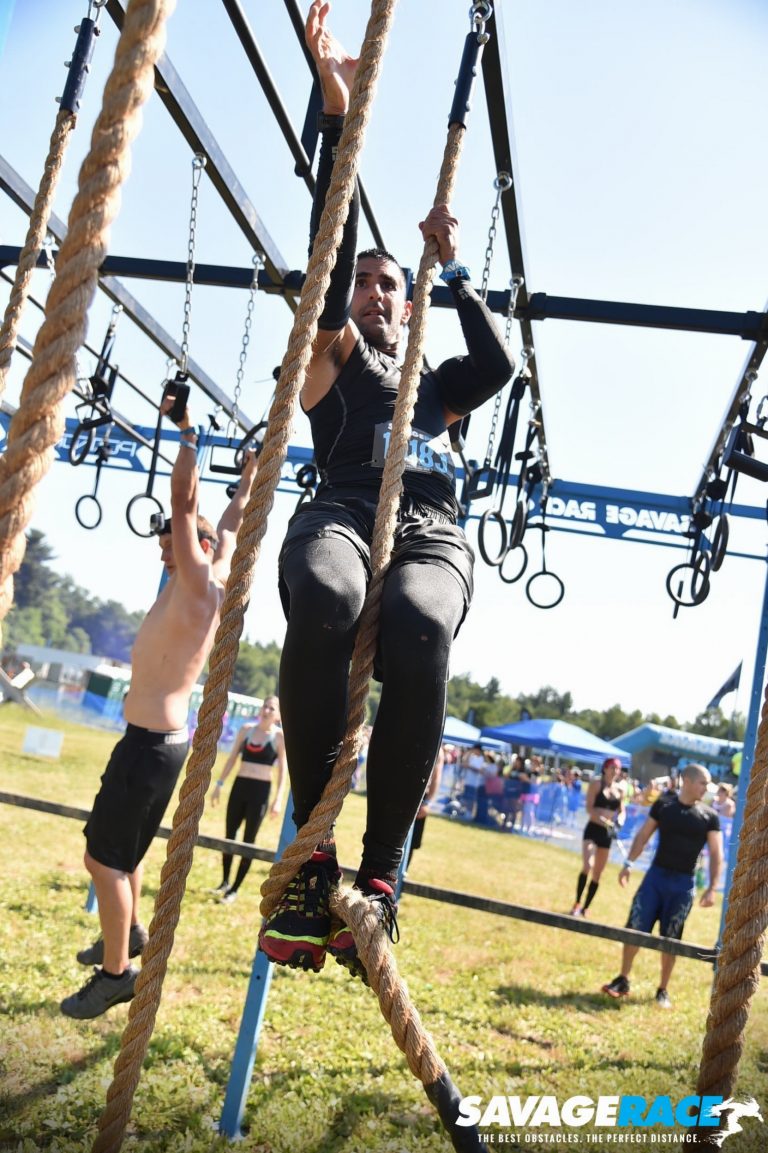 With my head hung low, I made my way onto Teeter Tuber. If you are not fond of tight spaces, this obstacle should be fun. You are essentially wiggling your way through sewer tubing that is set up like a see-saw. When you hit the middle and your weight shifts, you quickly drop the other side and shimmy your way out.
After making your way up and over the Big Ass Cargo Net, you find Pole Cat. Pole Cat has you stretching across a pool of water with your feet on one bar and hands on the other. When you hit the halfway point, your frame shifts.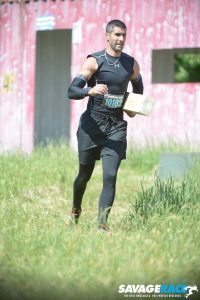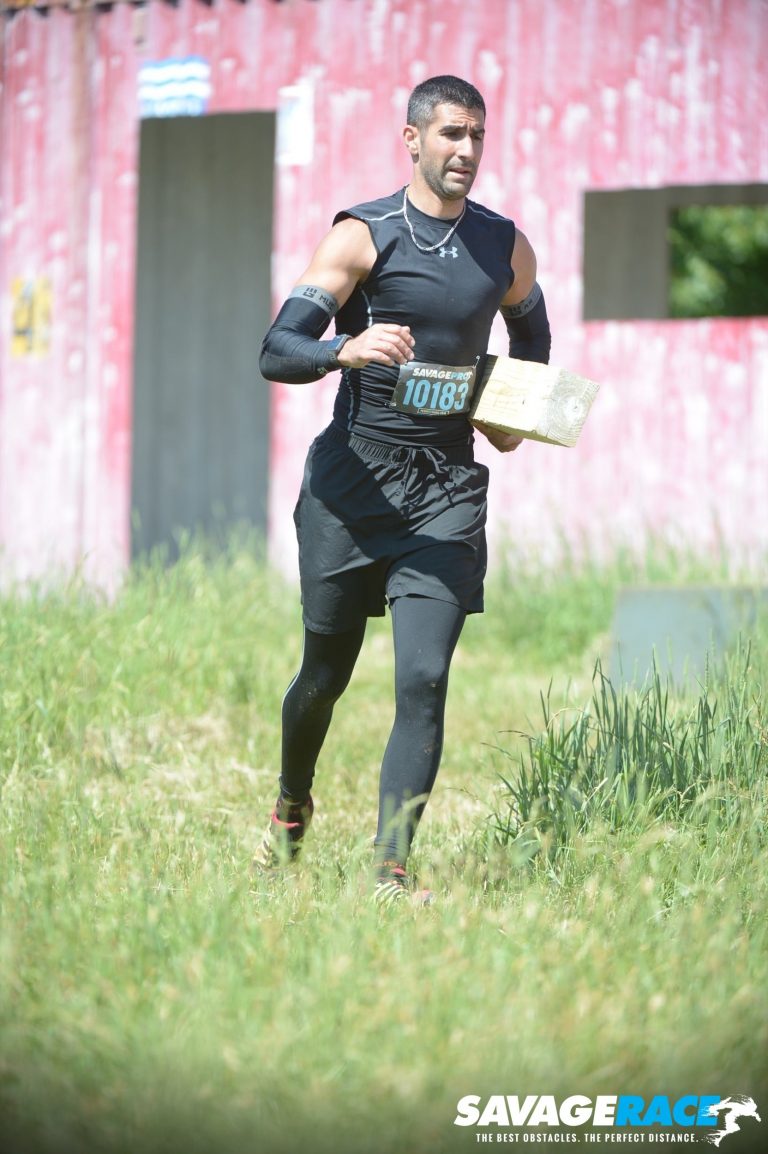 Lumberjack lane had us moving through some elements of the course carrying a piece of wood with you. We were carving our way through a paintball course, up and through a mock building. Having hated the log carry (Spartan) for the last couple of years, this was actually a breath of fresh air. The lumber is much lighter but a bit cumbersome and you can run with it.
Great Wall is just a wall but Wheel World is something different. Again a twist on the norm. These monkey bar'ish things are above water and spin on you when you think you have it nailed. I easily made my way to the second to last ring but couldn't get it to spin the right direction. When I got to the point where I couldn't almost grab the last one, the ring would shift and move me farther away. After some negotiating, I was able to tackle the obstacle, but having exhausted my grip on the Rig, this one proved much harder than it should have been.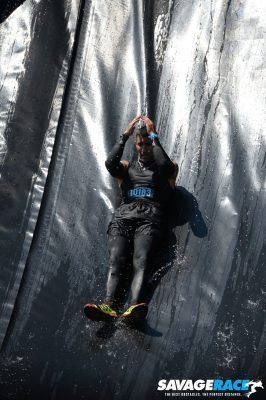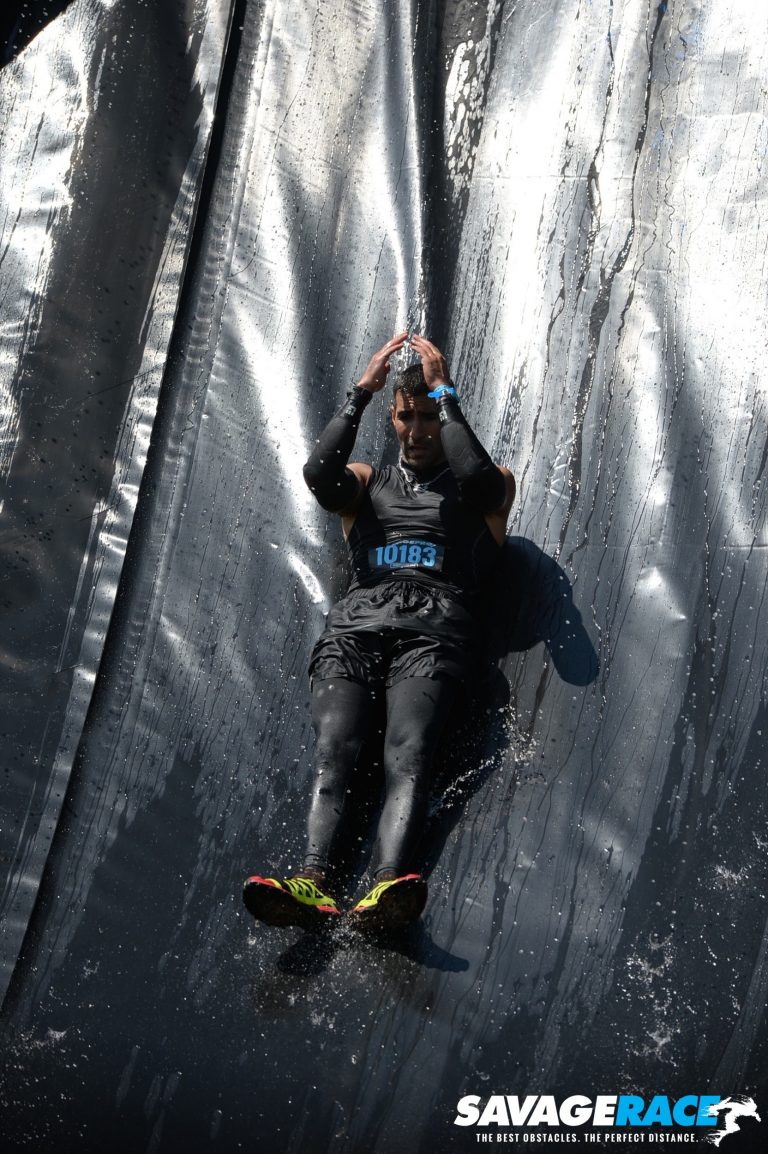 Blazed, meh. Colossus, not meh. This absolutely massive water slide is a pure blast. You rocket your way up a warped wall to a platform, climb up some short ladders, and shoot down a wet and wild slide into a pool of water. There are really three ways to tackle the warped wall: you could run and have a buddy help you, you can run and grab a rope to climb the rest of the way up, or you could blast off, ditching the rope or the buddy, and grab the top of the wall, Ninja Warrior style. I chose the ninja warrior style and loved every second of it.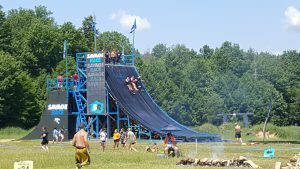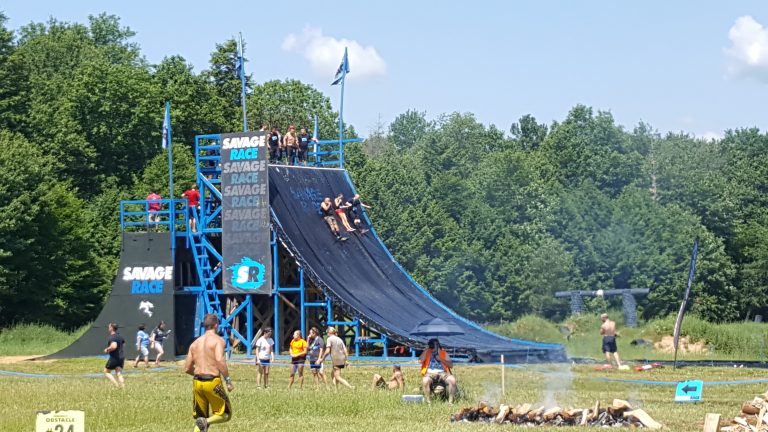 Course complete, wristband at the rig, timing chip removed, bag collected, bling on chest, and one hell of a day in the bag I meandered around the festival area. There were plenty of people taking in the atmosphere, almost like they were breathing it in. The festival area was teaming with life; there were a couple of food trucks, the merch tent, bag check, portapotties, some mock obstacles, and a DJ. It is almost strange in a sense that there wasn't anything incredible going on, but people somehow felt the urge to sit and talk to each other.
When Savage Race made their claim that they have the world's best obstacles, I didn't know what to expect. I took to the course having known only what I have been told and came out a with a change in perspective. I had gone from a Spartan to a Savage. Spartan will always hold a place in my heart, but Savage was far more fun. The race proved to be challenging enough to keep me physically engaged and some of the obstacles proved to be tons of fun.
Colossus, Davy Jones' Locker, and Wheel World are by far some of the more notable and fun / challenging obstacles, but the Rig proved to be my Achilles heel. I have gone plenty o' Spartan without failure, but that Savage Rig has me foaming at the mouth for another go at it. I can honestly say that this is the race I am looking forward to the most come next race season.
If I had to sum it all up in a few simple words, it would be something along the lines of "Damn, that was a great race." Savage really knows what they are doing. My body is tuned more for sprint style distances, the distances where it stays fun. If you haven't run a Savage Race yet, you are crazy. This was one of the best runs I have done… EVER. If only Savage could put on more events in more places on more dates… I would be running a ton of them.
2016 Savage Race Albrightsville
Check-In - 9
Festival Area - 9
Environment/Atmosphere - 10
Course/Obstacles - 10
Parking - 9
User Rating:

4.6 ( 1 votes)