Most people who dabble into the crazy world of obstacle course racing in the U.S. have heard of at least the Big Three: Tough Mudder, Spartan Race, and Warrior Dash. While the first two are widely known for being gritty, competitive, challenging, difficult and not for the faint of heart, the last of these is known for being quite different. Warrior Dash is the mischievous little brother of OCR—a  fun, short course that people do in order to get off a couch or shake off the monotony of daily life, get muddy, grab a celebratory beer and bottle opener medal and slap on a cool fuzzy Viking helmet, take questionable pics that end up on social media, and head back home with some bragging rights. It is the course that people who have never done this sort of thing find on the internet (probably via Groupon), get a wild hair and sign up for, and then drag their equally sedentary friends and office co-workers with exclamations of "Come on, it will be FUN!"… On race day those same people are seen standing at the start line with a wide-eyed look of bewilderment on their face, wondering what the hell they were thinking six months earlier.

While wildly popular back in 2010 (considered the year of the OCR 'boom'), Warrior Dash has since begun to take somewhat of a downturn in popularity in recent years, most notably due to their decreasing quality of the full course experience. When it first popped into the racing scene, Warrior Dash was a novelty… you could crawl through mud and jump over fire! There were monkey bars and walls to scale! And this worked back when OCRs were relatively new and few. As more and more racing events and competitors popped up with cooler, better obstacles, Warrior Dash started to stale. It has become not much better than a 5K trail run scattered with a few unoriginal, unimaginative obstacles, and with a LOT of empty space to run in between them. And while the pyrotechnics at the start line are pretty cool and the festival party area is legit, these don't make up for the lackluster race experience. Red Frog Events, the company that puts on Warrior Dash, tried to make up for this by introducing a mini-gauntlet style obstacle in early 2015 called the Goliath, one massive build of an obstacle near the finish line which ends in a slide into muddy water; it was supposed to serve as a positive finishing note to the race, in an effort to make runners forget just how 'meh' the rest of the previous three miles happened to be. However, even this mammoth obstacle was not enough to make me bother to consider spending my hard-earned money for another Warrior Dash.
…But I digress, and offer my apologies to you readers. Because this article is not about Warrior Dash, but about the ugly-duckling-turned-swan story that is Warrior Dash's younger, hotter next-door neighbor—The Little OCR that' s gaining momentum with each successful event, and who now threatens to usurp the Warrior Dash throne and take its place amongst the Big Three.
What race series could this possibly be, you ask?
A Shark Encounter
For those who are not familiar with Rugged Maniac, it is an obstacle course race series held in multiple cities across the United States and Canada. Participants run a 5-km course with obstacles ranging from muddy water slides, tunnel crawls, fire jumps, and warped walls, amongst other things. You might've heard of it; billionaire entrepreneur Mark Cuban is an investment partner with Rugged Maniac, after their appearance on Season 5 of the television reality show 'Shark Tank' back in 2014. It was started in 2010; by then Warrior Dash was already well established and kind of a big deal. I first ran Rugged Maniac back in 2014, and last weekend I had the opportunity to run this race once again, for the first time since that infamous Shark Tank episode. Mark Cuban acquired a quarter of the company and ended up investing $1.75 million into it. Since that episode, great things were expected of the company–seriously, what race director couldn't think of about seventy-three hundred things to improve on with almost two million in cold, hard cash?
And Rugged Maniac delivered on those lofty expectations. Since its inception, the series has expanded to 30 events in the U.S. and Canada, and their New England event boasted approximately 12,000 total race participants in the fall of 2015. Clearly they are doing something right. However, it was something I needed to see for myself.
Before this second run at it, my personal experience of Rugged Maniac (prior to the injection of investment capital from Cuban) was, at worst, forgettable, and at best, better than having nothing to do that weekend. Matter of fact, the most memorable thing about Rugged Maniac was the fact that, on the day I ran it, a massively huge storm rolled into the area, with a few very loud and very close cracks of lightning, and to this day my service dog Roxie is deathly afraid of thunder. In many ways, Rugged Maniac is in the same predicament in 2014 that Warrior Dash is in right now… only it was still easier on the wallet. (Another plus for Rugged Maniac!)
Since then, I have heard a great deal about all these cool new things being implemented—new shirts, new venues, and most importantly, new obstacles… and how this company is doing things RIGHT in terms of proportionate business expansion; the BIGGEST mistake many fledgling OCR companies make is to try expanding beyond the measure of business sustainability, which subsequently ends up with them folding on themselves. This has been the demise of many a company in recent years, from Hero Rush to Superhero Scramble to Atlas Race.
The Course, Of Course
I'm not going to talk about the statistics, elevation gains, GPS mileage, splits, or technical aspects of the course; there are plenty of people who have done that already, and I am sure there is no shortage of OCR critics who provided ample reviews of the event and who also go into great detail about all of those things. In all honesty, nothing aggravates me more than reading a 'review' of a race that reads like literary Go-Pro footage; it's like reading a walkthrough on a video game before actually playing it, and frankly my level of 'Give a F@#$' drastically drops when I start reading a blog that goes into a play-by-play of every single obstacle on the course as the writer came across it and tackled it—ain't nobody got time fo' dat!  Besides, truth be told, this isn't that kind of course for that, anyway; while Rugged Maniac offers a timed chip competitive wave, with overall and age group awards, this is for the most part meant to be a fun experience for the masses.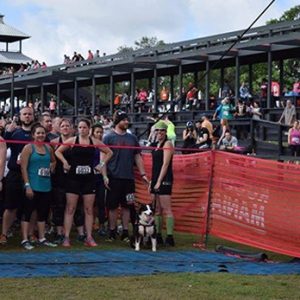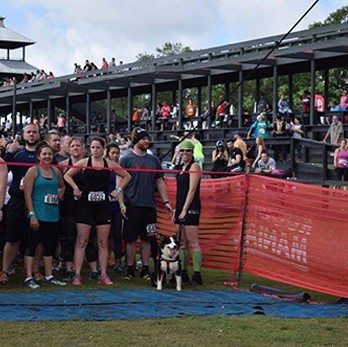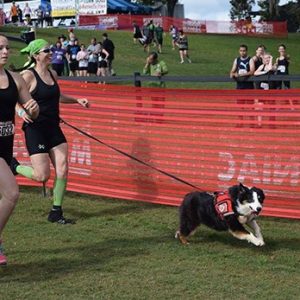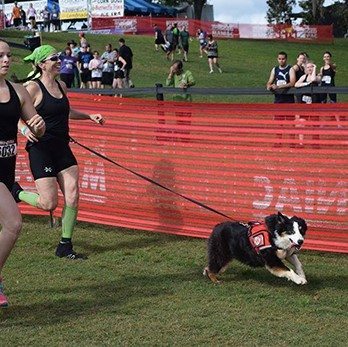 Right off the bat, this course has more than double the obstacle offerings of Warrior Dash—25 obstacles at Rugged Maniac in relation to Warrior Dash's 12 or so. Considering both of these races are the same distance, I see it as a veritable two-for-the-price-of-one deal on my muddy fun:  More value added means more bang for my buck.  I will admit that many of the counted obstacles in Rugged Maniac are not much of an obstacle per se—these are are generally what I call 'filler' obstacles like small four-foot walls, teeter-totters, a sandbag carry, and a few other minor obstacles that only serve to fill up the time in between major, more fun obstacles. This race caters to the novice or recreational racer, providing just enough of a challenge to keep my attention while still not being strenuous, so I expected this. It still beats running for half a mile without seeing anything on the course, which is pretty much what you'd encounter at Warrior Dash (unless, of course, you REALLY enjoy trail running).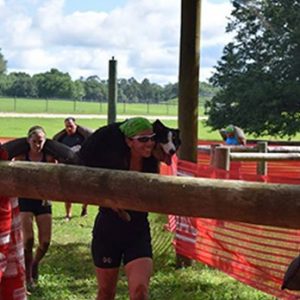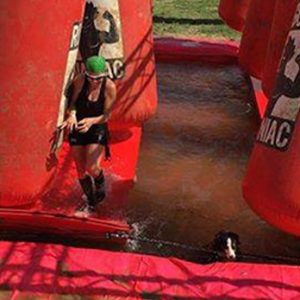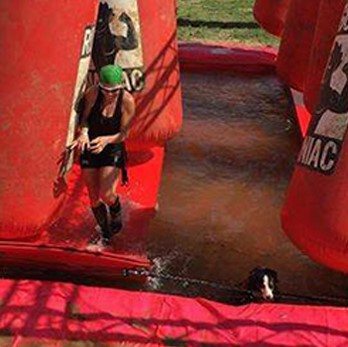 With all that said, the major obstacles featured on the course make up for that. The newest addition to the obstacles involve Antigravity, which involves two rows of trampolines that bounce the runner up to a padded cargo climbing wall, and  Bang The Gong,  an obstacle that involves slapping a small gong suspended in the air which you can only reach via trampoline. Some of the staples, such as The Gauntlet, got a bit of a makeover by making the paths that one must cross out of foam that slowly sinks while you're trying to dodge massive swinging bags of air.  The pièce de résistance of Rugged Maniac is still a huge warped wall, followed by a cargo net climb to an even higher point which culminates in a fun 50-foot slide to the finish; Even my service dog Roxie loves this slide.
One of the immediately noticeable improvements to Rugged Maniac since 2014 is the addition of a finisher medal. Granted, to me, this is kind of a 'duh' move—Rugged Maniac eventually HAD to include some kind of finisher novelty like a medal if they were even going to attempt to stay competitive in the OCR business; finisher bling is a staple of the racing world, like T-shirts and beer. I am a self-admitted bling whore and, I won't lie, one of the things that made me repeatedly choose other races over Rugged Maniac (be it because they landed on the same weekend or because I was trying to restrict my race expenditures) was their lack of a finisher medal.  No, it's not the only reason I race, but let's be real: If we are talking about similar events of similar quality, with both being an acceptable travel distance away, and with otherwise relatively even or negligible criteria, I will almost always choose a race with shiny bling—and I am not alone in that sentiment.
Equal Opportunity Branding
Another thing I noticed is the company branding. Rugged Maniac's original logo is basically the upper buff bust of some cray-cray lookin' dude, which has through the years become simpler, faceless and more generic looking.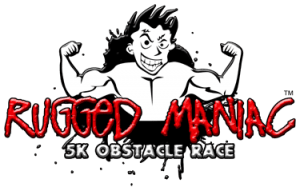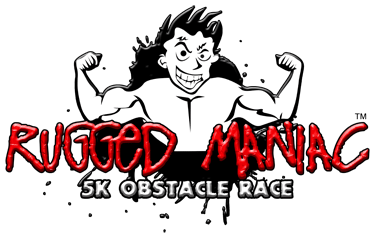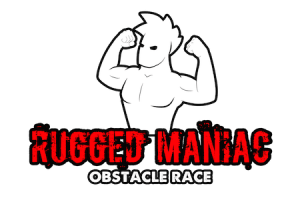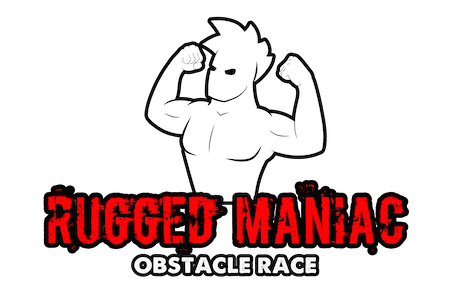 But Rugged Maniac recognizes that we ladies rock this sport, too, and has since introduced a matching generic 'strong girl' logo, and ladies' cut V-neck tees to boot: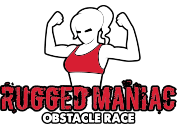 And yes, I recognize that Warrior Dash did it first back in 2014, although not to the extent of branding that Rugged Maniac's taken theirs (Warrior Dash kept their gender-specific graphics to just their finisher tees).
Warrior Dash has since kind of regressed and gone back to a more generic, non-gender-specific look to their finisher tees (probably to save on overhead costs).
I don't care one way or the other about the gender of the token image of the logo on Rugged Maniac; I'm not a feminist (if I was, I am sure I'd have some long-winded diatribe about the impact of that logo on women's perceptions of body image) and I am not concerned about the influence of patriarchy on the OCR world. And I am sure someone somewhere will find fault with it ("Why do the featured people on the logo have to be white?" "Those black eyes look like something Satanic!" "I'm offended because I'm not that skinny/that fat/that flat-chested/that round-chested!") And while I generally don't pay attention to that sort of thing, the fact that we're still represented and recognized as women in this sport still put a smile on my face and made me feel just a tad bit more badass.
The Festival Scene
I am not entirely sure what it is that people come to do at race events if they are not running said event, since I have never been in that particular position. I'm out on the course myself getting dirty unless I am nursing an injury or battling an illness, in which case I stay home. But I do know the value of a good festival, and Rugged Maniac delivers: a stage, a DJ, and a self-contained food-and-entertainment operation that runs on bought tickets (kinda like at a state fair).  And you can even partake in shenanigans such as bouncy castles and a mechanical bull! w00t! If nothing else, there is plenty of amusement for the entire family.
If there is any teeny tiny criticism on my part, it is that not having local food vendors could be considered a snub to the local economic infrastructure which events on a national scale such as this one are supposed to support and encourage; it is part of the unspoken quid-pro-quo terms of coordinating an event somewhere. However, from the perspective of the race director, Murphy's Law (Anything that can go wrong, will go wrong)  is an all-too-real and prevalent factor in event management, and $#!t happens—sometimes it's difficult to get vendors to a venue that's too remote, and even then you still run the risk of vendors cancelling on you in short-notice. Amongst the various hats that race directors wear, one of them is definitely that of professional $#!t Mitigator. And I can respect this move from Rugged Maniac.
Not Just a Rugged Face
Rugged Maniac isn't just around to look cool amongst other OCRs. In 2016, Rugged Maniac announced their partnership with the American Cancer Society, which includes a fundraising platform for the ACS on Crowdrise. Rugged Maniac participants who manage to go above and beyond in their fundraising efforts or donate the most significant amounts of money towards the nonprofit are eligible for rewards and prizes. For personal reasons, this is an organization that is near and dear to my heart, and the fact that Rugged Maniac supports the ACS is simply icing on the muddy cake.
So, To Recap…
…Or, for those of you who administered a tl;dr ("too long, didn't read") treatment to this article: Rugged Maniac got a ton of cash from now part-owner Mark Cuban of 'Shark Tank' fame, and has since made their race series considerably more kickass. Rugged has more obstacles than Warrior Dash, gives more value for your money, and in my humble opinion is more fun. Expect to have a fun time, and expect this race series to unseat Warrior Dash as the most popular OCR short course in the next year, if not sooner.
Do I think Rugged Maniac is perfect? Not even a little bit. Do I think they could do a few things better? Yes. They've still got a long way to go before they reach Big Three status, but they're on the right track to being a big deal, and I definitely think they can get there.
You can keep your fuzzy Viking hat, Warrior Dash… I'm off to get Rugged.
Check-In - 8
Festival Area - 8
Environment/Atmosphere - 8.5
Course/Obstacles - 8.5
Parking - 8
User Rating:

Be the first one !