If you are in the market to compete in a long distance OCR event, or even if you are just looking for a high-quality headlamp, there seems to be no shortage of options. We have already taken a look at what Black Diamond had to offer in their Spot, but Princeton Tec thinks they have a product that can sway you.

While I was shopping for a headlamp for the Tri-State NJ Ultra Beast, Princeton Tec had been on the list of potential solutions. They have a reputation for quality, and being a New Jersey-based company didn't exactly hurt either. Although I ultimately ran with the decision made on the Spot; the truth is that the Vizz was in my drop bin along.
At Princeton Tec, we've been pioneering new technologies and building lights since 1975. And yes, you could say it's been quite a ride. In our pursuit to be the world's best, we've travelled the earth by ocean, by air, by bike and by foot. We've consulted great athletes, scaled mountains, traversed the poles, touched the ocean floors and rolled two wheels on every continent. We are constantly inspired by what our ever evolving environments have to offer and the human spirit that challenges us to tackle them. This spirit, our spirit, motivates us to push technology and design, so that we can ensure that you have, not only the best lighting solutions, but solutions where technology is applied and the performance makes sense for how you use them.
The Vizz is offered in three colors: Black, Red, and Green. The band is identical for all three variations.
If specifications are your thing, the Vizz is a 205 Lumen headlamp that incorporates three different beam profiles to satisfy your illumination needs via a slurry of LEDs. The lamp features a trio of settings; Maxbright, Ultrabright White, and Ultrabright Red.
SPECIFICATIONS
| | |
| --- | --- |
| POWER | 205 Lumens |
| LAMP | Maxbright LED, Ultrabright White LED, Ultrabright Red LED |
| BURN TIME | 150 Hours |
| BATTERIES | 3 AAA Alkaline or Lithium (batteries included) |
| WEIGHT | 92 Grams |

Features:
2 ULTRABRIGHT LEDS
The highest quality LED available, the Ultrabright LED is bright and efficient. The smooth, white, wide-beam light emitted by Ultrabright LEDs is ideal for close to mid-range tasks. Ultrabright LEDs are usually grouped together to offer a more powerful light source. Advances currently underway will continue to improve the effi ciency and brightness of Ultrabright LEDs.
3-AAA
3 AAA Alkaline (Included)
DIMMABLE LED
This advanced circuitry allows selection of whichever power level suits user requirements.
HEATSINK TECHNOLOGY
Princeton Tec has developed proprietary ultralight heatsinks to protect LED products from overheating. Even though LEDs operate at much lower temperatures than traditional incandescent bulbs, they still generate heat. If this heat is not dissipated, the LED will suffer irreversible damage. By using heatsinks, Princeton Tec lights can burn at extreme brightness levels for long periods of time. The heatsink may be incorporated internally or externally depending on the product and its application.
FOCUSED NARROW BEAMS
This pattern creates a long, powerful beam of light excellent for illuminating distant areas. The resulting long-throw spotlight is especially well-suited for night hiking and search and rescue.
MAXBRIGHT LED
The highest quality LED available from Lumileds, Princeton Tec's Maxbright LED is extremely bright and efficient. This single LED emits a smooth, powerful, white light useful for a wide range of tasks. Princeton Tec uses collimators or reflectors with the Maxbright LED depending upon the application.
MULTIPLE MODES
Multiple settings on many of our products give you the flexibility to adjust your light's brightness and/or beam width to illuminate greater distances or to conserve battery power, depending on your needs.
REGULATED LED / CONSTANT BRIGHTNESS
Princeton Tec lights that feature regulated LEDs have a sophisticated regulating circuit that maintains initial brightness as long as the batteries have sufficient voltage. Traditional lights are very bright initially, but immediately begin to dim and continue to dim until the batteries are drained. Constant Brightness is a term used to describe products that have regulated LEDs.
WATERPROOF – LEVEL 2
Princeton Tec's intermediate rating, Level 2, is assigned to lights that offer a degree of water protection equivalent to IPX7 in the International Electrotechnical Commission (IEC) standards. Lights rated at Level 2 provide waterproof integrity down to 1 meter for up to 30 minutes.
WEIGHT – 92
Princeton Tec's advertised product weights always include batteries. For many products, battery weight is a large percentage of overall weight. Weight can be significantly reduced by using lithium batteries in lithium-compatible products.
LUMEN 205
The light output of Princeton Tec lights is measured in lumens. A lumen is unit derived by the International System of Units (SI) for measuring light output.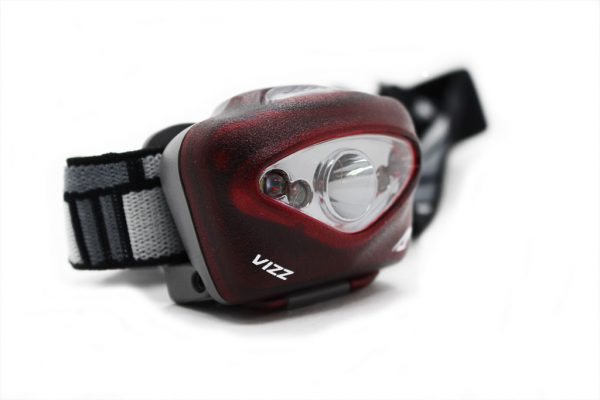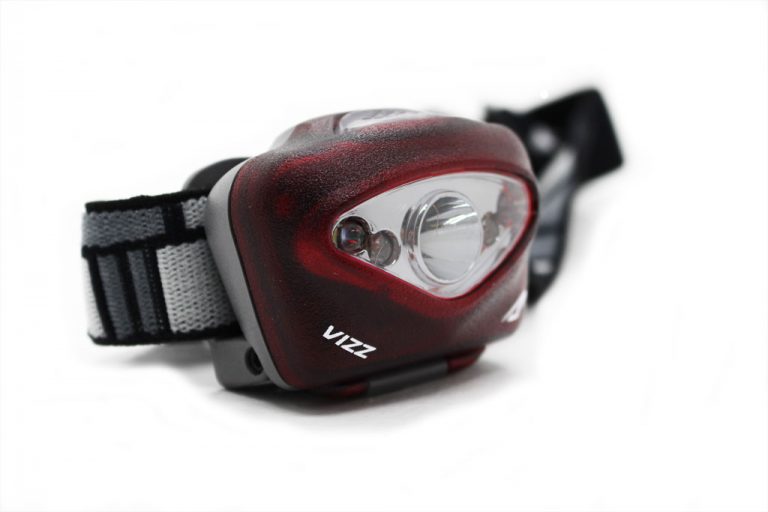 Front and Center is the Maxbright LED that casts a powerful spot beam for long-throw illumination. On either side of the Maxbright LED are a pair of Ultrabright White LEDs and their red siblings. All this comes together in a 92gram package, an IPX7 rating (the same as Apple's watch), and features regulated circuitry. If you didn't know, regulated circuitry allows you to use a lithium power plant for extended use.
IPX7: Ingress of water in harmful quantity shall not be possible when the enclosure is immersed in water under defined conditions of pressure and time (up to 1 m of submersion).
A prominent button on the top of the Vizz allows you to adjust the settings quickly.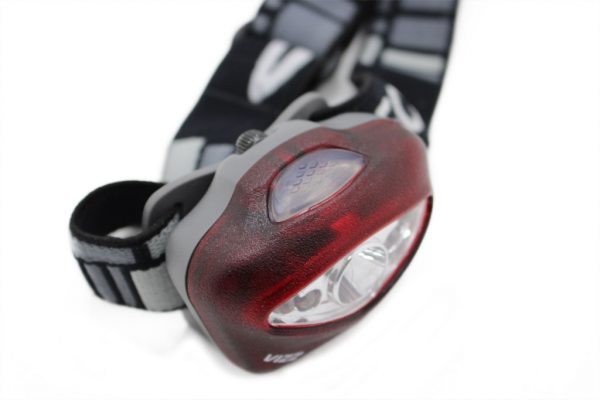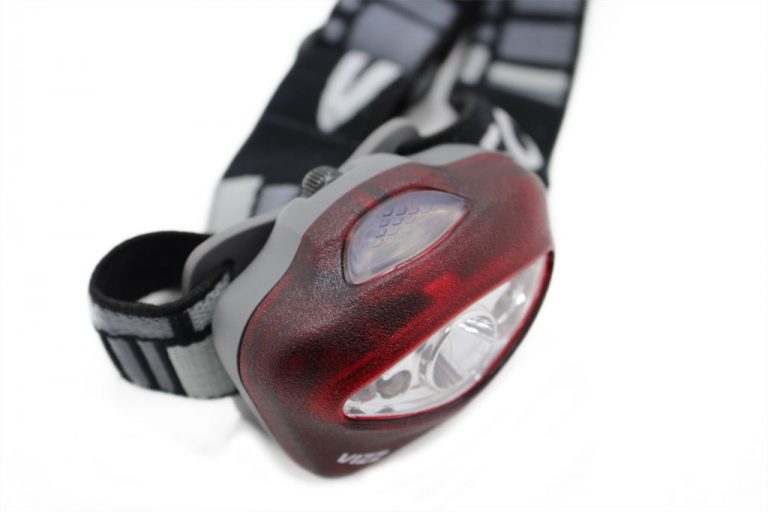 A single press will activate the Red LEDs, a double press will activate the Maxbright LED, hold it to activate the White Ultrabright LEDs. The level of illumination can be adjusted by continuing to hold the button.  Additionally, if you triple press the button, you can lock its functionality to keep your headlamp from accidentally activating in your bag.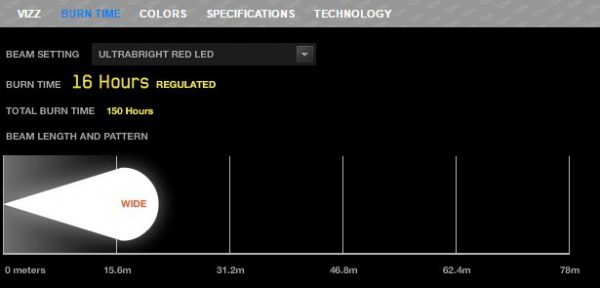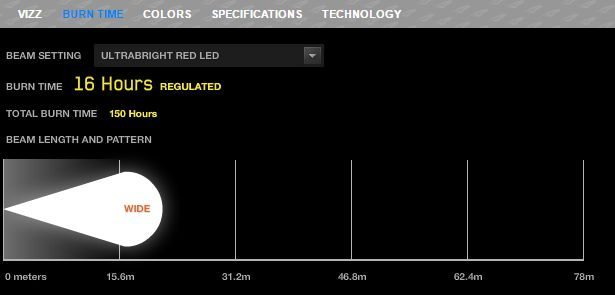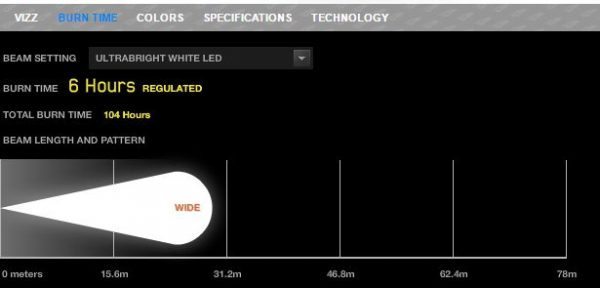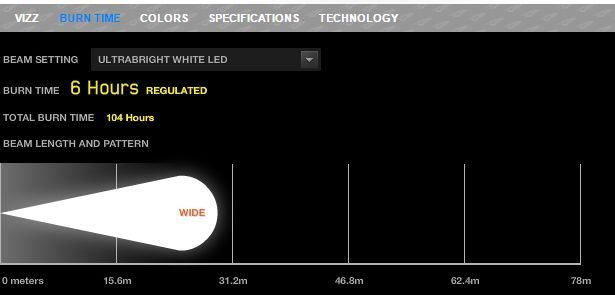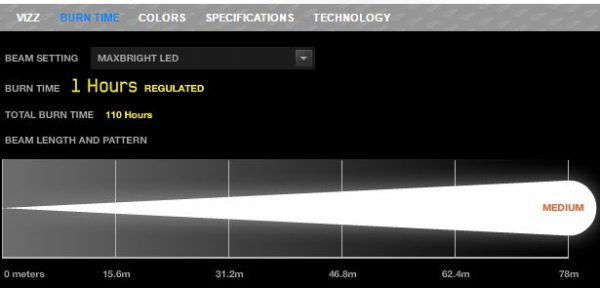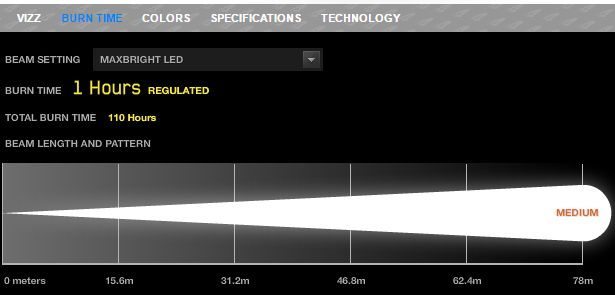 Accessing the batteries is not as simple as releasing a plastic clip. Instead, a tool is included that can be used to turn a thumbscrew that keeps the battery door closed. Luckily, said tool is part of the unit and is attached to the headband (used for adjustments also).
The compartment is sealed and requires inspection each time it is opened to ensure there is no dirt or debris. At first, I found the screw to be an annoyance instead of a convenience, but I can probably assume that I am not the first person that has used too much force to release a plastic clip, rendering it broken and useless.


The headlamp finds its home on your forehead via a soft but sturdy elastic headband. There are a pair of adjustments to fit nearly any head shape or size, even mine (my head is shaped like a Mike and Ike), and secures to the headlamp by running through two thick plastic clips. Similar to the Spot, wearing the unit is comfortable, but the area can become irritated after extended use; wear a hat or something.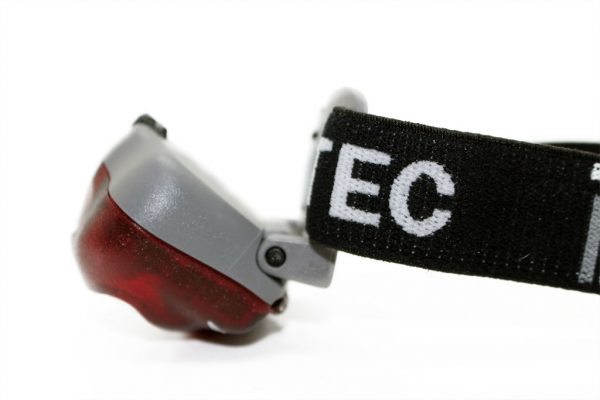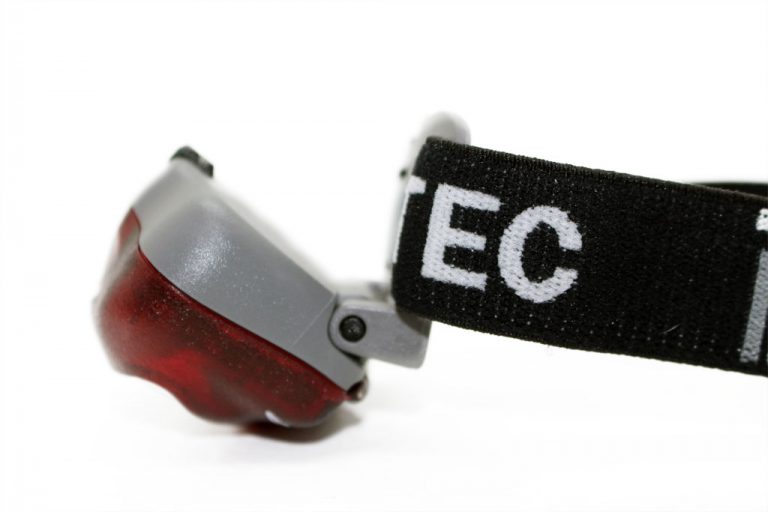 While lit, the Vizz offers up a ton of light via the Maxbright LED. The path is well illuminated in front of you and with a simple adjustment in angle, you can have the light focus on ground or further out in front. Red LED's help to maintain night vision while providing just enough light to see in front of you.  They also allow the eyes to quickly readjust to darkness once the lamp is turned off.
The Princeton Tec Vizz is a headlamp that can easily satisfy the needs of an OCRAddict. A sturdy and water-resistant headlamp can be the difference between finishing a long race or being yanked from the course for being unprepared. The Vizz offers a bit more power than the Spot (205 vs 200) but does so at a similar price point. The unit is comfortable and light while the adjustable headband makes sure your path stays visible.
After extended use, and repeated battery replacements, I can easily say that I am more confident that the implementation of a screw enclosure will last longer than a plastic clip.
Bottom line, the Vizz is comfortable, affordable, powerful, and durable. If you are in the market for a headlamp, you won't be disappointed. There are more inexpensive options on the market, but sometimes you get what you pay for.
Comfort - 9
Value - 8.5
Quality (Design & Build) - 9
Performance - 9.5
Features - 9
User Rating:

Be the first one !