I have been around the block this year. I have gone through a number of injuries that have inhibited or limited my participation in almost all of my events this year. When Killington started rolling around, I was nervous about running the Ultra Beast on this mountain again. Last year, the mountain almost took me out when my knee decided to make everything past mile 11 grueling. This year had its own set of challenges and again, conventional wisdom would suggest that I take the safe route and just run the beast.
I had completed this year's New Jersey Ultra Beast with two ruptured disks, a fractured elbow, a fractured ankle, and both MCLs sprained, so pain is something I can deal with. However, NJ isn't the "beast" that Killington is. I only had minimal training for that race in New Jersey and I was worried that overuse injuries (trying to pack a lot of training in a short period of time), a lack of training (overall training), or my previous injuries would result in a DNF in Vermont. It is, however, not like me to play that game, so this is unfamiliar territory. Like many of us in OCR, we look our limitations dead in the eye and keep it moving.
Just remember what ol' Jack Burton does when the earth quakes, and the poison arrows fall from the sky, and the pillars of Heaven shake. Yeah, Jack Burton just looks that big ol' storm right square in the eye and he says, "Give me your best shot, pal. I can take it."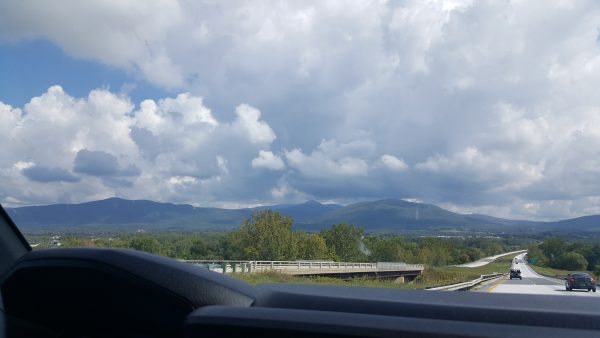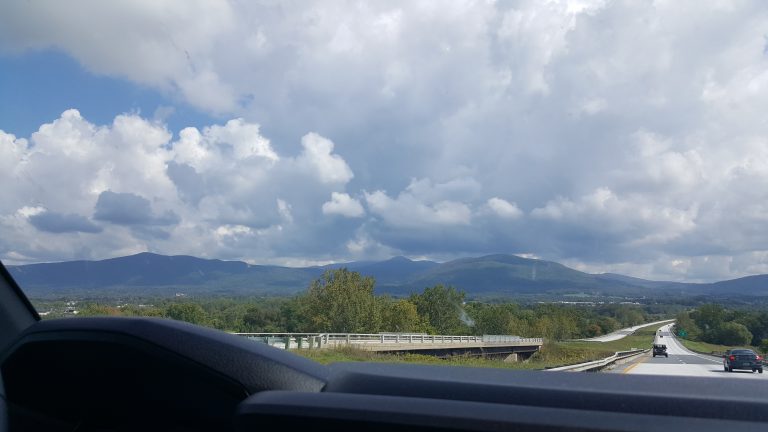 Some racers had questions about what Killington would present to us this time around. Last year's race was a revenge of sorts, with a low completion rate, the kind of race I love; that grind it out type of race. This year, many were complaining that races were getting easier and that Spartan was no longer interested in how many people fail the race, but instead more interested in how many people can complete the race. New Jersey was our introduction to the new vision, the race was considerably shorter than last year and featured far less total climb as well. BUT!!!!, there is always a but… this is Killington; outside of having the finish line 10 feet from the start line, there is no way to make this race "easy".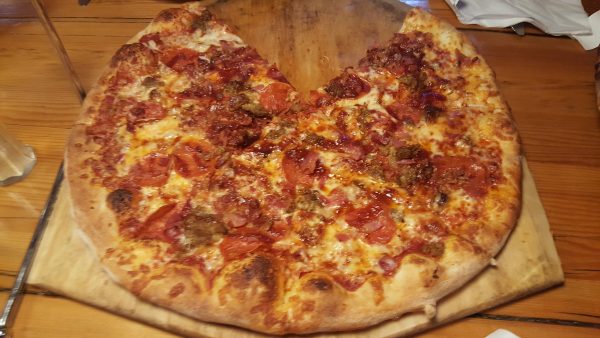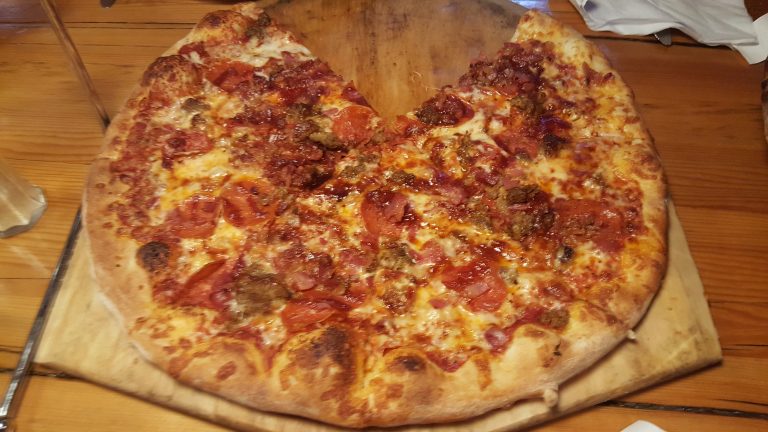 As usual, the pre-race dinner tradition took place at one of our favorite restaurants near the mountain. We had a different cast of Houligans this year, well at least one, my son. There were some notable vacancies, you know who you are, we missed you!
This year, my son, who was supposed to tackle the beast on Sunday with my friend and I, but broke his leg instead and had three screws put in, would be introduced to one of the best Ultra Beast pre-race meals, a pizza with just about every meat you could hope for covering nearly every square inch of surface area available. Between the two of us, we rapidly consumed 15 slices while enjoying the company of some of the best people I have ever met.
As usual, my drop bin was prepared the eve of the Ultra Beast. My duffle bag sat ready with plenty of Air Heads, Sour Patch Kids, PB&Js, Pizza, Banana, Water, and an extra pair of socks. Most of the time, the food I bring goes to first timers that don't know what to bring and the candy is given out as a "pick me up" on the course to those that find themselves chugging along, questioning their decision. Last year I learned the hard way that the Killington swim is unforgiving to Sour Patch kids in ziplock baggies, this time around they are vacuum sealed for freshness!
Arriving at the venue early in the morning the day of the race is typical fare. We collect in the drop-in area and get ready to run. A little bit of stretching, the search for the porta-john, all typical. We get our race day instructions, our time cut-offs, and our National Anthem. As we take to the line, I find a close personal friend getting ready to take on his first Ultra Beast. We jump the wall, "stick with me" spews from my mouth, we hear "go", I am on my way up the mountain.
This would be a cautious race for me, I can feel it already. I know I can make my way up the hills without an issue, but I have to be careful going down. I don't know if it is just a fear over what happened last year or what it is, but I am not taking any chances. SLOW downhill… at all times. I need my knees this time around.
The Tarzan swing would present itself somewhere in between mile 5 and mile 6. The swim was considerably shorter this year; it had us exiting the lake just after the swing. Life vests were mandatory. Personally, the lengthy swim of last year's race was better for me, but many racers struggled with it.
As the course winds its way through the trails of Killington, my mind is racing; I can think of nothing but my knees. I find myself making good time though as there is plenty of climbing. The narrow trails are getting muddy and the pack I am running with are speculating on the conditions we will find on lap two when the herds of runners start making their way through the slop. I realize that I am developing hot spots on my feet somewhere around the 8-mile mark, nothing I can't deal with, at least the knee is holding up, only three more miles until I hit the point in the race my knee decided to become the biggest obstacle of last year's race.
Mile 11 hits and I am cautiously optimistic.
I have minimal pain but I am not taking any chances, I failed only one obstacle to this point, my grip is one of my weaknesses… I have broken my hands countless times and it seems like they will always be weak. As we mark our starting point at the bottom of this year's death march, I start thinking about Olympus waiting just at the start of the transition area and the conditions my hands will be in. Luckily for me, I have only failed that obstacle a hand full of times, but there would be nothing worse than burpees just before the transition area.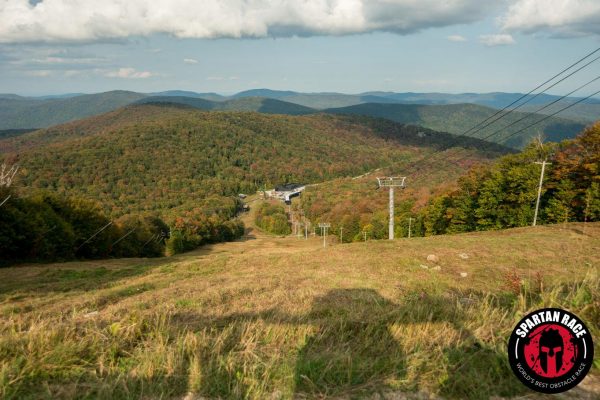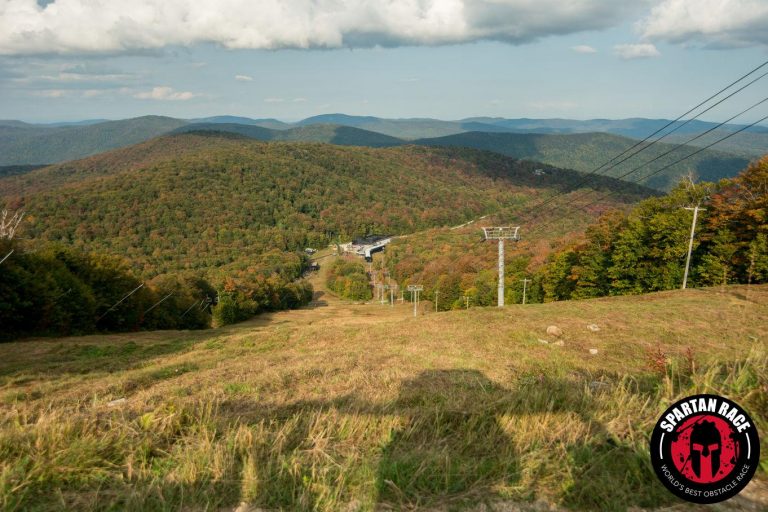 When we hit the summit, a kind soul greeted us with some words of encouragement, "Congratulations, you are at the top." I run into some friendly faces as we aim towards the bottom of the mountain. Much of the journey is navigable, but one section dubbed "the death decent" had some of us going down on our butts, rocks tumbling down the mountain around us. I went down on my feet.
The transition area would find me eating a banana, changing socks, grabbing my PB&J, equipping my second bladder, then hitting the road. I saw one poor fella DQ'd because he was provided outside help in the form of some medical tape. The rules are the rules.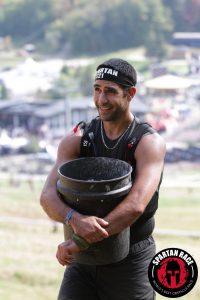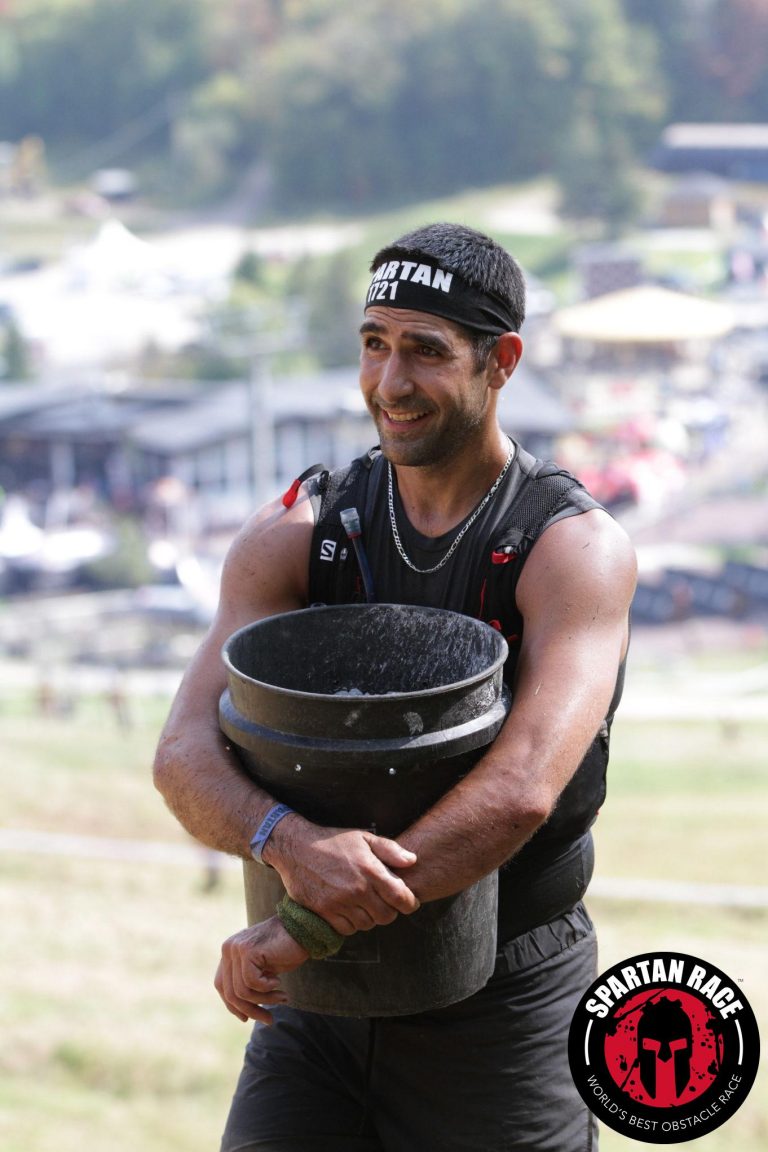 I begin my second lap without much in the way of interference. I am hungry but everything I eat tastes like wood (except for Air Heads and Sour Patch Kids). This lap would have me in the company of a friend that was struggling with some of his own knee issues, an elite runner that pushed a bit too hard. At this point, I knew my time hacks were good (easily good)… My friend and I would finish the race together. As a competitive person himself, and knowing how competitive I am, he kept encouraging me to go about it and do my thing, but I was in his place last year. I knew what it was like; if it weren't for a few AWESOME people, you know who you are, I would have had a miserable time on that mountain. I couldn't do that, with a guaranteed finish why would I do that? The goal at that point was to make sure he got his medal, he got his finish, and that we would encourage as many Ultras and Beasters as we could along the way. After all, that is the OCRAddict way.
When we hit the death march, we found friends, when we hit the summit, we found friends. Then, "Hey Joe", my first time UB friend finds us and we decide right there without saying anything that the 3 amigos would finish together. We would tackle the obstacles together, laugh together, groan and grunt, but ultimately… finish together.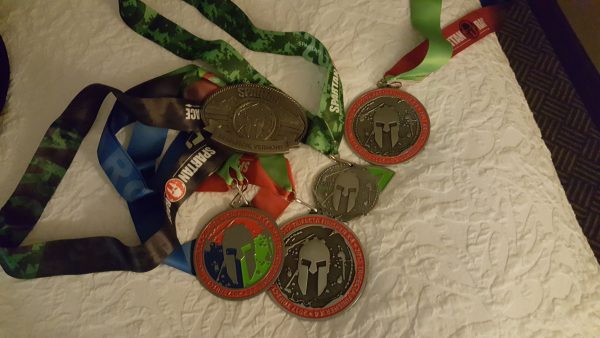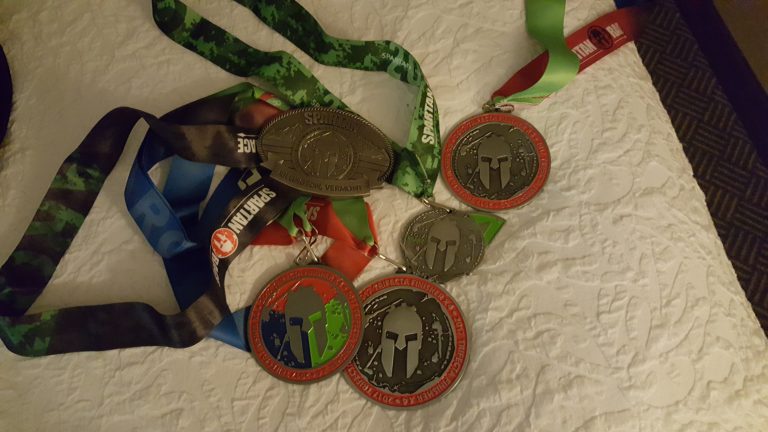 See, this is what gets lost out there sometimes. It isn't about how long the race is, how much total climb there is, how many people fail or finish. It is about who we are out there and how we conduct ourselves. We can be competitive, slow, fast, failures, winners, finishers, or anything. When the time comes, no matter how competitive I am, and I am VERY competitive, it was more rewarding, for me, to have finished with these two yo-yos.
Sunday, I would run the Beast with a friend getting his revenge; he DNF'd last year. I was sore but moving. To this day, two weeks later, he still talks about it like it was a defining moment for him.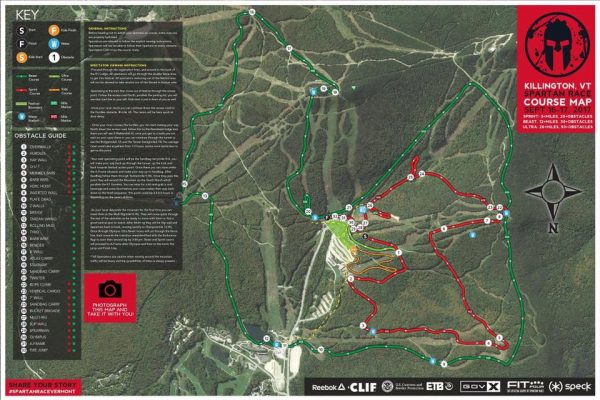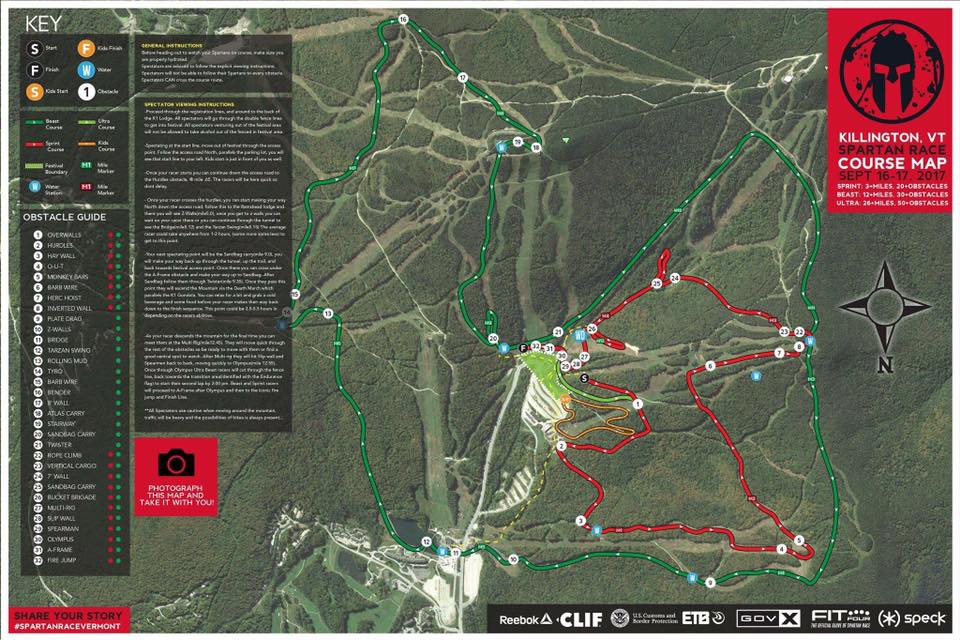 For those of you that want the stats and the comparisons. This year's Ultra Beast would be 14.07 miles per lap and feature 6385 FT total climb for a total Ultra Beast length of 28.14 miles and 12,770 FT of total climb. Last year? 32.52 Miles and a massive 21,884 FT of elevation climb. To be honest, I am not sure how all that calculates out, but those are the numbers collected by the GPS watch for both this and last year
As far as obstacles go, there were the standards, nothing out of the ordinary or new. Well, there was a hay bale, but that is an obstruction, not an obstacle. Our RD decided that our second sandbag carry would immediately be followed by a lengthy bucket carry, then the Multi-Rig. Thankfully, this bucket carry wasn't as bad as NJ's – that was brutal.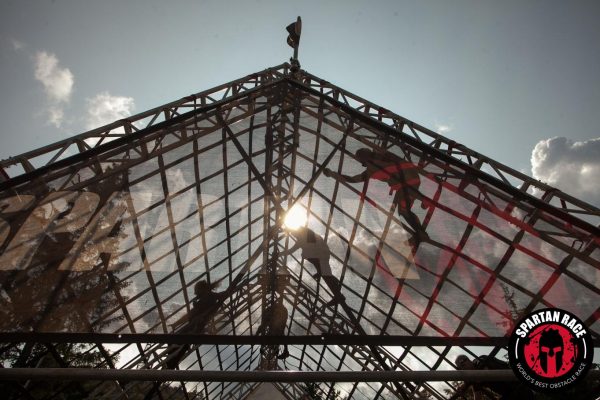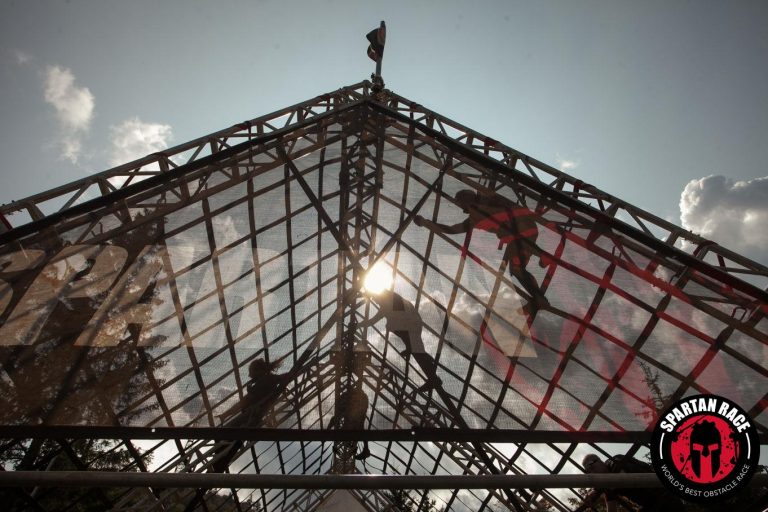 In total, there were 32 obstacles, with only the one suspect (hay bales).  Obstacle placement was well thought out, a little grueling for the racer at times, but manageable. The obstacle bunching by spectator areas was actually clever as the obstacles placement worked off each other well, making for a number of burpees right in front of your loved ones.
Killington is one of those races that just can't suck. Parking is good, check-in is good, the entire experience is good.
2017 Killington Ultra Beast & Beast
Check-In - 10
Festival Area - 8
Environment/Atmosphere - 8.5
Course/Obstacles - 9.5
Parking - 9
User Rating:

5 ( 1 votes)