You always know when May rolls into Texas. April's weather is nice and pleasant with a few hot days here, a few humid days there, but overall I call it perfection.  Like clockwork, we get a quick preview about ten days before May for the temperatures coming our way. This year was no different after a warm drive to just outside of Austin, Texas. I enjoyed a pre-race meal and went to sleep. I wake up at 5 am and say hello to Texas in May. Warm and humid already but I am ready to return to the first major race series I participated in. After four years I was returning to try out Tough Mudder's (TM) first go at a competitive series – Tougher Mudder.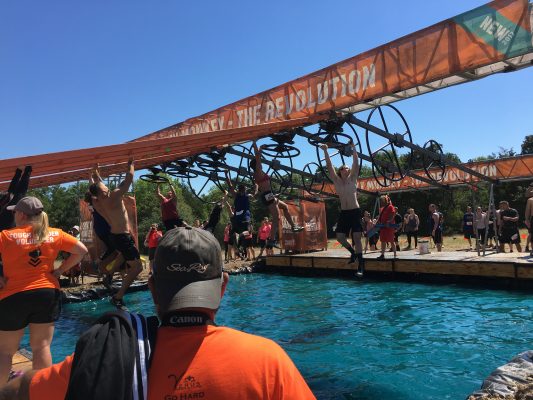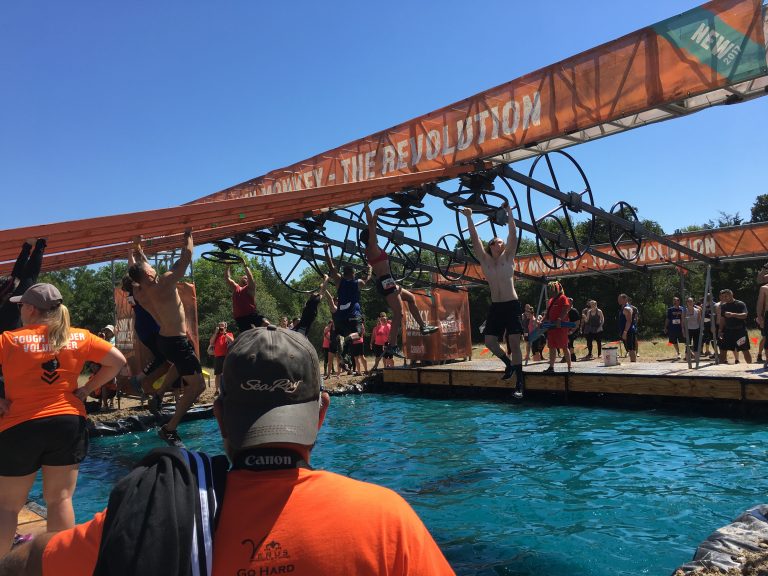 For those who have not run a Tough Mudder previously, the only way to "compete" in the TM Family of races was World's Toughest Mudder (WTM), which is still the current 24-Hour OCR Standard within the United States. In 2017, TM introduced its competitive series entitled the Holy Grail which has three levels. Toughest Mudder is an 8-hour overnight endurance event used as a qualifier for WTM; 25 miles in five laps qualifies you for WTM. Personally, I think the overnight component is an amazing addition to the mix. It produces something you can not mimic otherwise, the cold from not having the sun on you during your race. The last offering is more traditional to the OCR community, which is called Tougher Mudder. It is the competitive wave to its traditional full Tough Mudder and it is a hybrid competitive approach with most obstacles being mandatory completion, some having a penalty loop. They even encourage the traditional Tough Mudder spirit of teamwork to complete obstacles. Definitely a different take compared to what I am used to, where any outside assistance is a disqualification. For Elite/Pro/Competitive first timers this maybe a review you should take note of.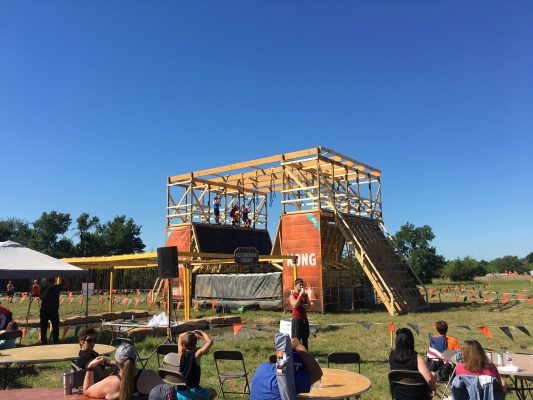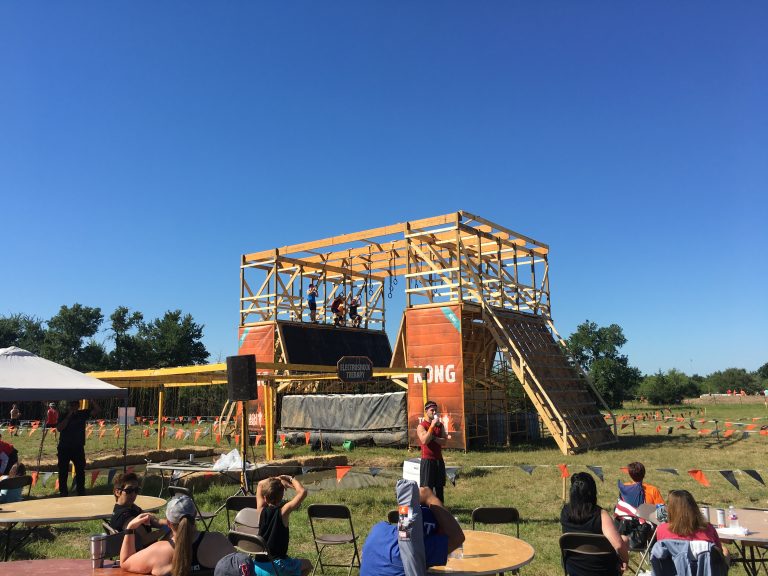 I make my way to Smithville's McMahan Ranch to take on my first Tougher Mudder. The location seems logistically fantastic. While the venue is in the country, there are still multiple large roadways to allow the racers easy access. It has two different direction choices to enter the parking area, so even with a backup during prime time it was a small one and they had people moving right through. The $20 parking fee for a field seems a bit on the extreme side to me; and unfortunately, it seems to be quickly becoming the standard. Honestly, if they can guarantee that my truck can get out without being damaged or waiting 2-5 hours (I'm looking at you Spartan) I can almost live with it.
Next, I work my way to registration. This was an area that perplexed me. TM has check-in ridiculously streamlined, it was very quick and efficient. The problem I saw was about seven tents with 2 lanes each but only one tent seemed to be operational. So, you had a long line going deep into the parking lot for check-in even at 7:30 in the morning. I am curious as to the cause of the error/delay and if their issue is similar to what Spartan has encountered this season, leading to lots of angry racers.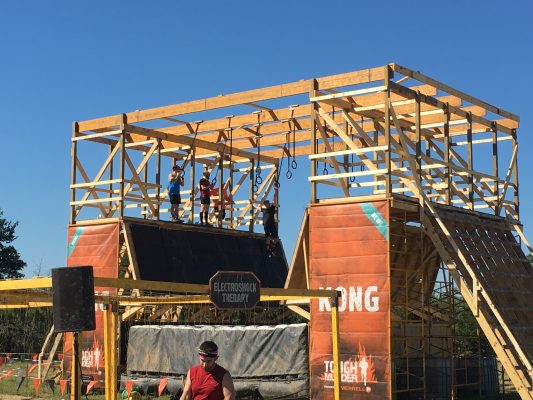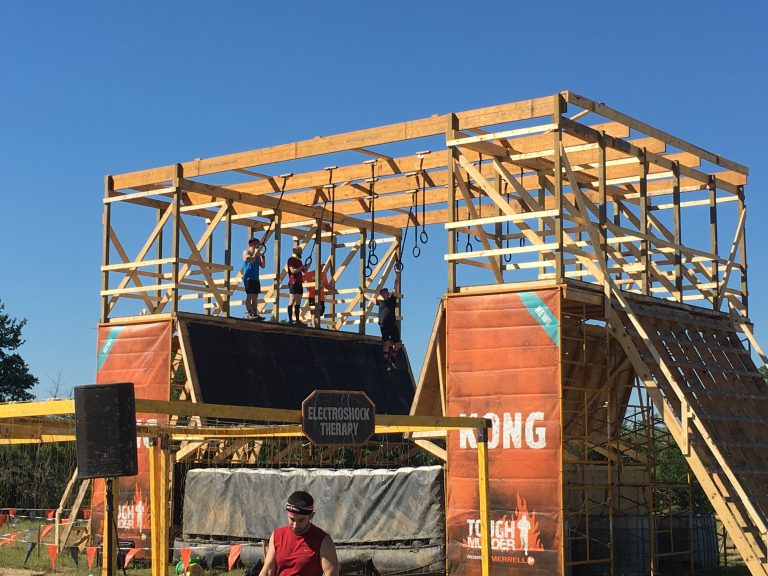 Once checked in, the festival area was alive with energy. The merchandise tent is right by the entrance/exit, the Merrell testing area is front and center along with other festival activities. Music filled the area and was very much in the spirit of what you expect from TM. The bag check was smooth and efficient with no worries of security. As you worked your way to the starting corral you had plenty of open space to warm up courtesy of the well-placed spectator route. The MC was not the immortal Sean Corvelle, but was still outstanding. He quickly explained the rules of the course and then immediately endeared himself to the racers. Some quick jokes and great banter got us tuned in to be competitive, giving it our all on the course. All I can say is he did a simply fantastic job bringing two worlds together.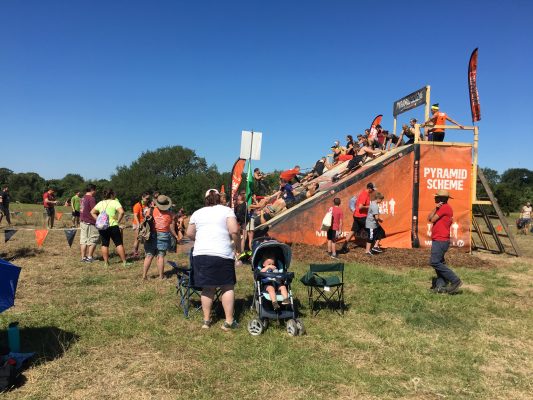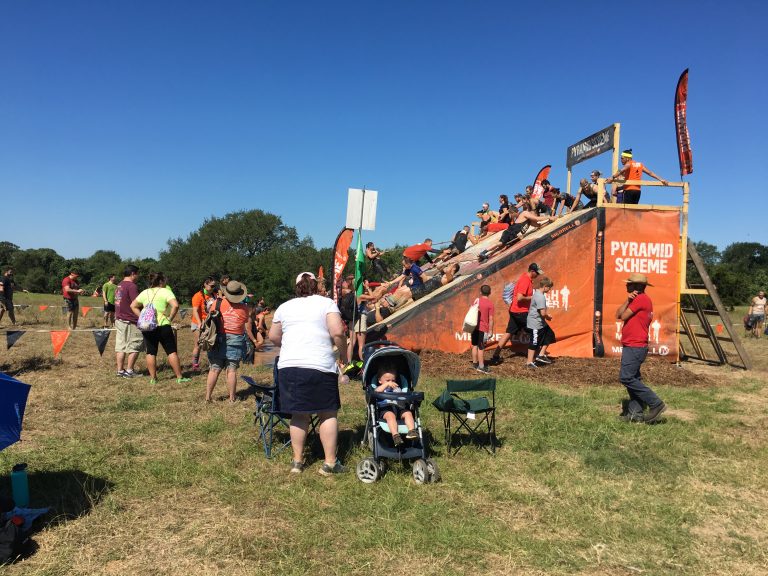 The race brought in some premium talent like Yancy Culp, Matt Campione, and Van Tran. I knew right then that I had my work cut out for me. We were off on the trails to see what was waiting for us. 21 obstacles in under 10 miles with a good amount of spacing between each so you were able to stretch your legs. The spacing was never one extreme or another which I enjoyed. I enjoyed that each obstacle was just that – it was a true obstacle. I have been to a lot of races were a log too big to move gets a clever name then added to the tally. Maybe a 6-foot balance beam is inserted randomly, sound familiar? Each obstacle, even the "simple" ones. took time and/or skill to complete. So, while bragging about 27-35 obstacles over the same distance typically I find only 12 to 15 of them are legit. Props to TM for stepping up with quality over quantity.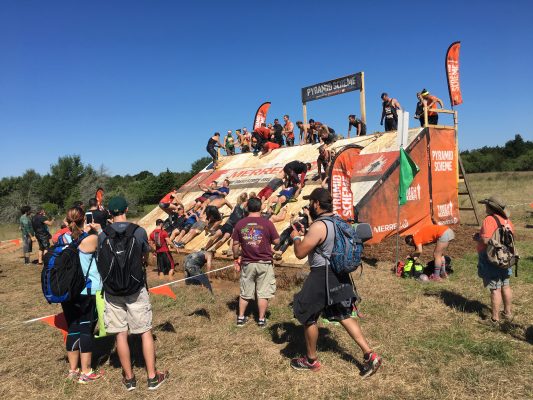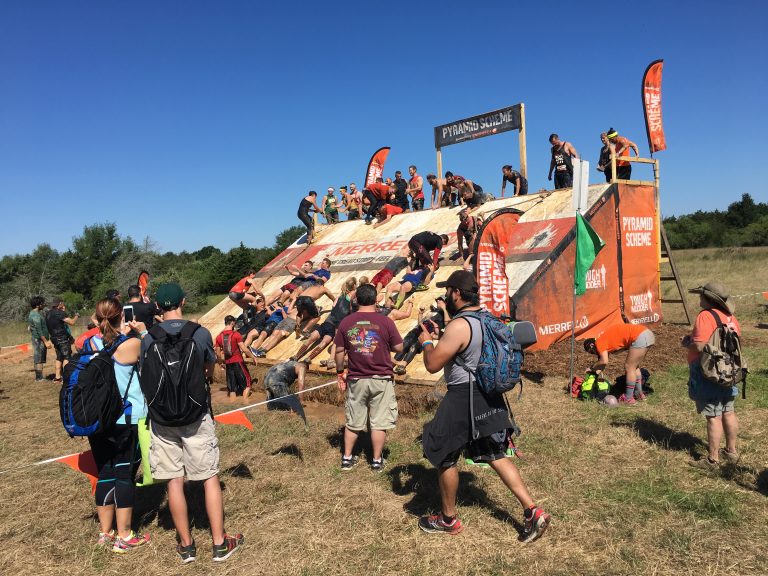 Five obstacles I want to call out are Block Ness Monster, Funky Monkey 2.0, Clinger, Snot Rocket, and Kong. These were not only difficult, but I keep thinking how much fun they were to complete and even went out to play on some of them over and over again. Block Ness Monster, I'd like a crack at solo but was the first obstacle where I truly needed teamwork to complete. The water made what should've been an easy exit from the pit difficult, and with it being less than halfway through the race, we decided to tackle this together to get moving again quickly. Funky Monkey 2.0  was like being on the playground all over again. In fact, I must have done it 10 times that weekend. Clinger was tight and compact but I could see how it could hold you back for a while. Snot Rocket/Augustus Gloop was one that initially got me stuck for a moment but once I hit it, I flew right up. They are the same obstacle with one having a legionnaire twist. Kong is another bit of old school gym class fun, with a big air cushion beneath you.
Overall TM made great use of the terrain to put together a challenging trail run that kept your pace up. The obstacle separation and placement made sure you knew it was a race. The atmosphere was simply outstanding, culminating with the way the crowd watched you cross the finish line re-invigorates you after hauling for 10 miles. My single complaint is the check-in process.
I cannot help but recommend trying the revamped Tough Mudder a go. Thinking about going the Elite/Pro route? Especially if you want to race mandatory completion races like Green Beret Challenge, Conquer the Gauntlet or Savage Race, this race will get your feet wet. It empowers you to get the competitive juices flowing while not having to fear a DNF (did not finish).
Tougher Mudder Central Texas
Check-In - 5
Festival Area - 8
Environment/Atmosphere - 10
Course/Obstacles - 9
Parking - 9
User Rating:

Be the first one !