Since the dawn of time, man has been looking for… wait, what? This is OCR, not a history lesson or a PBS documentary… nevermind. Since I broadened my OCR horizons a few years back, one event I look forward to, almost as much as Killington, is Savage Race in Albrightsville, PA. Not because it's Albrightsville, PA, but because it is Savage Race, and it is close by. If you hadn't guessed it, I am a fan of the Savage Series, but there just aren't enough of their races to go around. However, when it does come around, you should get your butt out there and get Savage.
Savage Race is one of those races that you hear people talk about but you almost never get to run one, like Chupacabra. Their races are only around once a year and there just aren't enough in the region to run more than one or two (Savage Syndicate). If you haven't read last year's review of the Albrightsville race, I will recap some of the general Savage stuff for you.
For those of you that don't know much about Savage Race, it sports many of the general characteristics we look for in OCR; a medal, beer, obstacles, and a timing chip. The courses are somewhere in the neighborhood of 5.9 miles on average, host approximately 25 obstacles, and an 81.6% completion rate. There are only a handful of races each year and each of them features an open race as well as a SavagePRO race. One of the distinguishing features of a SavagePRO Race is Mandatory obstacle completion. No burpees, no bodybuilders… complete the obstacle or turn in your wristband.
When driving out there, there is nothing… I mean NOTHING but open land, trees, and some houses scattered about; Albrightsville has 202 residents. Fortunately for the men, they are outnumbered, 95 men and 107 women. Arriving at Skirmish, host to the Savage experience, is an awakening of sorts; the skies open and sunshine reigns down upon us. Picture this, you are driving along, seeing only trees and sky, then WHAMMO!, a parking lot full of cars, music pumping in the background, people running around trying to find a porta potty, and yourself getting ready to run one of the "funnest" (I did that on purpose) races on the East Coast.
Parking is uneventful, there is a huge grass lot, you pay your fee and park your car. The earlier you get there the farther you park from the festival area, but you get a good view of Wheel World, the Savage Rig, and the Great Wall while walking to the entrance. As with past years, the entrance to the festival area is through a merch tent, a bit tacky but at least you walk noticing that Savage as F*CK coffee mug. Yes, I walked out with one after the race.
The festival area is littered with benches, tables, a few vendors, and a ton of racers getting ready for the first wave of the day. As usual, a pit stop at the bag check starts my morning off with a bit of frustration. Not that there is anything wrong with the staff, they are overly friendly, it is just the whole bag check experience in general. If I didn't have to present my ID at a race, I would have no need for a bag at all.
This year's course would wind us through 5.66 miles, 293ft of total climb and 29 obstacles instead of the 25 we found last year. flat as an omelet.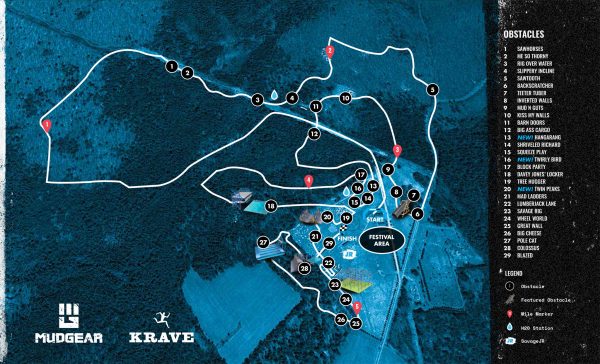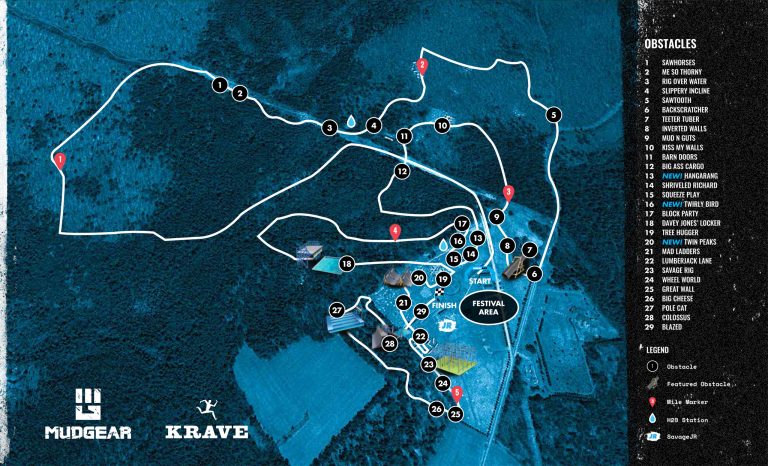 The starting corral is packed with OCRAddicts. To get there, you have to overcome the first obstacle, a slip wall of sorts. While we wait, the MC is warming up with some encouraging words then we blast past the first timing mat, our hearts are racing, our minds are clear, and our lungs full of blue smoke. I cough my way through a crowd of people as I try to move towards the front of the pack. Though the blue smoke looks cool for the cameras, it isn't ideal to fill our lungs with it as we run. Just me, your mileage may vary.
The first stretch of the race is barren, just running. No obstacles for what seemed like a mile. It is rare that I can manage a 6 minute and change mile while running in OCR, but I found one here at the start. Things slow down when you enter the trees as plastic pallets sit over top some water making for some troublesome navigation. I witnessed more than one runner slip and fall while hitting the trails. Perhaps they would be better served letting the land handle the runner than a slippery plastic pallet.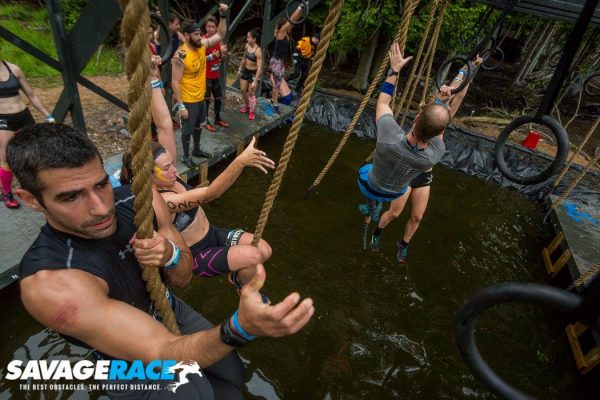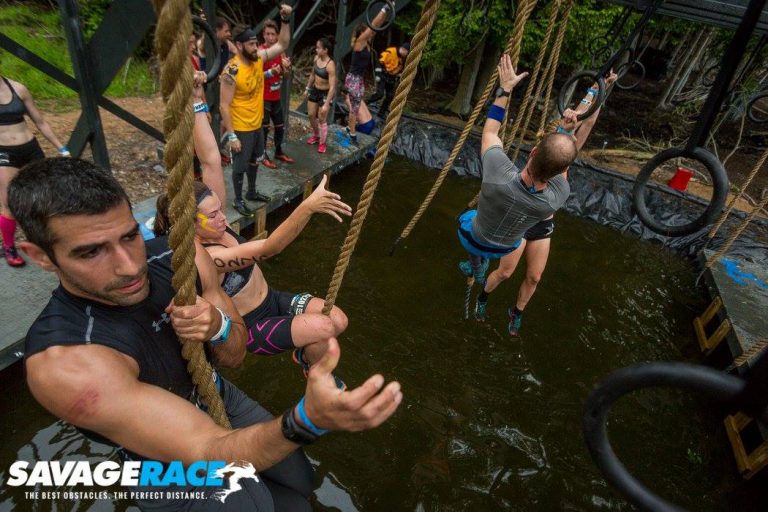 After a pair of unenthusiastic obstacles, saw horses and me so thorny, we found ourselves running quickly towards Rig over Water. The Rig and I had some unfinished business last year and I came to this race vowing revenge. As I gaze upon the Rig over Water I think to myself, "Am I really going to have to turn in my wristband on the first real obstacle?" Nope, not this year! I made my way through easier than I had anticipated, wondering what kind of trickery awaited.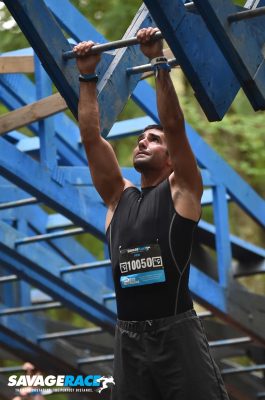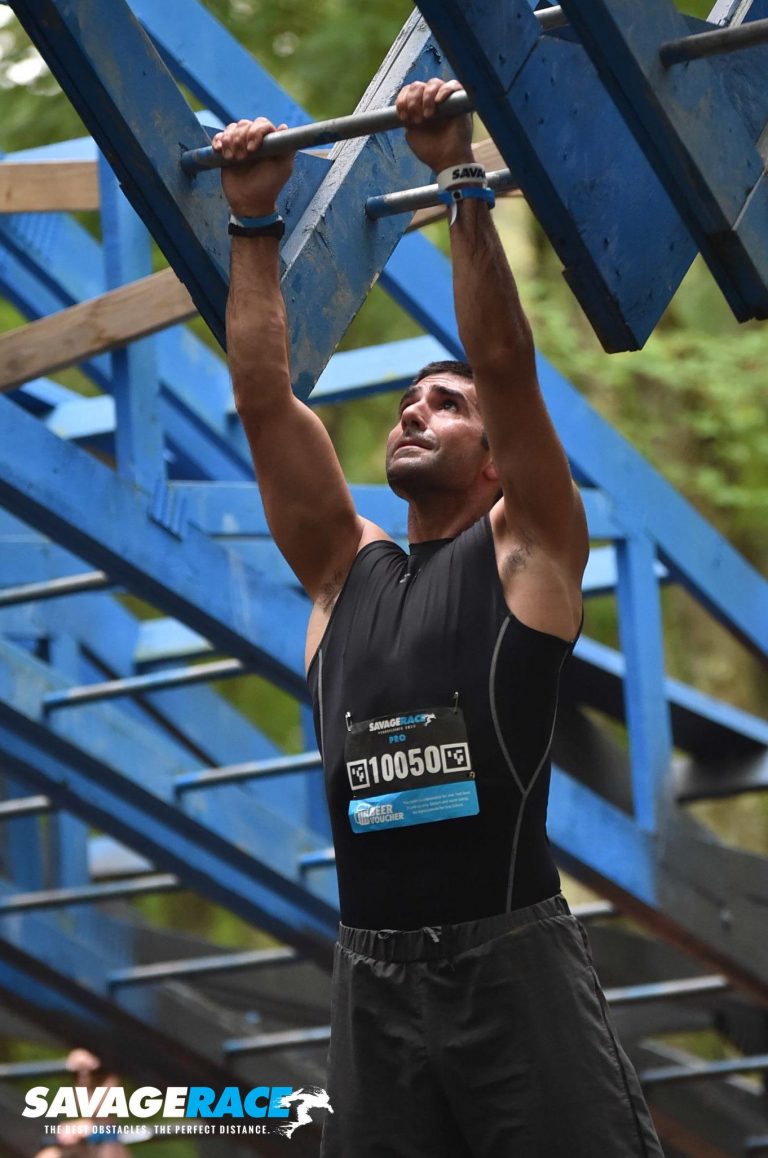 Sawtooth is by far one of my favorite obstacles in all of OCR. The length and angle of the obstacle tests not only your grip strength, but your confidence as well. This Savage staple was placed early in the race and there plenty of wet racers re-attempting over and over.
Unfortunately, my time would come, again, that I would turn in my wristband. This time, however, it was Kiss My Walls that got me, along with a bit of impatience. My first attempt at the obstacle had me slip off three grips before the bell. The second attempt, things were a bit more slippery and I slipped off just a few feet into the obstacle. By that time, the line to complete the obstacle had grown to a ridiculous length. I was faced with a choice, sit and wait on old legs that would not recover well from getting cold while standing there or turn in my wristband and get moving again. Instead of a long wait, I chose to keep it moving. In retrospect, I should have taken a few more cracks at it as I had no difficulty with any other obstacle. However, the "I should have" doesn't apply, you make your choice and move on.
The complete list of obstacles:
Sawhorses
Me So Thorny
Rig Over Water
Slippery Incline
Sawtooth
Backscratcher
Teeter Tuber
Inverted Walls
Mud N Guts
Kiss My Walls
Barn doors
Big Ass Cargo
Hangarang
Shriveled Richard
Squeeze Play
Twirly Bird
Block Party
Davey Jone's Locker
Tree Hugger
Twin Peaks
Mad Ladders
Lumberjack Lane
Savage Rig
Wheel World
Great Wall
Big Cheese
Pole Cat
Colossus
Blazed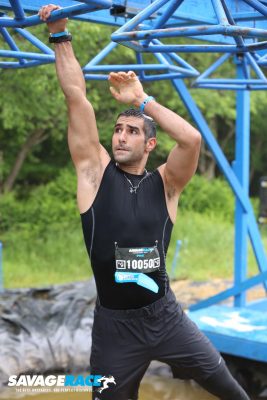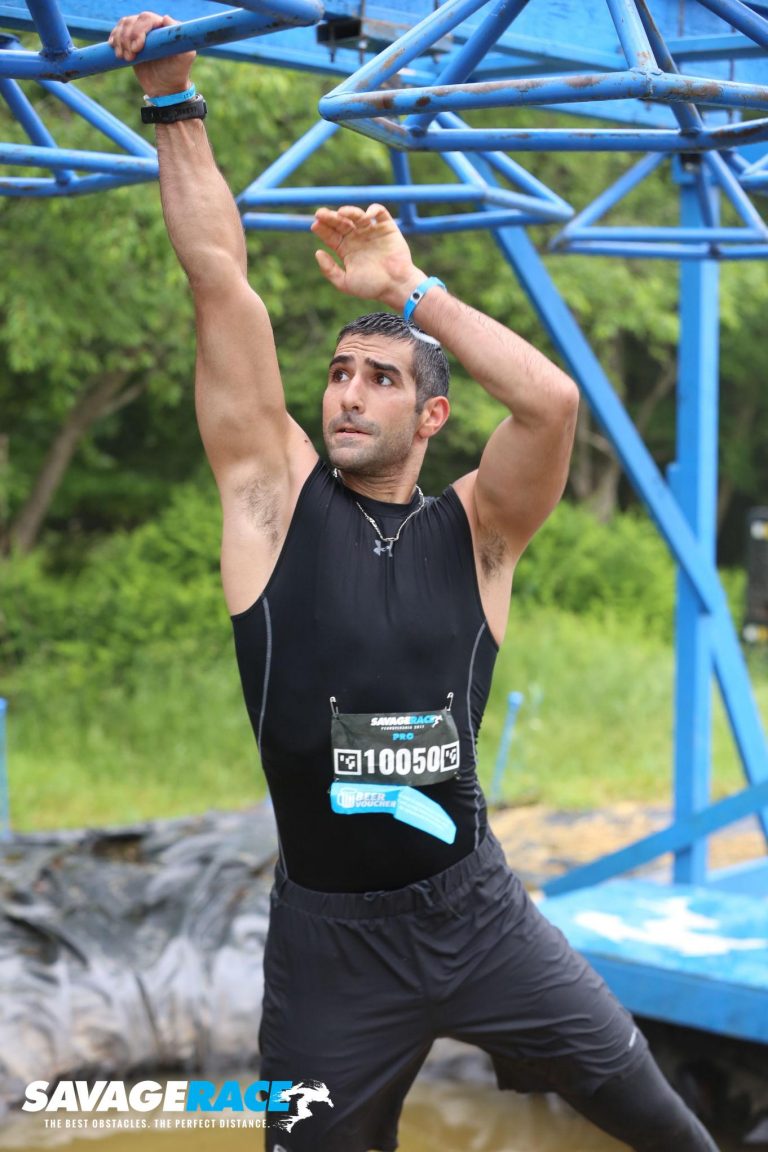 Wheel World is another that tops the list of favorites. It presented itself closer to the end of the course, in order to weed out those with little grip left and collect a few more wrist bands. Of course, Colossus waited for us. The fear of heights is quickly forgotten as the end of the course is visible, the festival awaits, and most important… the bling that hangs around our necks.
Overall, I cannot think of anything negative about the race other than the fact that courses get stale. This isn't the fault of Savage, this goes for all of them. There is only so much you can do to keep a course fresh when you rinse and repeat yearly.  The uniformity of Savage race length leaves little chance that your race will suddenly find you hitting mile 6, 7, or 8. Savage introduced three new obstacles to the runners in Albrightsville this year. When compared to other series, obstacles get old and it is refreshing that the R&D money is spent on innovating the obstacle experience instead funneled to overhead.
Obstacle variety at Savage is top notch, obstacle innovation is top notch, the venue, the planning, the execution, all top notch. When you run Savage, you don't just run a Savage Race, you get the Savage Experience. This one is OCRAddict Approved.