There truly is nothing better than finishing a long race through the mud and muck.  Coming out at the other end, grabbing your medal and t-shirt then walking off into the sunset… that is unless you are gimping from blisters on your feet.  Many of us have been there, running through the pain, running with blisters because we spent more time researching which shirt to wear instead of what socks we should wear.  After all, your feet are hitting the ground through the entire run, not your chest.  The right pair of socks can make a difference.  We already know that we loved Mudgear's compression socks,  but Vitalsox thinks they can sway us with their entry, the VT1211 Patented Performance Graduated Compression OTC.
First, these are not your grandmother's compression socks.  These are the real deal.  The socks are made from a combination of Silver Drystat, Spandex, Lycra and Nylon (70%,10%,10%10% respectively).  Additionally, they feature a soft padded footbed powered by AB-X.
Stay dry and odor-free in the most extreme conditions. Our exclusive, patented SILVER DryStat® fiber harnesses the extraordinary power of silver. The medical community has long recognized silver for its unique antibacterial, antiviral, antimicrobial and antifungal properties. But only Arcos, the company behind EUROSOCK, can bring these properties to socks and calf sleeves. Using a proprietary process, we infuse silver ions into the core of a polypropylene fiber. The ions inhibit the growth of bacteria and molds, providing long-lasting protection for both you and your gear, while the polypropylene wicks away moisture to keep your body performing at peak efficiency through any activity. Another key benefit: SILVER DryStat® is 100 percent recyclable, and doesn't pollute the environment.
The exclusive Absorber Extreme Cushioning System impacts during daily activities thanks to the specially reinforced internal structure of the sock.  The exceptional Long Lasting Cushioning System provides constant shock absorption while the good reactivity of the fabrics maintain their original shape.
According the Vitalsox, the unique combination of fabrics in company with a thin mesh strip that runs from the middle of the top of the foot to the bottom of the cuff on both sides of the sock provide better wicking and ventilation when compared to other products on the market.
Outside of the marketing information, one of the interesting features of these socks is what Vitalsox calls graduated compression.  The idea is, the socks offer greater compression around the foot and reduce this as they work their way up.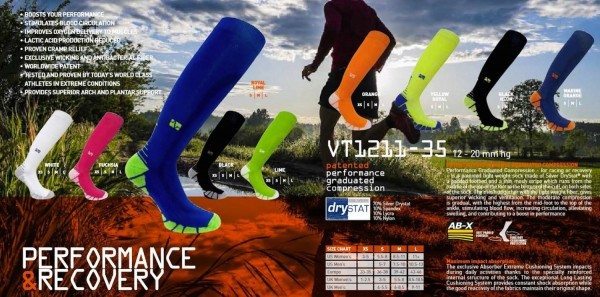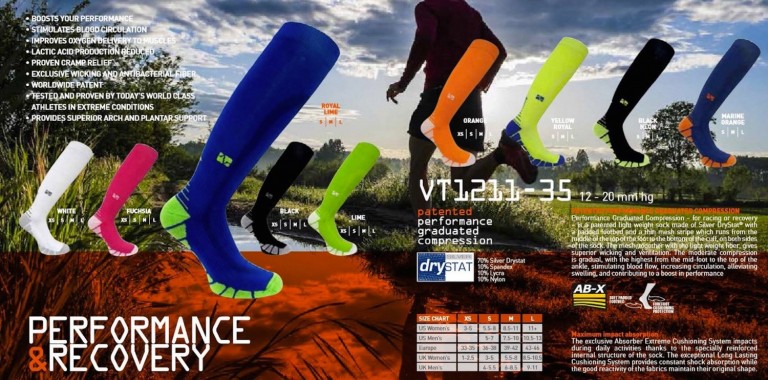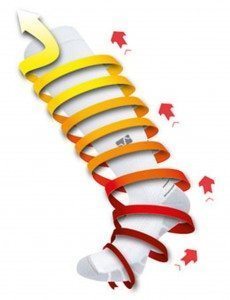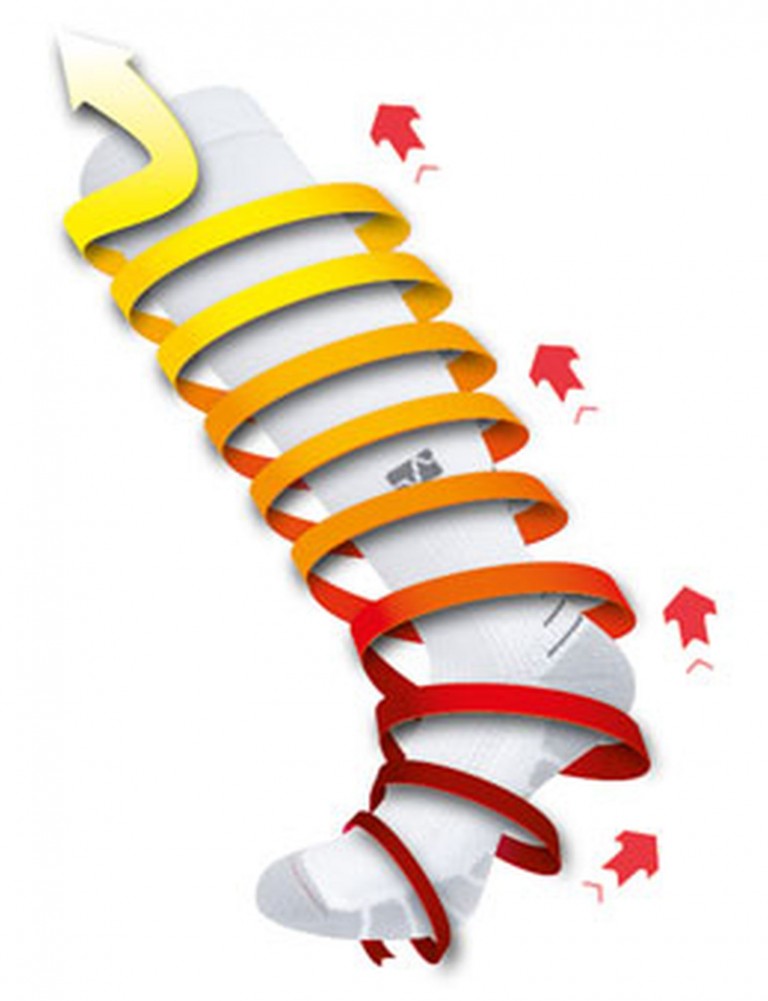 Performance Graduated Compression – for racing or recovery – is a patented light weight sock made of Silver DryStat® with a padded footbed and a thin mesh stripe which runs from the middle of the top of the foot to the bottom of the cuff, on both sides of the sock.
The mesh, together with the light weight fiber, gives superior wicking and ventilation.
The moderate compression is gradual, with the highest from the mid-foot to the top of the ankle, stimulating blood flow, increasing circulation, alleviating swelling, and contributing to a boost in performance.
Boosts your performance
Stimulates blood circulation
Improves oxygen delivery to muscles
Lactic acid production reduced
Proven cramp relief
Exclusive wicking and antibacterial fiber
Worldwide Patent
Tested and proved by today's world class athletes in extreme conditions
Provides superior arch and plantar support
When it comes to sizing the VT1211 for me, the process is a little simpler.  I don't fall on the line of any one specific size, the mediums work for me and their sizes can accommodate some larger feet.  As someone that likes things to fit snug, these compression socks fit.. and they fit snug; like a hug.
| | | | | | |
| --- | --- | --- | --- | --- | --- |
| Size | XS | S | M | L | XL |
| Women | 3-5 | 5.5-8 | 8.5-11 | 11+ | |
| Men | | 5-7 | 7.5-10 | 10.5-13 | 13.5-16 |
It seems like my reviews are usually born and conducted in the field of play, without prior testing.  I don't live in an environment that I can easily recreate an OCR.  Instead, if I want to get down and dirty, I need to sign up for a race.  Luckily, I found one… all the way out in Las Vegas, but I found one none the less (read my 2016 Las Vegas Super Review here).  For me, this seemed like a logical place to conduct a thorough product review.
Like the Mudgear Compression Obstacle Race Socks, full length compression socks seem to give me the edge I need on obstacles.  Not only are these full length compression socks, but the thick nature of these provide that extra layer of protection against rope burn when gliding across.
While the desert doesn't offer much in the way of water, the course did have some muddy sections, the true test here wasn't with mud, it was dealing with sand. Sand has a nasty little habit of making its way into your socks and shoes and then acts much like, well, sand paper.  The abrasive nature of sand will help to quickly facilitate the creation and growth of some nasty blisters. Thankfully, the full height sock does a good job of keeping sand from entering through an easy opening like you would have with half or ankle socks. Additionally, the tightly woven material does a pretty good job of keeping small particles from entering as well. While the same cannot be said for my X-Talons, the socks did their part.
Unfortunately, any mix of trail toe, sock, and environment will not correct the debilitating effects of an incorrectly sized racing shoe; especially when you are going to run 9 miles in them.  I did end up with blisters from the race, but they weren't due to anything the sock had control over.   Instead, I wore an old pair of shoes… bad move.
I can easily say that I enjoyed wearing the socks, but I cannot say that they made by fly through the air like a caped crusader.  They did everything they were supposed to do, and did it just as well as the Mudgear Compression Obstacle Race Socks.  Maybe that goes to the quality of both socks, but they ultimately performed very similarly.  Where these do have a leg up on the Mudgear offering is in the selection of colors and price.  These are available Black, Black-Neon, Fuchsia, Live, Marine-Orange, Orange, Royal-Lime, Yellow-Royal, and White.  Weighing in at just $22.00 USD for a pair of Mediums in black, they are also around $7.00 USD cheaper.  Bottom line, would I buy a pair… Yep.
WPW's Take: I love them! They are supportive, not just tight compression; which I've found refreshing. I have been wearing them all week to recover from 6 laps of BFX and I can feel the relief WPW approved.
Vitalsox (VT1211) Compression OTC Socks
Durability - 9
Comfort - 9
Value - 9.5
Performance - 9.5
User Rating:

4.7 ( 1 votes)