When time permits, I usually try to volunteer at the races I go to, it gives you a little more appreciation for the event itself.  Give back and you earn free races. Well, for Houston's first Sprint I had the chance to get in on the build. It was a total blast, fire ants included. People like to knock areas that aren't known for their terrain; but, honestly, if the Race Director is creative, you could have a course on a decline and it can still kick your ass. Apparently, Spartan has an agreement in place with the Almighty that when they come to Texas, the Heaven's downpour. The Lazy W Ranch became of mud bath, and it performed great!

Parking
I have been very hard on Spartan for some very poor parking management in the past. This time around, Spartan was prepared to make sure that they didn't mess around when the rain hit. They arranged parking off site, and for the most park it worked well; I did hear reports later in the day that parking did take a while.  However, when 7+ thousand people are coming at you in droves; that is to be expected. The drivers from the service clearly did not take a test run before the event, resulting in a 10 minute drive taking more than 30 plus minutes.  In some case longer, via a series of wrong turns.  I got lucky, I knew where I was and where I was going so I directed the bus driver.  The result was that the first waves were pushed back a half hour to make up for the errors. That is not on Spartan, but it did make things interesting.
Check In
We've all been to Spartan, the Check In process is standardized and they were prepared for the wet weather with everything properly covered. I walked up to a line of 6 or 7 and I was into the Festival area within 5 minutes.  Everything was nice and smooth.
Bag Check
By far the best bag check experience I have had at a Spartan. They had a new system in place to manage pass holders, Elites, the largest team and general participants' teams with solid security. To me a bag check that you don't think about is a top end bag check, it simply worked seamlessly.
Festival Area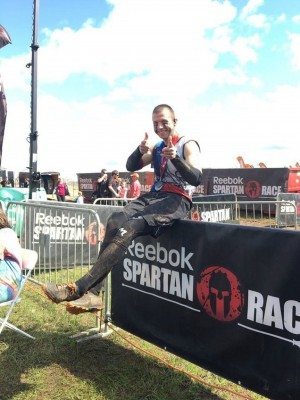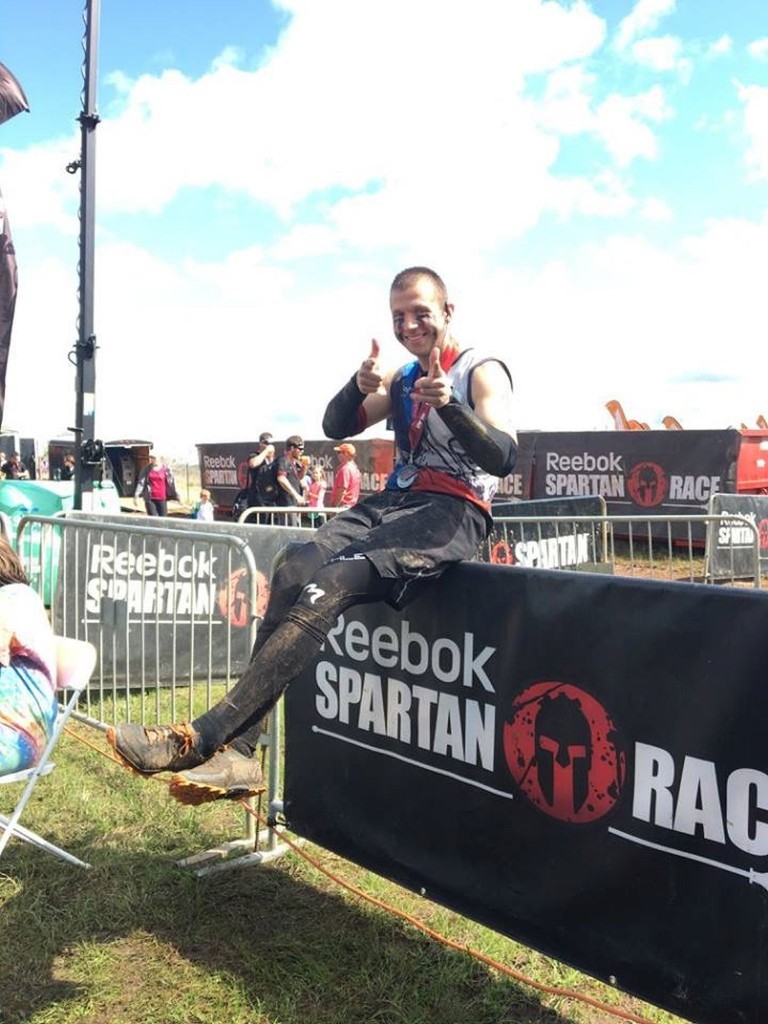 Maybe I was partial because I helped build it, but I thought it was very well constructed. In all seriousness though, even with the mud bath, it was a great environment.  Great music filled the air, Mylo's Obstacle Fitness was there, a full Spartan Rig made an appearance, Shock Top, and an amazing food vendor row was on tap with a multitude of smaller vendors.  It had a good buzz about it. People were all smiles after their bus ride adventure, and it was easily to tell for a lot of the participants this was their Spartan Baptism.  Lots of looks of their first time were clear to see… and it was awesome to see.
Race
I ran the Elite heat so the ground was still somewhat Virgin, but it was fun from the start. A quick first mile had us running through streams, flipping over logs, through and OUT to the Monkey Bars; the crowd roaring as the Female Elites were just entering the Starting Corral.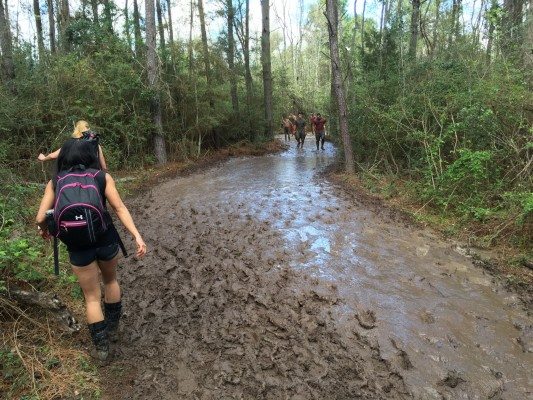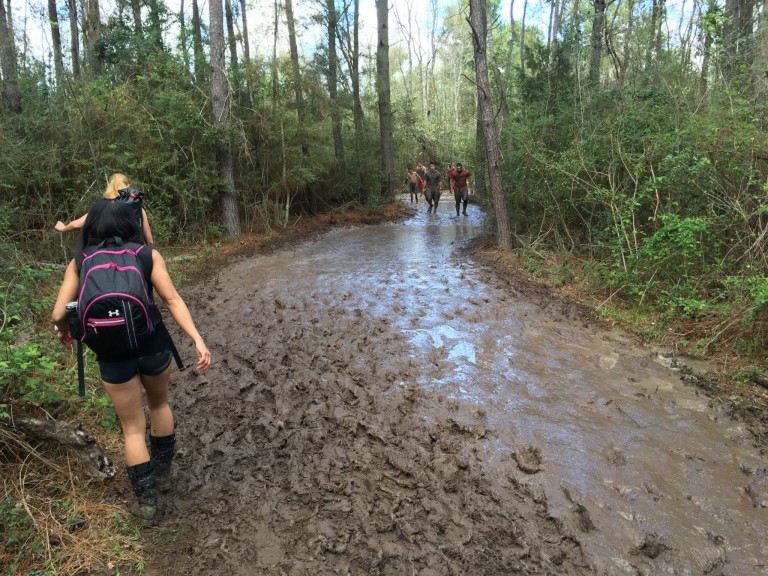 From there, things get interesting for many as we hit another section of trails that led to a fiery barbed wire crawl. It was long and it had A LOT of angry displaced fire ants; equipped in my XTG Guard Sleeves and A8 Leggings I managed to avoid the brunt of it, but eventually the crawl was medically closed because of the onslaught of ants.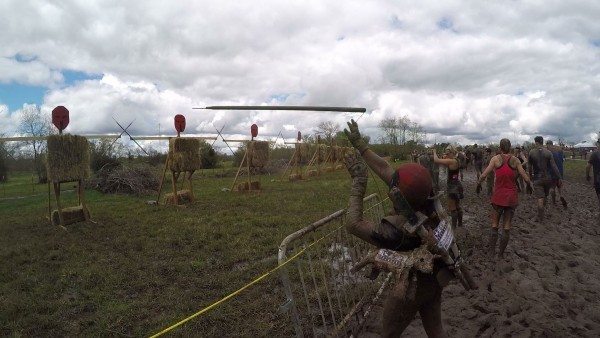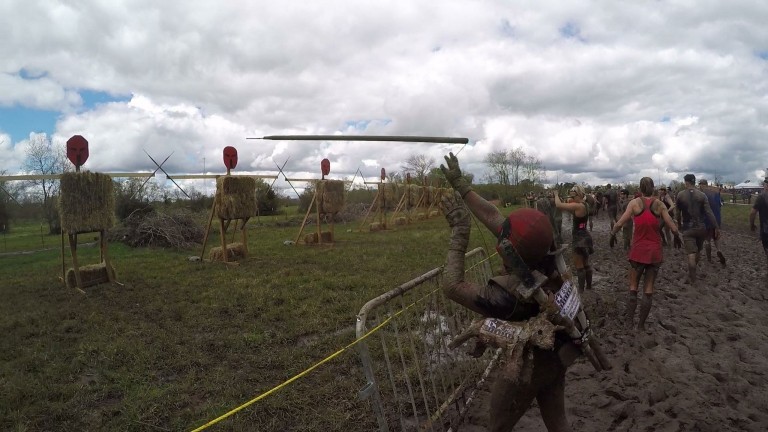 From there a refreshing and fire ant removing swim leading to a sled pull that was standard for Elites, but became legendary in the open. Barbed Wire Pancake action and then the infamous Spear Throw kept things moving. The Hoist had water added and provided loads of trouble on both grip and the pure strength. You hit the dunk wall right next to the finish line but it was only a teasel you were only about half through the course hitting A-Frame Walls, Vertical Cargo and traditional A-Frame Cargo nets.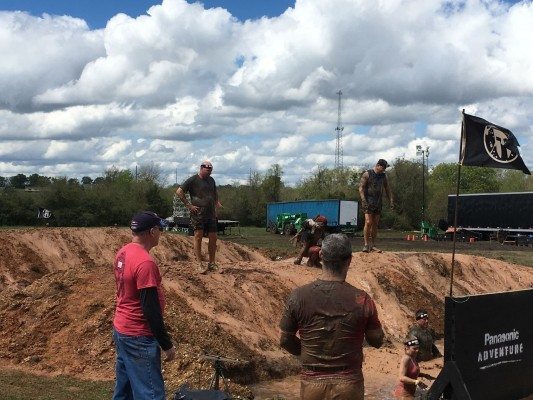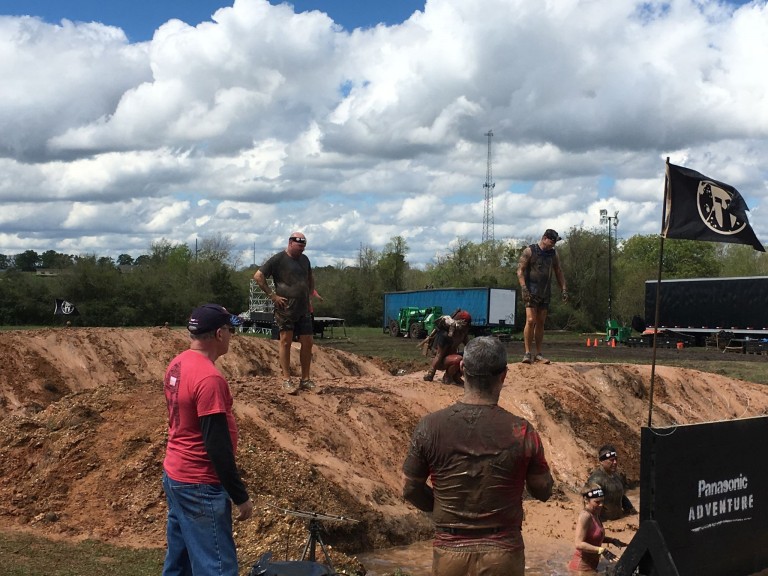 The bucket carry seemed to take a toll on many as this was a high pass zone leading up to the Z-Wall. It seemed to be an interesting build as it was a burpee maker for many, from there you could hear the life of the festival area as the finish line drew near. The Atlas Carry was half way there to help make the finish line all the tougher with the Rope Climb and the Multi-Rig. The Rig, between the mud and the exhaustion, seemed to be a straight line to burpeeville.  However, it led to a lot of colorful finishes as people raced to hold that position, or slip ahead of those caught by the rig.
This course was a prime example of a creative race director making it memorable, and the mud only added to it. Rumor has it, this location has a lot more room to explore.  I hope in future years we may see a Super and/or a Beast come to Houston as the Terrain is just technical enough that the right mind could bring it to life.
Wrap Up
The Houston Sprint was a fantastic event, full of energy and excitement. I love doing Spartans, but last year a few of their events where under-whelming. It seems like the team took those criticisms to heart and turned them into positives as this event exceeded my expectations. For me my initial plans for Spartan were limited to this and maybe one other but after this race I may have to add a few more to the roster.
Spartan Sprint Houston 2016
Check-In - 8
Festival Area - 10
Environment/Atmosphere - 8
Course/Obstacles - 9
Parking - 7
User Rating:

5 ( 1 votes)