You run an entry level obstacle course race.  You sign up for another one. You join a few Facebook groups, update your profile pic (fire jump picture of course), and add a bunch of new friends on social media that you met over the weekend.  More training, more races, more mud and obstacles, and more friends.  Those involved in obstacle course racing know, it is a unique breed of people that seek out this lifestyle. Why do we pay (often a lot of money) to "suffer"? Is it truly for our own challenge? Is it for the sense of accomplishment we feel at the finish line?  In today's sedentary society, in a world of automation, are we seeking an experience that's closer to our long lost ancestors? Are we trying to replicate their struggle to survive in the environment?  Is life just too comfortable and boring now? Or… could it be purely narcissism? With the boom of social media, are we looking to shock our Facebook friends with our new muddy profile pictures? Is it to boost our own ego? Scott Keneally attempts to answer these questions in the documentary, Rise of the Sufferfests.  A must watch for any OCR athlete.
I have watched this movie twice now.  I was thrilled to see OCR making its film debut, so I paid for this download as a pre-sale before it was even available for viewing.  When it was finally ready to download (September 1st, 2016), I was pumped.  It just so happened that this coincided with our trip to the family shore house for Labor Day weekend… and I quickly announced our evening plans to everyone.  My mini viewing party consisted of my husband (who I'm lucky puts up with my OCR obsessions, but has no interest in OCR himself), my brother-in-law (who I convinced to run a Spartan race with me last year, his only OCR race to date), and my sister-in-law (probably the least interested in the group).  Cue the movie!
The movie starts out with the beloved Sean Corvelle.  This man is the voice of Tough Mudder.  I've never met anyone that wasn't moved by his words, "No one is better than your best, but your best will make you better". This mantra is one that many mudders hear in their heads as they push through barriers on the course. Scott then dives into the history of OCR and introduces us to Mr. Mouse and the Tough Guy race.  I had never heard of this man or event, which began back in 1987. It is a truly grueling event, held at the end of January.  Tough Guy was well underway long before Spartans and Tough Mudders were even dreamt of. How have I never heard of this?! The movie continues to give a background into the major OCR brands.  I enjoyed the many interviews with the top elite racers and organizers of the events: Amelia Boone, Hunter McIntyre, Sean Corvelle, the Painted Warrior, Will Dean, Joe DeSena, James Appleton… to name a few.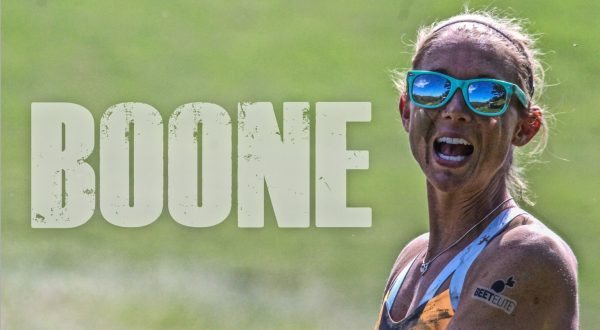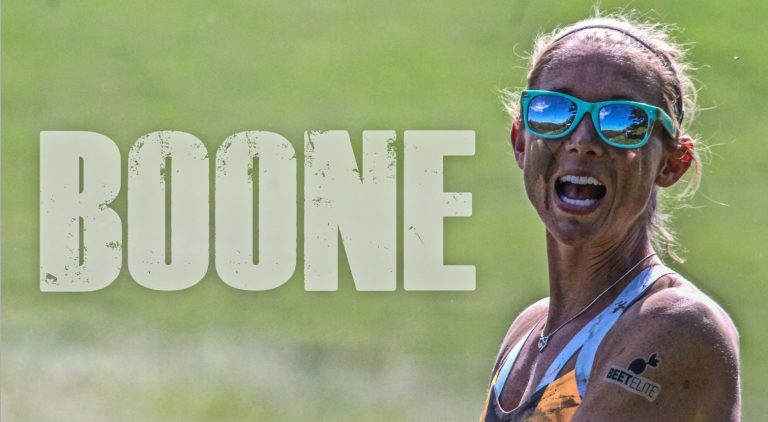 The documentary also touched on the OCR community.  These races are full of passionate, caring, and determined athletes. Whether you are just getting off the couch, a seasoned racer, or an adaptive athlete… there is a place for you in the mud.  Anyone that crosses the finish line can tell you, overcoming the discomforts and challenges you face on the course will help you overcome challenges in everyday life. The movie shows countless examples of this.  One example of this is a group called "More Heart Than Scars". This non-profit is comprised of some badass people overcoming physical and emotional struggles together on course. I was thrilled they were included as part of this OCR story.
Points to Consider:
This movie starts with a full OCR intro that any athlete would be interested to watch.  However, keep in mind that the documentary also is about Scott's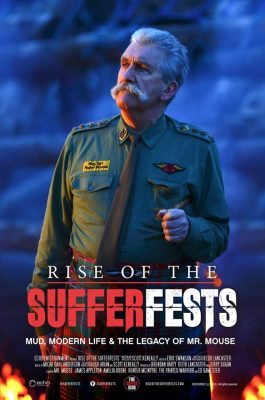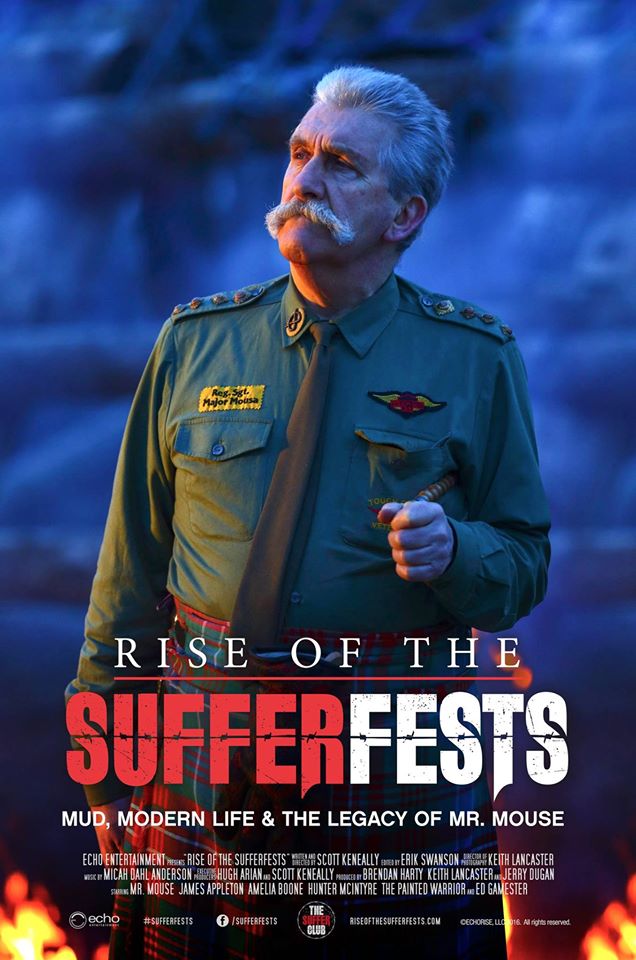 experience and life while investigating the OCR phenomenon.  It covers his struggles trying to kick start the movie funding and get this thing off the ground.  He even finds out he is going to be a father during the filming.  This changes his perspective on life up until this point.  Scott seeks to be a provider for his growing family.  The movie takes a tangent here into what it means to be a "man" and the crisis of masculinity.  Scott ends the movie with a brief segment about the birth of his son, his fitness assessments, beginning CrossFit, finally getting the movie out, and reasons many people take part in these "sufferfests".  In a true finale, the final scenes show Scott running Worlds Toughest Mudder in 2015 at Lake Las Vegas.
While I thoroughly enjoyed the Rise of the Sufferfests documentary, I think my shore house co-audience was slightly less impressed.  The beginning of the movie grabbed their attention with scenes from the course and some interviews of the greats.  As the movie progressed, they seemed to have lost interest in the more personal story of Scott's challenges and life.  This was surprising to me, as I would have thought they would have related to these scenes more!   In retrospect, I think I may have misrepresented the film.  I thought it would highlight major race events and competition.  This movie came out in September and I was already amped up for Worlds Toughest Mudder in November, two months later.  This may have played a role in my anticipation of viewing more race courses and coverage of obstacles.  So, we were a little surprised it branched out to cover Scott's personal struggles.  I did enjoy this portion of the movie, don't get me wrong.  I was just under a different impression going into our viewing "party". Had I waited to watch it and read some plot summaries, I think my preconception of the movie would have been different.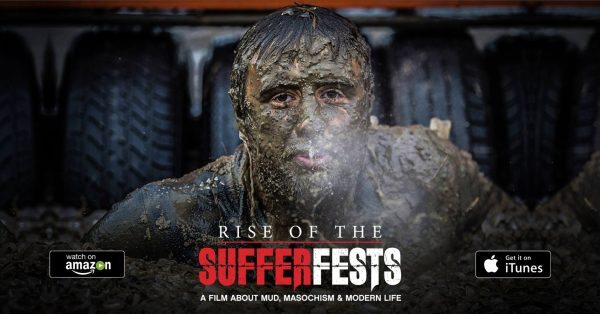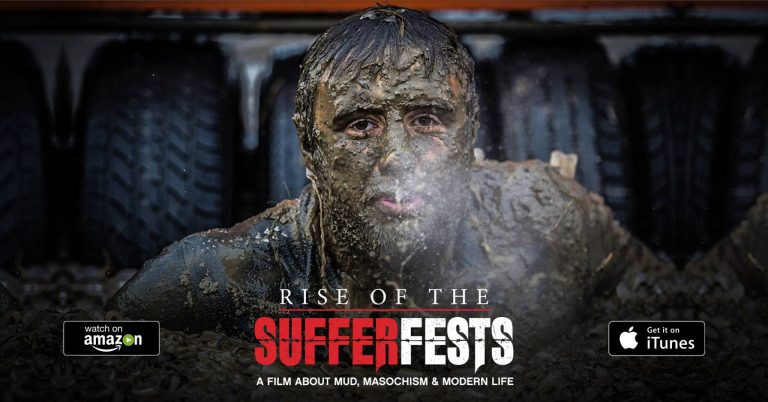 Overall, I think this was an excellent film.  I think the footage, interviews, and history of OCR was well done.  Mr. Mouse needed his story told.  As the first OCR race, back in 1987, we can thank him for being the mastermind behind the mud and obstacles we have come to love.  While the brands, obstacles, and venues continue to change, the message is clear. OCR is the fastest growing sport, attracting all types of people who seek a renewed passion for life and health. If you have ever run a race, thought about it, or are curious what your crazy friends are up to, WATCH IT.  Find the download here: http://riseofthesufferfests.com/ or its also available on iTunes, Amazon Video, and Google Play.