As time has progressed and we've gotten to know some of our fellow OCRAddicts, we have begun to receive lots of questions about what we use to be ready for and be successful on race day. From our gear, our shoes, race day nutrition, and lately with our partnership with Tiger Fitness we are getting asked about supplementation. After some deliberation and pondering, I decided I'll dive into a multi-part series of the surprisingly personal category that is supplementation as well as going through my primary stack, 'supplemental' supplements, and some items that will find their way with me on race day. Please note I am not, nor do I pretend to be a medical doctor in any capacity. So please consult a medical professional before starting any physical and/or supplement regime.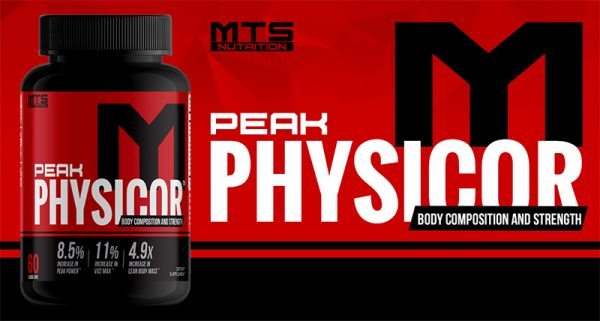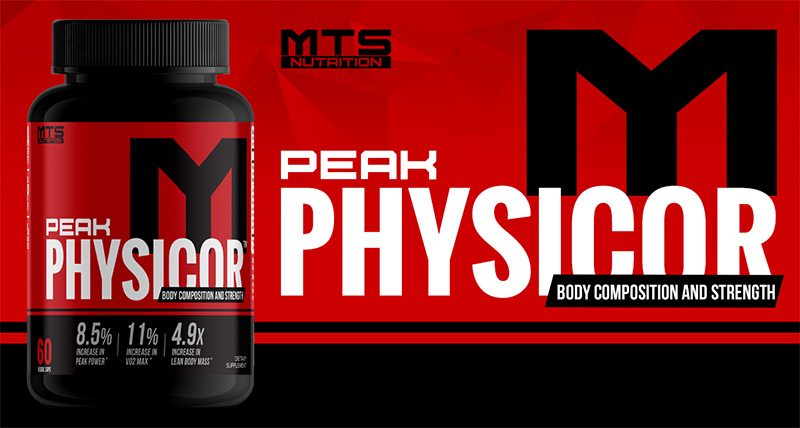 Today I am going into a product that appears to be second in human clinical research only to creatine. That is MTS Nutrition's Peak Physicor, a new member of the MTS Nutrition line that in a very short window has proven to me that it needs to be a permanent member of my rotation. A quick little background on me for those that do not know my story – prior to getting into OCR, I was 300 pounds and, per my doctor, "A Monster and hamburger away from a heart attack". So getting to the size and fitness level I am at now has taken a strong survival instinct, discipline, and the tutelage of Marc Lobliner, CMO of TigerFitness.com. Marc (EXOs and CF1 Certified Trainer) is also my meal and results, coach so I am currently toeing the fine line of balancing athletic performance with fat loss. In English, that means I'm eating a lower than normal amount of calories to generate fat loss. On race week, about 24-48 hours pre-race, I'll have a slight uptick in calorie intake to prep my body for the strain of the race itself. As I said earlier, that's a very fine line to toe so it is something that should not be done alone unless you have an Olympic pedigree, advanced nutritional degrees (not certificates), or medical degrees. I heavily recommending hiring a coach to make sure you are safe and monitoring the results of your actions.
Now with that out of the way, on to the good stuff. Peak Physicor is, in its simplest description, a powerful, but non-hormonal lean mass and performance enhancer. That means because it is non-hormonal it is not directly altering any natural hormone levels inside your body, nor impacting your central nervous system (CNS), it does not need to be cycled. Besides being a fit for both genders, it also does not require a reset period for your body to recover from its use, unlike other popular supplements like many Pre-Workouts or Testosterone Boosters that can require up-to a 4-week break to regain their effectiveness. So all OCRAddicts, regardless of current fitness level and athletic goals, can greatly benefit from adding Physicor to your stack. Its re-composition properties lead to increases in lean body mass, which means a higher metabolism, which increases body fat loss, while also increasing your strength. On top of that, you can experience up to an 11% increase in VO2 Max. Why would that interest every OCRAddict you ask? It will make you a stronger, fat burning machine that can have greater obstacle endurance as well as the ability to run faster for longer. Seems like a natural fit to me.


My personal experience will be a reflection of my first 10 days of use, culminating in Tougher Mudder Central Texas on May 6th. I've been on the same training protocol since January, so the only significant changes to me have been a reduction in calories (which reduces performance) and the addition of Physicor. Physicor is not a supplement you take and boom, 25-45 minutes later you feel it hit. That is not how it works, but over the first 4 or 5 days, I honestly did not notice much. On day 6 though, during a brutal final speed workout to tune up for Tougher Mudder, I noticed that I was recovering faster between speed sets, had more in me after the speed sets ended, and instead of altering between short and long speed sets, I started doing the long sets only since my body was handling it well. During my weight training sessions, when I typically had to dig deeper to get sets 4 and 5 done or reps 8-15 pumped out, I was hitting my wall at the end instead of mid-set, if I hit that wall at all.
Now for the measurable piece – my in-race performance. For a while now, with mandatory competition courses like Green Beret Challenge, Conquer the Gauntlet and now Tough(er) Mudder, I have battled the going all out pace or holding a little back to have enough to do the obstacles when I get there. For a person who does not come from a running background, the struggle is real. While I slowly had been making improvements race over race comparing myself to the regulars I race against, I was still holding some in reserve to make sure when the time came to get the obstacle done, I could. That's what makes this past weekend's performance so exciting, not only was there considerable improvement, but I even kept up with some known personalities that previously I could only get to if they got stuck at an obstacle. On this Saturday though, I was holding my own in pure pace, as well for the majority of the course.
On February 18th I ran the Green Beret Challenge at YO Ranch at 11:22 minute per mile pace, on April 1st I ran a flat but obstacle dense Mighty Mud Dash at an 11:27 pace. However, this past weekend at Tougher Mudder I ran at a pace of 9:46, with its rolling hills and tougher obstacles. That is a 1:385 minute per mile difference off the average pace of my previous races! Plus, this was anywhere from twice to three times the distance of the other races. That, with the only differences in my preparation, being less fuel going in and Peak Physicor! Since we all know less fuel is not going to equate to better performance the logical conclusion is that the uptick, at least in part, is the addition of Peak Physicor.


My spring race season has three races remaining, the Austin Spartan Super, Conquer the Gauntlet Dallas (OCRAddict at checkout for a discount), and the AT&T Stadium Sprint (OCRAddict at checkout for 15% off). I am eagerly awaiting to see the forward progress over the next month. What has me really excited though is the fall season that will consist of US and OCR World Championships, the Killington and Glen Rose Ultra Beasts (OCRAddict also is good for 15% off the Glen Rose UB exclusively) along with another Tougher Mudder (unless someone wants to send me to World's Toughest Mudder) to finish the 2017 season. By then, with a continued focus, I'll have met my fat loss goals, which will have me re-introducing calories into my regular nutrition, which will only further enhance my performance on the course. I honestly cannot recommend this product enough as a training and race booster. Physicor should be a top priority for you to begin bringing into your supplement fold. It simply does what is says it will do and it will only make you a better athlete.