While wearing gloves during an OCR is not something that many consider mandatory, it could be the difference between hands that are intact and Swiss Cheese for skin at the end of a race.  While there are plenty of options out there, Under Armour promises that their CTR Trainer HF Gloves are the right ones for you, no matter the purpose.
Under Armour has been producing sports apparel since 1996, it has only been in recent years that many look to the brand first before the likes of Nike, Addidas, Reebok and others.  This explosion in brand recognition has lead to a lot of new and exciting uses for their product lines.  With that in mind, the CTR Trainer HF gloves were not designed to be an OCR go to product, but don't let that get in the way.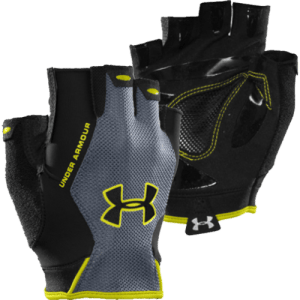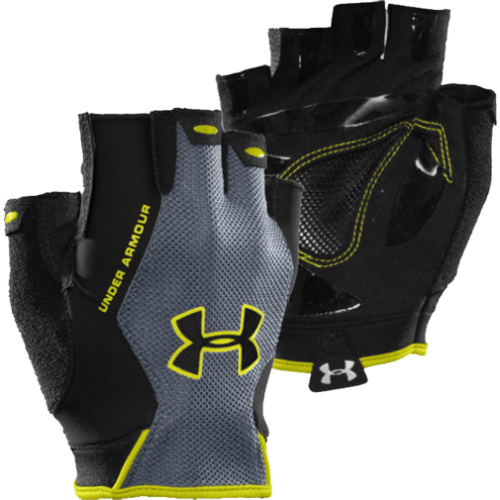 Product Features
Lightweight performance fit geared to protect without hindering your workout
HeatGear® and mesh fabric allow breathability and dry quickly, keeping your hands light and cool
Signature Moisture Transport System wicks sweat away from the hand, so you stay drier, longer
Strategically placed silicone palm prints provide added grip
Durable synthetic palm with mesh ventilation gives you breathability without sacrificing strength
Terry sweat wipe built into thumb, for when things really heat up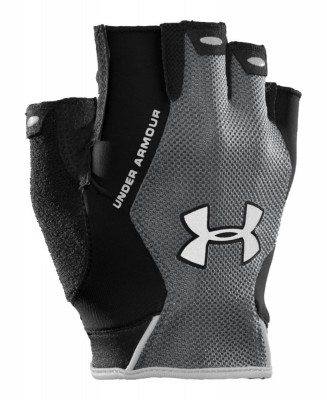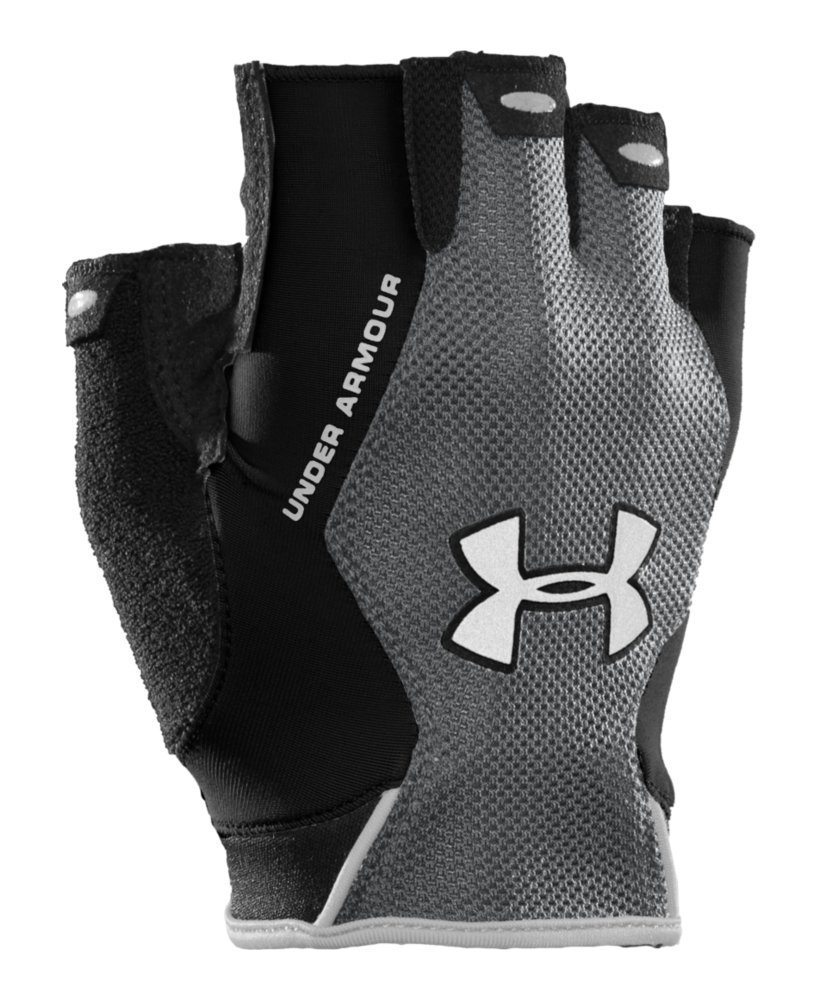 The gloves manufactured from a durable mix of Microfiber (54%), Nylon (46%), and Polyurethane.  The back hand side of the gloves feature a breathable material as well as the Under Armour brand logo.  Each of the two middle fingers and the thumb sport sewn in flaps that serve some unknown purpose.  Direct from the horses mouth (Under Armour), "The flaps on the fingers do not have any special purpose".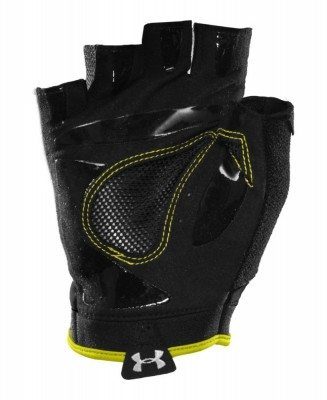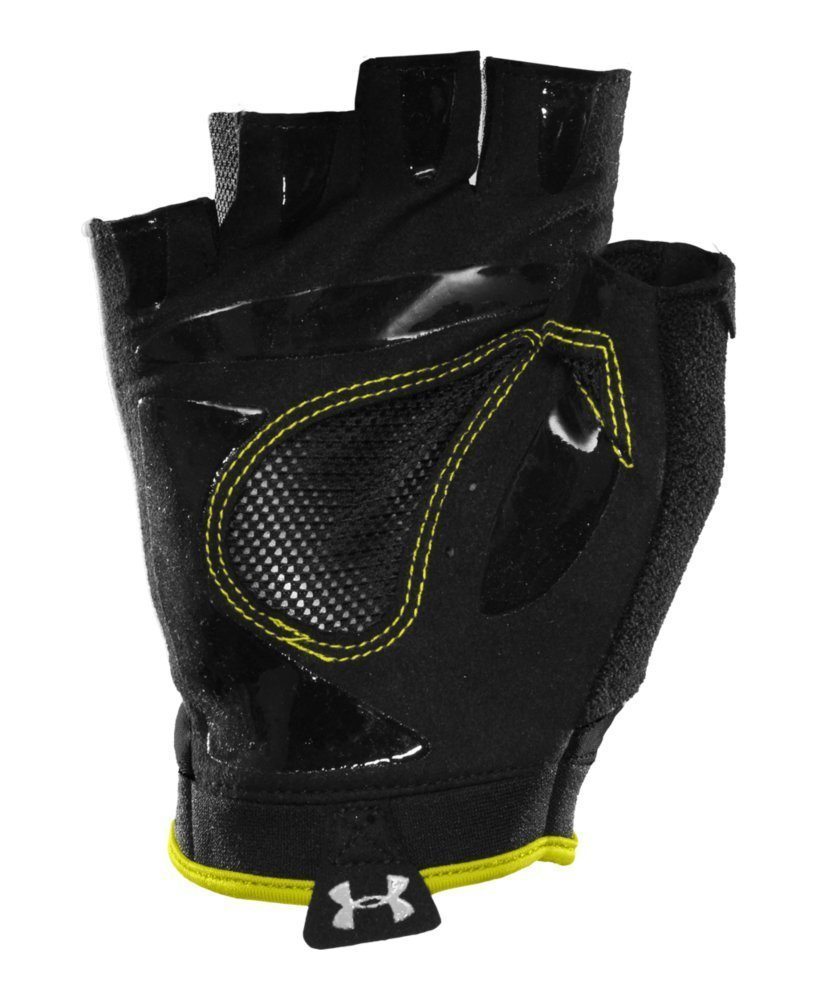 The palm side of the gloves are where the magic happens.  Each of the palms are constructed from durable material and feature a breathable mesh center to help drain any water / sand, while providing plenty of breathability.  The palm and fingers are lined with silicone prints to provide additional grip.  The sides of the thumbs are constructed from a terry cloth material that allows you to wipe your brow without the worry of abrasion from coarse materials.  These gloves take a minimalistic approach to padding, as in… there is none.
Sizing
When sizing the gloves, Under Armour keeps the guess work to a minimum.  They provide a sizing chart to help you determine which is the right fit for you.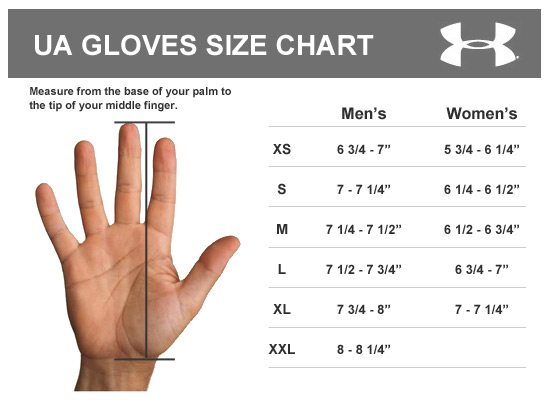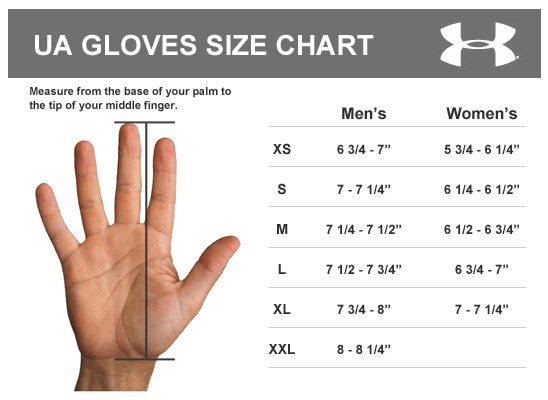 When sizing the gloves, the recommended method is to measure your hand from the top of your middle finger to the base of your palm.  My measurements are exactly 7 and 1/4 inches.  According to the sizing chart, medium is right for me.  In testing, the mediums fit perfectly.  The snug fit keeps the glove from moving during an activity and reduces blisters and abrasions due to friction or hot spots.
Performance
Now that we have some of the basics out of the way, you are probably wondering how well these gloves perform during a mud run.  They do a pretty good job of wicking away some of the water while the mesh palm allows dirt and sand to be expelled from the glove without have to remove and shake.
The silicone printing did a better than average job of holding on to ropes while the gloves themselves protected most of my hands from rope burn.  While soaking wet, the gloves do little for enhancing your grip on obstacles like rings and uneven monkey bars.  Granted, I don't believe many options out there will do much in the way of grip while soaking wet on these types of obstacles anyway.  Their quick drying "Heat Gear" materials do allow them to dry faster than standard gloves.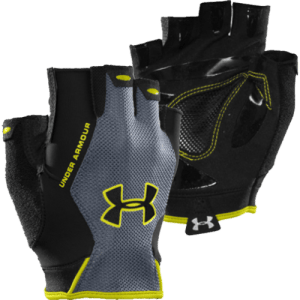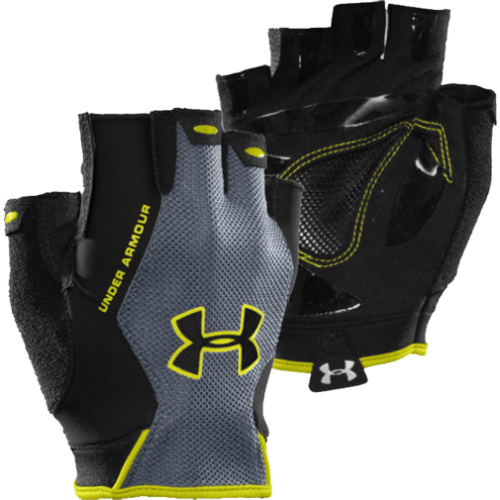 Having my fingers exposed in a glove allows me to gain a good understanding of how my grip is being used.  While using gloves that cover the fingers completely, it can be hard to get a good sense of what is going on in your hand.  Additionally, this can reduce the amount of slip due to rotation that can occur when holding on for dear life.
Conclusion
While I do recommend sizing the gloves exactly, removing them while running a race can become an obstacle in itself.  They are designed to fit tight.  While wet and muddy, this can exaggerate the effort required to remove them.
Having worn these gloves in 5 of my last 8 Spartan Races, they held up pretty well.  The only real visible damage to the gloves is in the palm's mesh material.  There are minor tears in the fabric of each hand.  The silicone printing is still in tact, the stitching is still tight, and the gloves respond well to machine washing.
If you are looking for a pair of gloves to help protect your hands from extended abuse, these may be the ones for you.  While they aren't designed with the Obstacle Course Runner in mind, they do provide enough in the way of protection to help get you through a course with a minimal amount of damage to your hands.  These gloves are durable, inexpensive, and comfortable.