I will admit it, sometimes I am a bit forgetful. Unfortunately, for me, it always seems to happen when I have an Ultra (Ultra Beast for those not up on the new Spartan Lingo) on the horizon. Last year, in Jersey, I decided to run with my goto shoe, the Inov-8 230. The day went on fine, but I started to realize my feet don't like to be crammed up in a shoe for extended periods of time. For the Sunday Beast run, I decided I would tackle the mountain in my Altra Superiors and I quickly remembered how much I loved the Altra trail shoe. I figured it was high time for me to get my foot into another pair of Altras for some late season races in preparation for the demon that awaited, Killington Ultra. With that in mind, I put myself, confidently, into a pair of Altra King MT 1.5's and…
Fun fact: the shoe is named after the highest peak in Utah, King's Peak.
If you aren't familiar with the Altra brand, they pretty much make the most comfortable shoe ever. They sport a wide toe box and a zero drop platform. However, comfort doesn't always mean performance. Let's get some of the down and dirty out of the way before we get into that:
Introducing the King MT, made for runners who embrace mud, rocks and burly mountain climbs. This shoe features a Vibram outsole with 6 mm lugs designed for optimal lateral breaking, medial gripping and maximum traction in wet, loose and rocky conditions. Topping this awesome outsole is the Altra Ego™ midsole, a new compound with high responsiveness at a low weight. A flexible, wrap-around StoneGuard™ rock plate adds extra protection underfoot, and the one-directional friction heel lining keeps your foot securely in the shoe. The King MT has the most supportive upper of any Altra with TPU overlays, durable polyester Ripstop fabric and a Foot Lock Strap (that doubles as a lace keeper!) to lock your foot into the shoe on steep ascents and descents.
Technical Specs:
Ideal Uses: FKT Running, Off-Road Running, Peak Bagging, OCR, Fell Running
Weight: 9.7 oz. / 289 g
Insole: 4 mm Contour Footbed
Platform: Fully-Cushioned Zero Drop™ platform and FootShape™ toe box
Stack Height: 19 mm
Midsole: Altra EGO™ Compound, Stoneguard
Outsole: Vibram® MegaGrip Rubber Outsole
Upper: Protective Ripstop, Quick-Dry Upper
Other Features: Foot Lock Strap, 6 mm Outsole Lugs
What makes Altra Different?
FOOTSHAPE™ TOE BOX
One prominent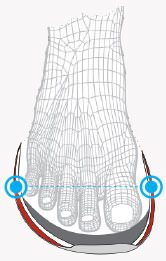 feature, outside of their zero drop designs, is a much wider toe box than most other brands. Typically, traditional running / OCR shoes will squeeze your toes (taper) into a tight little package, like a pack of Oreo Cookies. With the unnatural position of your toes, you become more susceptible to bunions, hammertoes, and plantar fasciitis. Altra's FOOTSHAPE TOE BOX allows the toes to relax and take on a more natural form .
Benefits:
Keeps big toe straight for greater stability and a more powerful toe-off
Allows toes to relax and spread out naturally
Allows foot to naturally stabilize excess pronation
If I were to try to explain drop as simply as I could, it would be something like this: Drop is the difference in distance of the heel and the forefoot from the ground. You will also hear it sometimes referred to as heel to toe drop, offset, or ramp angle.
FULLY CUSHIONED ZERO DROP™
The term "ZERO DROP™" was coined to describe the level cushioning and perfect weight balance from heel to forefoot. This natural balance aligns the feet, back, and body posture for less impact. It also strengthens the Achilles and lower calf muscles that have been weakened over a lifetime of running on elevated heels.
Benefits:
Heel and forefoot are the same distance from the ground
Promotes proper form to reduce initial impact by 3–5 times.
Natural Achilles loading for better propulsion
1-to-1 ratio naturally aligns feet, back and body posture
Encourages better running technique
Weight-balanced from front to back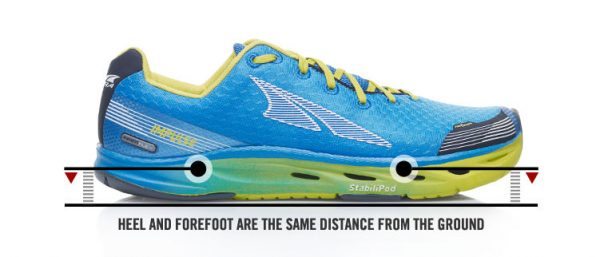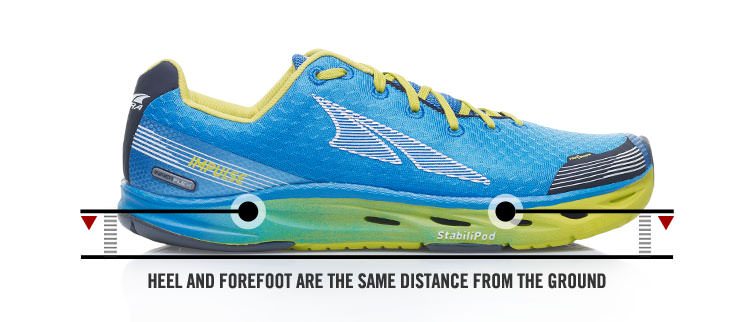 Some popular OCR Shoes
Inov-8 X-Talon 200: 3mm Drop
Salomon Speedcross 3: 11mm Drop
ICEBUG ACCELERITAS4: 4mm Drop
While the idea of a Zero drop shoe might sound attractive, if you haven't been walking around in All-Stars for most of your life, it may take some time to get used to. Ideally, you would like to transition your way into your Zero Drop shoes through various workout changes to minimize injury and fatigue. Altra will guide you through your transition, courtesy of their website: https://www.altrarunning.com/run-better#KnowYourShoe

Another prominent aspect of a shoe that mostly goes unnoticed would be the shoe's stack height. To define this simply, this is the "thickness" of whatever is under your foot. Trail running shoes can vary greatly with stack height and finding the right balance can be a bit difficult. Some runners "like" the softer feel of a shoe, while others, like me, like to feel the ground beneath their feet.
Stack height can be broken down into four basic categories:
Feel the ground
Some feel for the ground
Some feel for the shoe
Feel the shoe
Barefoot
1-8mm
Minimal
9-13mm
Low
14-18mm
Medium
19-23mm
High
24-29mm
Maximal
30mm+
Altra's King MT 1.5 fits into the "some feel for the shoe" category with a stack height of 21mm.
New to the King MT 1.5's is the Vibram Megagrip outsole: A high-performance sticky rubber compound featuring unparalleled grip on wet and dry surfaces, rugged longevity and optimal ground adaptability.
Developed for the user who frequently encounters slippery surfaces, VIBRAM® Megagrip is suitable for trekking, multisport, fly fishing, as well as all season hiking and travel. It offers an incomparable combination of grip and durability which helps define VIBRAM® Megagrip as the ideal high performance rubber compound for extremely demanding activities such as backpacking, canyoneering, enduro-mountain biking and skate boarding.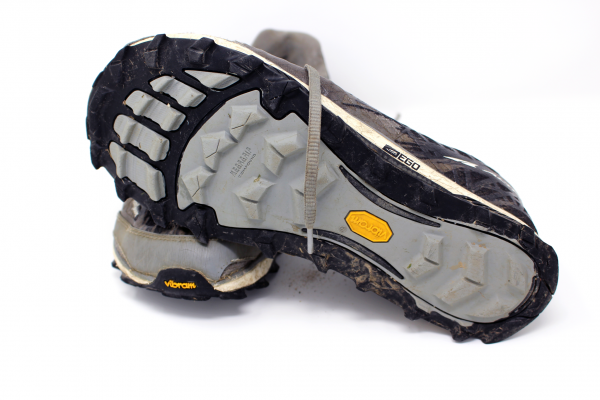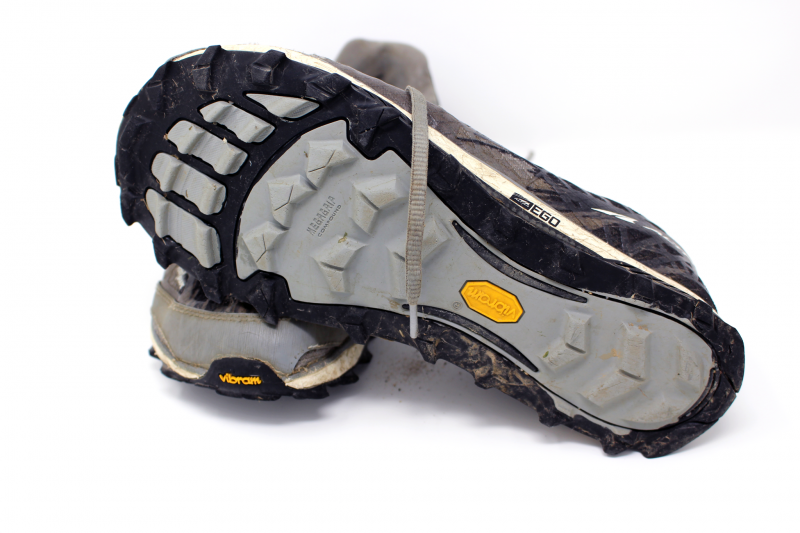 Unlike the Superior 2.0, the King MT's Stoneguard comes pre-installed (if that is a term you would use with a shoe). It can be found sandwiched between the A-Bound and EVA midsole. In other words, you are stuck with it… it isn't removable. Its intent is to protect your feet from terrain like sharp rocks, which I can't seem to avoid. While that isn't a big issue for me, some runners may feel a bit "boxed in" with that.
When things start getting slippery, the King MT's don't disappoint. The 6mm lugs find their way into loose terrain relatively easily, providing you with grip when there isn't supposed to be any. Although the lug pattern is a little more aggressive, there doesn't "seem" to be much of a difference when paving your way over the river and through the woods to grandma's house than others in the lineus. However, unlike the aforementioned Superiors, the Kind MT's don't flex as much over rocky terrain.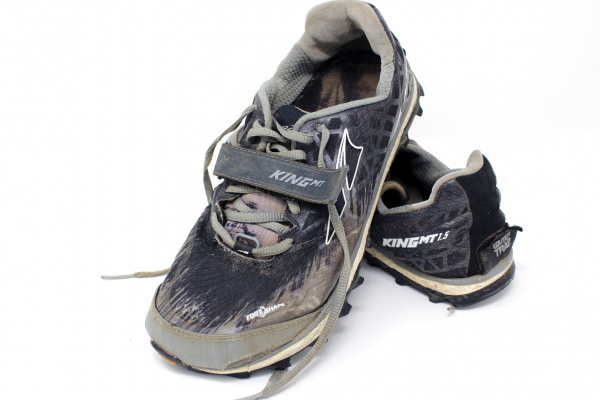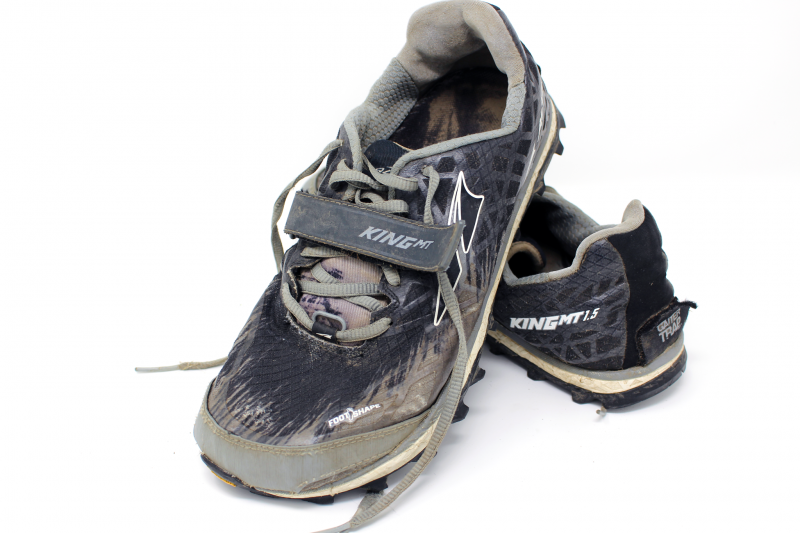 On the top of the shoe you will find a rather pronounced Velcro strap that performs two functions. The first function is that it allows you to quickly adjust the shoe for whatever you are about to face. Need to go uphill? Loosen it up a bit. Need to go downhill? Strap it a bit tighter so your toes don't slam up against the front. The second? Keeping your shoe laces in place. I can't tell you how many times I am find my self running with untied shoes.
The upper material, Ripstop, does a good job of shedding liquids but remaining strong enough to avoid tearing after what I like to consider normal use. Unfortunately, the toe guard seems a bit low on the front end for me and running in shoes one size larger than "fit" allows the big toe to rub against the material causing some wear. I haven't torn through yet (after 70-80 miles of heavy trails), but its coming. With Altra sizing, I suggest you try true to size before you just buy something a half size or full size up. That will help you avoid this altogether.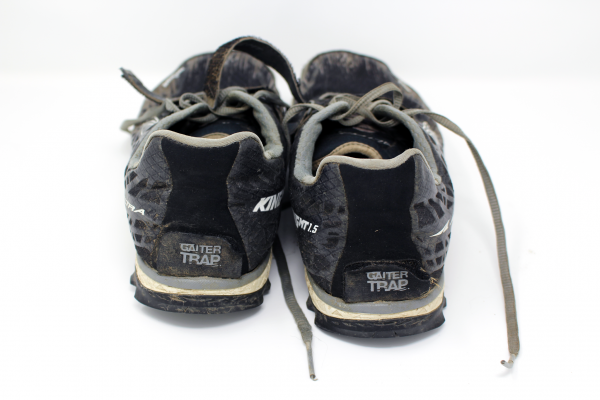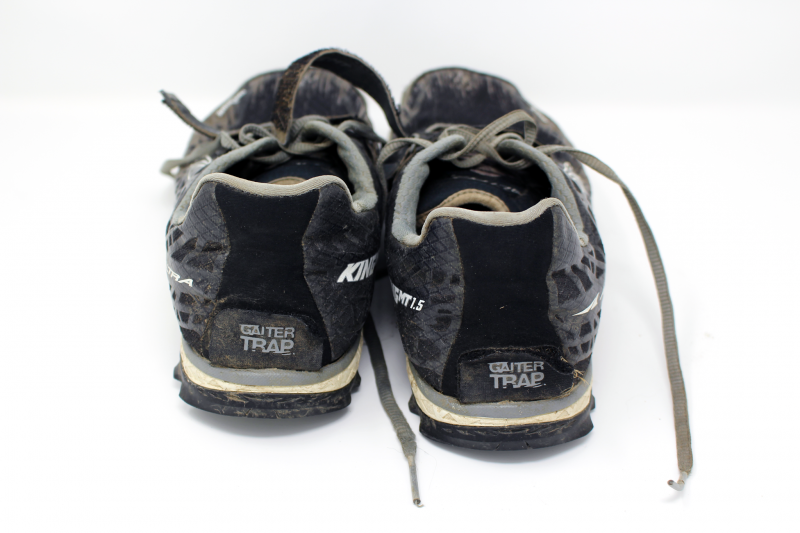 The King MT's come ready for the Altra Gaiters (sold separately). The back of these employ a very grippy Gaiter TRAP as well as a metal ring on the top of the shoe at the front. This is a far better implementation than trying to run with general Gaiters "made for all". Having run in Inov-8 and Solomon gaiters, I can tell you that the straps that hold them in place under the shoe don't last all that long, especially when running over jagged terrain. Sized properly, the Altra Gaiter will not budge.
Things aren't all peaches and cream though. Although the MT's will stick to the ground, they don't always stick on your feet. Having worn these on more than one occasion, I found myself repeating a pattern of stopping to put one back on my foot. More than one time, it has cost me a better position in standings because of the pause. Even with the shoe laced up, the heel tends to slide out. It seems that if you plant the shoe in something soft and mushy, like mud, the shoe will stay and your foot might not.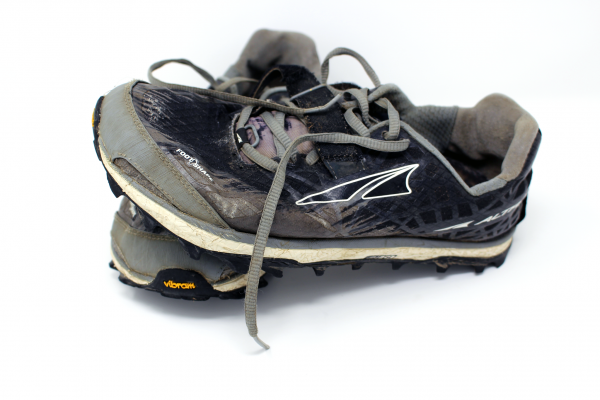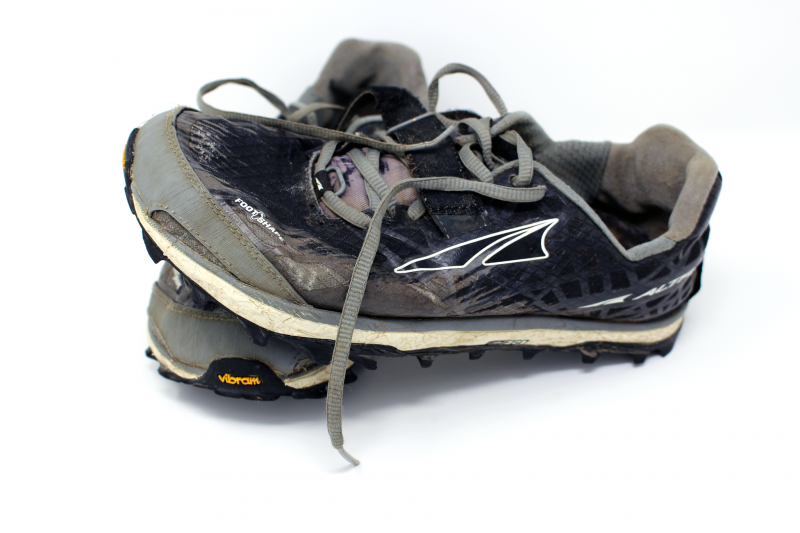 Also, when the shoe stays put, the midfoot strap starts to play with your foot in ways you may not appreciate. Having worn these for a recent Ultra, I noticed some soreness on the top of my feet starting as the miles were ticking away. Having chalked it up to simply "running an Ultra", I decided to wear them for a second run the following day when I learned that this was not unique to me. A friend, who chose to run in a pair of King MT's as well, had started to complain about soreness on the top of his foot. At that moment, I realized that the strap doesn't allow the shoe to flex and shift as shoes with just laces would. Instead, the MT's flex in all areas except that right over your midfoot, causing increased stress on that specific area. Loosening up the strap to "not noticing it" helps to eliminate this stress, but then defeats the purpose of having the strap in the first place.
For me, when I think about where I would wear this shoe, it would be anywhere except somewhere with mud deep enough to sink the heel. I have worn these for an Ultra and for a sprint, and they performed well in both; loose terrain is no issue, rocks are no issue, water is no issue, but mud… it is an issue. Not for lack of grip, but for the fact that I don't know if the shoe will be there when I pull my foot out.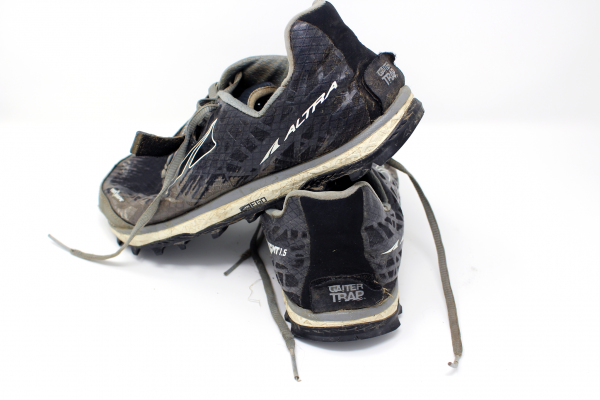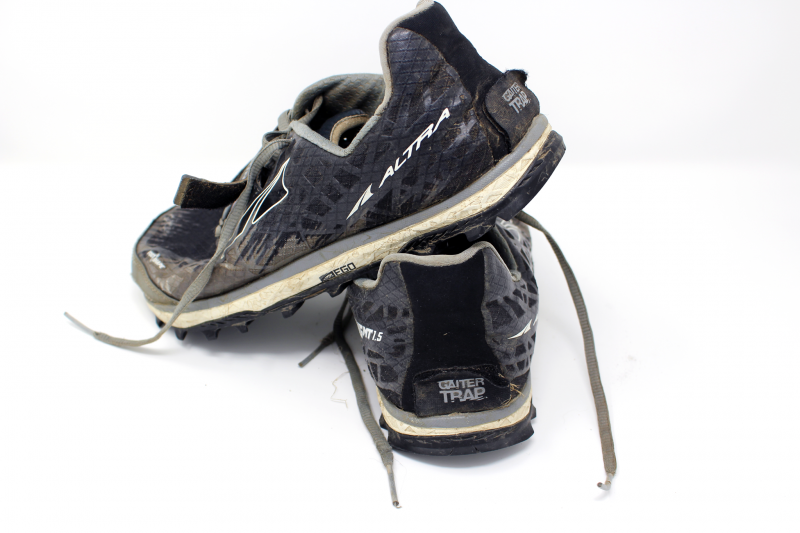 Bottom line, do the King MT's reign supreme? Meh, maybe? For me, this shoe will find a home on my feet for a lot of races, just not really muddy ones or really long ones. Ultimately, I really want to like the MTs. The shoe has everything you want on paper, but when you put them on your feet, the King MT's just don't live up to others in the Altra lineup. They do look sharp though.
Strangely enough, the shoe scores points in all the right places based on our review criteria. However, I just can't recommend them based on my experience in long races and the way the shoe seems to slip off at inopportune times. That doesn't mean you won't see me running in them, it just means you won't see me running in them all the time.
Altra King MT 1.5
Weight - 9
Protection - 9
Drainage - 9
Grip - 7.5
Appearance - 7.5
Affordability - 7.5
Quality - 9.5
User Rating:

Be the first one !