We've all been there; we overdid it on Leg Day, on race day, or just not giving our bodies time to recover and now it hurts with every stride. After BFX San Antonio, I couldn't run more than a 5k before I had to shut it down. Rest, ice, and stretching were not doing the trick and I was quickly growing frustrated. It was just the start of race season and having to shut down my cardio was not an option. I wanted to explore. I found the Opedix KneeTec Leggings and everything changed quickly. These are not your normal leggings and it shows, or more appropriately, it feels.
The idea that differentiates these for normal leggings from the Nike and Under Armour compression leggings we are used to is that these go beyond providing light compression to provide support and recovery. These were designed with the understanding that your body is a bio-mechanical device, or system, and once a piece of it is compromised, everything is. It goes into your kinetic chain and when everything is aligned, healing is promoted; and efficiency along with performance is optimized.
The KNEE-Tec™ 2.0 Full Length Tights are a new addition to our KNEE-Tec collection, incorporating updated features, fit and fabrics, based upon feedback from athletes and customers. Utilizing a lighter-weight base fabric with increased spandex content for improved versatility, stretch and compression, and 18-panel construction for optimum fit and performance the KT 2.0 is the ultimate foundation for your kinetic health. Incorporating our patented torque reform technology to promote dynamic alignment-improved mobility and stability-during training, rehab and everyday pursuits, the KT 2.0 optimizes joint function allowing you to do the things you love longer, better and with less pain and fatigue.
Product Features
18-panel construction for optimal fit and function
External draw-cord at the waist
Gusseted crotch for comfort and freedom of movement
Low-profile elastic waistband for improved fit and comfort
Breathable moisture wicking OPX and TR+ mesh fabric to help regulate temperature and manage moisture
OPX base fabric: 200 grams per square meter, 80% nylon/20% spandex
TR+ mesh banding fabric: 82% nylon/18% spandex
Anti-odor treatment
Inseam length: Medium-27 ¼ inches, Medium Tall-29 ¼ inches
Available in all black or black with orange contrast stitching
Sizing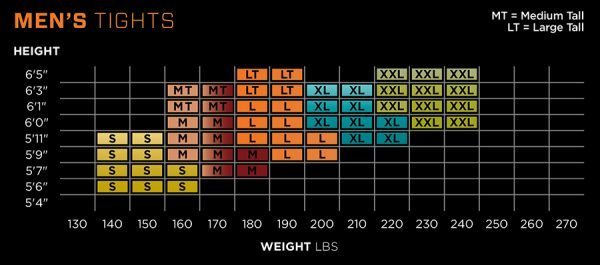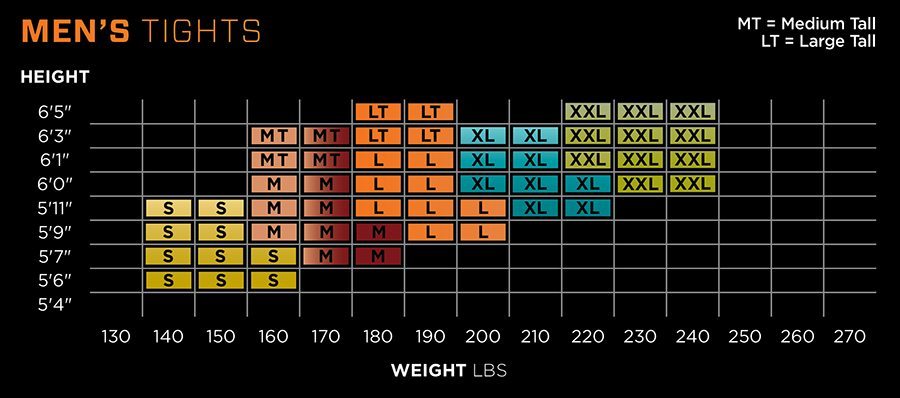 I am not, by default, a runner. My love of completing the obstacles and the strength and technique required to complete them has made me embrace the running side of OCR. Although Brakken would argue that I am now a runner, and he's right, I'm not a runner first. That means I have bad habits, bad mechanics, and at times that makes me wear down. This is a very common plight that many of us that have found a home in OCR, either competitively or leisurely, have had to work through. I don't like to stop, I feel the need to put my work in, but when my legs are fatigued and sore, my mechanics break down. Instead of actively recovering I'm actually slowing myself down.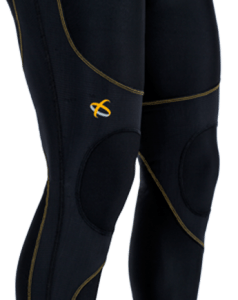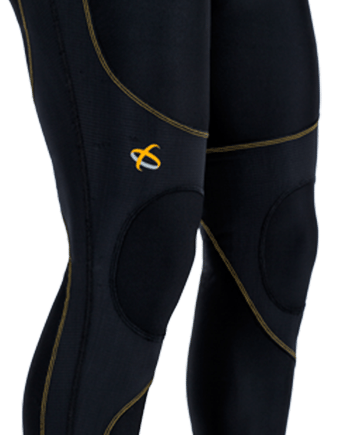 As I mentioned earlier, I came back from BFX San Antonio a little beat up. I had done 6 laps and 30 some odd miles. The hard clay beat up my knees pretty good. Time off didn't seem to help. Warm baths, extra stretching, and my normal compression-wear were not doing the trick so I decided to give these a try, and I have never looked back.
I broke into things in with a plan. I started with an active run on the elliptical, a day off, and then a nice 5-mile run. I didn't want to go much past my pain threshold, but I wanted to try to reach my normal distance. I went for an "easy" 5-miler and only felt a little discomfort right at the 5-mile mark and was oh so happy.
I repeated this cycle once more and while my run was meant to be an easy 5 miles, we were unusually cool here in Texas and I didn't realize how fast I was moving as my music blasted. Turns out, I had run a 31 minute "easy" 5-miler completely pain-free. I could even notice greater consistency in my stride and knew that their claimed differentiation was more than marketing material, it was real. Until this run, I've never run a hard 31 minute 5 miles that was not on a treadmill before.
The pants do an amazing job of "encouraging" proper stride mechanics while not restricting in movement. No easy task and when using similar products in the past, I felt robotic in the linkage and totally unnatural. With these, regardless of the surface you ran on; treadmill, pavement or trails, I felt like I was running as nature intended.
Kinetic Health
YOUR BODY IS COMPRISED OF MANY JOINTS THAT ARE CONNECTED STRUCTURALLY AND FUNCTIONALLY IN A KINETIC CHAIN.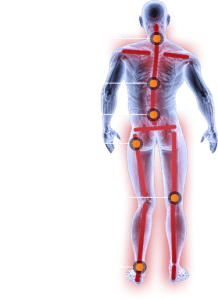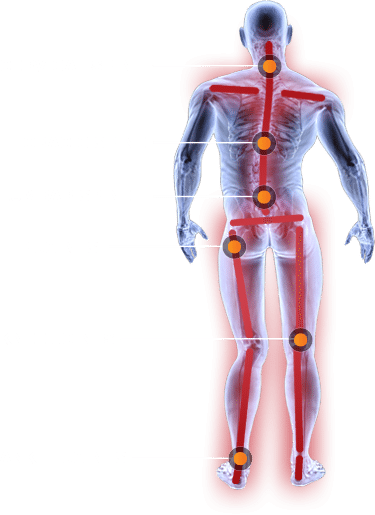 The kinetic chain consists of myofascial (muscles and connective tissues), articular (joints), and neural (brain, sensory receptors and nerves) components. These components work together and require the sequential coordination of each joint to be properly aligned, stable and mobile to create a quality movement pattern. The motion produced at any joint in the kinetic chain directly affects the joints above and below it, thus dysfunction in any one component may have a direct and detrimental effect on the function of a neighboring joint.
Opedix works with an elite group of scientists and medical professionals to research the sensory, mechanical and functional effects of our Kinetic Health Gear on movement quality. Investigation of dynamic alignment and neuromuscular function utilizing clinical metrics is performed in the medical office and orthopedic laboratory with the following facilities:
BY REDIRECTING EXTERNAL FORCES AND INCREASING SENSORY INPUT, OPEDIX TORQUE REFORM TECHNOLOGY™ triggers a sequence of neuromechanical events to activate the kinetic chain. When used in conjunction with standard physical therapy interventions, and worn in every day life post-rehabilitation, Opedix kinetic health gear expedites recovery, by improving joint mobility and facilitating neuromuscular activity for fine tuned motion control.
These are an amazing addition to an OCRers wearable collection. They find their way into my bag for all races and I wear them immediately afterwards to begin my recovery; I consider them essential gear. The Opedix KNEE-TEC Leggings get the full War Paint Waldo seal of approval.
One last little tidbit. The OCRAddict Team just returned from a successful weekend in Killington. I put these on immediately and I am the lone member of the team that could walk well on Sunday and has resumed regular training. These are true "must haves" for me.
Opedix KNEE-TEC 2.0
Durability - 8.5
Comfort - 9.5
Value - 7
Performance - 9.5
User Rating:

Be the first one !